Craziest Mountain Bike Crash Ever – Megavalanche 2019
Riding a mountain bike down a glacier is insane, fortunately you can turn to YouTube to get a taste of what it would be like—complete with being involved in a few pile ups. PInkbike chronicled Ben Deakin's ride in the 2019 Megavalanche ride.
Megavalanche has been happening every year since 1995. The race starts at "Pic Blanc" and then proceeds from its mass start at 3,330 meters to go down a glacier, through rocks and trees, to get to the finish line at Allemont, 2,600 meters below the start. It's one of the craziest rides out there.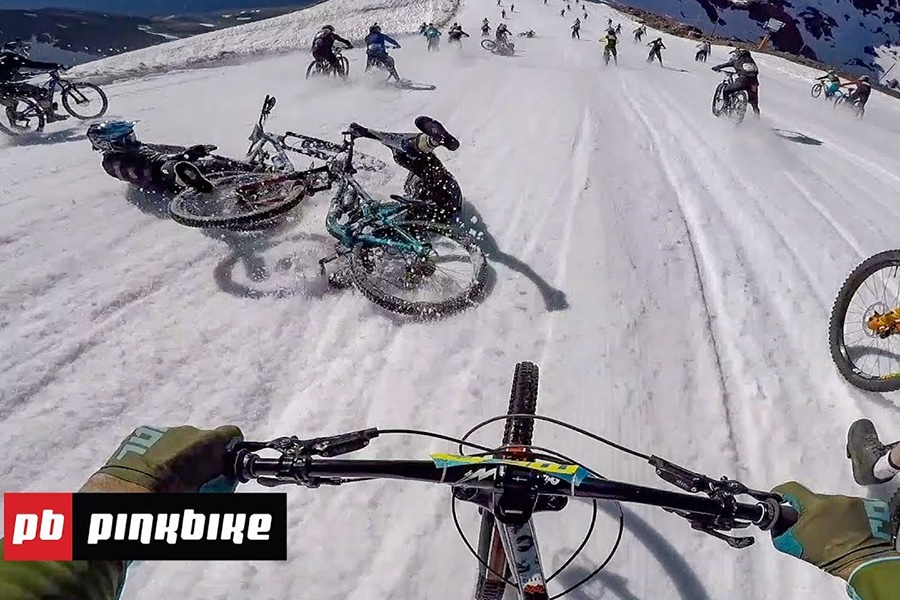 Of course, Deakin isn't a stranger to crazy rides. The former Royal Marines Commando has been riding professionally since an injury in the line of duty required his retirement. Over the last decade, Deakin has ridden and taught mountain biking all over Europe. He has earned a reputation of being one of the fastest riders in Southern England, and has found his way to the podium many times, including being the 2017 Masters National Champion, the 1st Crankworx New Zealand Air DH, and taking third in the English Championships. He also holds the Hardtail National Champion title. This wasn't Deakin's first appearance at Megavalanche. Deakin took second in the 2017 race.
Deakin's video, which is shot in first person POV, takes you through the whole race, even capturing Deakin's pile up on the snow and flipping over a snow bank. The video even provided evidence of one rider cutting through a section of the race to get ahead of other riders. The video is filled with some pretty gnarly riding and some crazy trails. At one point, Deakin exclaims that he doesn't even care about the race anymore and just wants to get down. That didn't stop him from advancing and coming in a respectable 11th place.