Swedish Cycling Apparel Sigr is Passion and Performance
Cycling apparel label Sigr was born in northern Sweden, where it drew upon the region's epic nature and commendable values. Not only are the brand's bib shorts, jackets, and jerseys highly functional, but they're produced with sustainability in mind and designed for both sexes. If there's an end goal at play here, it's to inspire passion on multiple fronts: for cycling, for the planet, and for each other. Plus, the apparel just looks plain awesome.
Over the last few years, Sigr's own mixed cycling team has taken part in races and rides throughout Scandinavia. Some of these races run much longer than Tour de France and, furthermore, allow both men and women to compete. Rocking Sigr gear as they travail tens of thousands of kilometres, each member of the brand's cycling team thereby doubles as a test subject. It's a fantastic way to put your product through the wringer.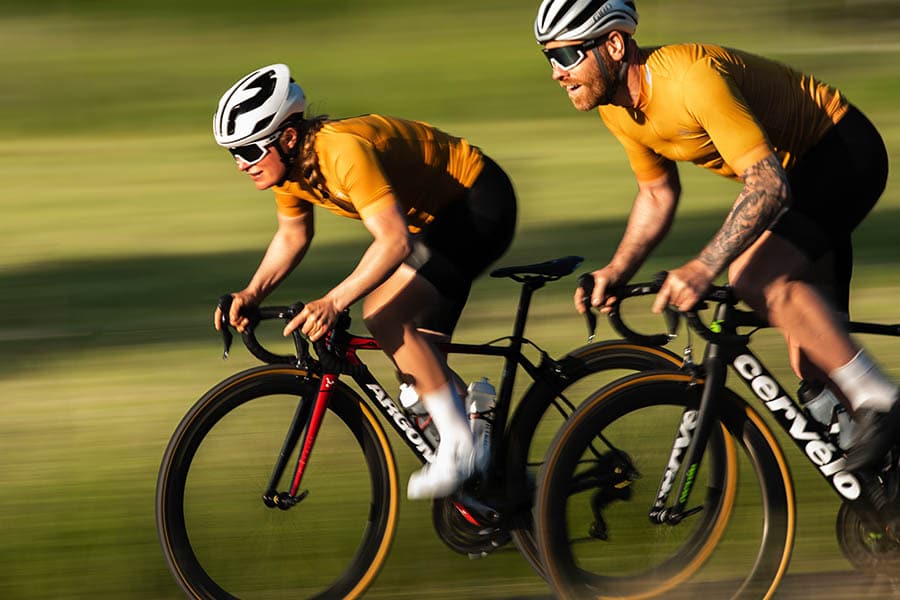 Already a big deal in Sweden, Sigr is rapidly expanding into new markets and taking the core values of equality, democracy, and sustainability along with them. They're spreading the love one collection at a stellar time and cultivating admirable goals in the process. It's hard to resist the brand's infectious outlook, which invokes a sense of purity and joy. This is feel-good apparel and it will motivate you to get on your bike and join a thriving and diverse community of fellow cyclists.
Currently, Sigr offers three baseline product tiers: Explorer, Signature, and Pro. Explorer targets beginners and represents the brand's most affordable jerseys, jackets, and bib shorts. Taking an unfettered approach, the apparel features medium to light fabric construction and side mesh for ventilation. It's available in limited colourways but nevertheless bursting with style. If you're just getting into cycling, your journey starts here.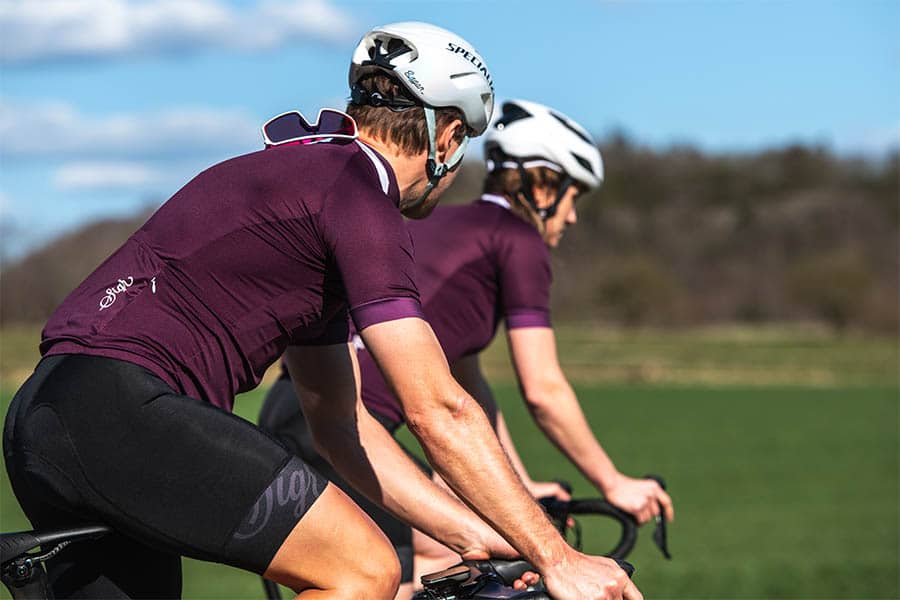 The Signature Collection takes things up a notch on multiple fronts, including price point, style, and performance. Designed for intermediate and advanced cyclists, it also pays closer attention to trending styles and colours. Their single-coloured jerseys are deep-dyed and more lasting and intense as a result. Every Signature jersey features unique design details like a label stripe on the collar and contrasting coloured zips and waist grippers. Then we have functional components like breathable side mesh, three rear pockets, a zipped valuables pocket, and UV SPF-30 protection. Signature, indeed.
At the top of the line is the brand's Pro Collection. True to form, this premium cycling apparel can stand up to the toughest journeys, looking downright brilliant in the process. Every single item in the range is made from lightweight 100% recycled fabric, generating a slimmer race fit and seamless moisture wicking. Unique by design, each jersey includes side mesh for ventilation, three rear pockets, a zipped pocket, and UV SPF-30 protection.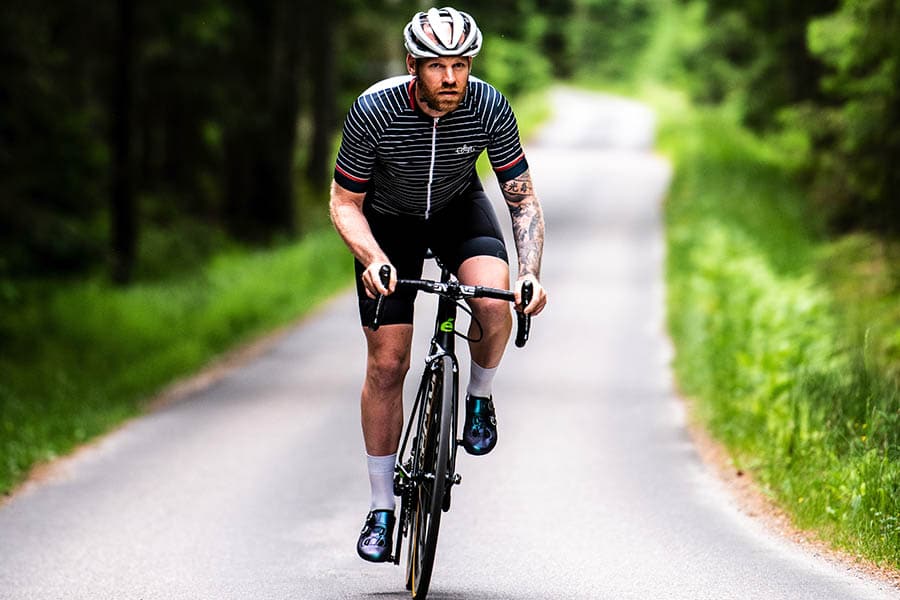 Another instant classic is the 'Norrsken' Collection (i.e. 'Northern Lights' Collection). Consisting of a pack jacket, gilet, jersey, arm, and leg warmers, it strikes a truly innovative chord. Black and relatively plain by day, the apparel comes to life at night by way of an intricate 'Northern Lights' pattern. This is clothing that must be seen to be believed and even then, you might not believe it.
If you're more of a casual cyclist, check out the brand's Urban range. While still quite functional, this apparel works just as well on a bike as it does when you're sitting down to sip coffee or even working. The chinos and chino shorts have been a huge success, in particular. It all goes to show that Sigr leaves no one and nothing behind, all while cultivating a sustainable production model.
Below are some stand-out pieces: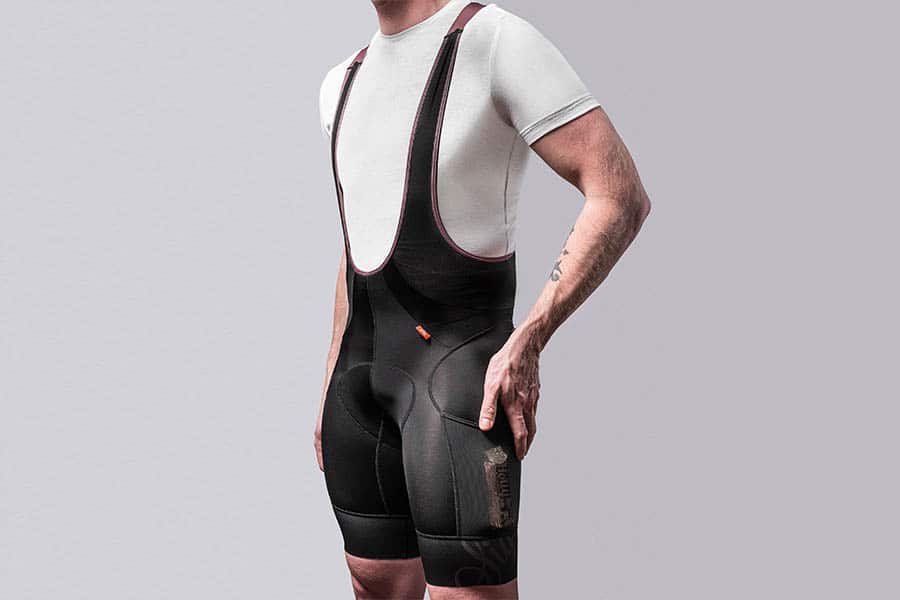 Sigr Pro Riksväg 92′ Bib Shorts for Men
For a snapshot of Sigr's prowess, look no further than their wildly successful Pro 'Riksväg 92' Bib Shorts for Men. Battle-tested by the brand's own cycling time, the shorts were rigorously tweaked over the course of three years. Comfortable, lightweight, and long-lasting, they're also resistant to chlorine, sun cream, oil, and pilling. Choose between the standard silhouette or the newly introduced Cargo version.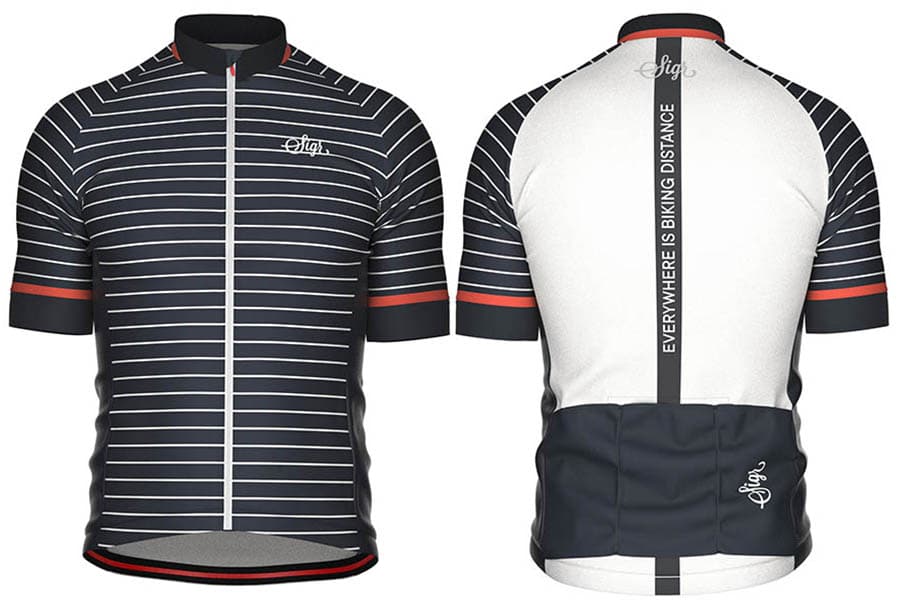 Sigr Horizon Men's Cycling Jersey
Then we have the Black Horizon Men's Cycling Jersey and its polo-like aesthetic. Equal parts functional and fashionable, it layers white horizontal lines and red accents against a backdrop of dark blue. As with all of Sigr's jerseys, this one was 100% digitally prototyped so as to take the carbon footprint of design and development down to practically zero. Features include YKK zippers, mesh panel sides, three rear pockets, reflective prints, and other high-grade stalwarts.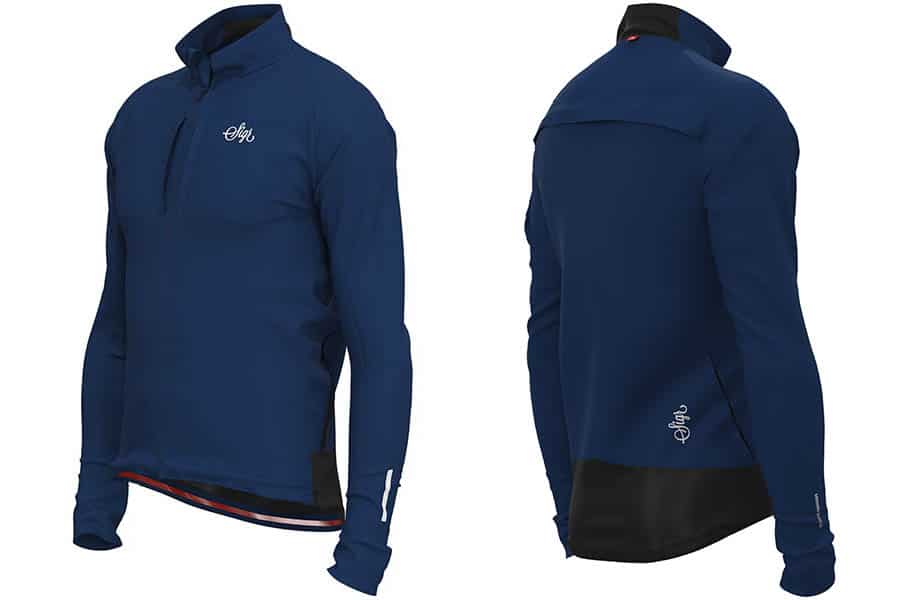 Sigr Gottlandsleden Tour Pro Cycling Jacket
Always innovating, Sigr has just introduced a new Pro cycling jacket called the 'Gotlandsleden Tour.' Designed for cool and cold weather, the multi-purpose cycling jacket employs insulating Merino wool channelled lining and a slim aero-race fit. Should you get too warm, use the rear upper back ventilation flap or zippable lower side ventilation to stimulate airflow. There's also a main front zip, which can be unzipped from either the top or the bottom. Windproof, rainproof, anti-bacterial, and lightweight, the jacket is like a Swiss Army Knife in apparel form. It's been tested by cyclists in temperatures as low as -12°C.
Whether you're just starting out or prepping for your next tour or falling somewhere in the middle, visit Sigr to find your next high-performance jersey, jacket, or pair of bib shorts. As you'll soon discover, the selection is unbeatable, the passion palpable, and the Scandi style second to none. This brand does it all.