Join the Mile-Lie Club with Air New Zealand's New Economy Skynest Beds
It used to be that airlines were in a race to see who could offer the greatest distances at the lowest prices. That's still a part of the equation, but now the race for passenger comfort is on, and Air New Zealand has thrown down the gauntlet. The airline just unveiled a concept for sleeping pods on long-haul planes, but not for first-class passengers. Rather, Air New Zealand is offering the sleeping pods, which they call Skynest, to the economy cabin.
You'll also like:
Project Sunrise Leads Qantas to Revamp Cabin Design
Lazzarini's Concept F1 Drone Looks Like a Historic Racer
Aman Offers More Luxury with Private Jet Aviation Service
"A clear pain point for economy travellers on long-haul flights is the inability to stretch out," says Mike Tod, the chief marketing and customer officer for Air New Zealand. "The development of the Skynest is a direct response to that challenge." The airline has spent the last three years studying the concept and creating a prototype.
The idea is to put beds in the economy cabin that will allow passengers to lie flat. The concept is similar to the crew rest areas, where pilots and flight attendants can sleep between on-duty shifts. As for where these beds would be placed, there's no word. Air New Zealand is still trying to figure that out, though they are willing to remove several rows of seats if necessary.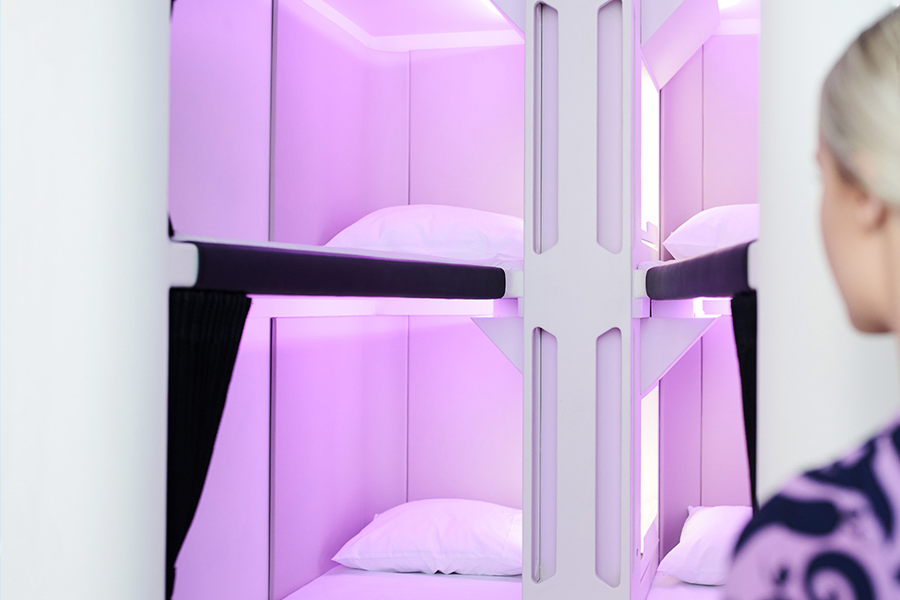 The announcement comes on the tail of another announcement from Air New Zealand, specifically that of their new longest flight—a 17-hour nonstop flight from Auckland to New York, which will begin in late October 2020. The airline uses a mix of Boeing 777 and 787-9 Dreamliners, which have between 215 and 263 seats. According to Air New Zealand, they'll most likely include one Skynest unit on each plane. In other words, there would be six beds for more than 200 passengers. The pods would be purchased along with the seat reservation, which makes it sound odd like purchasing a first-class ticket rather than the money-saving economy class.
"It was a prize worth chasing," said Kerry Reeves, Air New Zealand's head of programs, "and one that we think has the potential to be a game-changer for economy class travellers on all airlines around the world."
You'll also like:
Project Sunrise Leads Qantas to Revamp Cabin Design
Lazzarini's Concept F1 Drone Looks Like a Historic Racer
Aman Offers More Luxury with Private Jet Aviation Service