Jeff Bezos will be the First Billionaire in Space
Superyachts and sports cars become stale pretty quick… Today's billionaires seem obsessed with only two things: rockets and exploring the cosmos. Making gains in the space race is Amazon's billionaire founder Jeff Bezos, who is set to be the first to fly his own rocket into the void above. Cop that Elon.
You'll also like:
Would You Pay $2.8 Million for a Place on Jeff Bezos' Spaceship?
First Look at the Insane Virgin Galactic VSS Imagine Spaceship
The World's First 'Space-Aged' Wine has Returned From Orbit
According to an announcement from the Bezos-led enterprise Blue Origin, next month, Jeff and his brother Mark will fly the first crewed space flight from the rocket company. Looking like Jean-Luc Picard's long-lost brother, Bezos took to Instagram to plug the journey.
"To see the Earth from space, that changes you, changes your relationship with this planet, with humanity," Bezos said in the video. "It's one Earth. I want to go on this flight because it's a thing I've wanted to do all my life. It's an adventure. It's a big deal for me."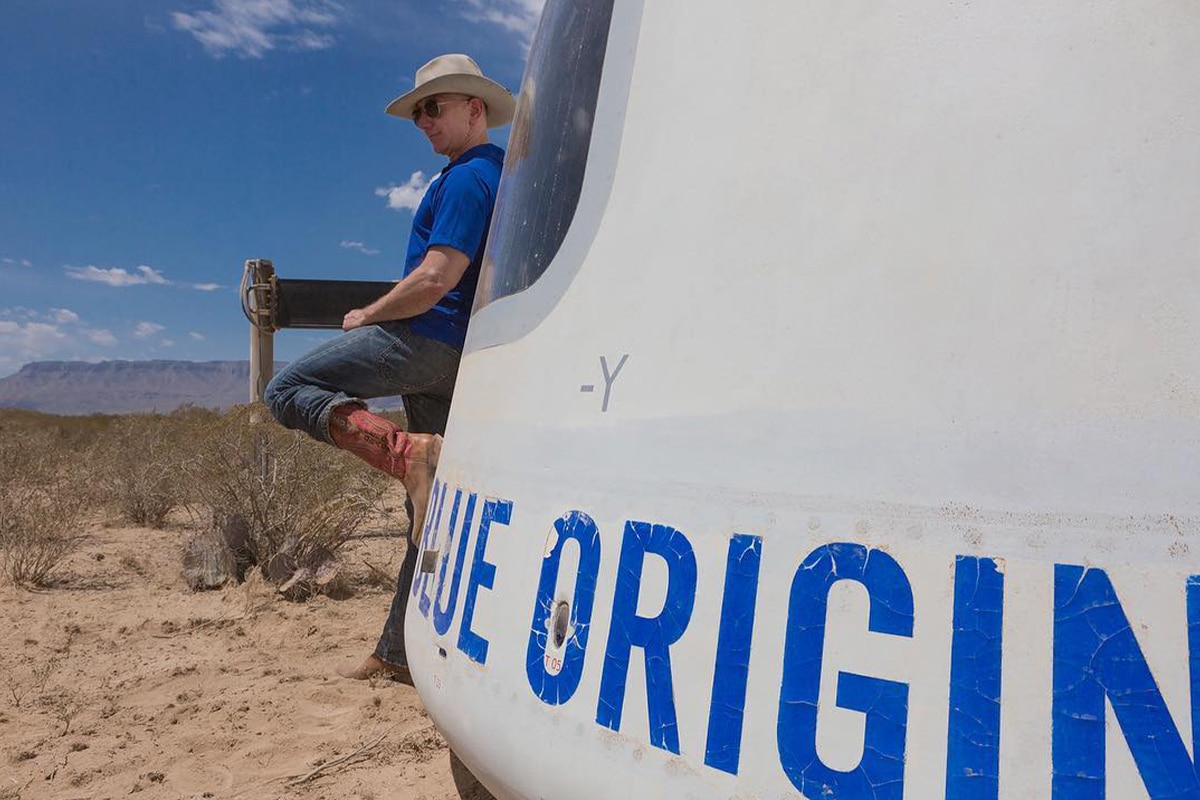 ---
Featured Video from Man of Many
---
If you're feeling super jealous right now, don't sweat, there is room for one more.  The last available seat will be auctioned off, and the proceeds donated to Blue Origin's Club for the Future Foundation, which inspires young people to pursue careers helping "invent the future of life on space". Bidding has already reached AUD$4.5 million, and the silent auction will become a live bidding event on June 12.
The historic Blue Origin spacecraft is aptly named The New Shepard after the first American astronaut to fly to space, Alan Shepard. The launch vehicle is designed to autonomously fly six passengers 100km above Earth into suborbital space, high enough to experience a few minutes of weightlessness and see the curvature of the planet before the capsule returns to Earth under parachutes.
Following 15 successful consecutive trial missions, Bezos will blast-off on July 20 for what will be a landmark moment in the new era of private commercial space travel.
You'll also like:
Would You Pay $2.8 Million for a Place on Jeff Bezos' Spaceship?
First Look at the Insane Virgin Galactic VSS Imagine Spaceship
The World's First 'Space-Aged' Wine has Returned From Orbit
---
Featured Video from Man of Many