Indian Motorcycle Kickstarts Kids' Riding Experiences
Indian Motorcycles has been there since the beginning, making history along the way. Now ot can be there from the beginning of your kid's journey to riding motorcycles with its new eFTR Jr. electric bike. Designed for kids ages eight and up, the miniature electric bike will get that special youth started on a lifelong love of riding.
"Whether it was a father, mother, uncle or family friend, most motorcyclists have fond memories of the person that introduced them to riding, and that's the spirit behind the eFTR Jr.," says Ross Clifford, the vice president of parts, garments, and accessories for Indian Motorcycles.
You'll also like:
Triumph's Bonneville Build-Off Winner is a War-Time Weapon
BMW Adds Limited-Run M1000RR to its Performance Line
Meet the Sydney Native Who Designs BMWs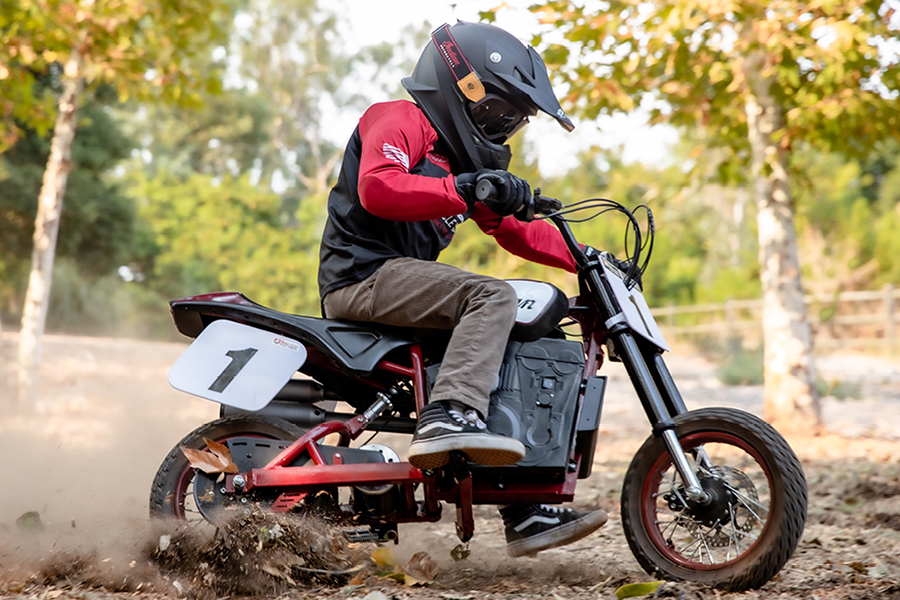 The eFTR Jr. comes out of a partnership between Indian Motorcycles and Razor USA, and has been designed to be a miniaturised replica of the FTR 750. The bike can be set at speeds: Low keeps things to 10 miles per hour while high bumps the speed up to 15 miles per hour.
The bike features a twist-grip throttle as well as hand-operated dual disc brakes—so the learning experience will be authentic for young riders as they develop habits that can transfer to adult bikes later. The bike can handle rider weights up to 175 pounds and has a seat height of 23.5 inches. When you go to pick one up—they're priced at USD$749.99—don't' forget to check out all the extra gear that Indian has put together for this new kid market. The offerings include gloves, helmet, riding armor, and a jersey.
If you didn't already guess it from the "e" in "eFTR Jr." the kids bike is an electric version. Equipped with a 36V rechargeable battery, it offers 140 minutes of ride time on the low setting and 65 minutes on high. "We wanted our first youth offering to be electric to provide a safe, simplistic and clean form of motorcycling for children, all wrapped up in the signature look of the FTR 750," states Clifford. "The eFTR Jr. can kickstart a lifetime of riding memories for the whole family."
You'll also like:
Triumph's Bonneville Build-Off Winner is a War-Time Weapon
BMW Adds Limited-Run M1000RR to its Performance Line
We Love the Jeep Gladiator Rubicon: Here's Why