Brekr Breaks the Mold with Model B Electric Bike
The Netherlands is jumping into the electric bike scene with the Model B electric bike from Brekr. With a bit of a café racer vibe, but even with a stripped down look, the Model B has plenty to offer, including a 50-mile range that can be doubled by adding an extra battery pack.
When it comes to minimalism, you don't get much more minimalist than the Model B. The frame is essentially an aluminum bar that connect the front fork to the rear wheel. A tube frame forms a belly for the bike that holds the storage for the battery. The motor is hub-mounted, meaning that there are no belts or chains to maintain. The larger wheels help ease out any bumps in the road, increasing comfort, which is also aided by front and rear suspension. The low center of gravity makes this a great bike for learners and experienced riders. Model B has also been equipped with a sound—it sounds a bit like a spaceship flying overhead—that will attract attention, getting you noticed and keeping you safer.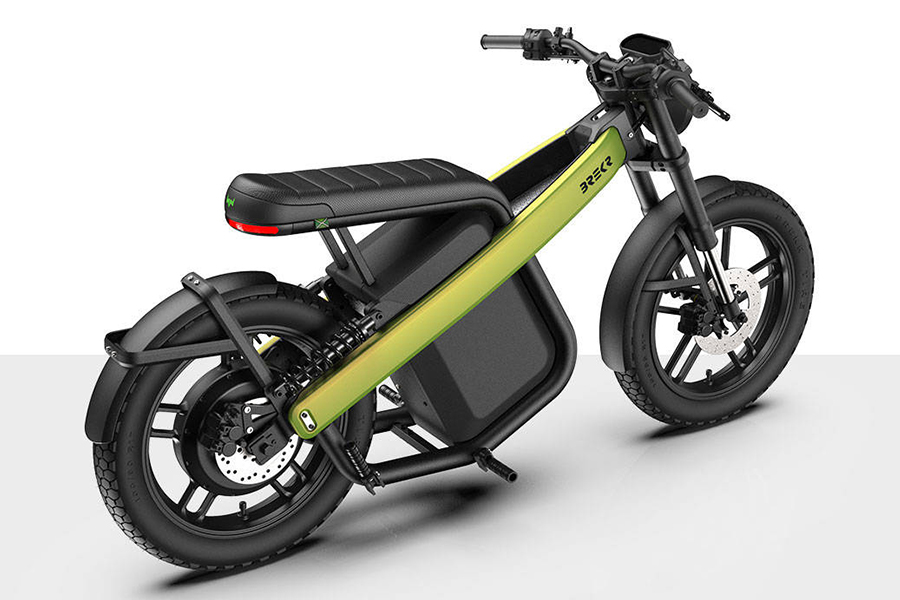 The Model B is intended for urban riding, and as such has a top speed limited to 30 miles per hour. But even at that speed, you'll be able to cover plenty of ground. The 1.9 kWh battery pack gives you a 50 miles range. The pack is removable as well, so you won't be eating up that 50 mile range looking for a charging station. Instead, just pull the pack out and take it with you. The back gets a full charge in five hours. You can also add in a second battery pack and get double the miles. Playing into that extended range is how light the Model B is. The electric bike weighs 62 kilograms, or about 10 to 30 kilograms lighter than an average scooter.
Brekr also comes with a GPS module that allows you to stay connected to the Model B at all times. You can monitor your battery capacity and keep track of where your Model B is, and what is happening to it. You'll also be able to track your rides, logging in performance data.
The Brekr Model B will be out for delivery sometime in the spring. For only $10, you can reserve this electric motorcycle, which will cost you $4,340—a real deal compared to other electric motorcycles.