Denzel Truvor Electric Bike Goes for the Scramble
Designer Pablo Baranoff Dorn had a simple question: "Why not a scrambler?" It's a valid inquiry—why not create an electric motorcycle that fits into the existing motorcycle culture? Working with Denzel Electric Bike, Dorn came up with the Denzel Truvor Bike, an electric motorcycle with the aesthetics of a scrambler.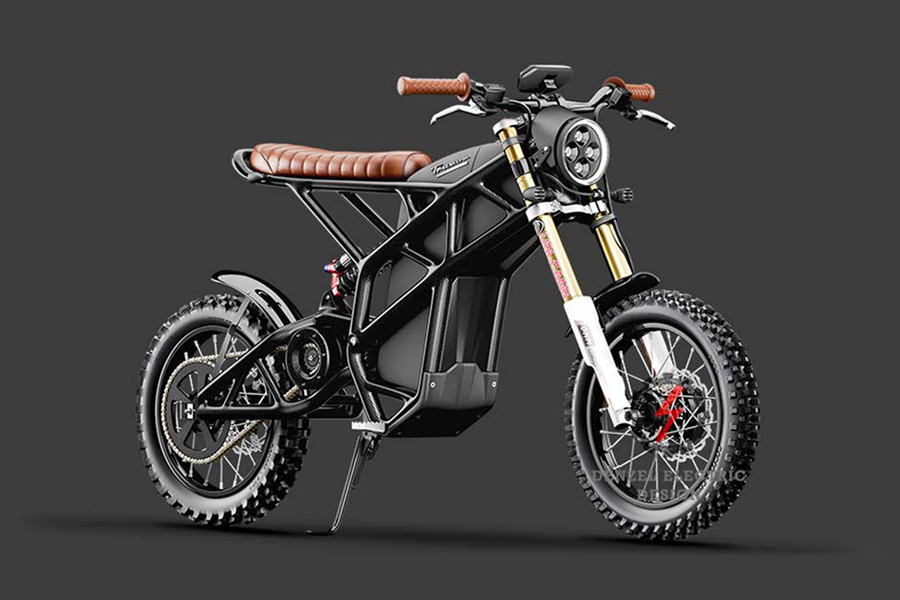 The Denzel Truvor Bike is made by East Gem, a Chinese electric vehicle company that started making 125cc equivalent electric motorcycles back in 2017. Their bikes were inspired by vintage Honda designs, and closely resembled Café Racers. When Dorn, a designer from Barcelona, stepped into the picture, the Truvor was created. The e-bike features a synchronous magnetic motor that produces up to 12,000 watts of peak power. The bikes are limited to a 5,000 rpm rev-ceiling, but that limit serves to get the most out of the Deco-M 257Z controller and battery to allow a 75-mile range. You can elect to get either 17-inch forged wheels for the bike, or go for the more off-road friendly 19-inch in the front and 17-inch or 16-inch in the back. The suspension on the bike is a MT200 USD fork and MK mono-shock units from Taiwan's DNM. The Truvor stays pretty lightweight, weighing in somewhere between 143 to 165 pounds. The bike has two riding modes and includes a reverse gear as well. Speed tops out at 75 miles per hour.
The electric powertrain is held in a carbon fiber chassis that was designed for off-road duties. The bike is chain driven, which lends toward that scrambler look. It also has a quad-beam LED headlight as well as bobbed fenders and a ribbed, leather seat. If you're interested, now is the time to place an order as the Denzel Truvor bike is available for pre-order from the manufacturer with a 20 percent discount for early bird buyers.