ScorpionExo Covert Motorcycle Helmet Disrupts the Norm
If you like your protective wear to be as badass as humanly possible, then ScorpionExo has the motorcycle helmet for you. Fearless in both concept and execution, the ScorpionExo Covert Helmet flexes its versatile muscles by way of a shape shifting design. More specifically, ScorpionExo took a normal half helmet and then added components like a built-in drop down sun visor and magnetically attachable front mask for those times when only full renegade will suffice. The result is sleek and aggressive head gear that looks straight out of The Wraith when in full helmet mode.
In spite of its formidable matte black sheen, ScorpionExo's Covert Helmet is much more than just a visual stunner. It's also an incredibly light and durable piece of equipment. That's thanks to the use of an advanced LG Polycarbonate shell that was developed in-house by Scorpion. The material is already an industry trend-setter and here it delivers minimal weight, maximum protection and an even disbursement of impact. Other features include ever-clear coating, a removable rear comfort sleeve and an additional clear visor for night riding. Adorning the inside is easily removable anti-microbial comfort lining to keep that head cosy and dry.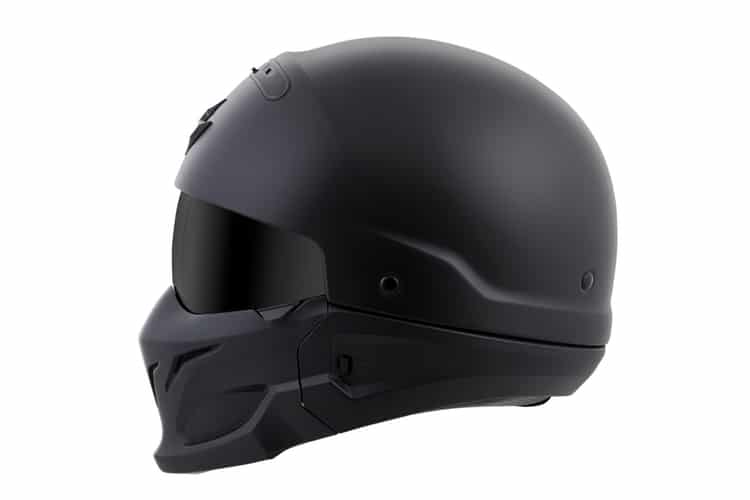 Sun-visor up or down, front piece attached or not, this is the kind of radical helmet that will inspire shudders at first sight. If you're the kind of dude who likes to keep options open and loves rendering an impression, accept nothing less than this spectacular helmet.
Color: Matte Black
Price: $209.95
Features: advanced LG Polycarbonate shell; etractable tinted sun-visor; dual density EPS
Have you subscribed to Man of Many? You can also follow us on Facebook, Twitter, Instagram, and YouTube.