Snowrider Dirt Bike Snow Kit Keeps You Riding All Year
You love to ride. Getting out on your motorcycle is one of those simple pleasures that you live for. Unfortunately, when the cold weather hits and the world is blanketed in snow, riding isn't really an option. The Snowrider Dirt Bike Snow Kit keeps you riding throughout the winter—no more depriving yourself of one of your raison d'etre.
The snowbike kit takes any modern endure or motocross dirt bike with a displacement of 125-cc or more and turns it into basically a one-seater snowmobile. It's easy to install the kit. Start by taking off the front wheel and the brake support so that you can replace it with the ski. The back is a little more complicated, but nothing you can't handle. Remove the rear arm with the wheel and the shock absorber. Then you'll replace them with the ski and track chassis. This will require a set of adapters that come included with the kit. Mount the whole apparatus and you're riding in less than an hour. You can pick up the kit in three different lengths: 121, 129, and 137 inches.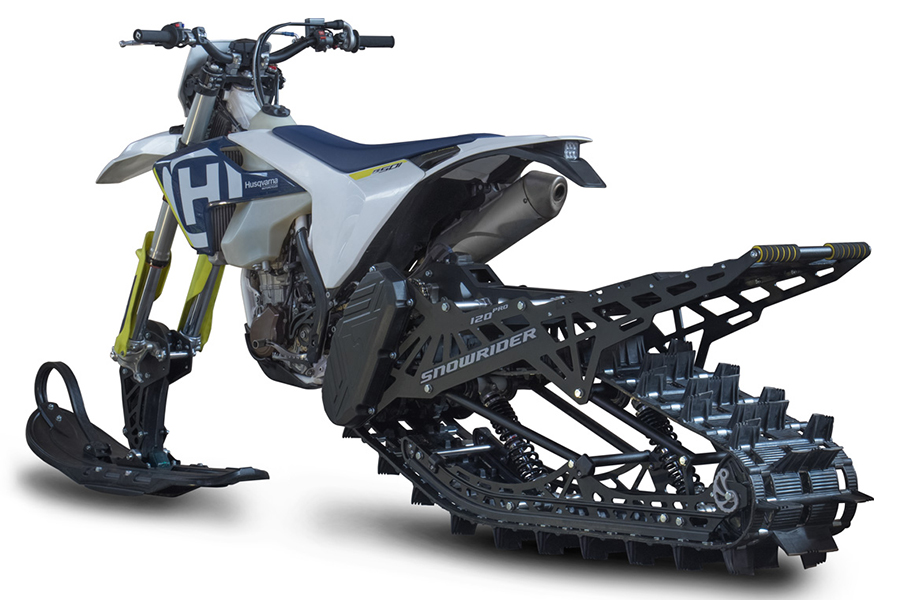 Riding on a snowbike is very similar to riding on a regular bike, though there are a few differences, of course. The bike will still be capable of sharp side turns, and it will get going pretty fast. The bike is also lighter than a full-sized track system like a snowmobile, which means that not only should you be able to bail yourself out of trouble, but you'll also get a more instant response in terms of power.
The Snowrider Dirt Bike Snow Kit is made by Russia-based Snowrider. If you need any convincing that this company knows a bit about riding in the snow, just picture Siberia and you should have ample evidence. You can order a kit from Snowrider's website. The kits start at 4,510 euros.