The All-New Can-Am Ryker is Stylish, Fun and Affordable
I'm not a motorcycle rider, though I've always wanted to be and I'm not a full-time jetski rider, though I wish I could be, but I am now a Can-Am Ryker rider which is a beautiful combination of the two. I recently got to hit the track on Can-Am's new three-wheeler and I've got to tell you: it's as fun as it is accessible.
The all-new Ryker is a two-wheel-at-the-front vehicle that isn't exactly a motorcycle and it isn't exactly not, but is undeniably one-thing: a bloody cool toy.
---
You'll also like:
Hands On With Jaguar's First Foray into Electric Cars, The I-Pace
Ural Air Bike and Sidecar Take a Peek over the Horizon
Novus Electric Bike Looks Better than its Price Tag Does
---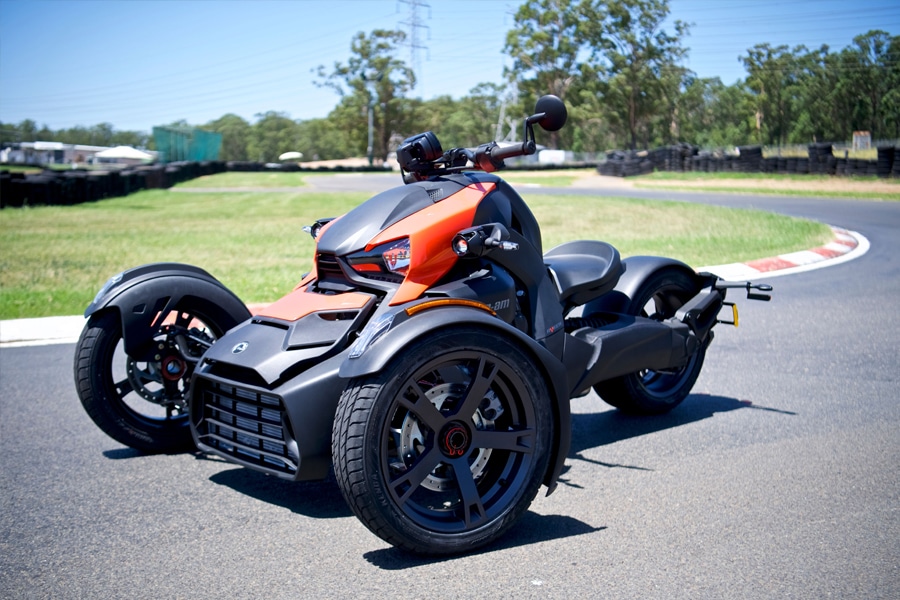 As context, Can-Am is the company behind the likes of Ski-doo and Sea-doo, and who love creating adventure vehicles; I presume their board meetings involve finding a random piece of terrain and figuring out the coolest way to drive over it. The Ryker is their newest model following on from the Spyder but this time they seemed to have said 'Let's make it look as bad-ass as possible.' A bulky front storage compartment is gone and in its place are sharp angles and flares that look exactly like something Batman would have dreamt up.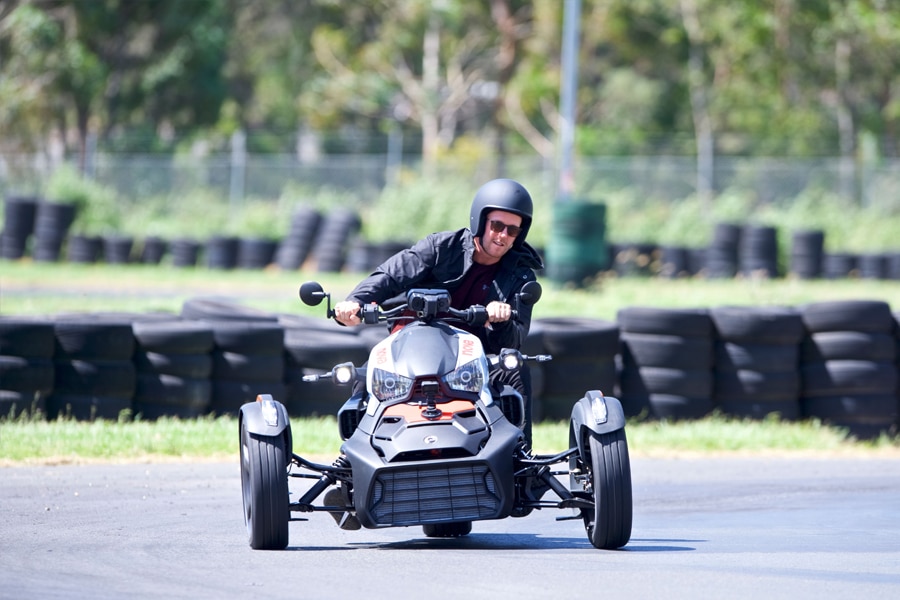 The Ryker's aim appears to be straight forward – create an ultra-cool, easy riding experience, at a very competitive price – and they've succeeded. Starting at AUD$15,000 it wants it to be as fun for an experienced rider as it is for a novice and with a few simple decisions they've done that.
Full disclosure, I'm a novice but an enthusiast – so I intended to test their claims that I would be able to push its limits very quickly.  The first thing they've done is get rid of manual shifting: you just turn it on, switch to drive and go. Secondly, they've made the car-transition easier by having a foot-brake rather than handle breaks.
Finally, its steering is similar to the natural movements of a larger steering wheel. I'm not overstating it when I say you only need a few moments on board the Ryker to feel comfortable and in control.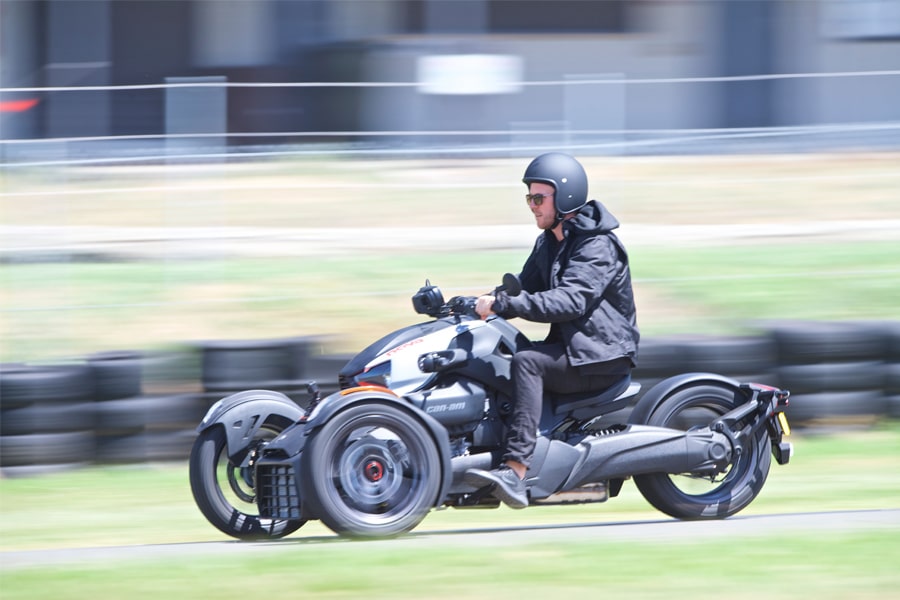 But what about the all-important acceleration? The whole palaver is pointless if it looks like a weapon and goes like a ride-on mower. It's also safe to assume if you're drawn to the Ryker's look you're probably the kind of person who enjoys pushing the limits and this feeds into that – to an extent.
There are two engine options to choose from, a two-cylinder Rotax 600 ACE or a three-cylinder Rotax 900 ACE – the first has 50 horsepower, the second 82. I would describe the acceleration as steady, without being shocking, but it then ramps up rapidly to a top speed of around 120km p/h. It surprised me how quickly I went from: 'Oh yeah, this is ok' to: 'Oh shit, I should brake now.'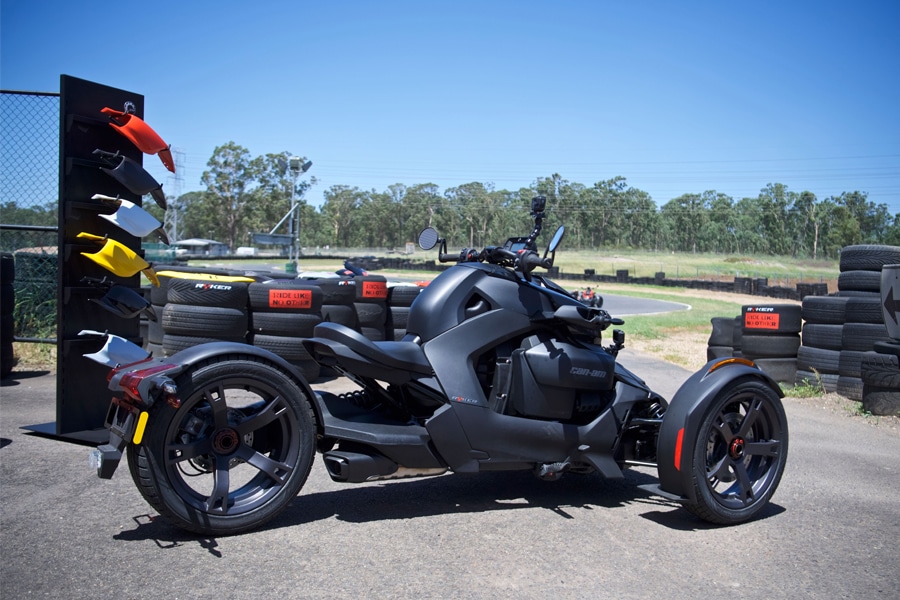 The Ryker also has a Vehicle Stability System that uses a variety of technologies to keep you confident on the road and flinging into a higher-speed corner I was immediately encouraged by how little concern I had about coming off.
There's also a naturally-installed restrictor system that kicks in if it thinks you are going too hard, but I am slightly ashamed to say I didn't get to the point where I got to experience that (A special Rally Edition Ryker is also being released which is designed for off-road conditions, and doesn't have this restrictor installed for those who enjoy giving it a bit more of a nudge).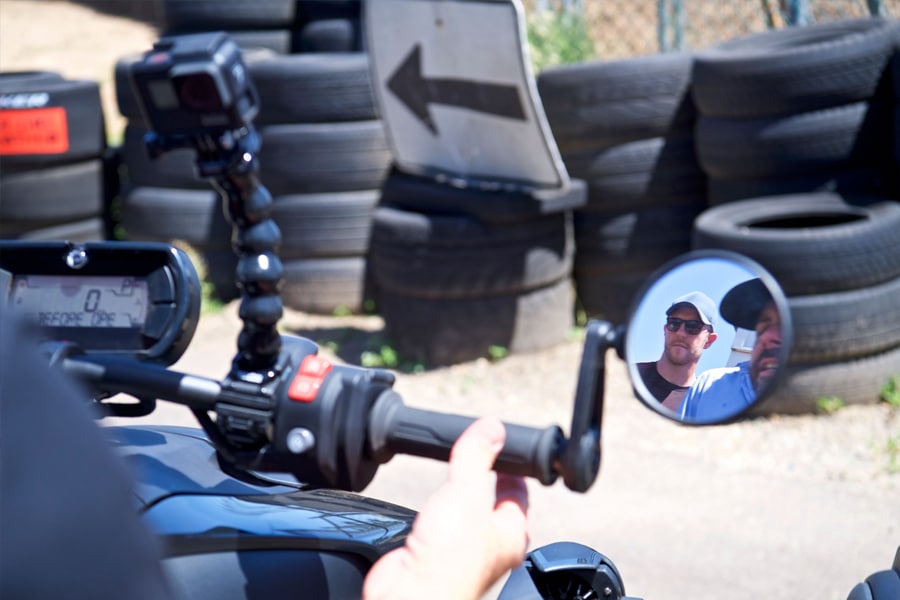 Performance is one thing, but looks are another, and the Ryker is a modifiers dream. There are 75,000 different customisations you can make ranging from unique accessories to colour combinations and additions. There are also accessories for riding solo or tandem. They gave me a 'Man of Many' set of decals (nice touch) that were swapped in within five seconds, and had on display a host of different colours you could use to add to different parts of it.
To make it easier, they also have an augmented-reality enabled app that allowed you to test how different colours and options look before purchasing. Basically, they want owning a Ryker to be as fun to play with as it is to play on.
Overall the Can-Am Ryker can be summed up simply – it's a s*hit-load of fun. It is striking to look at, easy to ride and surprisingly affordable. In the same way people tow their jetski on a family holiday I can absolutely see people taking this with them as an easy way to rip around on a getaway.  It's day-to-day benefit compared to a motorbike is questionable, but that's not the market they are trying to hit. This is those like me – who like to get the blood pumping, stand-out, ride outside a cockpit and yet don't necessarily want to go from four wheels to two; it's a blast.
---
You'll also like:
Hands On With Jaguar's First Foray into Electric Cars, The I-Pace
Ural Air Bike and Sidecar Take a Peek over the Horizon
Novus Electric Bike Looks Better than its Price Tag Does
---
Have you subscribed to Man of Many? You can also follow us on Facebook, Twitter, and Instagram.