Two Weeks with Harley Davidson's FXDR
When you think of Softails, lean angle isn't one of the first things that springs to mind. But with the release of Harley Davidson's new FXDR, that's exactly what's on the table. Fresh from the success of the 'Breakout', Harley thought they'd push the boundaries of the Softail platform and shake things up a bit. Sitting still, the FXDR very much looked the part. But so often these days, looks can be deceiving. So I thought two weeks of daily riding on the FXDR would provide a more accurate tale of the tail.
It only took 10 minutes for the questions to start… "Mate, what on earth is that?" said a guy leaning out of his truck in peak hour traffic. Although the progressive silhouette appealed to the Industrial Design drop-out in me, I wasn't quite expecting the attention this bike received over my two weeks. Male and Female… Young and old… there was an overwhelming sense of curiosity about the FXDR. Not only did people not know what model it was, most didn't know who made it.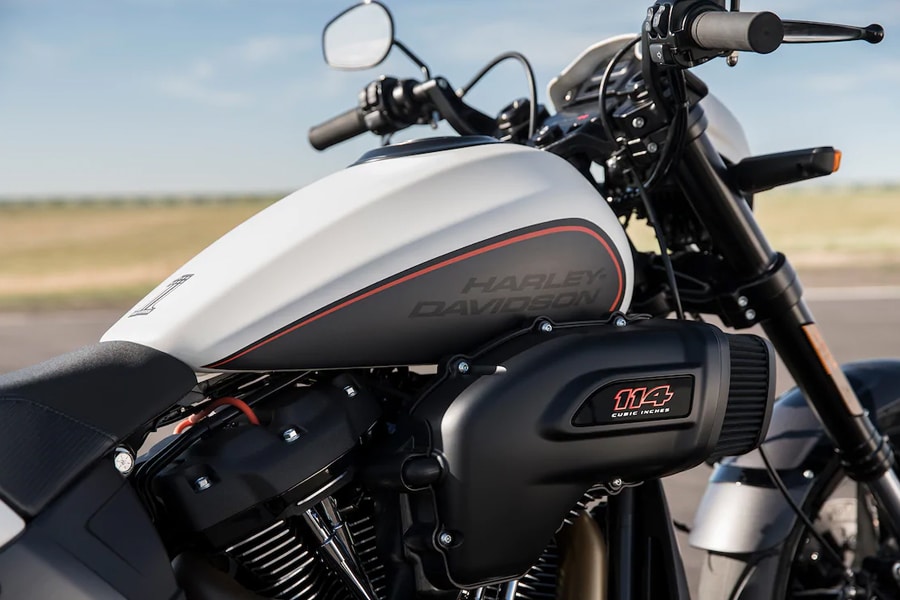 Aesthetically, this is very much a 2019 Harley Davidson and the front end wastes no time in setting the tone. Inverted front forks…  Drag-style air intake… Clip-on bars… its athlete meets cruiser. The fuel tank is more streamlined and contoured than other Softail models, and with the contrasting decals, it really pops with that Bonneville Salt Denim paint (Harley Davidson for white). Moving down the muscular profile, the sculpted two into one exhaust looks just as at home on the drag strip as it would a film clip. All of the materials, finishes and welds are on the money and with things like plug leads getting some colour, you can tell the Harley Davidson design team made sure even the little details got some thought. Rounding off the FXDR is a fair slab of Michelin rubber. The 240 scorcher wraps around an 18-inch aluminium rear wheel giving the bike a slight nod to the V Rod and enough mechanical grip to cover any future modifications.
Sitting on the FXDR induces a few more V-Rod flashbacks. The forward controls kick the legs out nicely and while the clip-on bars bring the hands close to the yoke, you don't feel much load bearing on the wrists. With the fixed seat, the riding position was a little cramped for my 190 cm frame, however, it looked like you could mount different bars to suit your ergonomic self. If you feel the need to carry a few small items, the rear panel lifts off to reveal a small storage area and as per most modern bikes, a USB port is available for your charging convenience. I loved the minimalist gauge and petrol cap but I'd probably look at finding an alternative for the very practical but oversized mudguard.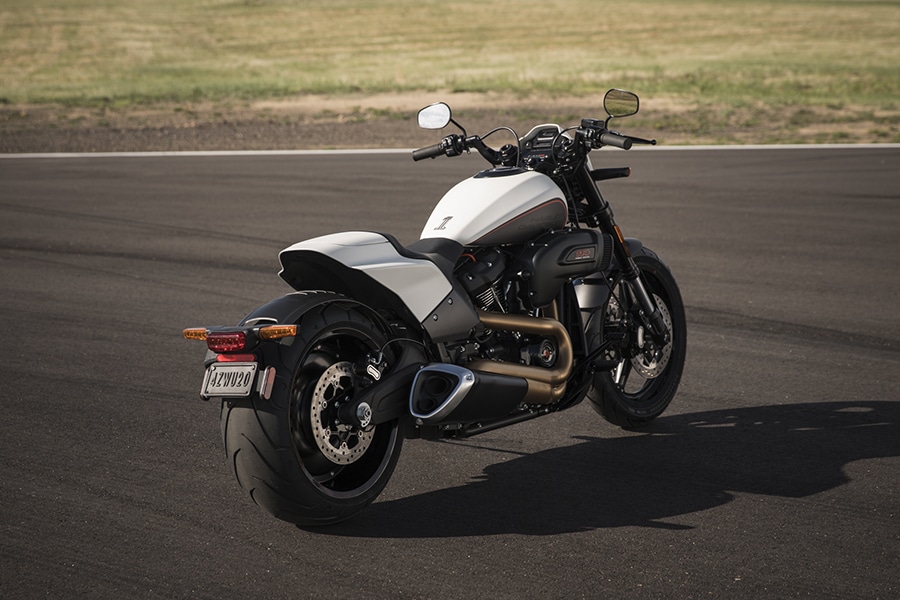 Firing up the butch beauty and (at idle at least) the FXDR is quite polite. You still get quite a low-frequency rumble, but not the sort that evokes passive-aggressive looks from your neighbours. The Milwaukee-Eight V-twin packs a whopping 114 cubic inches (1,868 cubic centimetres) of American muscle, but thanks to the extra valves and an emissions friendly exhaust, it's a bit more ' purr ' than ' potato '. Once you're up and about, however, the FXDR really comes alive. With 162 Nm of torque at 3,500 rpm, the thing just pulls. Whatever gear, whatever incline, just lay back, roll on some throttle and those twins between your legs will take care of the rest. Intake noise is sublime from the drag-style filter and apparently, you need not worry about rain or re-oiling. In terms of power-train, there isn't much to fault, but I don't think it would be long before I started browsing that Screamin' Eagle catalogue for a more breathable exhaust.
Once I got the FXDR out of the city, I was able to put the chassis through its paces. With a tyre width combination of 120/240 and a lean angle of 33 degrees, I honestly had no idea what to expect. It took a little while to get comfortable with my riding position, but once I got in a groove, the 300kg beast almost felt graceful. Steering inputs only needed to be delicate and the bike responded predictably. I probably wouldn't go as far as to say it was 'flickable', but it wasn't far off. If you got a sequence of switchbacks dialled in, you almost forgot what you were riding. The inverted front forks handled weight transfers stoically, and while the rear mono-shock was perfect for the fun stuff, I would probably adjust the preload for comfort over longer rides. Overall, it's hard to fault the chassis considering the style of bike and sheer mass on hand. The combination of a shorter track, increased lean angle, higher peg mounts, acres of mechanical grip and that stonking torque monster of a V-Twin is the perfect recipe for ear to ear smiles.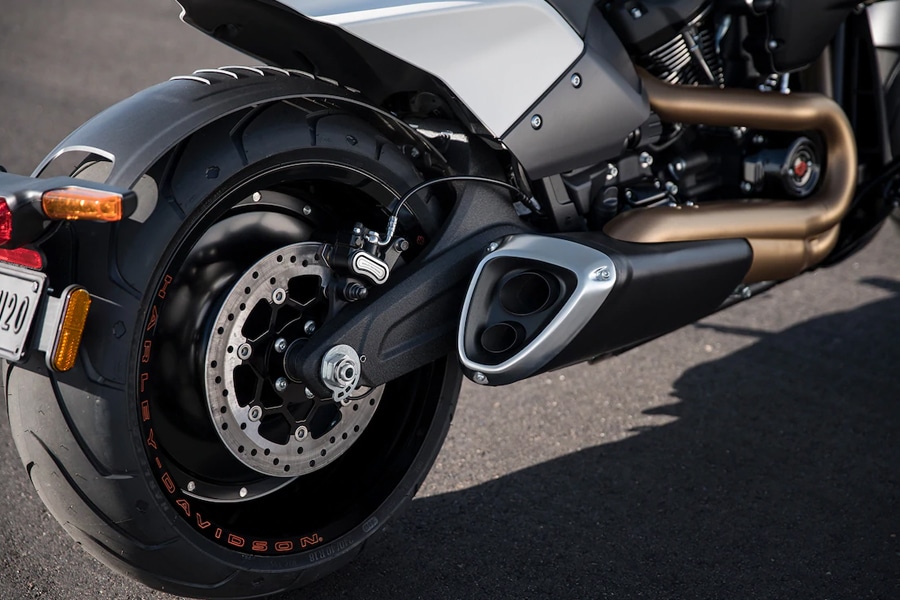 I can sympathize with the idea that the FXDR will appear confusing to some Harley Davidson fans. It just looks and functions quite differently to most bikes wearing the famous badge. But that's exactly the point. With bikes like Ducati's Diavel doing so well, it makes sense to combine Harley Davidson's new progressive design language with the company's rock-solid Softail platform. My two weeks with the FXDR were an absolute blast. Yes, it's at the pointier end of the market and yes, I'd probably be dropping further dollars on a Screamin Eagle exhaust, but that doesn't matter. If your daily commute doesn't involve lane filtering, the FXDR would be a fun daily commuter. If you just want a weekend cruiser, the FXDR would be perfect for that as well. It's a bit more sports-tilted cruiser than it is cruiser-tilted sports but semantics aside, it is, quite simply, the most fun I've had on a Harley Davidson. It's my kind of tail.