WIN! Your Chance to Join the BP Ultimate Eseries Racing Team
When the Supercars Championship had to park up due to COVID-19 earlier this year, drivers and fans turned their attention to sim racing, and the BP Supercars All-Stars Eseries. The unique showcase put esports in the prime time, when physical sport was brought to a standstill, with live broadcasts of the frenetic action proving a major hit.
The Supercars drivers brought plenty of competitiveness and fun to proceedings across two months, before returning to their real-life Ford Mustangs and Holden Commodores.
Now that the Supercars season has been run and won, wrapping up at Bathurst earlier this month, the attention shifts back to the thriving esports scene. This time, though, it will be the best sim racers in Australia and New Zealand taking centre stage for the Supercars Pro Eseries on the renowned iRacing platform.
They'll do battle across six weeks, on Tuesday nights from October 27 to December 1, with races broadcast live on Fox Sports, Kayo and Supercars' social channels.
More than 20 drivers will be in action, including Fawzan El-Nabi and Emily Jones for BP Ultimate Racing. As the official fuel of Supercars, BP supplies all of the teams when they hit the track. In the Eseries, though, it will race them, with El-Nabi and Jones in eye-catching Ford Mustangs.
El-Nabi has already impressed in a BP Mustang, qualifying fastest at Phillip Island against the Supercars drivers in a wildcard appearance in the BP Supercars All-Stars Eseries.
Now, you can follow in his footsteps with the BP Ultimate Race to Win.
Fans can enter an online shootout by setting their fastest lap around the iconic Mount Panorama circuit at Bathurst on iRacing before November 18. It's that easy.
The fastest five drivers will win a $100 BP Gift Card, then fight it out in a live-broadcast competition to select who represents BP Ultimate Racing next year.
The winner will receive a $500 BP Gift Card, and then the chance to line up as a full-time driver for BP Ultimate Racing for the entire 2021 Supercars Pro E Series.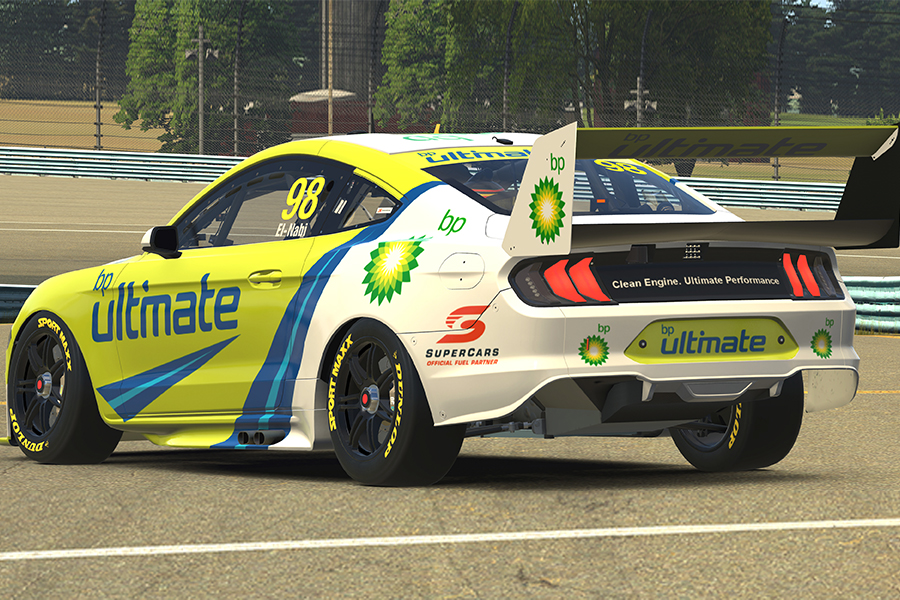 "I think there is a lot to give back to BP because they have obviously given me another chance," El-Nabi says. "I think there's a lot more to come from me for sure. In Australia, we've got some of the top sim racers around so it will be tough but I don't see why we can't get a win or two maybe."
A lifelong Supercars fan and keen sim racer, El-Nabi got his start with BP Ultimate Racing through a wildcard competition and was signed up for the Pro Supercars Eseries on the back of his wildcard appearance.
"I'm really excited," Jones says ahead of the 2020 Pro Eseries. "BP is a massive partner of Supercars racing and racing in Australia, so to be racing for such a big well-known brand is pretty surreal." "I want to meet Bert, who's the guy in all their ads, that's my aim for the season – and to score as many points as possible!"
Learn more about the BP Ultimate Race to Win and follow @BP_Ultimate_Racing_ on Instagram for updates and tips.