Having a bachelor pad to yourself isn't just a matter of signing the dotted line at the real estate agent and living alone for the first time in your life. It's an opportunity to curate your own space; to be the grand poobah of your own island, a man of style who knows what he likes and can entertain properly.
As much as a whole Saturday playing the new Call of Duty is an exercise in excess dopamine, socialising is still the done thing on every other weekend, and what better way to show your mates that you're now the king of your own castle than to put on a delicious spread, crack a bottle of the good stuff and entertain: the old fashioned way.
Making sure that your digs are a reflection of the best of you, and not the worst, is crucial to a having a happy nest of which you can be proud when you have guests come to visit. Whether you're having your mates around for the big game, or bringing someone special home for a sleepover, our list of home improvement tips, presented in partnership with ultra-cool Swedish furnishing experts IKEA, is the perfect place to start.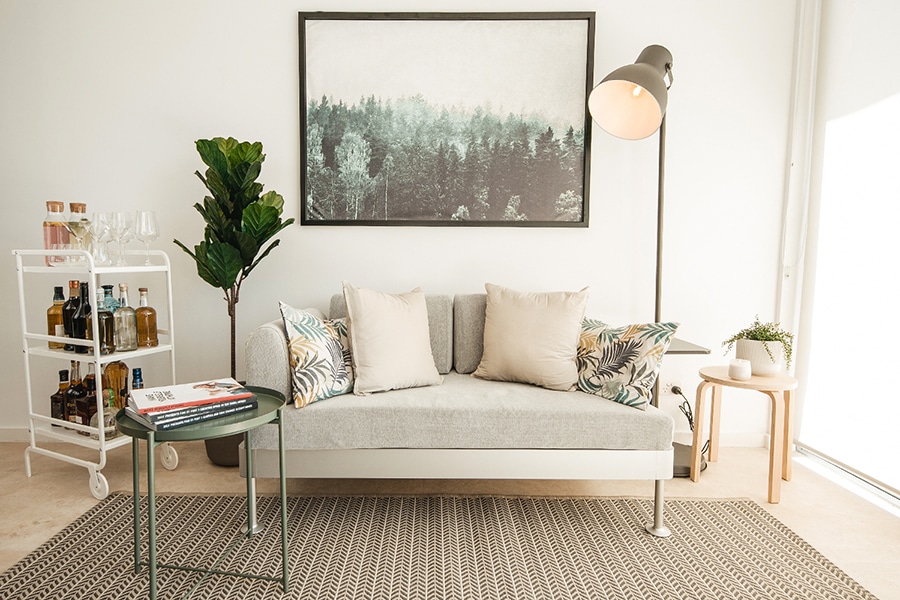 Buy your furniture like a grown up
This has more to do with a little foresight than it does lugging a mattress up four flights of stairs. While dainty little oddments found at vintage stores are great, laying a foundation of linear style when you start to define your digs is, as they say in Sweden, väldigt viktigt (go on, you have Google).
Two things you want to avoid: a pad that looks like it was furnished by a council cleanup, and a pad that looks like a uni student sharehouse. While a stack of dishes without so much as a drying rack might have been fine to leave for a week in your salad mi goreng days (you were too busy studying, right?), it's not going to fly anymore, and making things nice is priority.
Start with a couch as a statement piece to set the mood for the living area, and work outwards from there. Make sure that everything you purchase follows some sort of a structured theme, and is considered, as well as considerate to the space (does your one bedroom walk-up really need a 70' flatscreen blocking the kitchen door?). Using a lounge as a foundation for the room is a great way to get the ball rolling: start by making sure it's comfortable and the right size for your needs, and you'll have a bangin' man pad before you know it.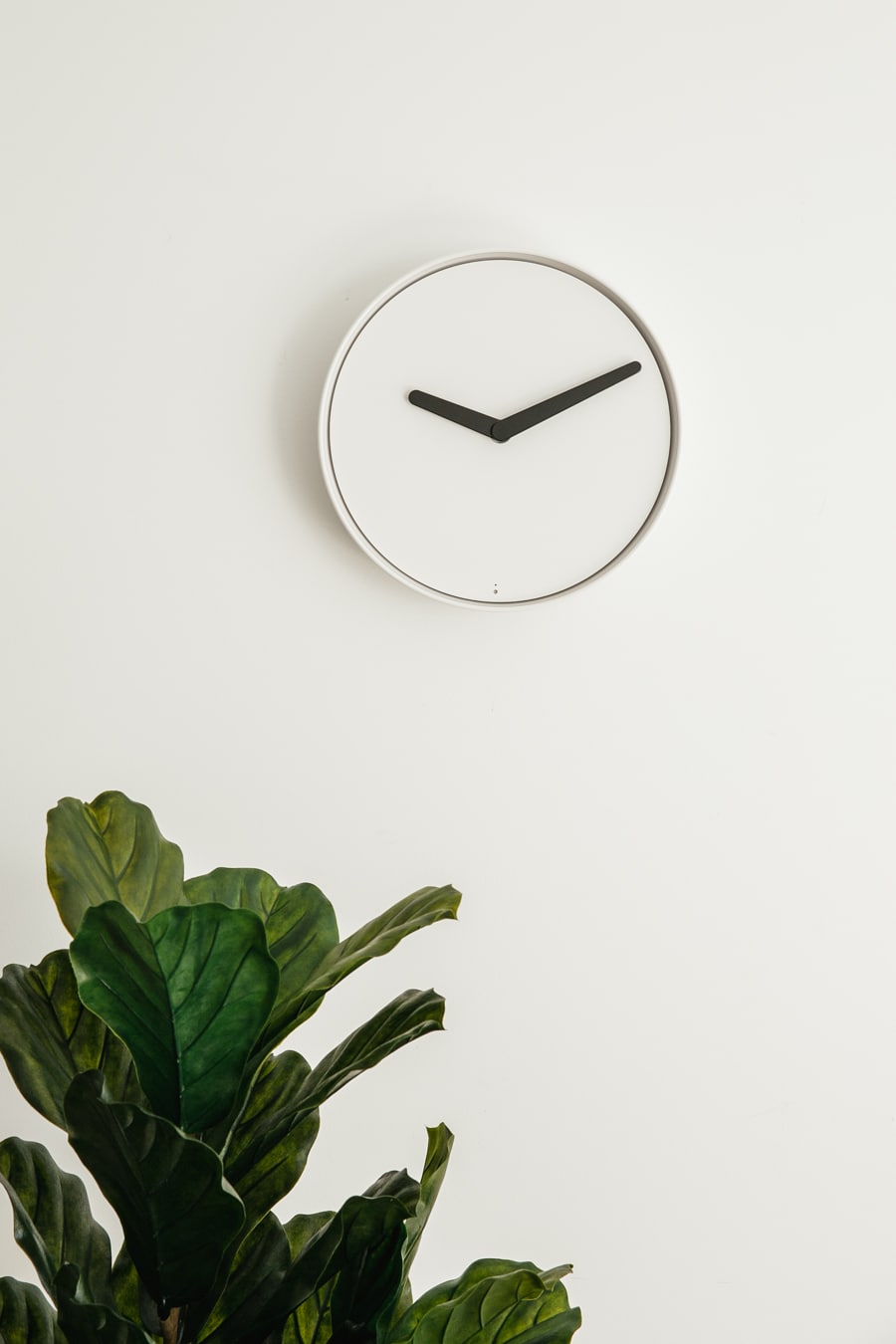 Don't leave your walls bare
The reality is that you need not money nor taste to do this. There are plenty of options for everybody to dress a bare space that require little thought and won't break the bank. At the very least start with a wall clock that reflects your personality (there are countless options here) and a decent landscape photo of the great outdoors; a great way to add the illusion of space, especially in smaller apartments.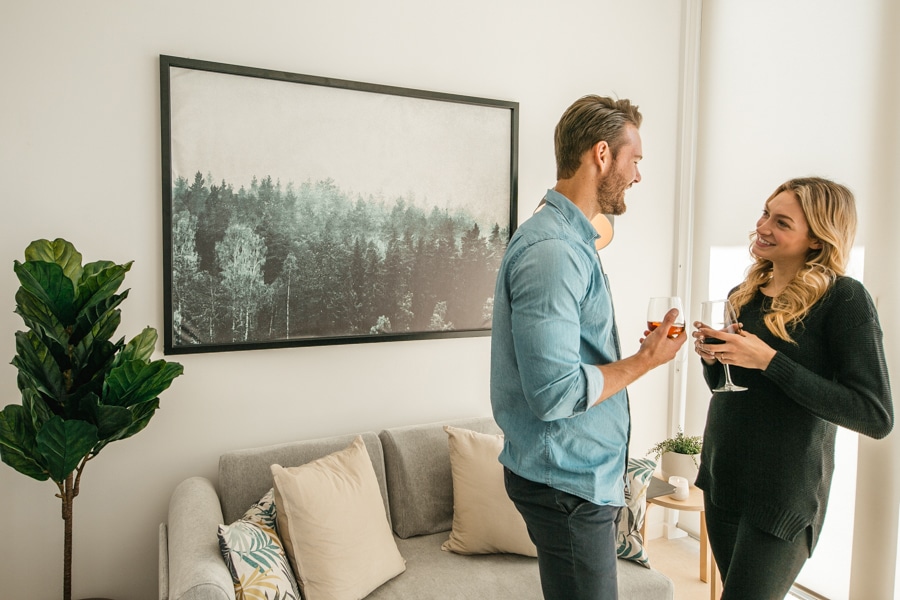 Whether or not you know the difference between Manet and Monet is irrelevant–aim for art which reflects the rest of your room, in terms of both theme and colour scheme. Oh, and your old posters? You don't have to throw them out, but fang them into a nice frame to prove you're no longer a teenager (and make sure you've got more than just posters on the walls).
STOLPA Wall clock
BJÖRKSTA Picture with frame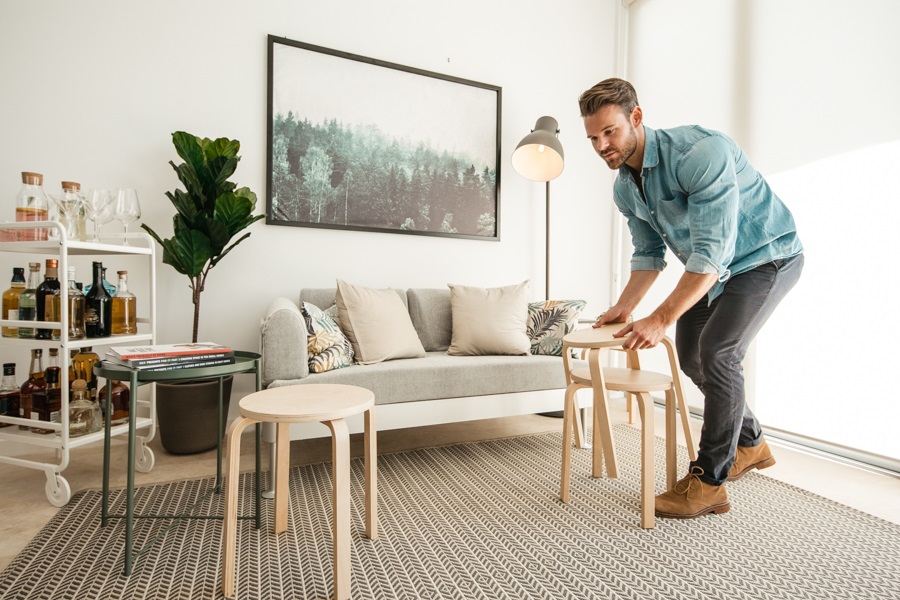 Stadium seating
Not literally stadium seating, fine, but it's imperative that whether you're entertaining one or a dozen, everybody has a comfy spot to park their keister (that isn't an upturned milk crate). In addition to your exciting new sofa, be clever by getting a dining setting with chairs that can double as occasional seating, and utilise modular seating as much as possible.
If you're in a smaller place, some stackable stools that can be squirrelled away when not in use are also a great idea.
FROSTA Stool
DELAKTIG 2-seat sofa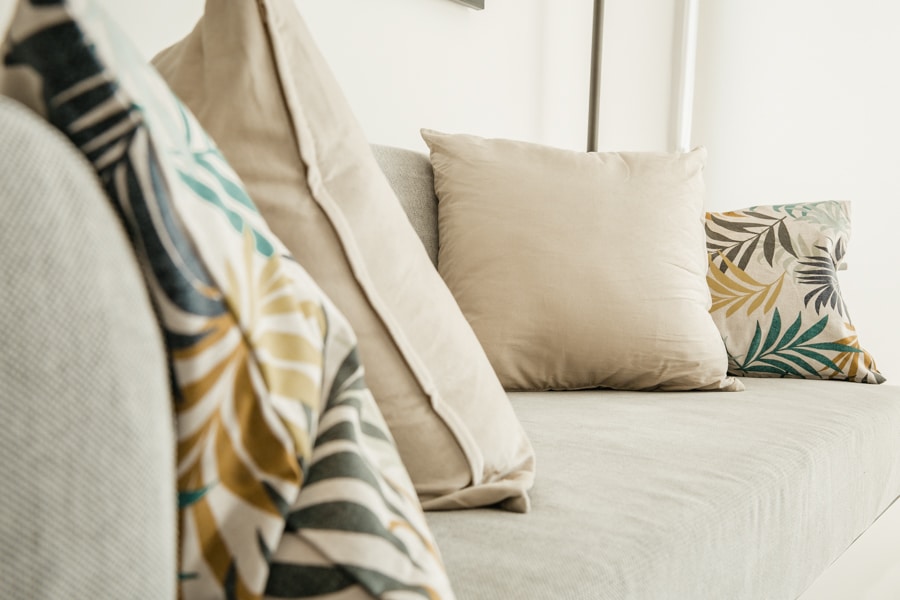 Cushions and throw blankets to make the place comfy
Okay, we hear you, throw blankets are a chick thing. But that's why you need them in your life. A few cushions and a blanket or two add warmth and an extra element of comfort to the room, are perfect for winter when you can't be arsed getting up and putting another layer on, and are ideal for winter snuggles during movie & pizza dates.
Nothing says "no women live here" like an undressed lounge, and frankly, the girls are right on this one. A few cushions and a throw or two go a very long way.
SANELA Cushion cover
GILLHOV Cushion cover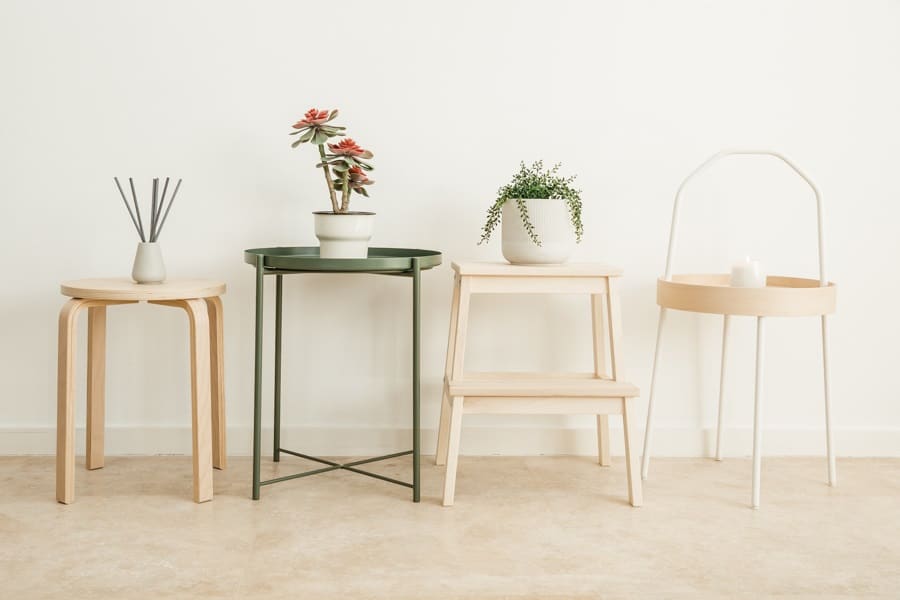 Trick your guests into thinking you have more stuff than you actually do
Multifunctional pieces of furniture, that is, homewares that serve more than one purpose, are the answer to all of your small-space woes, as they take up less space and can always come in handy.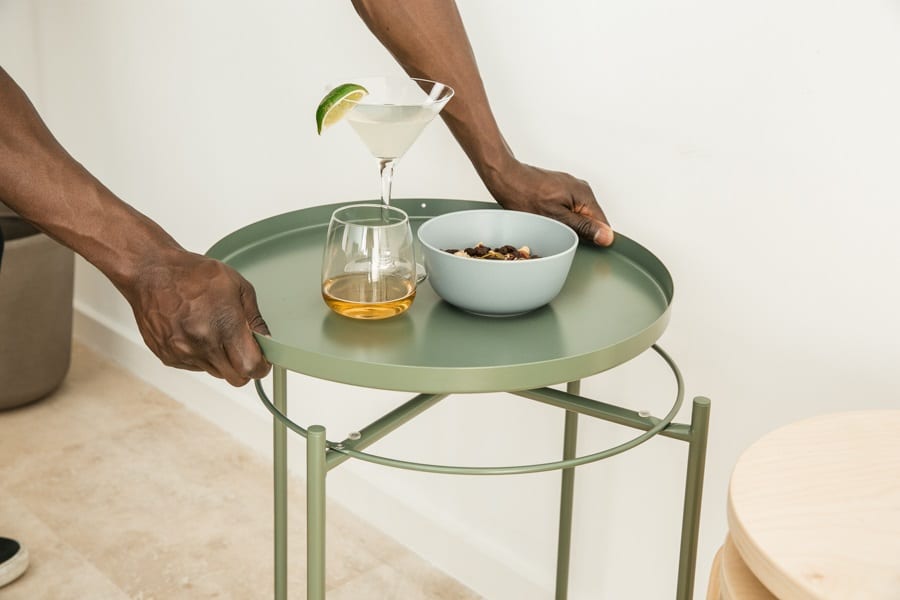 Take a table which can double as a drinks tray, for example: clever, huh? Or how about a stool that's also a ladder that's also a bedside table? The options are limitless.
GLADOM Tray table
BEKVÄM Step stool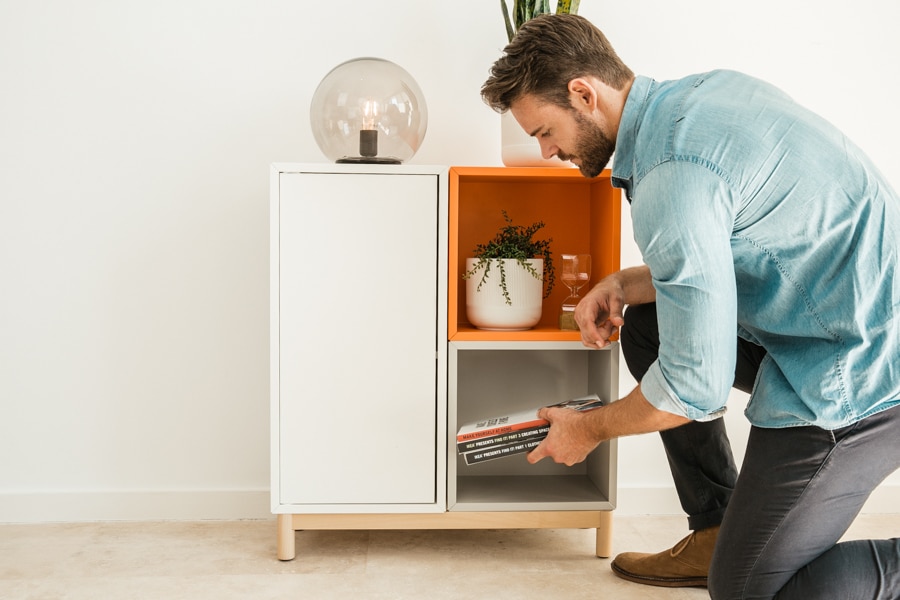 Clever places to hide your crap
Skeletons in the closet aside, everybody has things to hide, and having a few sneaky spots around the house to keep your stuff organised neatly is a must. Whether it's a chest of drawers that doubles as a sideboard, stacked boxes for documents and photos, or under-bed storage, clever storage is the key to keeping an inevitable mess at bay, and a great way to quickly throw your stuff to the side when you have to clean up in a hurry.
EKET Cabinet combination with feet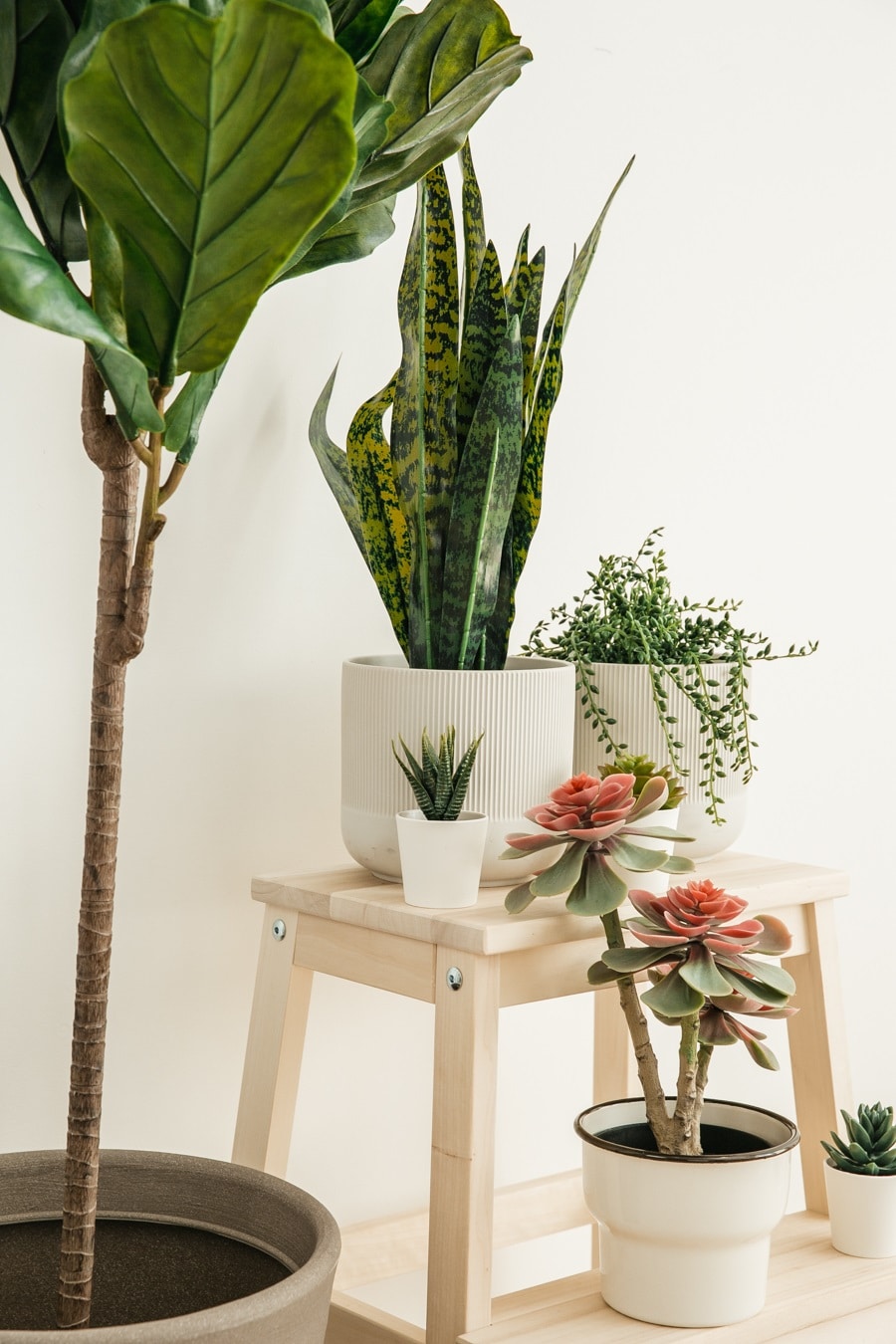 Become a 'plant guy'
It's 2018, and indoor plants are no longer something only rich people with housekeepers have. No matter how big or small your pad, there's a plant for every surface (and corner), and there are plenty of popular options that require very little maintenance, to have your place looking green and fresh without any hassle.
Still feel like it's all too much effort? (It's not). Artificial plants don't have the same stigma they once had, and are a fun way to bring a bit of the outside in, for a maintenance-free option (though remember to give them a quick wipe once in a while).
FEJKA Artificial potted plant, fiddle-leaf fig
FEJKA Artificial potted plant, string of beads
FEJKA Artificial potted plant, succulent
CITRONSYRA Plant pot
GRADVIS Plant pot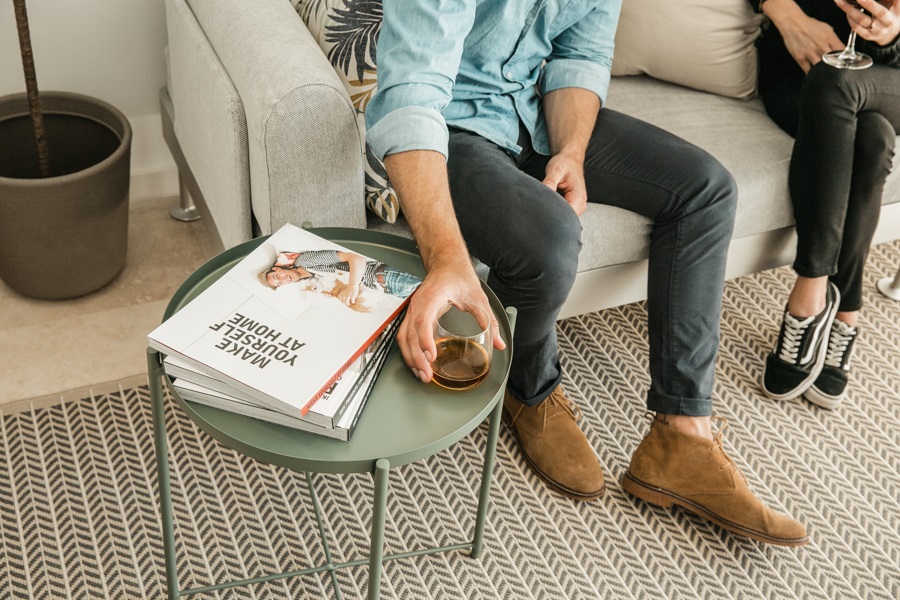 Get yourself some cool books
Books are a non-negotiable when it comes to personalising your place and putting your stamp on your slice of the world. You don't have to be a huge reader, but a couple of shelves of whatever takes your fancy (there is a book for everything, so no excuses) should suffice.
If you're confused, go for some great reference books, like a stately atlas, or anything leather-bound for full effect. Invest in three or four beautifully presented coffee table books for the living area, too.
Still not convinced? Look up what John Waters said about books for complete evidence that they're your ticket to being a grown up.
EKEBOL Make yourself at home
FLOTTEBO Find it! Part 3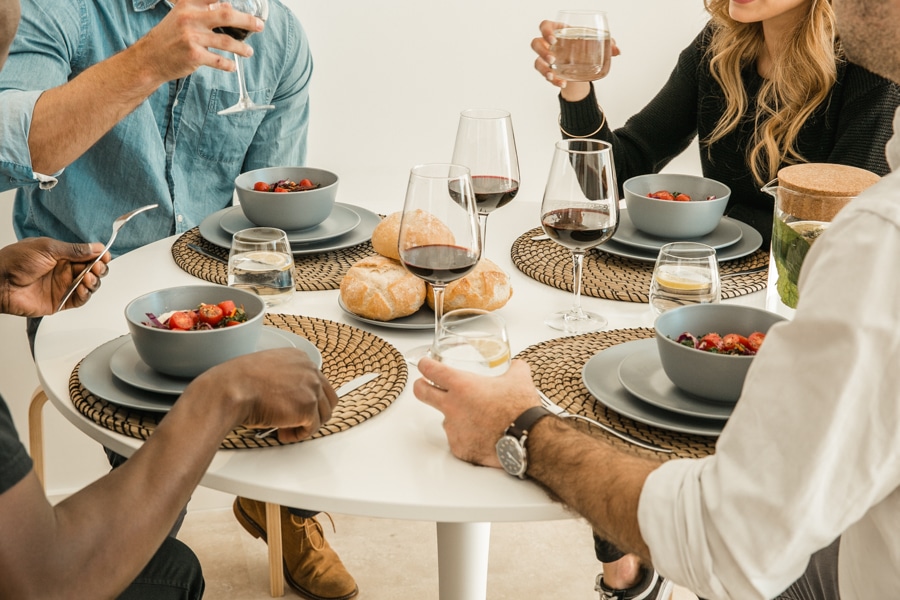 Tableware that looks like it came from the same box
Love to whip up a feast using whatever's in the fridge? Great. Can't cook to save your life? Also great. Whether you're Gordon Ramsay or lean heavily on take-out, good food deserves good tableware, so make sure yours is set to impress.
Full sets of matching cutlery and enough bowls and plates for everybody at the table to eat at the same time is a great start: extra points if it's colour coordinated, and actually cleaned within 24 hours of use. It's also important to make sure you have plenty of different serving dishes for when you're presenting a veritable feast to your lucky guests.
DINERA 18-piece service, grey-blue
LÄTTAD Place mat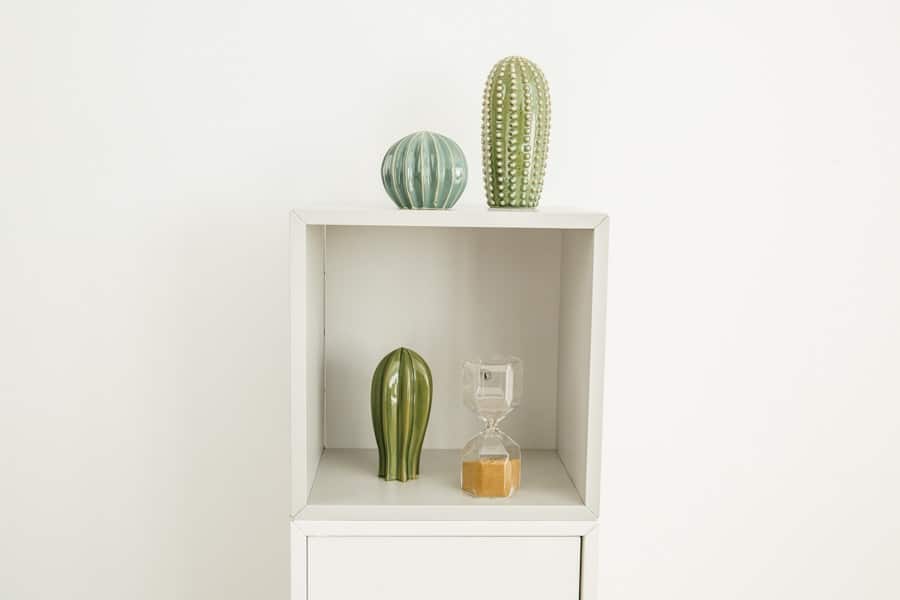 Get some quirky knick knacks
Setting up the perfect bachelor pad is one thing, making sure it looks like somebody actually lives there is another. We're not suggesting some deliberate mess and dirt on the walls to prove it's not a hospital, but a few oddments carefully placed throughout will give your palatial manor a homely feeling.
Art and plants will only get you so far at filling a room, so a few items that reflect your personality will help finish setting the scene. Like boats? Get a naval telescope. Fan of technology? Find a fancy clock that tells the time with lights or something. Plan on having people over on the reg? Get a killer cocktail set. You get the idea.
SJÄLSLIGT Decoration set of 3, green
TILLSYN Decorative hourglass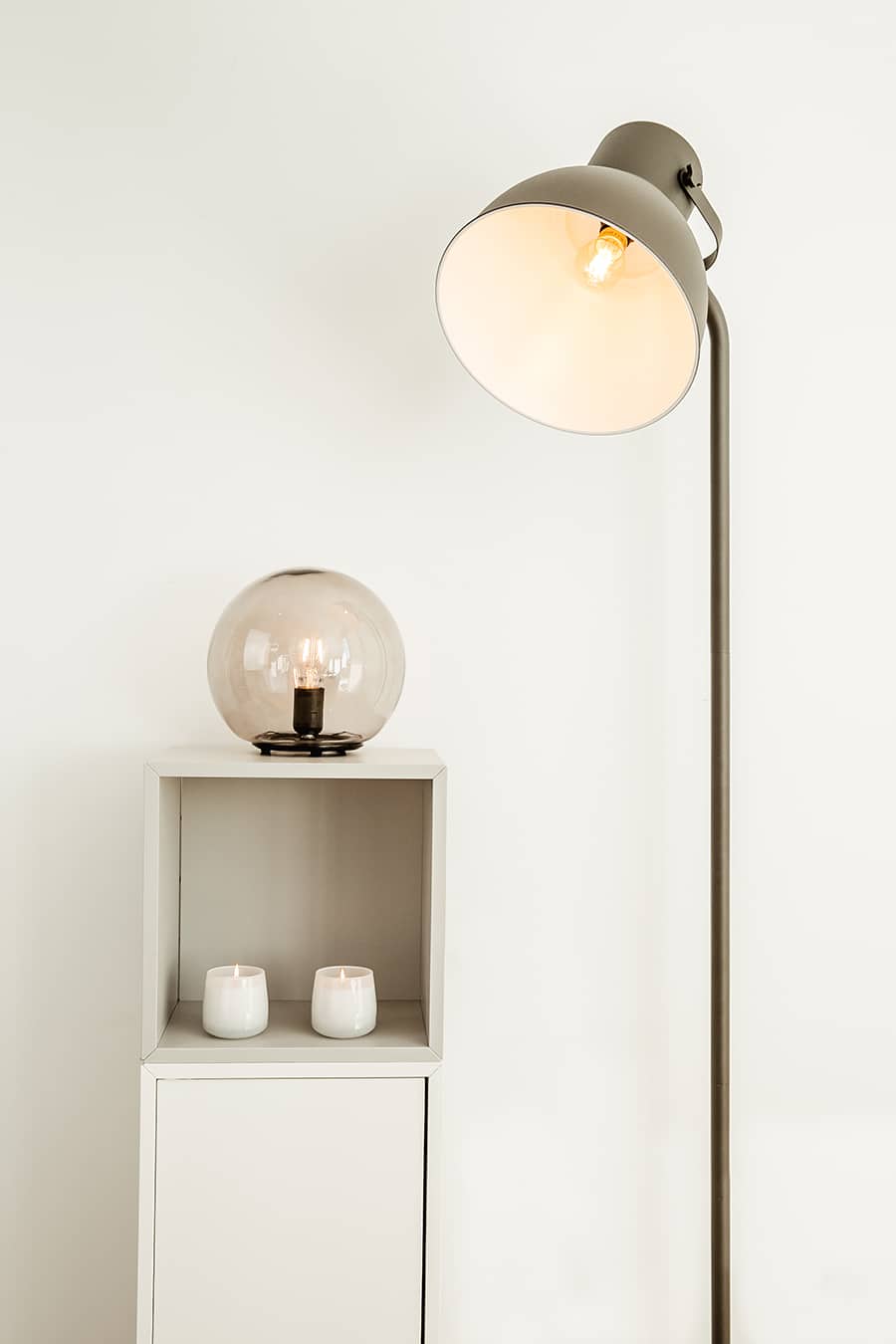 Learn how to set a sexy mood
No, it has nothing to do with the "Sex Mix" playlist you've so carefully curated on your Spotify. In fact, you need to delete that completely, and replace it with some candles and different lighting options, so that no matter what mood you're going for, you can set it with ease.
Small lamps and tealight candles are both great for when you need to kill the overheads and take things down a notch. A few well placed larger candles are perfect for when you want to go sans electricity and take the mood from a fab man cave to Fabio's love den.
FRISKHET Scented candle in glass
HEKTAR Floor lamp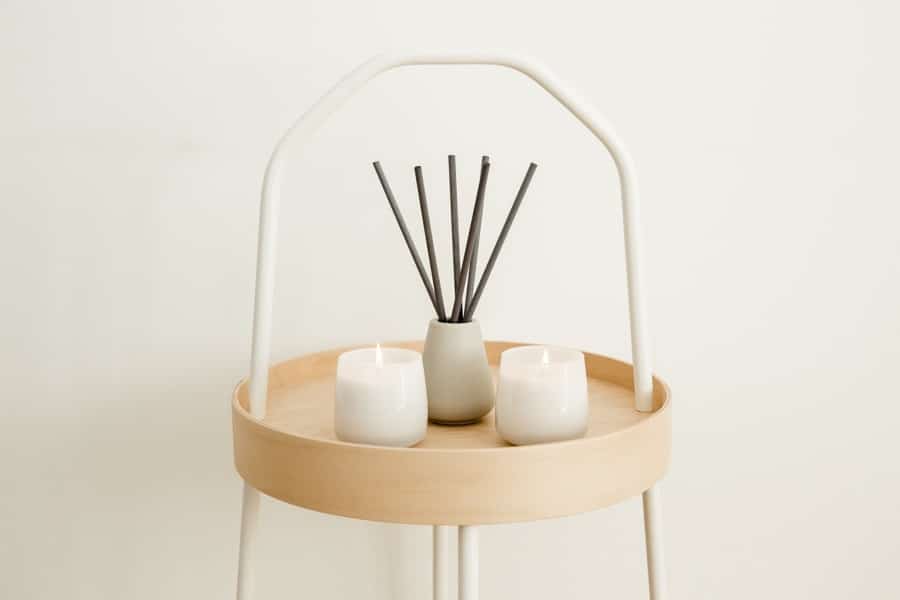 Eliminate funky odours
This shouldn't be news, because grotty aromas exist in every home, no matter how well curated the furniture is. That's no excuse to let them linger, though: getting rid of nasty scents is easy if you stay on top of it.
Scented oil diffusers are great for toilets and bathroom areas for a long-lasting solution, while scented candles are great for living areas. To go all-out, invest in an oil burner for the bedroom, for when you need to make sure the air is nice and rosy (some essential oils are great for better sleep, too).
NJUTNING Vase and 6 scented sticks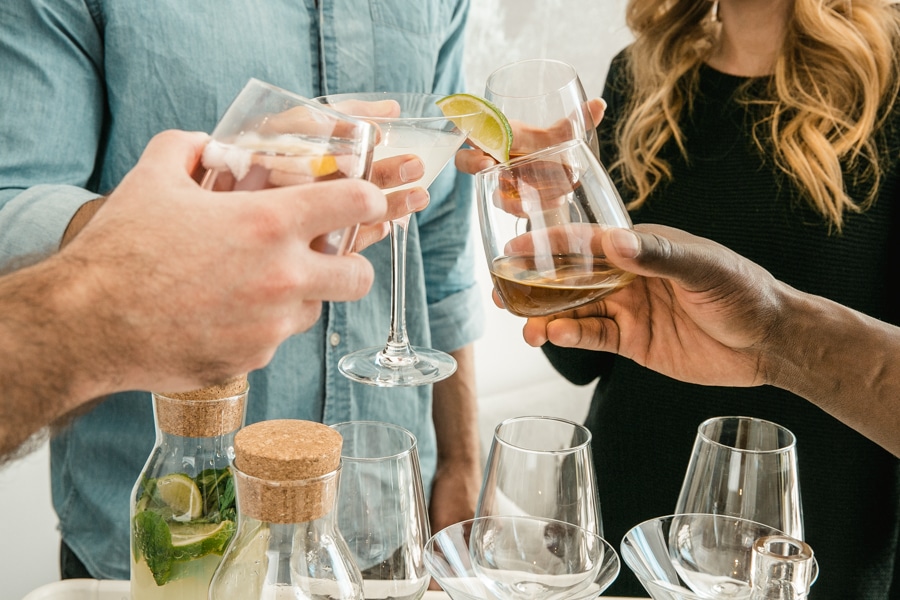 Glassware that isn't stolen from the local pub
As much as we all love to show off both our love of the local boozers and our inherent ability as Australians to shamelessly pilfer from them, it's probably time you had some glasses of your very own, that aren't made by Headmaster (and don't say "The Courthouse" on them).
Some short and tall glasses for everyday use, a set of decent wine glasses and a set of cocktail glasses is a great starting point for a simple collection of glassware staples. And yes, even though you still drink beer, get yourself a set of proper beer glasses, and turf the schooeys.
HEDERLIG Red wine glass
DYRGRIP Glass
FYRFALDIG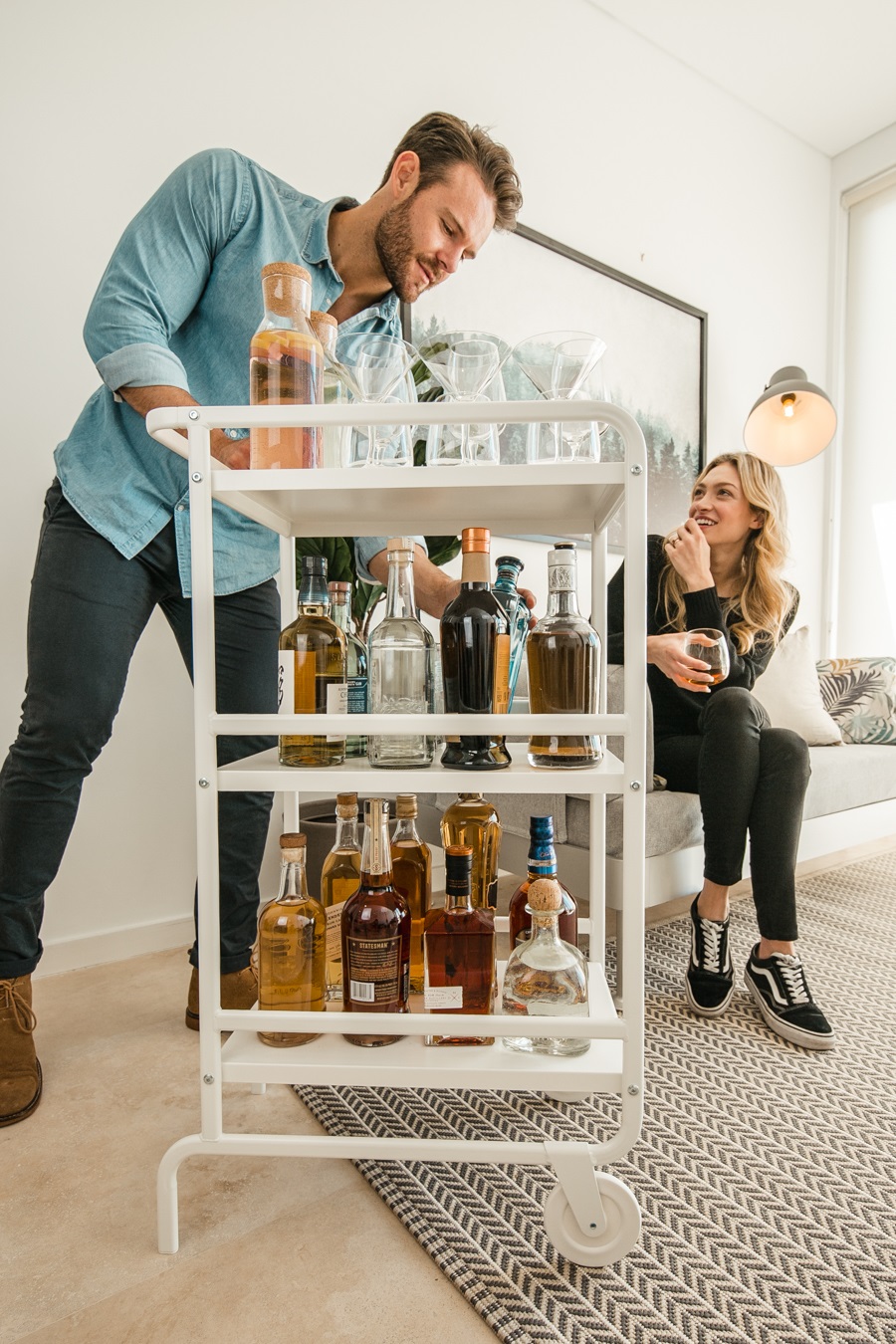 A well-stocked bar cart
Arguably the most important piece of furniture in the entire house, making sure your bar cart is ready to rock and roll whenever you are, be it a wild party or an intimate dinner, is crucial. Keep on hand (at the very least) the provisions for a martini, a negroni and an old fashioned, plus a couple of decent single malts for when the occasion calls. It's also a good idea to keep a couple of decent reds on hand.
Displaying a collection of fine liquor is a sophisticated way to show that you're no longer the kind of bloke who chugs UDLs out of a shoe at 3am.
Well, not all the time anyway.
SUNNERSTA Trolley
IKEA 365+ Carafe with stopper

In conclusion
Saying goodbye to the communal sharehouse is a bittersweet day, but the first step on a path to seriously impressing your inner circle (and probably your parents, lets be honest), is hosting them in a fresh new setting that you've curated yourself. With several staple pieces of furniture and a few more bits and pieces peppered throughout the space, your new bachelor pad can easily become a beacon of interior design that'll have your old roomies envious.
As they say in Sweden: HJÅPPI DEKKØRJATING!