3 Must-Have Bracelets for the Modern Man
Beaded bracelets are taking off amongst the male demographic and with good reason. Available in different styles and materials, they render a striking impression without resorting to loud or desperate gestures. That makes them an ideal accessory in this fashion-forward world, where details matter and so too does a sense of personal meaning. This is exactly where jewellery brand Azuro Republic finds its unique voice. Emanating with distinction, their men's beaded bracelets engrave intricate designs with symbolically rich gemstones for a glorious effect. Meet your newest must-have accessory.
Azuro Republic was founded in 1989 as not an outright brand, but a community where men from all walks of life could seek common ground and exchange ideas. That is to say, the original "republic" was a place where like-minded men could be men, openly sharing their passions and curiosities no matter who they were or where they came from.
Over time, Azuro Republic's core principles and philosophies gave way to the brand we see today, which continues to demonstrate equality, inclusion, identity, passion, experience, and dedication. Overseen by dedicated jewellery makers and factory managers from around the world, the brand brings forth a truly distinctive tier of craftsmanship and style.
It all results in natural gemstone bracelets of palpable quality and intrinsic symbolic value, which provide the ideal finishing touch to any stylish ensemble. While bolstered by a universal spirit, the brand drives home a sense of personal connectivity through each natural stone or silver and gold design. Rife with meaning, these signature bracelets entail aspirations of greatness and redefine the modern man.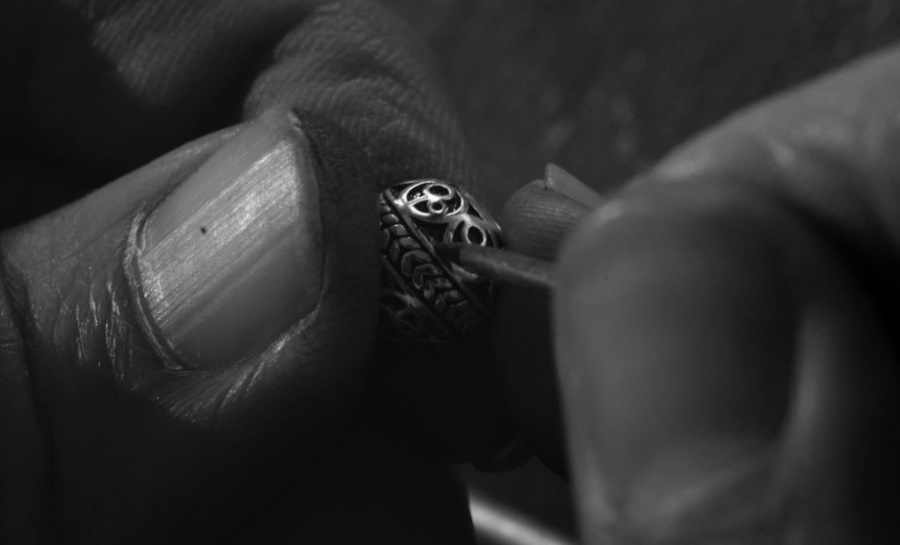 Behind every Azuro Republic bracelet is a crafty and creative process. The journey starts with a meticulous 2D sketch, which then gets refined and illustrated in digital 3D. Once the 3D design has been created, the brand creates a wax tree to precise specifications.
Next, a machine mixes plaster with the wax tree to ensure the highest tier of quality. A wax losing process trims down the wax and gives way to the silver casting phase, during which liquid silver is poured into the empty casting mould. It's here that the bracelet's key components start to form.
Once the plaster is washed down and the mould cooled, the silver takes proper shape. Tending to every last detail, Azuro Republic's craftsmen use specialised equipment to wash away and remaining plaster flakes or other minutiae. Next, they complete the mother silver piece and make a rubber mould. the latter of which gets injected with wax and becomes integral to the rest of the casting process.
At this stage, the brand goes back and repeats earlier steps to once again guarantee the utmost tier of quality control. After polishing every individual piece of the bracelet, the craftsmen chisel and refine each signature stone to sheer perfection. The end result is a bracelet of unparalleled harmony, beauty, meaning, and quality.
In case it's not yet obvious, Azuro Republic makes one-of-a-kind jewellery in the most literal sense of the concept. Culling from its own rich history or passion and craftsmanship, the brand redefines accessories for the modern gentlemen. Here are three of their best offerings: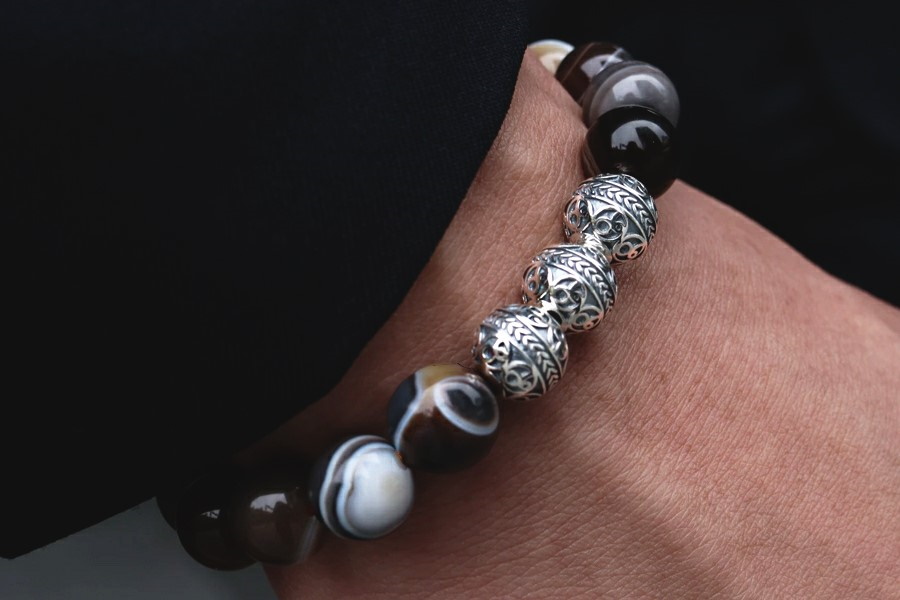 Silver Classic Brown Agate
Signifying balance, agate gemstones also encourage spiritual growth, introspection, and contemplation. On this stunning bracelet, they're dressed in chestnut brown and joined by three engraved stones of 925 Sterling Silver. May the Silver Classic Brown Agate provide stability and composure in this crazy world. At the very least, it will spruce up your appearance and become a signature, guaranteed.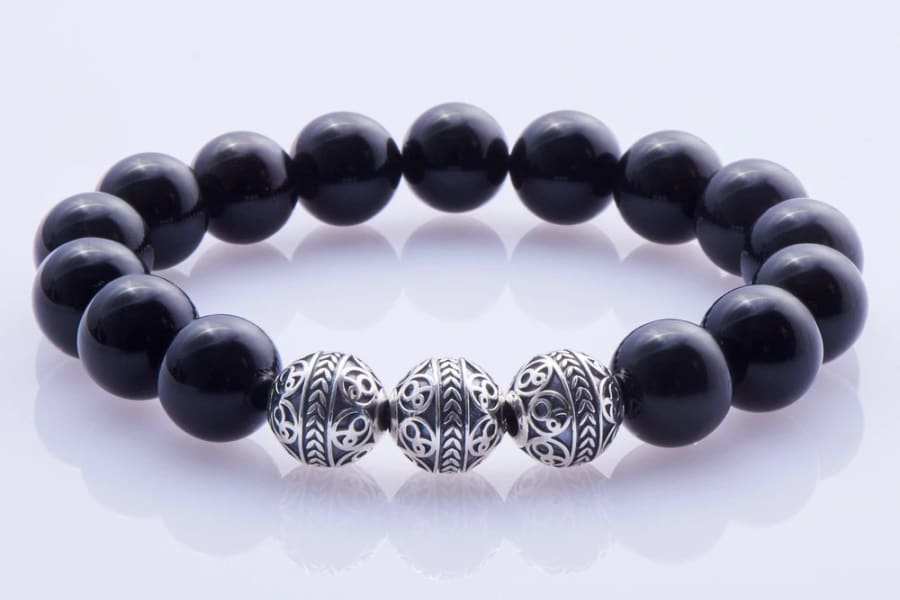 Silver Classic Obsidian
Representing bravery and guardianship, jet black obsidian originates in lava and takes hundreds of years to form. Native Americans call this gemstone "The Apache's Tears" and that's perhaps due to both its symbolic value and its uniform vibe. When paired with Azuro Republic's handcrafted and engraved silver stones, this silver classic obsidian bracelet makes for a classic indeed.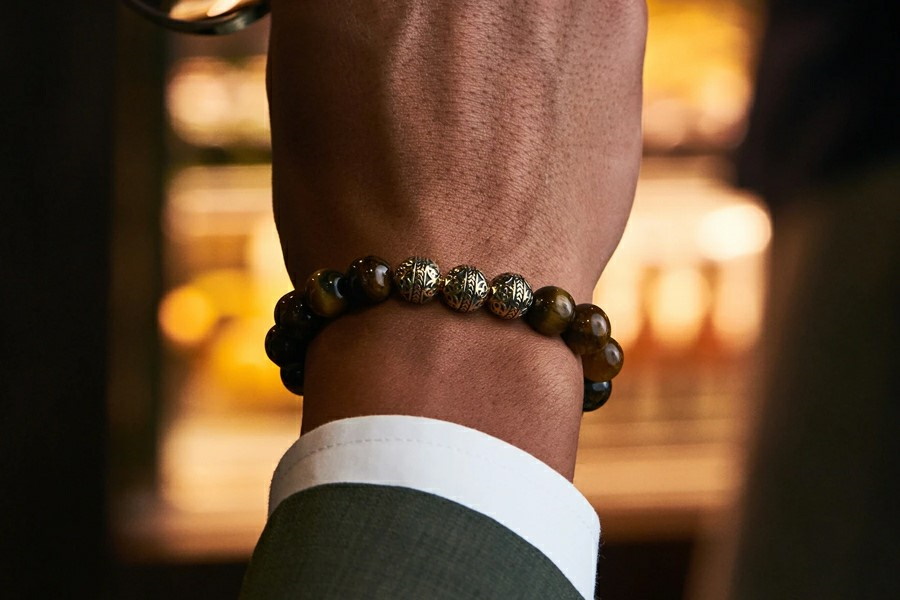 Gold Classic Tiger Eye
Who doesn't love a name like tiger eye? Behind that brilliant name is a silky quartz gemstone that was first discovered in American gorges. Rapturous at first sight, it comes layered in both texture and meaning. The eye stone stands for courage while the tiger stone represents motivation. As a result, tiger eye gemstones impart positive energy, intelligence, integrity, and connectivity. Also featured on this extraordinary gold classic tiger eye bracelet are three 24k gold-plated stones with signature engravings. Resembling the name of the bracelet, the fierce and courageous spirit of the tiger will follow with the radiant cinnamon-brown bracelet on the wrist. Heads will turn.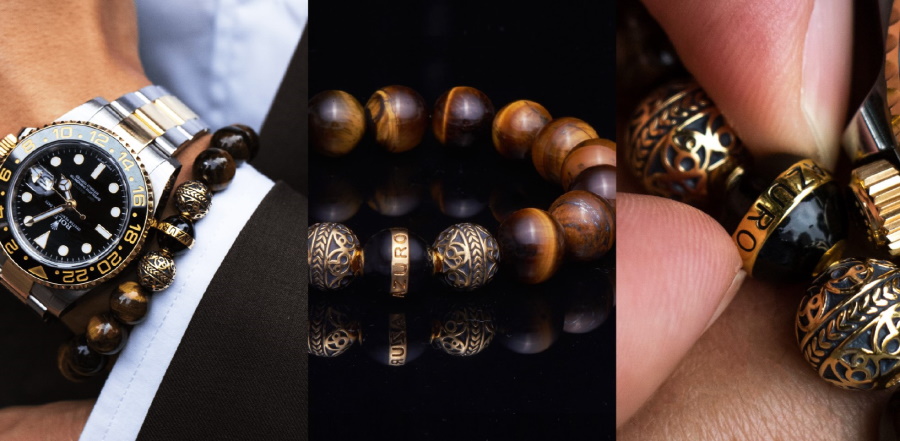 Custom Bracelet Services
While there are plenty of fine jewellery brands on the market, finding one that offers custom bracelet services is another matter. For those who prefer the more personal approach, a bespoke piece is the only answer and Azuro Republic has the process on lock. After honing the method through collaborations with professional sports teams, the jewellery label is now offering custom bracelet designs to the public. Whatever your personal preference or style, the jewellers at Azuro Republic can make it happen.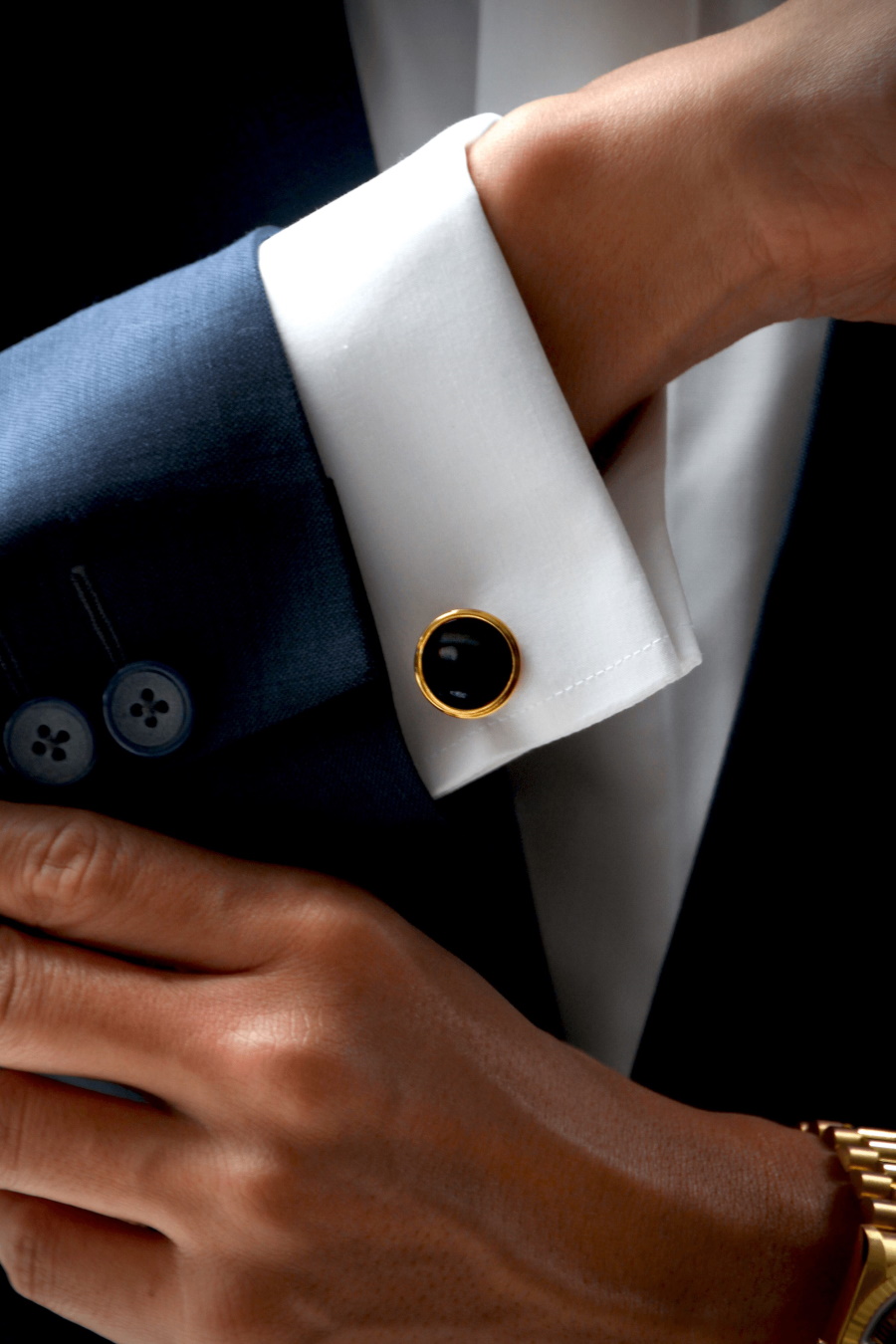 Silver & Gold Gemstone Cufflinks
If you thought Azuro Republic only did bracelets, think again. The label's most recent collection features a range of cufflinks, embedded with gemstones and finished in silver or gold for a touch of sophistication. Taking the processes involved in custom bracelet design and transferring them into cufflinks is no mean feat. Higher weight, coupled with more intricate cutting, shaping and engraving make crafting the premium product an exercise in precision and perfection. Sure, the necessity of the cufflink has diminished over the years, but adding a fine, custom-made accessory to your formal or event attire is a sure-fire way to stand out. Take it from us, there's no such thing as over-dressed.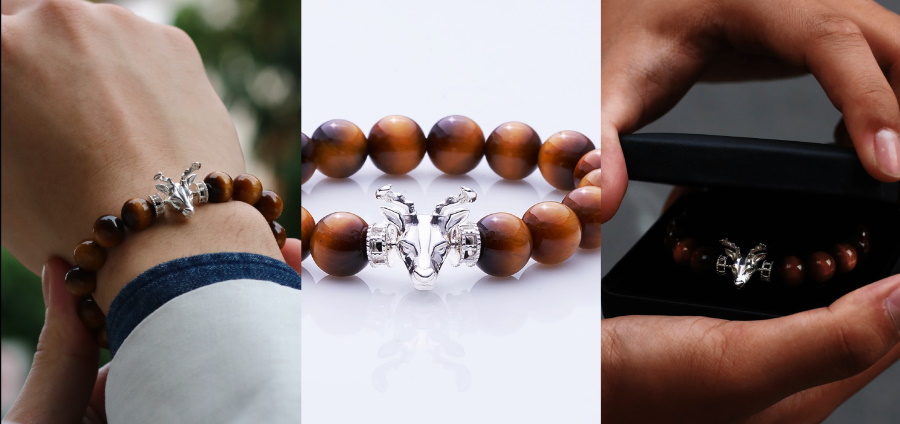 Passion. Success. Inspiration. Equality. These are the core values at Azuro Republic. The brand believes (and rightfully so) that every man should have equal opportunity to demonstrate his value and fight for what he wants. Then we have the gemstone bracelets themselves, which drive home a sense of personal identity and symbolic meaning. It's at the crossroads between individual style and universal equality that Azuro Republic stakes its claim, transforming men's fashion in the process.