Known for their long history of clever cask maturation, Speyside's own Benriach are keeping the spirit of innovation alive and well. The iconic distillery recently refined both their recipes and cask selections alike, resulting in a new range of classic core expressions. Consisting of both peated and unpeated single malts, the latest releases introduce a whole world of flavour and some unique packaging to go along with it. This comes as great news to all the passionate whisky explorers out there, who are in tireless pursuit of the next delicious dram.
The thing we love about Benriach is that they're always forging ahead without losing sight of their distinguished heritage. In fact, they're one of only two distilleries in Speyside who still do their own floor maltings, amongst other things. Combine that with a long history of innovation and you get a constant sense of evolution, whereby the distillery takes the best of what works and then makes it even better. Not only does that keep loyal fans and treasure-seekers on their toes, but it makes for the perfect point of entry for anyone who's trying a single malt for the first time.
To Peat or Not to Peat?
To peat or not to peat is a question Benriach is always asking themselves. Rather than settle for an answer, they pass the choice onto consumers. Hence, the new range of core expressions features both smoky and non-smoky expressions. Speaking of variety, drinkers can choose between respective 10-year and 12-year statements. Here's a closer look at the distillery's newly reimagined line of stunning sippers and the unique casks that bring each expression to life.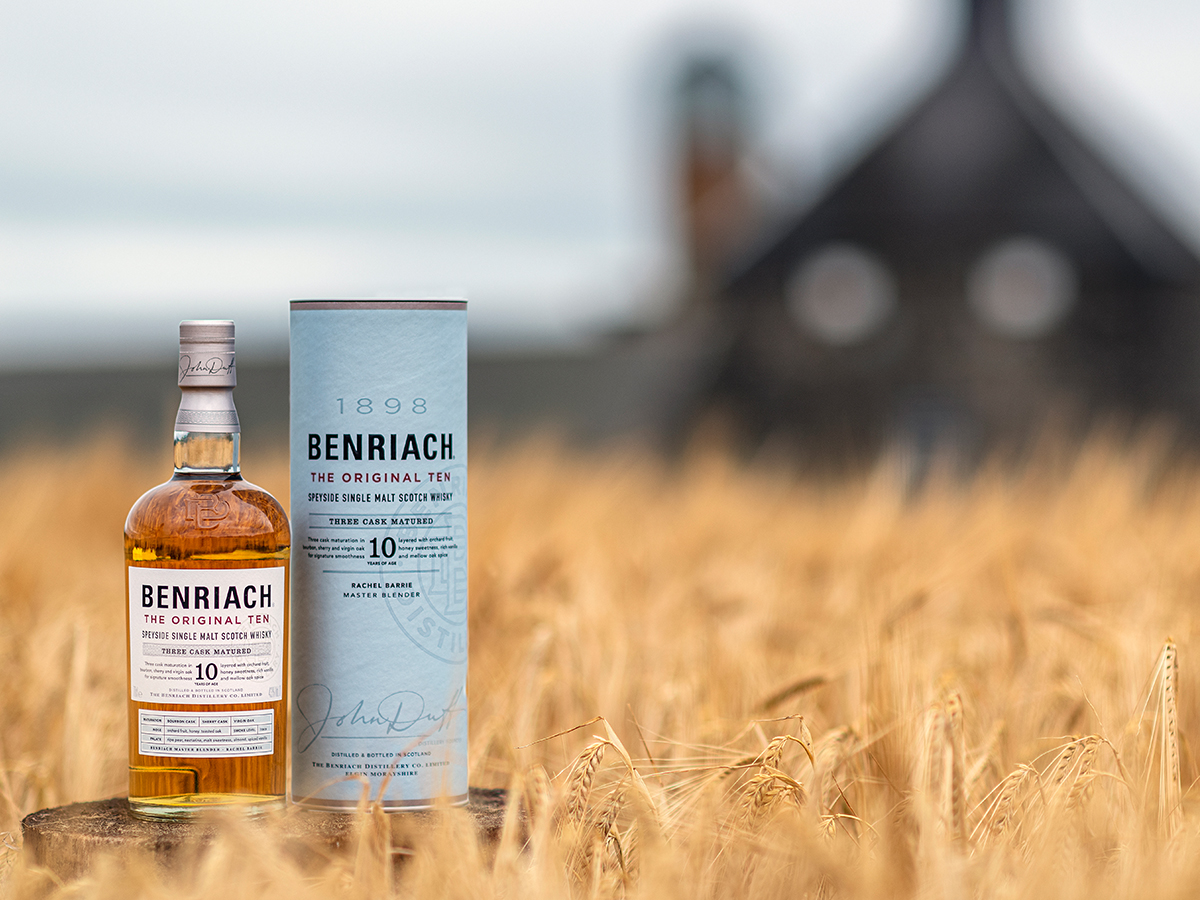 The Original Ten (10-Year-Old Single Malt)
Benriach's flagship expression duly encapsulates the smooth and fruit-forward profile for which the distillery is best known. Crafting The Original Ten is a painstaking process, which involves triple-cask maturation in bourbon barrels, sherry casks, and virgin oak casks. The whisky from each cask is then expertly married to generate unpeated layers of rich orchard fruit, dense honeyed malt, and toasted oak. It's all interlaced to perfection and punctuated by subtle traces of smoke.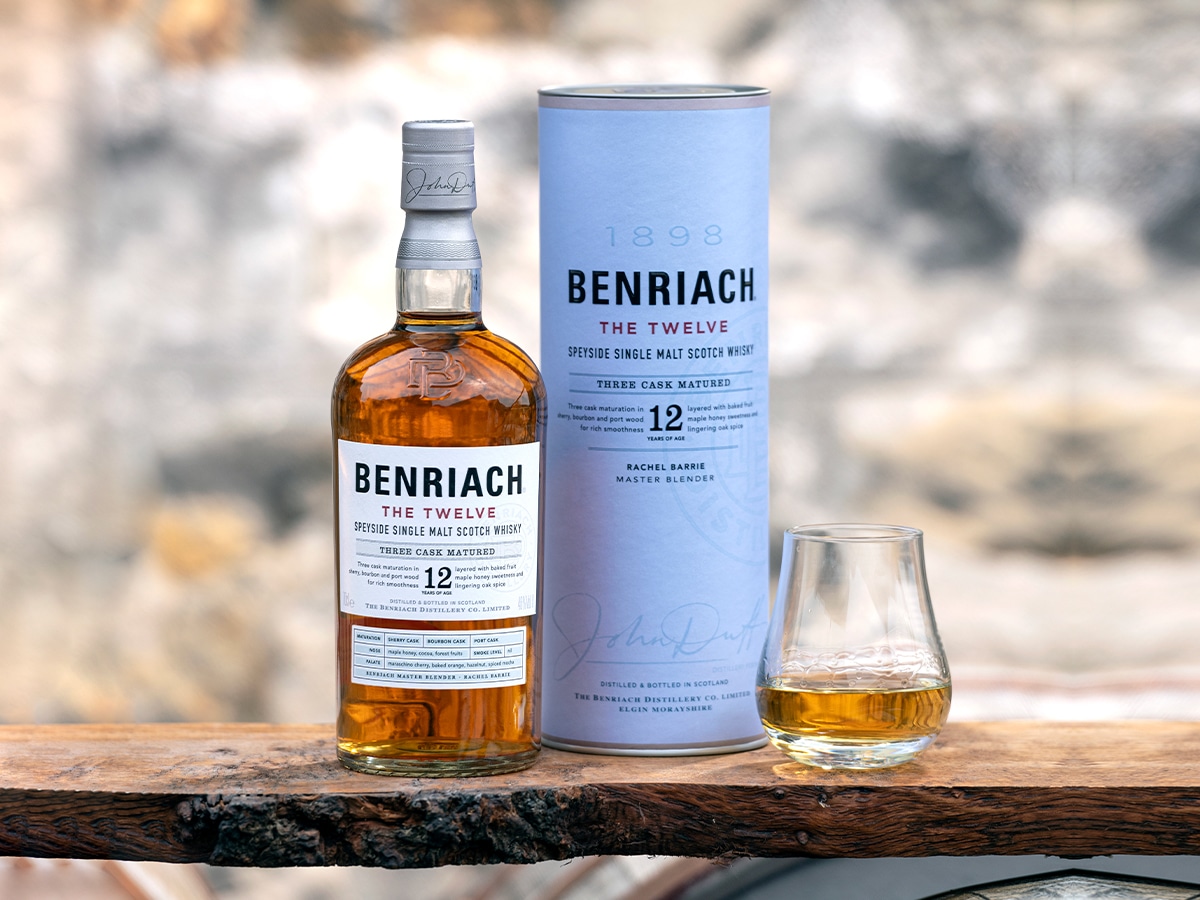 Benriach The Twelve (12-Year-Old Single Malt)
As its very name would suggest, The Twelve is three-cask matured in sherry casks, bourbon barrels, and port casks for a minimum of 12 years. Benriach then marries the whisky from each cask to create a symphony of texture and taste, which layers baked fruit, maple honey, and cocoa to breathtaking perfection. Delicate notes of sultana linger on the palate and give way to a spiced mocha finish. Newly reimagined perhaps, but this unpeated single malt remains as sherry-rich as its acclaimed predecessors.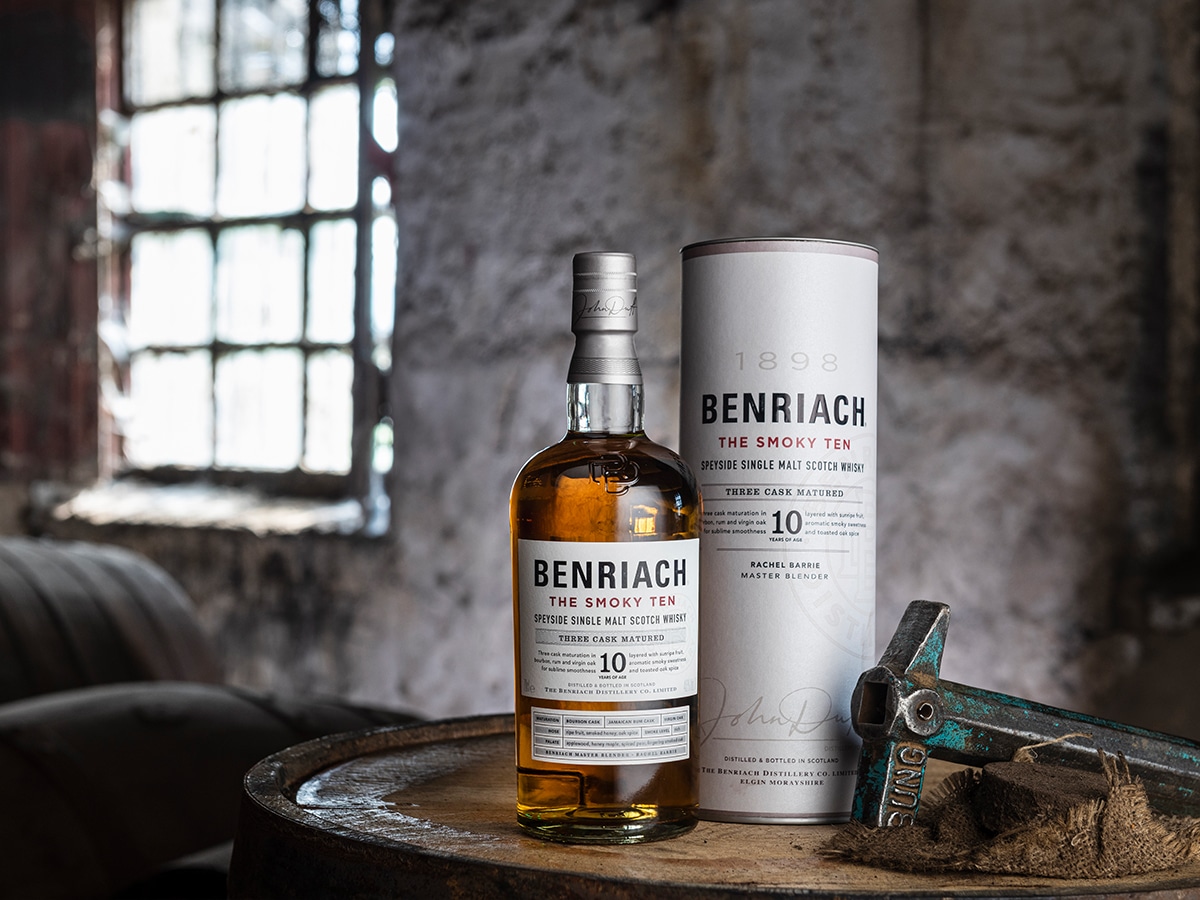 Benriach Smoky Ten (Peated 10-Year-Old Single Malt)
Crafted from a combination of unpeated and peated spirit, The Smoky Ten is then triple-cask matured for at least 10 years in bourbon barrels, Jamaican rum casks, and toasted virgin oak. Joined in holy matrimony by the distillery's master blender the whisky imparts sublime layers of sun-ripe fruit, toasted oak spice, and aromatic smoke. Expect a superb balance between sweetness and smoke, which continues through to the finish and lingers long on the taste buds.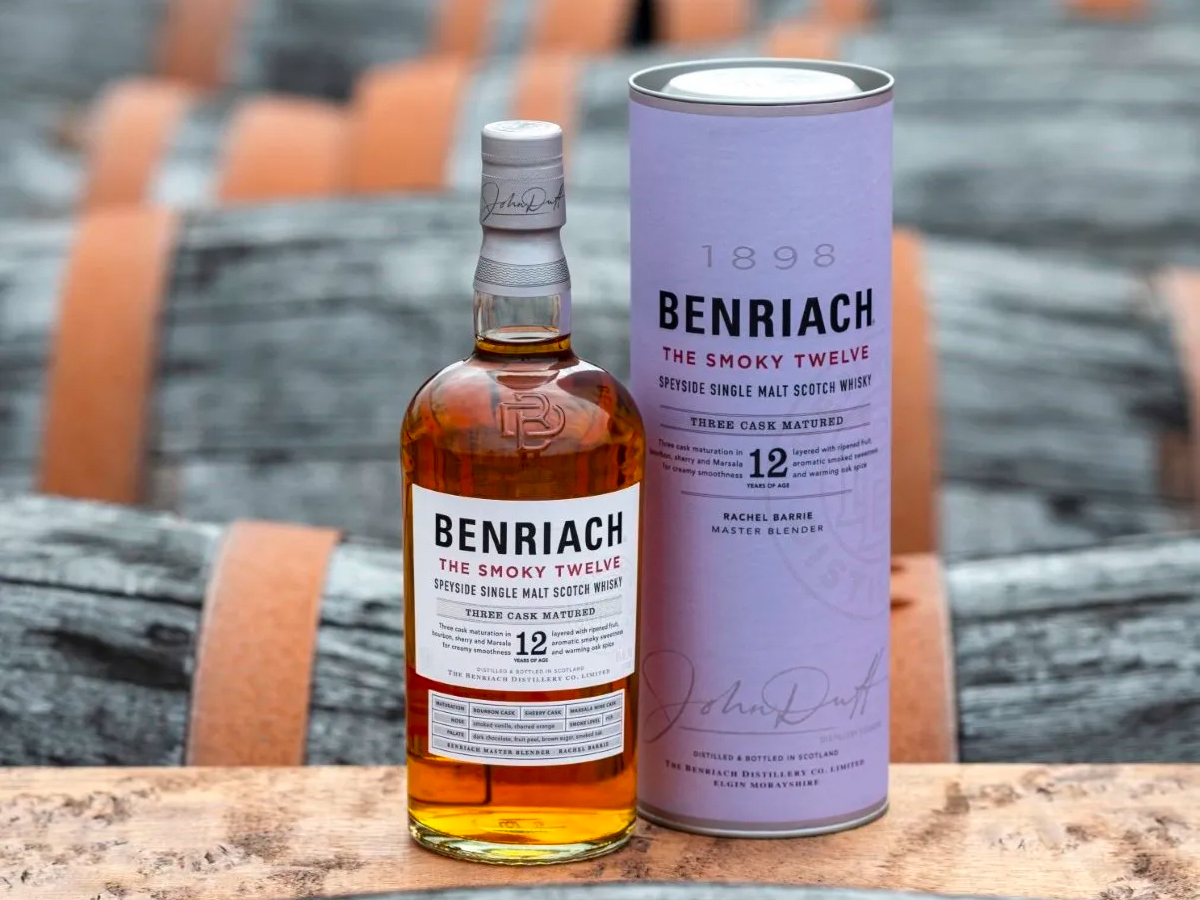 Benriach Smoky Twelve (Peated 12-Year-Old Single Malt)
Like its younger brethren, The Smoky Twelve is forged from a blend of unpeated and peated spirit. It's then three-cask matured in bourbon barrels, sherry casks, and Marsala wine casks for no less than 12 years. The marriage between these respective whiskies cultivates a smooth and creamy single malt, which intermingles ripened fruit with smoky sweetness and warm oak spice. A finish of cocoa and orange smoke brings everything into further harmony. This is the kind of exquisite flavour you can feel in your toes.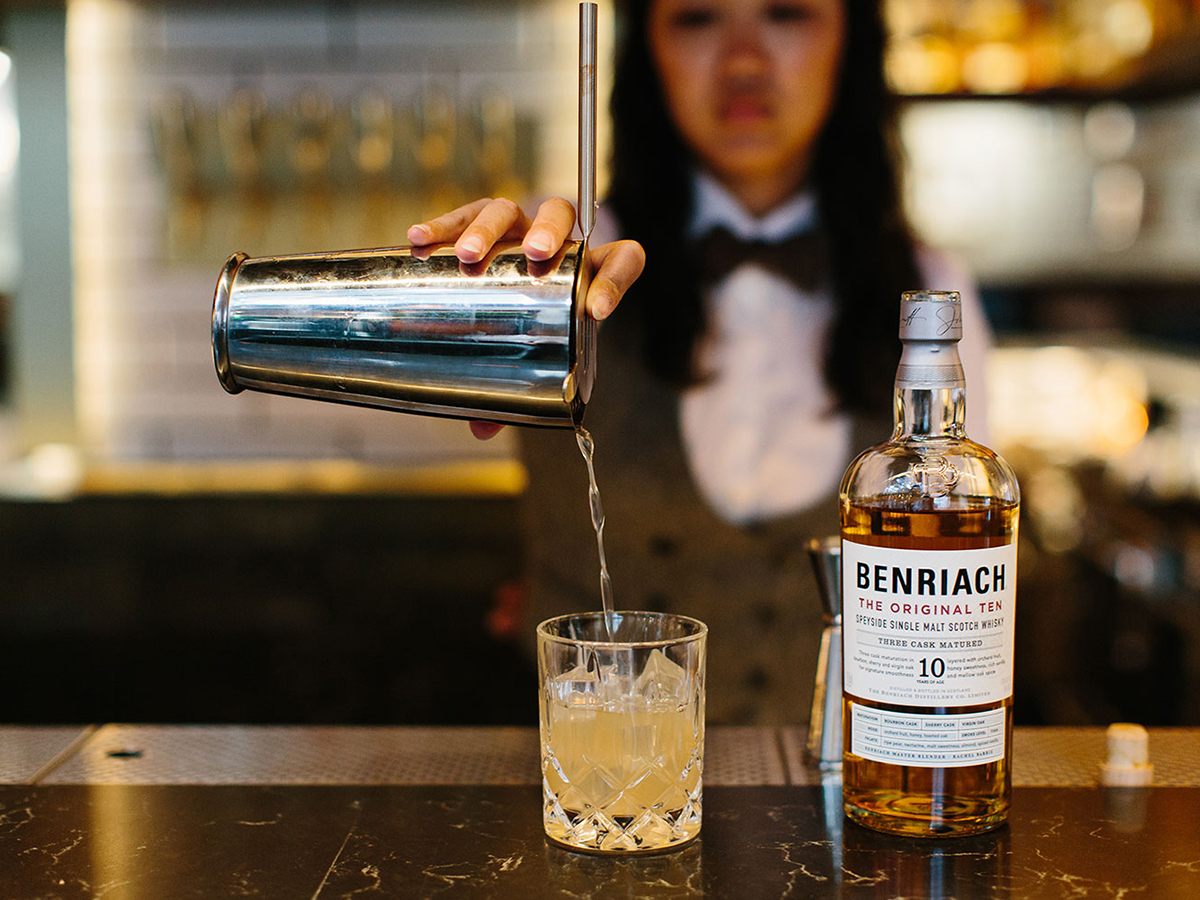 Signature Cocktails
We know, we know—single malts of this quality are best served neat or on the rocks. Nevertheless, we have two cocktail recipes that play perfectly upon the natural flavours of The Original Ten.
Benriach Highball
30ml Benriach 10yo
120ml chilled soda water
Lemon
Build whisky and soda over an ice-filled highball glass, stir well
Garnish with a fresh piece of lemon
Penicillin
45ml Benriach 10yo
15ml Benriach 10yo Smoky
20ml fresh lemon juice
20ml honey & ginger syrup
Build all ingredients over ice in a cocktail shaker, shake/ strain into an ice-filled tumbler
Garnish with lemon zest and candied ginger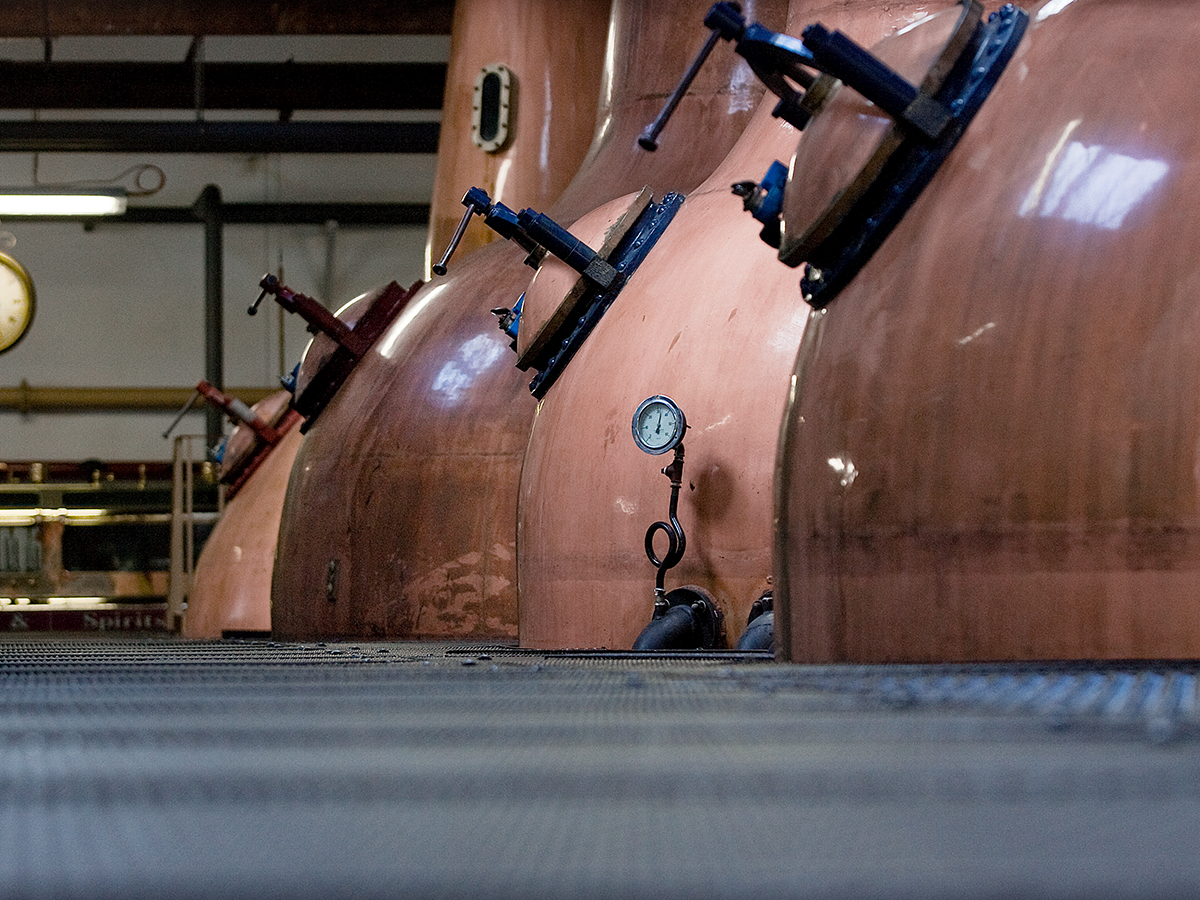 A World of Flavour
Drawing from the best of tradition and innovation alike, Benriach continues to experiment with an eclectic mix of casks during their painstaking production process. It's an approach that has distinguished this award-winning distillery from the very beginning and remains fundamental to their ongoing success. The marriage between each cask-matured whisky creates a bounty of deliciousness, which unravels in layers whilst retaining a pure sense of balance. Refined new packaging drives home the spirit of rebirth.
The 10-Year, Smoky 10-Year, and 12-Year are now available in bars and retail stores. The Smoky 12-Year-Old was recently released exclusively through The Whisky Club, Australia's largest whisky-based subscription club, and will be widely available in bars and stores in the New Year. Those seeking liquid treasure will surely find it here. Welcome to a whole new world of flavour.