All hail the mighty Old Fashioned! Amongst classic whiskey cocktails, this one is truly king. And whilst every bit as historical as its very name would suggest, the classic libation is also more popular now than ever before. Sure, the ever-growing whiskey craze has a lot to do with it, but it's also just one hell of a delicious drink!
So iconic and delicious is the Old Fashioned that it's become the focal point of a global celebration, with various locales putting forth their own tasty take. Here in Australia, the party runs from Fri 5 November to Sun 14 November and touches down across a host of locations. As you'll soon discover, there are endless ways to experiment with this timeless cocktail.
How does cherry stone-infused Woodford Reserve Rye with an orange and cherry cordial and bitters sound? You can find that one over at Burrow Bar in Sydney's CBD. Or maybe you live in Perth, where Bar Lafayette is serving up three unique versions of the Old Fashioned, all featuring premium Woodford Reserve. There are a legion more examples throughout Australia and some cocktails are even available for take-away.
You should be getting excited if not a bit thirsty right now. Here's everything you need to know.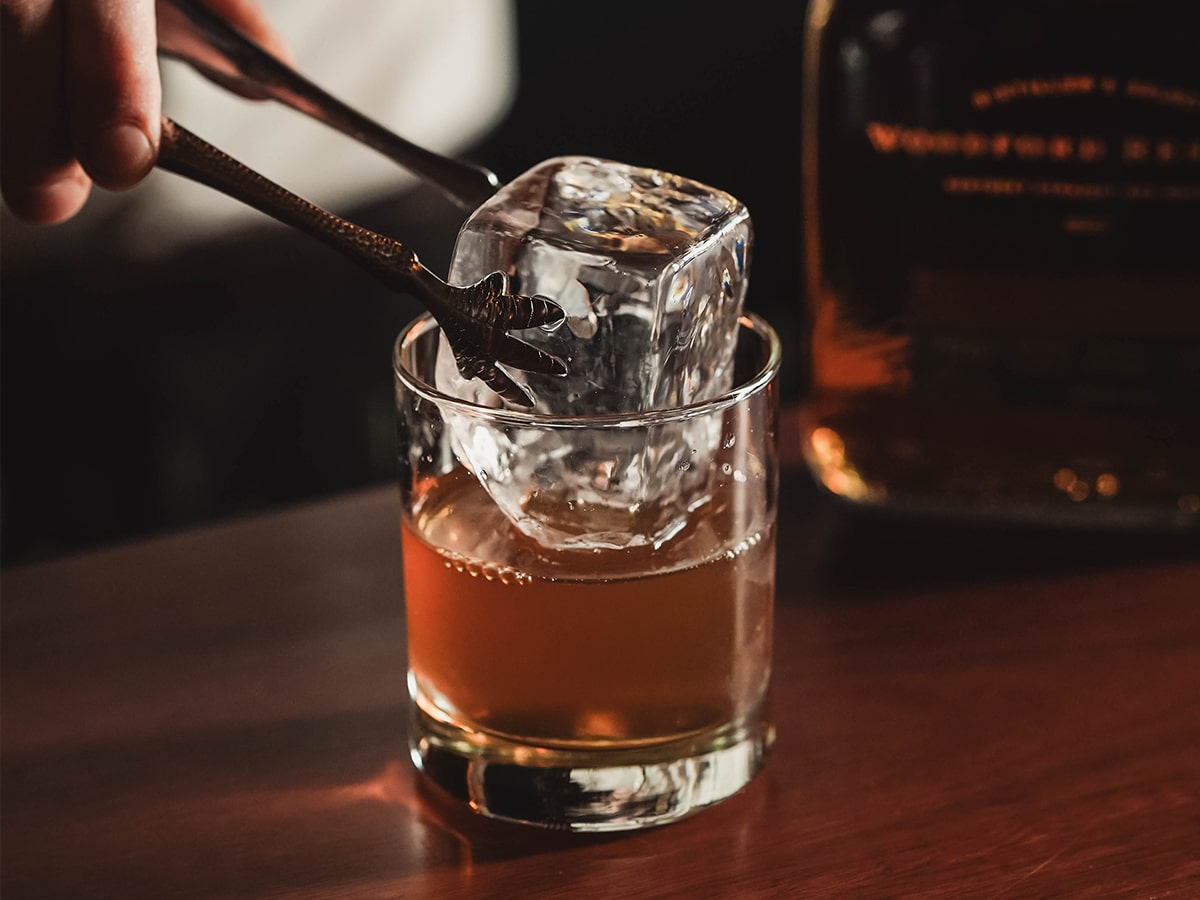 What is Old Fashioned Week?
Whilst the name "Old Fashioned" didn't emerge until the late 1800s, its origins go back much further than that. In 1806, the first cocktail recipe appeared in print and it was basically for an Old Fashioned, denoting "spirits, bitters, water, and sugar." Jump ahead to 1880 and a Kentucky bartender "invents" the cocktail—or at the very least gives it a name—in honour of bourbon icon James E. Pepper, who helped popularise it.
Here were are over a century later and the Old Fashioned is still favourited by whiskey lovers and cocktail enthusiasts alike. Enter Old Fashioned Week (OFW), which launched in Paris in 2015 before taking off across the planet. Here in Australia, it runs from Fri 5 November to Sun 14 November, with various bartenders offering their own unique interpretation.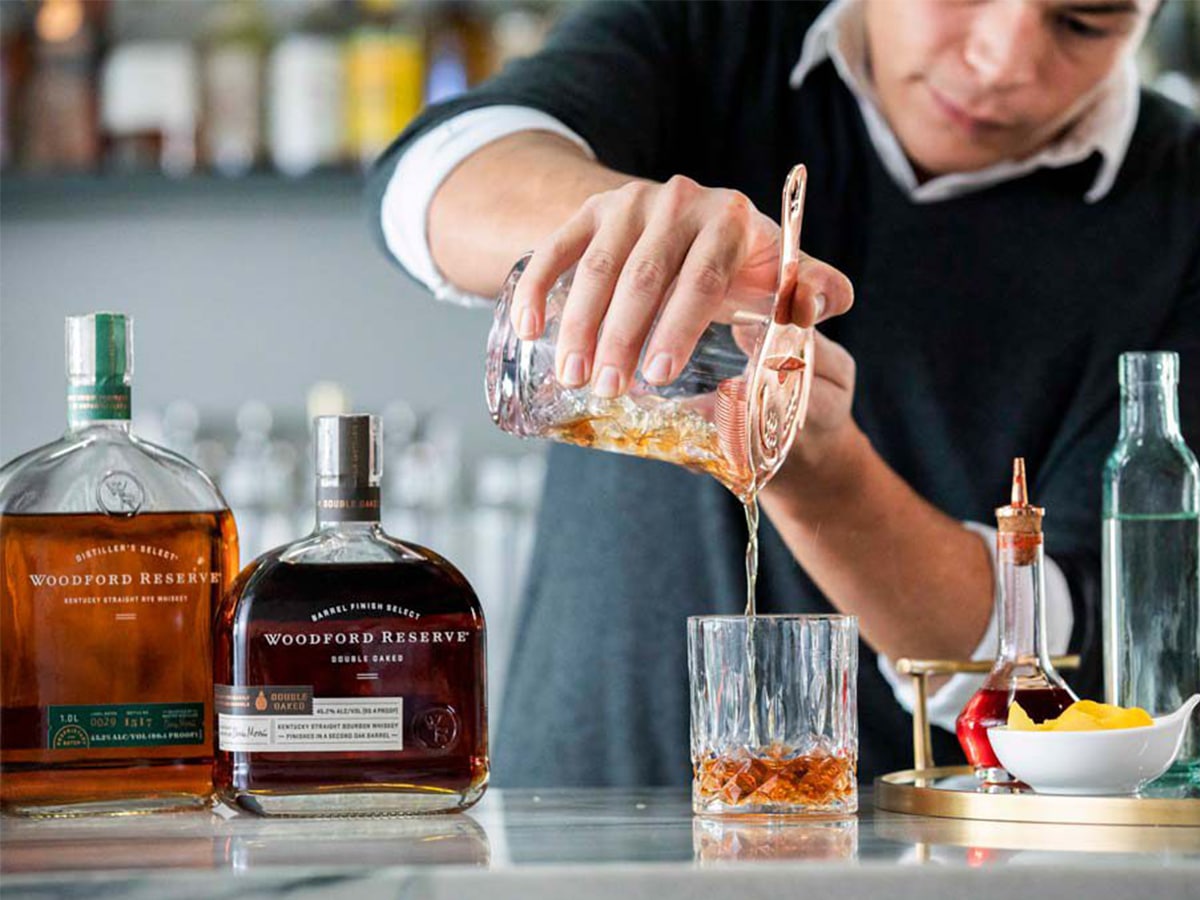 How to Make the Perfect Old Fashioned
Should you be celebrating OFW 2021 at home, we have just the recipe for you. It uses Woodford Reserve Distiller Select as the base and with great reason. Firing on all cylinders, the premium bourbon delivers luscious texture and over 200 individual flavour notes, meaning no two sips are exactly the same. Just imagine how it tastes when mixed with just a few choice ingredients. Be sure to use a proper Old Fashioned cocktail glass for the best results. Here we go:
Ingredients
60ml Woodford Reserve straight bourbon whiskey
15ml demerara syrup
3 dashes of Angostura bitters
2 dashes Regans' Orange Bitters
1 sugar cube
Instructions
Add ingredients to the mixing glass;
Add ice to mixing glass and serving glass;
Stir ingredients for 30-40 secs;
Strain into serving glass;
Garnish with a lightly expressed orange peel.
Sip and enjoy.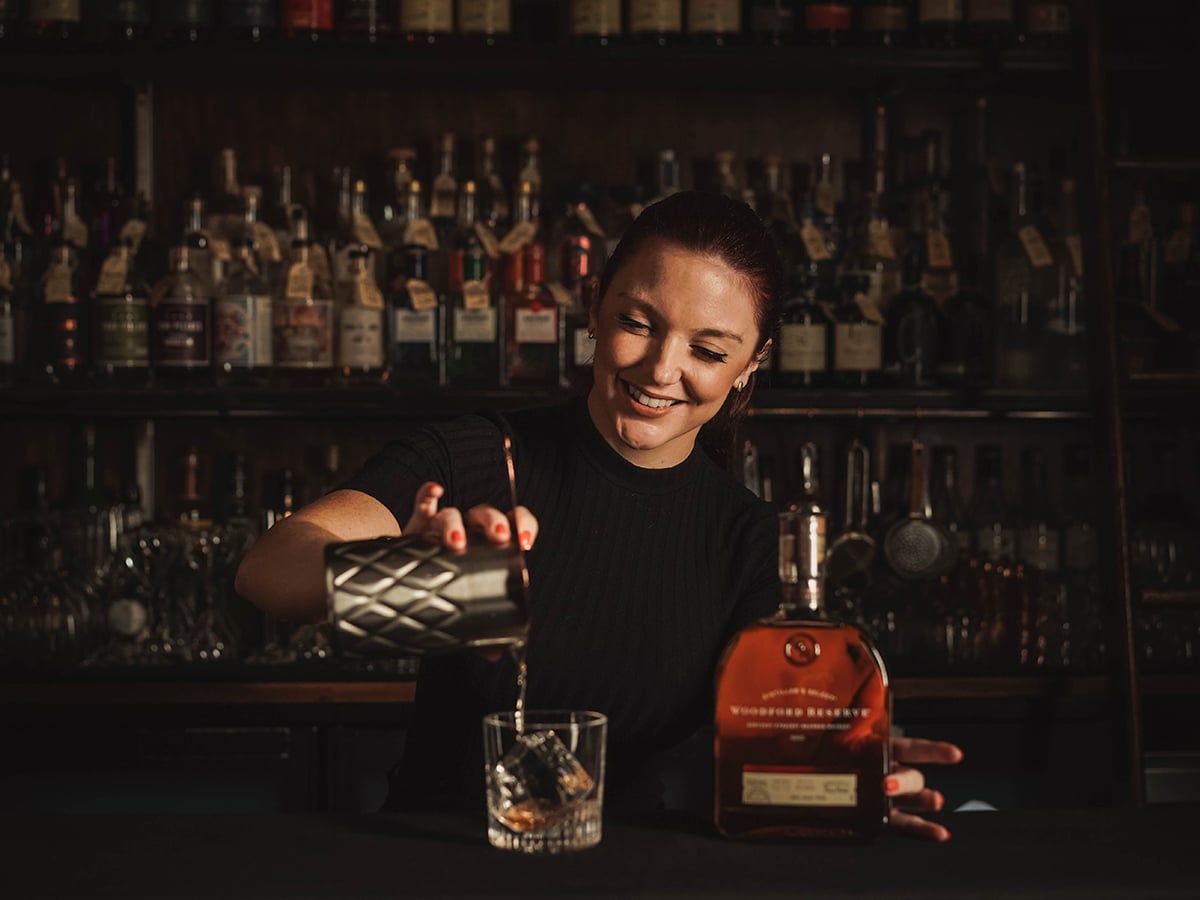 Where to Celebrate Woodford Reserve Old Fashioned Week in Australia
From Fri 5 November to Sun 14 November 2021, popular bars and restaurants across Australia will put their own twist on the Old Fashioned. A modern tradition in the making, it celebrates the classic cocktail in all its glorious potential. All venues participating around the world are listed on the Woodford Reserve Old Fashioned Week website here, but we have put together a list of our favourite participating locales per city below:
New South Wales
1. The Doss House
Located in a historic building, this beloved whisky bar will tip their hat to Irish and American traditions with Barry's Tea-Infused Woodford Reserve Old Fashioned. It will be served with a watercress cracker, sopressa, and brie.
Address: 77/79 George St, The Rocks
2. Burrow Bar
One of the best watering holes in Sydney's CBD will be offering the Whiskey in Wisconsin aka My Old-Fashion Tingleberries. Blending cherry stone-infused Woodford Reserve Rye with an orange and cherry cordial and bitters, the drink is served in either an Old Fashioned glass full of crushed ice, or in a highball topped with soda, a squeeze of lemon, and crushed ice.
Address: 96 Clarence St, Sydney
3. Chin Chin
Why put one twist on the Old Fashioned when you can put two? That's the thinking over at this Surry Hills standout, which will feature both a whiskey-based Old Fashioned (Woodford Reserve Bourbon, Amaro, vanilla and passionfruit-infused syrup and orange bitters) and a tequila-based Old Fashioned (Herradura Reposado Tequila with Amaretto and apricot-infused agave and orange bitters).
Address: 69 Commonwealth St, Surrey Hills
4. Websters Bar
This famously stocked whisky bar is running month-long specials such as a limited-edition flight, a Woodford Reserve-inspired food offering, and a bespoke Old Fashioned (Websters Woodford Reserve Personal Selection 2019 Old Fashioned with maple and plum bitters). On Thursday 11 November, they'll also host a two-hour masterclass about bourbon, where Woodford Reserve Brand Ambassador Andy Tsai will dispense with key knowledge and select tastings (including some of the rarer stuff). An appetiser and dessert are included.
Address: 323 King St, Newtown
5. The Gidley
Already known for their refined takes on classic cocktails, the CBD's foremost fine-dining steakhouse has perfected the traditional Old Fashioned. Behold the results during OFW 2021.
Address: 161 King St, Sydney NSW 2000
6. Door Knock
Go past the sandwich shop, through the fire door, and down the long corridor before you arrive at the door with the brass pineapple doorknocker. Knock three times to gain entry and then order yourself the Unique Old Fashioned. It combines strawberry-infused Woodford Rye with sweet vermouth, honey water, lemon thyme, orange and walnut bitters, and sea salt, with a strawberry and orange zest garnish.
Address: 70 Pitt St, Sydney
7. Hotel Palisade
You're never too far from a great Sydney attraction when you're drinking at Hotel Palisade. In honour of OFW 2021, the local institution presents the Old Salty Girl. It puts a decadent spin on the classic Old Fashioned by way of macadamia-infused Woodford Reserve bourbon, salted caramel, tapioca pearls, and chocolate bitters. Yum.
Address: 35 Bettington St, Millers Point NSW 2000
Victoria
1. The 18th Amendment (Geelong)
Celebrating the Old Fashioned—and Woodford Reserve—in all its many glories, this Ballarat-based bar will offer an entire cocktail flight, respectively incorporating Woodford Reserve, Woodford Reserve Double Oak, and Woodford Reserve Rye. They'll also host an online Old Fashioned masterclass with owner Gorge Camora and Woodford Reserve Brand Ambassador Linus Schaxmann.
Address: 82A Little Malop St, Geelong VIC 3220
2. The Budgie Smuggler
Don't hesitate to hit up this converted warehouse bar, which has limited their bottled and barrel-aged Woodford Reserve Old Fashioned cocktail to just 100 bottles. As if you needed more incentive, the first 20 people to purchase a cocktail will also receive a Woodford Reserve Tasting pack along with an invite to the distillery's online masterclass.
Address: 1/166 Maroondah Highway, Ringwood
3. Chin Chin
This Thai-inspired hotspot presents a carefully curated selection of Woodford Reserve Old Fashioned twists, which are available for dine-in or in takeaway four-packs.
Address: 125 Flinders Ln, Melbourne
4. White Oaks Saloon
With their expert take on American Southern food, this neon-lit joint makes for the perfect whiskey-drinking venue. Choose between three varieties of Woodford Reserve Old Fashioneds (Distiller's Select, Double Oak, and Rye), all of which are available for take-out.
Address: 115/117 Greville Street, Prahran
5. Ponyfish Island
Hidden under a bridge on the Yarra, this island gem has a Woodford Reserve Old Fashioned available to-go along with several other cocktail gift packs.
Address: Southbank Pedestrian Bridge, Southgate
6. Whisky & Alement
Old Fashioned trio pack anyone? Yes, please. You can score one here for AU$50 or even have it shipped to your door. Each pack includes a Woodford Reserve bourbon 50ml mini and three 90ml Bottled Old Fashioneds (packed into Whisky & Alement Juice bags).
Address: 270 Russell Street
7. The Emerson
The celebratory vibes are strong at this rooftop bar and club, which will give out a Woodford Reserve Old Fashioned cocktail on arrival as part of their race day package. The next ones will cost you AU$15 for the duration of OFW 2021.
Address: 143/145 Commercial Road, South Yarra
8. Beneath Driver Lane
Home to the signatuee Woodford cocktail Riders Up!, this underground hangout will put their twist on the Old Fashioned for a limited time. You can follow them on Instagram @beneathdriverlane.
Address: Basement/3 Driver Lane
9. The Emerald Peacock
Hit up this multi-tiered bar during OFW 2021 to sip on their unique version of the classic libation. Follow that with their legendary Ron Burgundy cocktail, which uses Woodford Rye.
Address: 233 Lonsdale St
10. Bar Ampere
This stylish late-night venue is already a drinker's heaven, making their Old Fashioned a must-try.
Address: 16 Russell Pl
Queensland
1. Savile Row
Hidden in plain sight near the heart of Brisbane's entertainment precinct, this chandelier-lit back bar will craft an Old Fashioned cocktail using Woodford Reserve Bourbon, Amaro Nonino, Apricot, and bitters.
Address: 667 Ann St, Fortitude Valley
2. Cobbler
"Enjoy, share, and educate" is the motto at Cobbler, which will showcase three unique variations of the Old Fashioned using both Woodford Bourbon and Woodford Rye. Choose between coconut and cherry, fig with coffee caramel and dark chocolate, or beeswax rested dark cacao with macadamia liqueur and bitters.
Address: 7 Browning st, West End
3. Dr Gimlette
Located in Brisbane's high-end fashion district, this magnificent bar imparts a world-class vibe. Their downright indulgent version of the Old Fashioned includes Woodford Reserve Bourbon, marshmallow liqueur, raspberry-infused Manzanillam, and dark chocolate liquor, which have been put through a clarification process. Your taste buds won't know what hit them.
Address: 109 Edward St, Brisbane City
4. Death & Taxes
Tucked away down Brisbane's oldest laneway is an exceptional back bar with over 1000 spirits and three unique takes on the Old Fashioned for this year's OFW: Pedro Ximinez with chocolate and ginger on the Woodford Reserve Rye, Coffee liqueur with chinotto and orange bitters also using the amazing Rye, and fat washed Woodford Reserve bourbon infused with butter, fug infused amontillado, and cardamom bitters.
Address: 36 Burnett Lane, Brisbane City
5. Alba Bar & Deli
This lively neighbourhood bar in the middle of Brisbane's bustling CBD will put a creative twist on the Old Fashioned, combining Woodford Reserve with toasted butter and honey. As a delicious snack, they're also soaking toasted sourdough in bourbon and serving it with cultured butter and honey.
Address: 34 Burnett Lane
6. Fat Cow Steak and Lobster
In honour of OFW 2021, this popular haunt will host a 5-course dinner, complete with Old Fashioned pairing. As an added bonus, all those who attend will receive a bottle of Woodford Reserve to take home with them. You're also welcome to hit up the back bar for an expert rendition of the classic cocktail, using Woodford Reserve Bourbon, sugar, and bitters.
Address: 5/45 Eagle St
Gold Coast
1. Lockwood
In the spirit of a true speakeasy, this hidden gem requires you to text them before entry. Once you're in their domain, a seasoned bartender will mix you something special like their Old Fashioned twist, which uses sherry-infused Woodford Rye as a base.
Address: Justins Lane, Burleigh Heads
2. The Exhibitionist Bar
This rooftop retreat rests above the new Home of the Arts Centre in Surfers Paradise and retains a youthful, modern spirit. Sip on an Old Fashioned as you take in sights of every variety.
Address: Level 5/135 Bundall Road, Surfers Paradise
3. Palette Restaurant
Located at the ground level of the Home of the Arts Centre in Surfers Paradise, this fine-dining restaurant focuses on fresh and seasonal produce. Their limited-time Old Fashioned takes direct inspiration from the artwork that lines the halls outside their door.
Address: Ground level/135 Bundall Road, Surfers Paradise
4. Social Eating House
Through their stunning cocktails and cuisine, this Gold Coast establishment has redefined local standards of quality. Come for their special version of the Old Fashioned and stay for the great times and killer food.
Address: Shop 137/3 Oracle Blvd, Broadbeach
5. The Loose Moose
This prohibition-style taphouse and grill is well-known for their elevated take on gastropub fare. Expect similarly awesome things from their Old Fashioned.
Address: 75 Surf Parade, Broadbeach
Western Australia
1. Bar Lafayette
This award-winning bar just celebrated their 10th birthday and now they're moving on to the next celebration: OFW 2021. The results are three drool-worthy expressions of the classic cocktail: a barrel-aged version with Woodford Reserve bourbon and rye and an amaro reduction, the Coco Fashioned with coconut husk-infused Woodford Reserve and Creme de Banane, and the Vinum Old fashioned with Woodford Reserve Double Oaked, pinot noir reduction, and a hint of vanilla.
Address: Brookfield Place, St Georges Tce
2. Foxtrot Unicorn
The recent winner of Australia's Best New Bar (2021 Australian Bar Awards) is also a veritable bartender's bar with a devoted following. You'll definitely want to try each of their three twists on the Old Fashioned: "Dealer's Choice No.2" (with a touch of apple and chestnut), Remember the Maine (Woodford Rye, Double Oaked, plus some sweet vermouth, cherry heering and a hint of absinthe), and the refreshing Old Fashioned Highball (Woodford Reserve, grapefruit bitters, soda and lemon).
Address: 101 St Georges Terrace
3. Alfred's Bar & Pizzeria
What this small Perth bar lacks in size, it makes up for in service and skill. Pizza, liquor, and cheese is on the menu and who really needs anything else? For OFW 2021, manager Krafty is getting crafty indeed, mixing cinnamon-toast-cereal-milk-washed Woodford Reserve with walnut bitters to lip-smacking results.
Address: 37 Barrack Street
4. Helvetica
The OG of Perth whisky bars is no stranger to the Old Fashioned, which has been on their menu since day one. Manager Darren Graham is turning the flavour dial all the way up for this year's OFW, mixing Woodford Reserve Distiller's Select with real Canadian maple syrup and black walnut bitters, and then oak-chip-smoking the cocktail to order.
Address: Howard Lane rear
5. Old Faithful Perth
Slow and steady is the name of the game at Old Faithful and it pertains to their American-style bbq and cocktails alike. Feeling the Halloween vibes, bar manager Dan O'Brien created a Toffee Apple Old Fash for this year's OFW. A Highroller Highball is also being offered and it blends Woodford Reserve Double Oaked with Spiced Ginger Ale, smoked rosemary, and lemon. Or you can stick with their traditional Old Fashioned, which is mixed to perfection and guaranteed to please.
Address: King Street
6. Who's Your Mumma
This Fremantle stalwart has a tight operation and over a decade of experience under their belt. They're serving up three different but equally delectable Old Fashioneds for OFW 2021: a classic Woodford Reserve Distiller's Select number, Woodford Reserve Double Oaked pumped up with peach and plum bitters and a hint of mint, and an Old Fashioned/Sazerac hybrid with Woodford Rye that incorporates a hint of absinthe and lemon.
Address: South Terrace, South Fremantle