How to Properly Use Your Fitness Tracker Data
In Partnership with G-SHOCK
For the past week, we've been rocking a G-SHOCK GBA800 Bluetooth connected sports watch, and staying far more active as a result. It all starts with the steps. Allow us to elucidate. You see, when it comes to daily, casual fitness, experts and apps alike suggest that you achieve no less than 10,000 steps. The problem is: 10,000 steps are a lot more than one might anticipate, especially during the weekdays. Sure, you can call it quits at 8,000 steps, but then there's a little voice in your brain saying "just 2,000 more steps to go!" Behind that little voice is some hard data provided by the watch and adjoining app, compelling you (or us) to make proactive lifestyle choices. Is it a drag pushing yourself to do better? Perhaps. But it's also good for you.
Of course, step tracking is merely where your journey begins. With the G-SHOCK Connected app at your disposal, you'll quickly discover a suite of helpful fitness tracking features. Like the watch itself, the app is streamlined, effective, informative, connected and goal-oriented. Use it properly and you'll find yourself not just burning calories, but adopting a different mindset altogether. Here's how to properly use your fitness tracker data.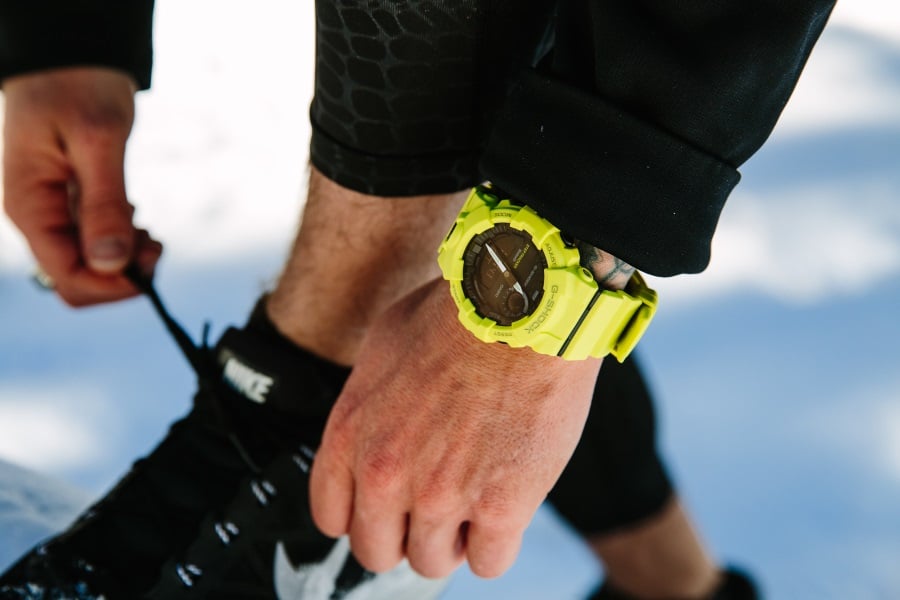 Track Your Steps
Like we said earlier: it all began with the steps. The truth of the matter is that it's insanely easy not to get enough steps in every day, especially when so many of us work at computers for hours at a time. Sure, the little things like walking from work to your car add up, but usually fall short in terms of meeting daily targets.
Hence, when it comes to using a watch like the G-SHOCK GBA800, we recommend starting with the simplest goal it provides: reaching 10,000 steps daily. You don't even need to use the app for this one–just press a button on the side of the watch case and voila! Your step count appears on the display.
In the upper right corner of the dial there's a window showing the target achievement rate, helping you keep pace with your goals. There's also a small graph on the display, which allows you to compare one hour of steps to the previous one. Oh, and did we mention the watch comes equipped with a built-in 3-axis accelerometer? That means if you're not satisfied with your total step count for the day, it's probably because you didn't take enough steps, not because the watch didn't catch every one.
Bringing your step count to the next level in terms of fitness tracking is the adjoining G-SHOCK Connected app. Specifically, the app allows you to log and graph your steps, configure new step goals, monitor 5 different intensity levels, and determine where and when you were more active on a given day. By using this data properly, you're not just reaching your daily goals, but optimising your routine in order to yield better fitness results.
Count Your Calories
If you're trying to lose weight, there are no two metrics more valuable than calories consumed and calories burned. And while the G-SHOCK Connected app can't perform some sort of futuristic calorie scan on all the food you're eating, it can accurately determine how many calories you're burning a day. In other words, you cover the calories consumed, and the G-SHOCK Connected app will cover calories burned. The rest is just mathematics.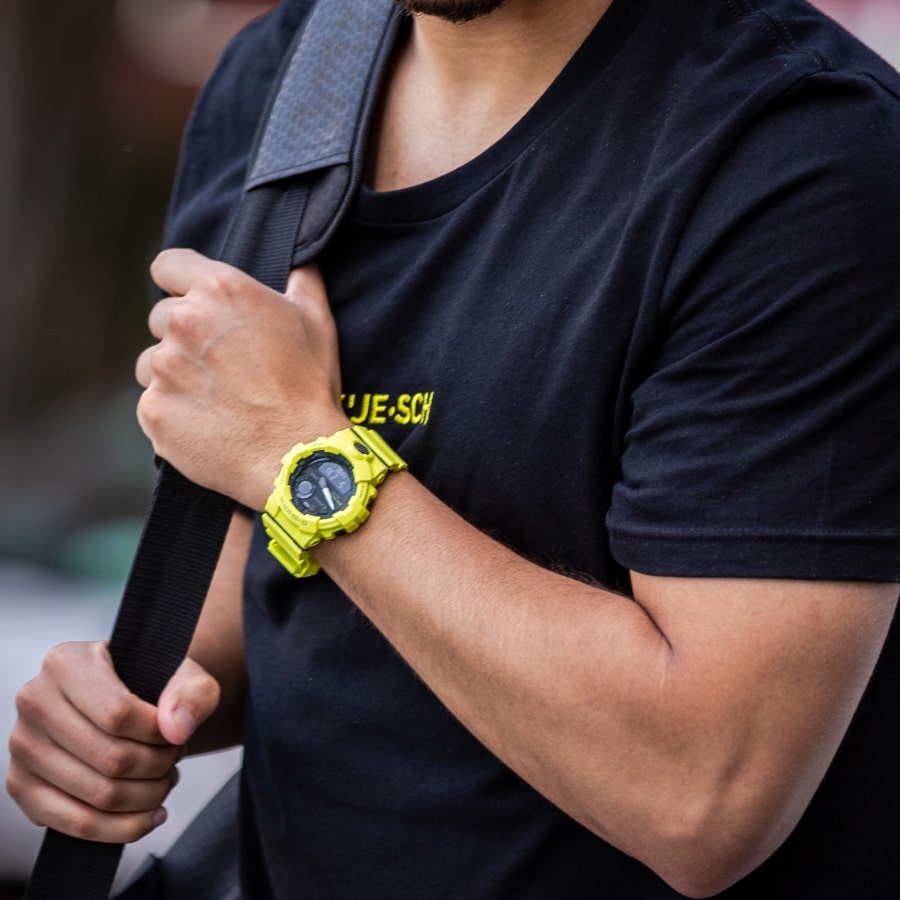 Get Your Train On
What began with steps could very well end with a full-blown training routine. To that end, the G-SHOCK GBA800 has you covered. Featured on the gadget is a 1/100-second stopwatch, which can store up to 200 lap-time memories and up to 10 target time alarms. Use the stopwatch for elapsed time, lap times, and lap/split time switching.
Also included on the watch is a multi-timer function, which is good for interval workouts and can be set for up to 5 different times. Check the status indicator on the watch face to see how much time is left. Use features like Auto Repeat (up to 20 times per session) and Auto Start, the latter of which comes with an announcement notice function.
As always, the G-SHOCK Connected app takes those watch functions to another level. More to the point, the app allows you to set up to 20 sets of 5 different countdown timers, which in turn helps you establish a workout menu with interval training and break times. You can also save each menu, transfer settings to and from the watch, and compare best/worst/average times.
It was in fact with trainers in mind that G-SHOCK released the GBA800. Further to that end, the watch display is legible, and the case highly durable. Of course, you probably knew that as soon as you saw the word "G-SHOCK".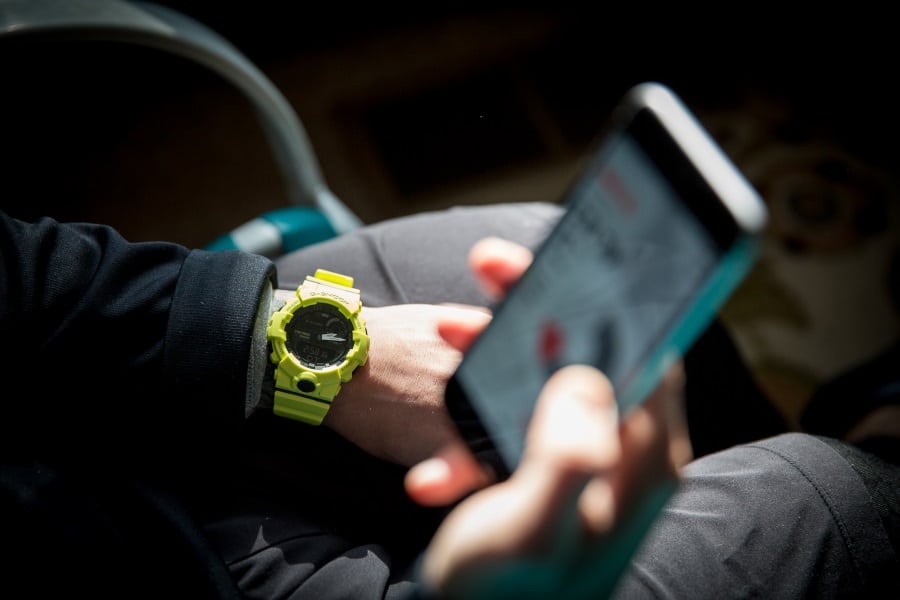 Stay On Task
The key to proper fitness is a routine or regimen, period. That doesn't mean you can't cheat on the weekends, or take the occasional day off. However, it does mean that you should nail down a pattern and stick with it. In other words, if you're going to take a day or two off, make that part of the pattern by taking those days off at the same interval every week. By firmly establishing a routine, your mind and body will follow suit.
At its most basic level, the G-SHOCK GBA800 provides the subliminal push you need to get off on the right foot. That's because you're now aware of how many steps you are or aren't taking, and more in control of your personal metrics as a result. With this newfound responsibility lurking in your brain, you may find yourself making small changes at first. Maybe you'll start taking longer routes when you walk to specific destinations. Maybe you'll get off the couch a little more just to put in a few extra steps. What's important is that you're remaining conscious of your activity and optimising your habits accordingly.
From there, fitness and fitness tracking alike can go as far as you can. And should you take a dedicated and even mathematical approach toward fitness, you'll find that your own personal health subsequently becomes much easier to predict and manage. There to help every step of the way is the G-SHOCK GBA800.
Have you subscribed to Survey Confirms Women Prefer Dad Bods Over Six-Packs? You can also follow us on Facebook, Twitter, Instagram, and YouTube.