How to Improve Your Sex Drive for Life After COVID
In Partnership with Vault Health
After a full year of being cooped up at home, it appears that we're finally entering a post-COVID world. Some say we're even on the cusp of a brand new roaring '20s, which means you can expect good times of every variety. More social interactions. More parties. More dating. More sex. But is your libido prepared for the adventures at hand? Are your testosterone levels up to snuff? How are your erections these days?
Before you scoff at our questions, remember that we're here to help. First and foremost: you're not alone. Epidemiological studies consistently show that issues such as erectile dysfunction (ED) and low libido increase with age. Even younger men are struggling with sex-related problems like never before. Meanwhile, these same conditions can have adverse effects on both your physical relationships and your emotional health. So we ask again: are you prepared for the post-COVID world?
If the answer is no, Vault Health has you covered. Through their industry-leading treatment plans, the company helps modern men tackle a variety of health problems (not all of them sex-related). Should you be struggling with performance issues such as ED, low testosterone levels, or a lagging sex drive, Vault's Sex Performance Kit or new Libido Kit may be just what the doctor ordered…no pun intended.
Sex Performance Kit
Each Sex Kit consists of two innovative treatments, the first of which is a troche that dissolves under your tongue and contains a combination of two medicines. The first medicine is a PDE5 inhibitor that helps increase blood flow to the penis, thereby boosting erections. The second medicine helps amplify dopamine in the brain to stimulate arousal. By dilating the blood vessels and increasing dopamine levels, both medicines have proven very effective in managing ED.
In addition, Vault couples the troche treatment with a potent bonding hormone, the type of which is produced naturally inside the body during a number of pleasant scenarios. Think of the warm sensation you experience when hugging someone for more than 30 seconds and you get an idea of how this bonding hormone operates. It's also associated with the incredible feeling you get during orgasms.
Use Vault's Sex Kit as directed and you won't just get better erections, but stronger romantic connections, heightened arousal, and more intense orgasms.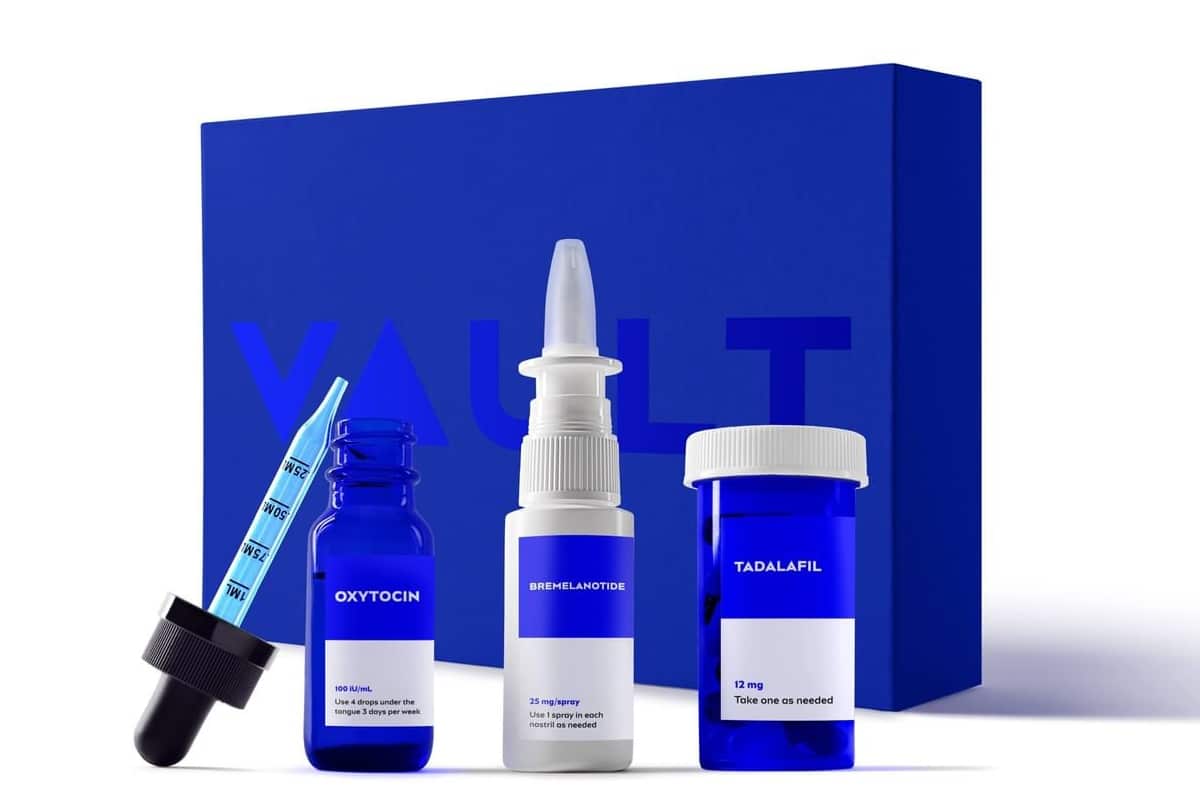 Vault Libido Kit
Vault's new Libido Kit has been designed by health experts for men of all ages to maximise libido, improve arousal, forge stronger romantic bonds, increase sexual stamina, intensify orgasms, and strengthen erections. It consists of three innovative treatments: bremelanotide nasal spray, tadalafil tablets, and oxytocin tablets. Here's how they work:
Bremelanotide – An effective peptide, this medicine helps to stimulate libido through nerve receptors in your brain.
Tadalafil – This PDE5 inhibitor helps improve blood flow in the penis to enable strong, firm, and long-lasting erections.
Oxytocin – This bonding peptide hormone boost romantic connections and the sensational feeling you get during orgasms.
Working together, these three ingredients cultivate a host of benefits, including a stronger libido, better erections, and more intense orgasms. To make a great thing even greater, they also deliver quick results. Expect to see a difference in your sex drive after the first use of bremelanotide spray. The oxytocin and tadalafil tablets usually start working within 1 to 3 hours, however, some men have reported better results with oxytocin when taking it consistently for three days a week.
While safe and effective, both treatment plans require an online consultation with a medical provider. Thankfully, you can connect with one of the company's own professionals through a virtual telehealth portal. Should you qualify for a treatment plan, it will be shipped straight to your door in a quick and discreet manner. Support is ongoing and a medical expert is always within reach.
We're rapidly approaching a post-COVID world. People will be eager to get out and connect, emotionally and physically. Are you prepared? If not, are you going to do something about it? Get those T-levels checked and then hit up Vault Health for a consultation. You'll be oh so glad you did.
Disclaimer: All content and media on the Man of Many website is created and published online for informational purposes only. It is not intended to be a substitute for professional medical advice and should not be relied on as health or personal advice. Always seek the guidance of your doctor or other qualified health professional with any questions you may have regarding your health or a medical condition.