Technology has become a driver for change and progress and one Australian jewellery business is using it as a force for good by providing greater transparency, traceability, and sustainability rated diamonds options for its customers. 
Australia's own Kavalri has embraced this technology as a means of providing a more complete customer experience (not to mention their epic jewellery selection and acclaimed customer service), to provide a platform where customers can find their perfect diamond in real-time along with valuable information that would previously been unheard of. 
Bringing their new service to life, Kavalri has become Australia's first jewellery business to partner with leading blockchain technology company Everledger. With their new blockchain-enabled traceability functionality, Kavalri's transparent business model becomes all the more enviable. When you purchase a blockchain enable diamond (online or in-store), you'll receive a complete digital report (in addition to the GIA report) that traces the diamond's origin from discovery through to every part of the supply chain. Already so symbolic, the ring on your finger (or your loved one's finger) now tells the story of an incredible journey across the globe. And through your own romantic adventures, that story continues. Beyond the symbolic, blockchain-enabled diamonds offer a level of transparency and traceability that we've never seen before in the diamond industry, bolstering consumer confidence in the process.
RELATED:
10 Common Engagement Ring Mistakes to Avoid


If the concept of absolute transparency upends your notions of the jewellery business, then you've simply never shopped with Kavalri. Since the company's very beginnings, ethical practices and absolute customer satisfaction is their primary objective. They know more than anyone else that buying a wedding or engagement ring is one of the most important things you can ever do, which is why they walk you through every step of the process and leave no option behind. Their new blockchain-enabled traceability platform is more a continuation of their existing philosophy as opposed to an entirely new chapter in their ongoing success. So if you're searching for engagement rings Melbourne, Sydney and Brisbane Kavalri have you covered.
Adding to their sustainability credentials, Kavalri has proudly also become an accredited retailer by SCS Global Services, and as a result, can now offer sustainability rated lab-grown diamonds. Each certified diamond meets the diamond industry's strictest standard ("SCS-007") and is accompanied by a certificate that details how the lab-grown diamond has achieved its sustainability rating. This certificate confirms the diamond's origin with full traceability back to the source, affirms the producer's ethical stewardship practices, describes its progress toward full climate neutrality and full accountability for any environmental impacts,  and describes its sustainability investments. Customers can easily view the diamond's sustainability certificate online, making the process of finding the perfect diamond not only fully transparent but seamless, too.
For Kavalri, offering sustainability lab grown diamonds is not just about offering our customers with an unrivalled level of choice, but also giving them the confidence that they are purchasing from a jewellery business that takes responsible sourcing, sustainability and ethical practices seriously. Similarly committed to giving back, Kavalri is a proud supporter of Rainforest Rescue. Founded in 1999, the non-profit organisation helps protect and restore the rainforests that are so vital to preserving the beauty, biodiversity, and stability of our climate (namely through the critical role of CO2 absorption).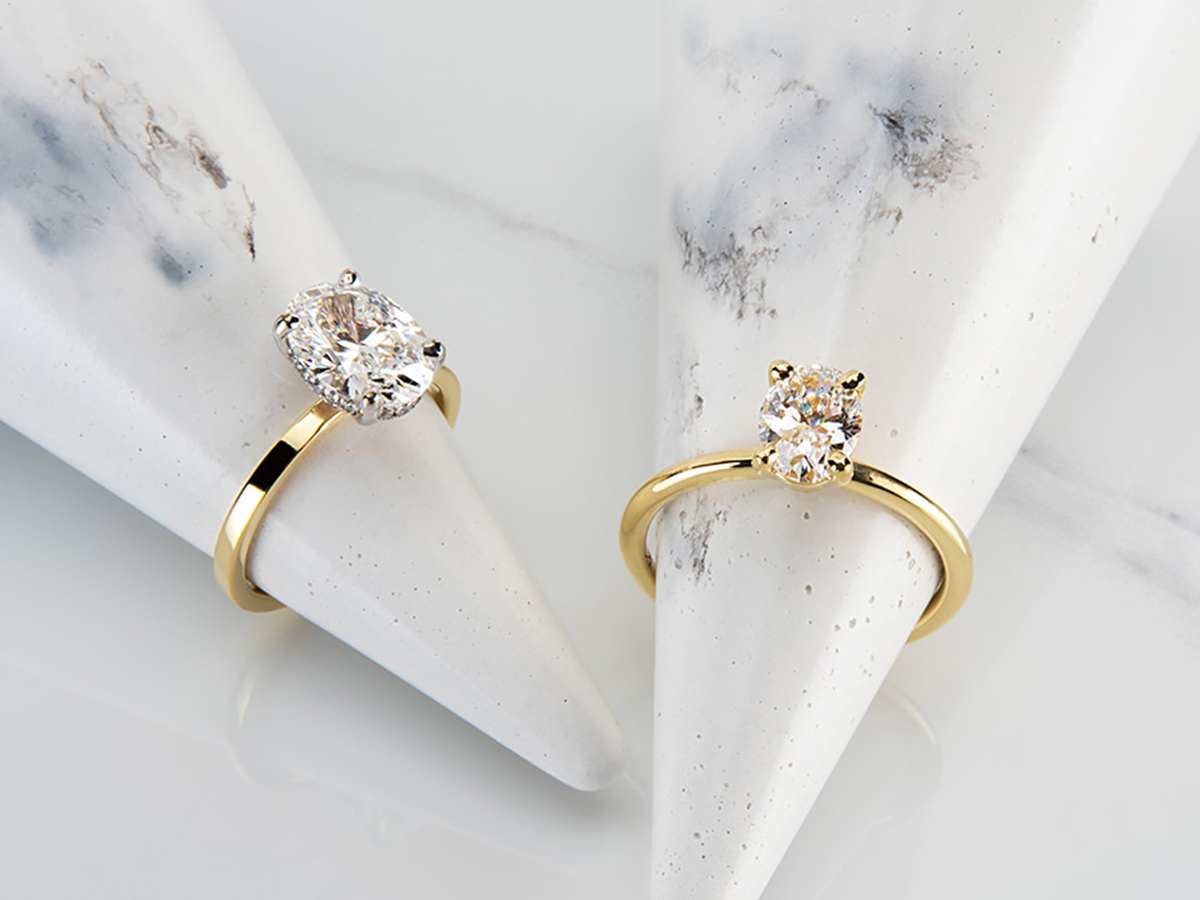 In case their transparent offering isn't enough, their world class ring designs are bound to convince you. With one of the finest selections of diamond engagement rings, along with the ability to custom make almost any bespoke engagement ring you can rest assured your are in the best of hands with the team at Kavalri.  
And when it comes to the finest selection of wedding rings, they also have that one ticked off! Showcasing hundreds of the most amazing men's and women's wedding rings that can be viewed online or in-store and appeal to all prices points and design preferences.
To shop online or visit one of their showrooms is to put yourself in the hands of a dedicated team expert, who will guide you through the 4Cs (cut, colour, clarity, and carat weight) and help you either find or custom-design the perfect ring. There's no budget too small or idea too grand when you're shopping with this company, perusing a variety of materials and styles in your search. Whether you're seeking rare metals, lab-grown diamonds, naturally-mined diamonds, gemstone rings, custom creations, unique colour combinations, and more, your journey starts here.