Making Drums With Steve Crawley
Presented By Jacob's Creek Double Barrel
Back in 2009 Sydney musician, Steve Crawley decided that his passion for drumming would extend beyond just banging on the skins, so he put his skilful hands to work and began on a quest to make his own drums. After finding a mining machinery manufacturer to make tooling for him to mold his own drum shells, he set up a makeshift workshop in his parents' garage and started his company Evetts Drums.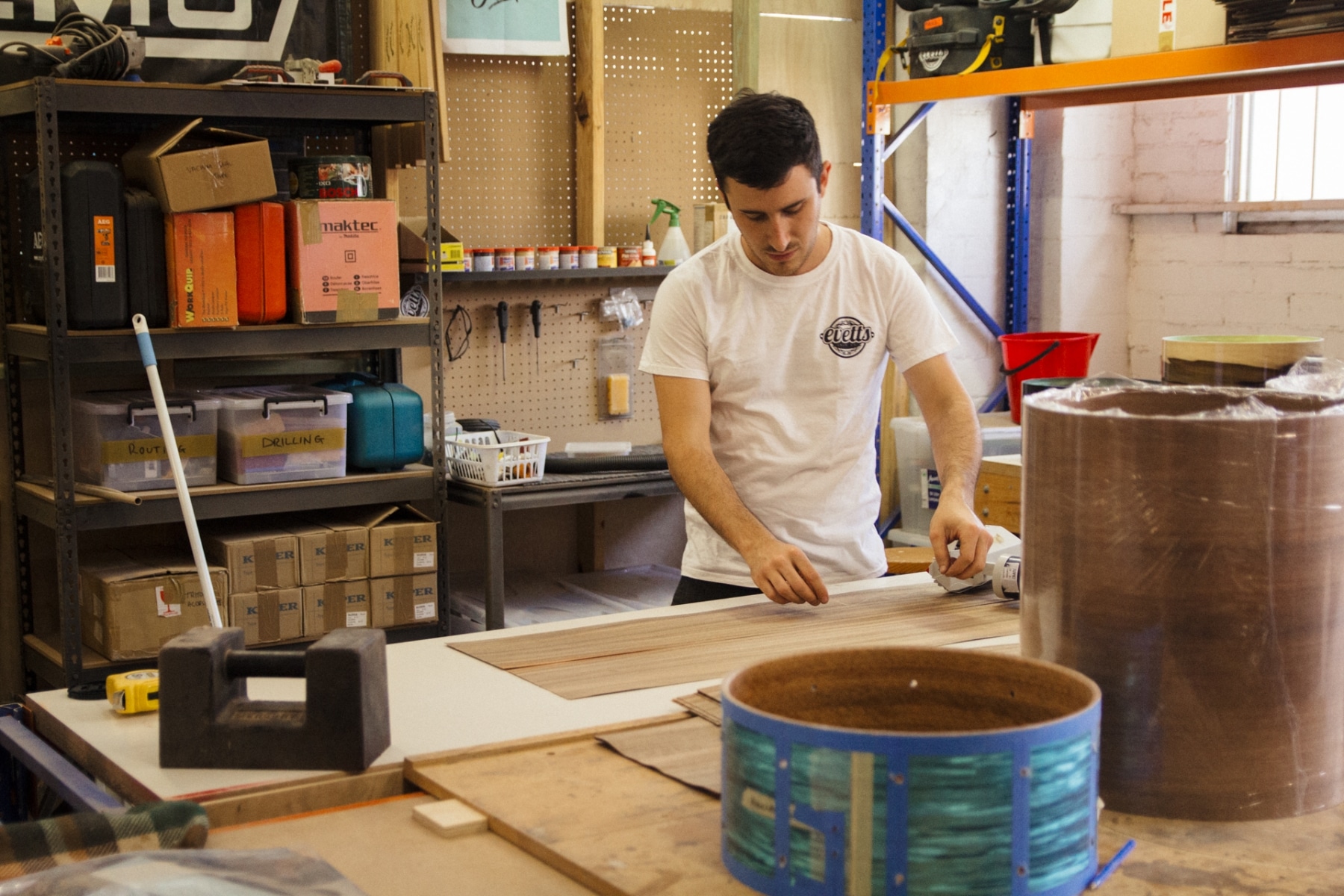 Steve has long outgrown his folks garage and now working out of his own studio creating some of Australia's finest drums with an emphasis on a high quality sound and an equally beautiful aesthetic. The craftsmanship and attention to detail that goes into each of Steve's pieces has earned Evetts Drums the respect of drum enthusiasts and professional musicians alike.
You don't even need to be a drummer to appreciate the beauty of the instruments he creates, just one glance at an Evetts drum and the finish alone screams of quality.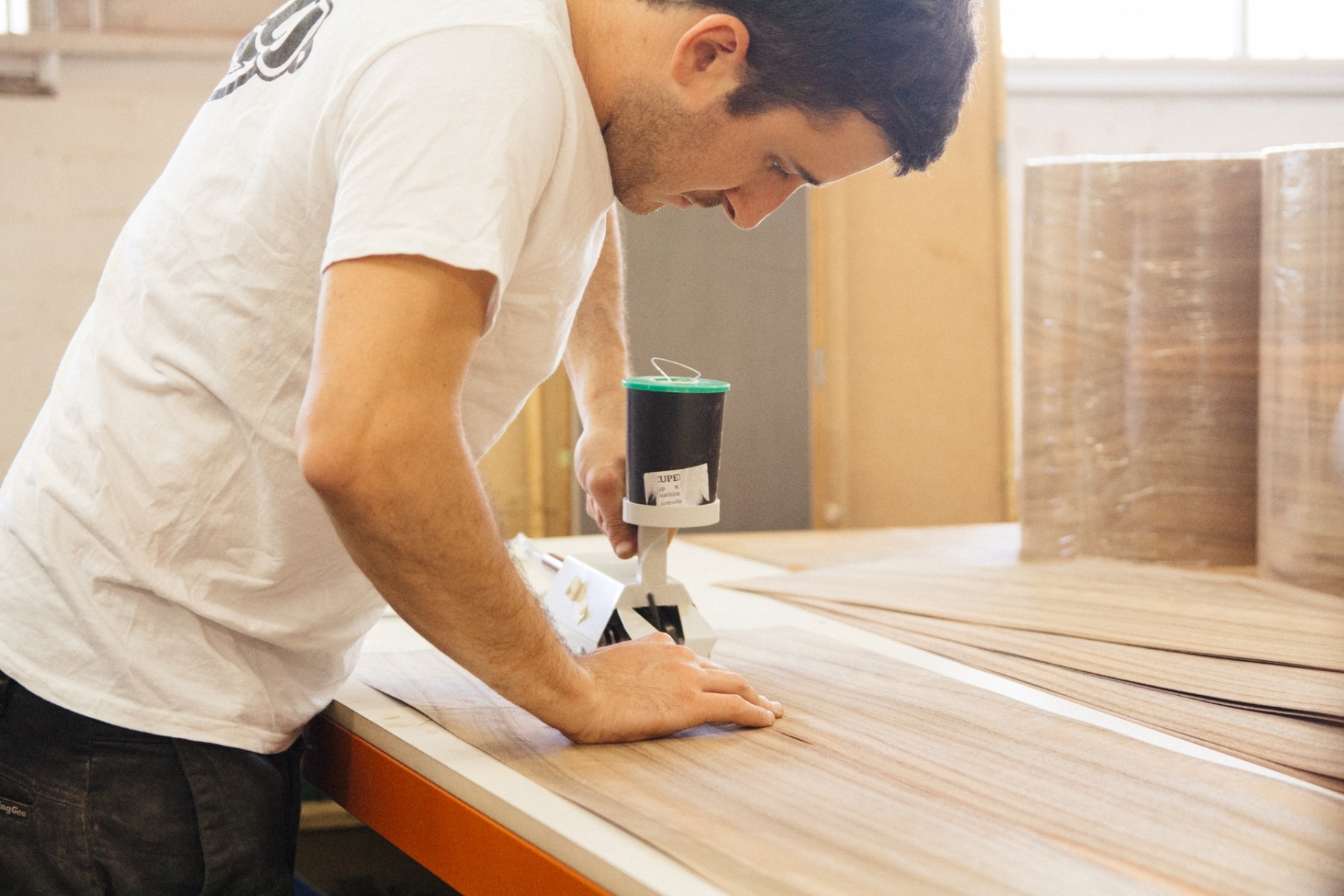 How long have you been a drummer and what was it that appealed to you about the art of drumming?
I've been playing drums 15 years, since I started high school. What really caught my attention with drums was that drum kits looked cool. Playing drums looked fun and it seemed cool to play in a rock band. It was really nothing about learning to become a good musician, it just it looked fun.
In your opinion what are the characteristics of a good drum?
A good sounding drum has to have a really warm, rich tone and a really good mix of frequencies between the mids, low and highs. Away from the sound, structurally it's got to be well made from the shell to the finish. Aesthetically, a real clean, classy look is what I think makes a good drum.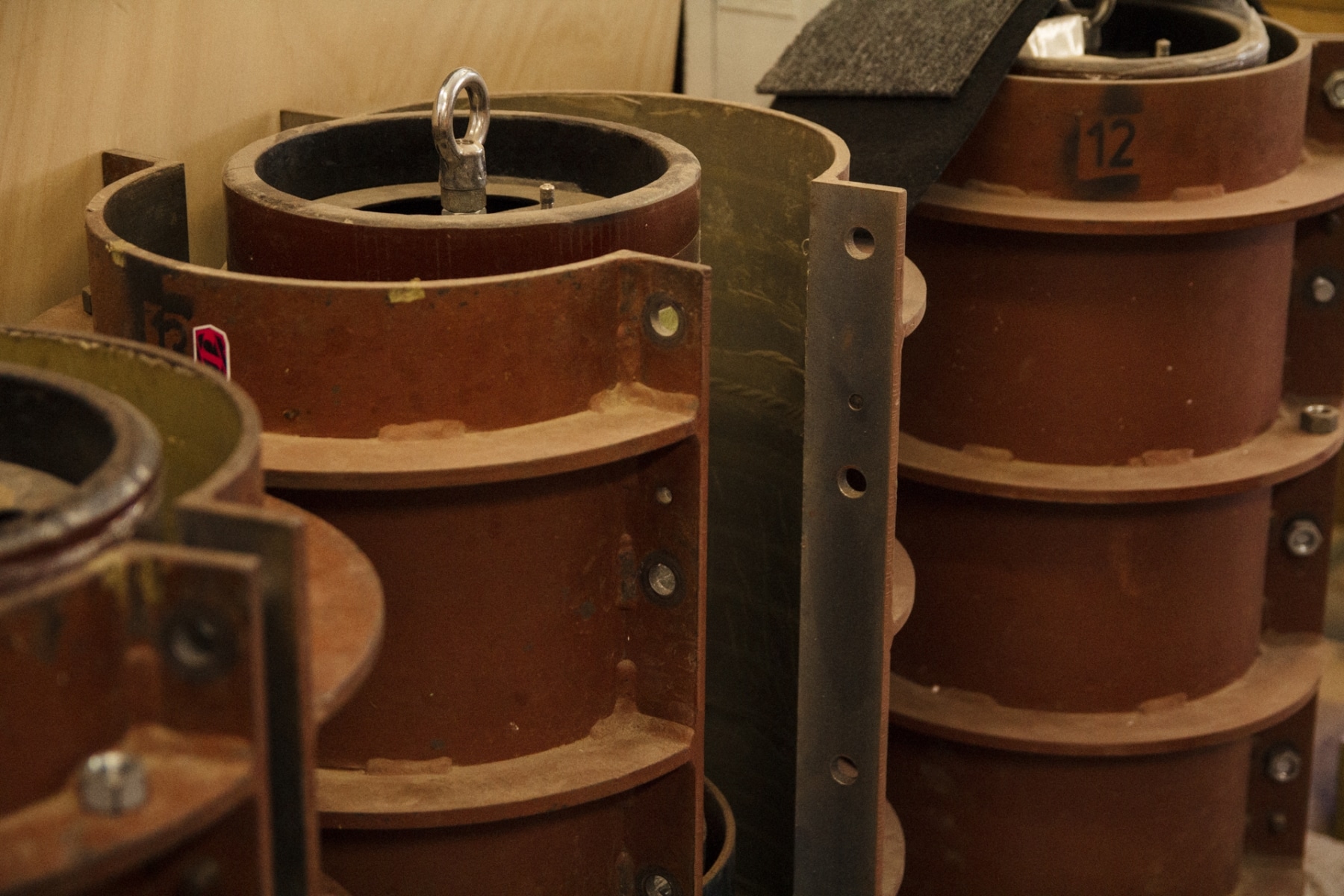 What inspired you to get into drum making
I was never a good drummer haha! No, when I started was just always more interested in what went into making the drum, the tech side of the drum, how the sound was made and how it could be made better, different ways of making it with different woods and stuff like that. I always had an interest in making things, so it was that and the interest in drums together.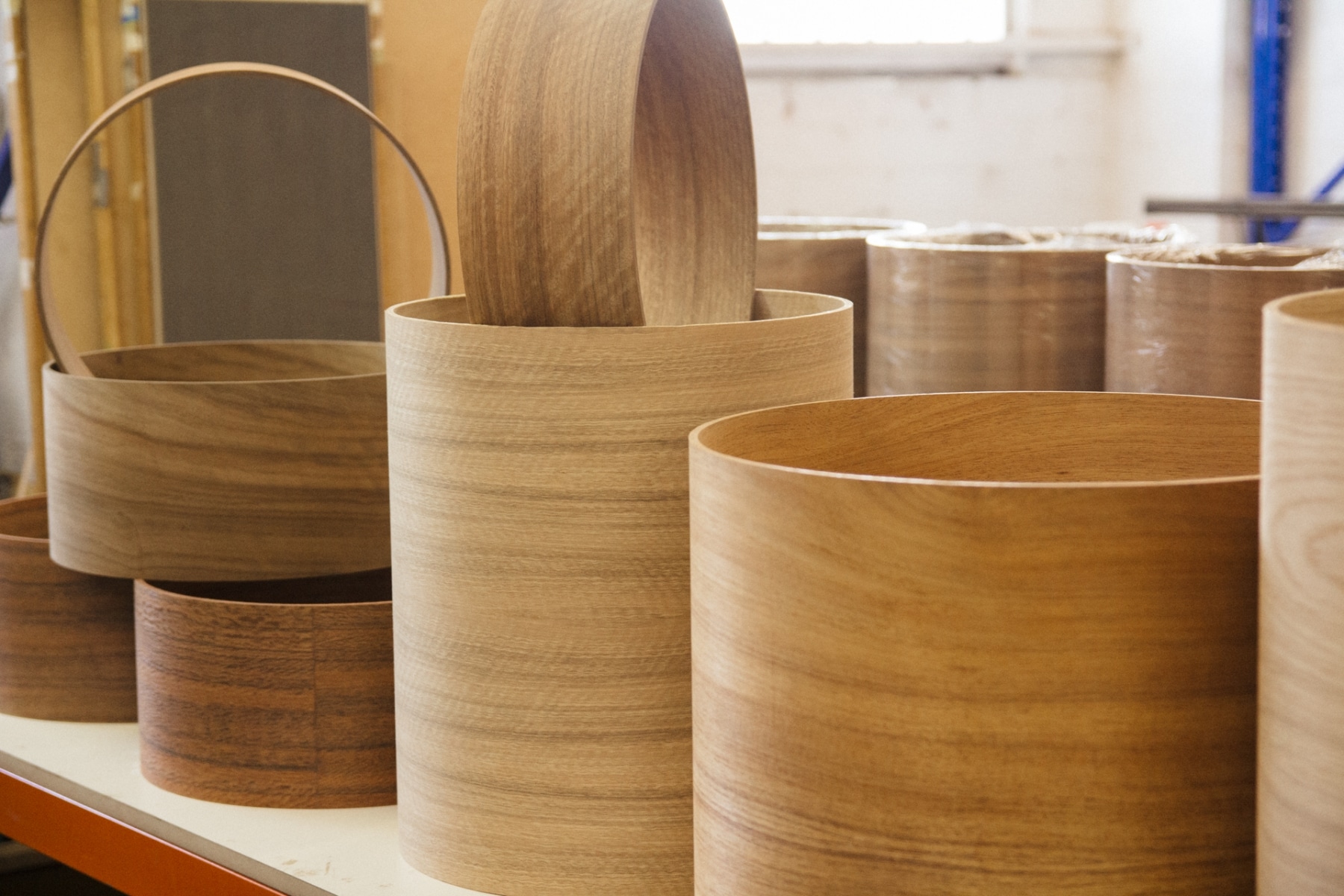 Briefly explain your process of making a drum?
Basically after selection of raw materials and raw veneer, it's all joined up and pressed into a two or three ply sheet depending on the specs of the drum. Once those sheets have been made, you've got to hand cut them down and sit them one by one into the molds.
"John Bonham if he was still alive. I'd like to sit down and just play with him, he's been a monster drummer from Led Zeppelin so that'd be cool."
With a combination of exterior and inside pressure on the drum shell, they get pressed for 12-24 hours at different pressures depending on the woods. From there the shell is released from the mold and then goes into preparation for finishing. Then comes cutting the shell down to the desired depth for the customer, sanding, masking up ready for spraying and then the finishing process happens.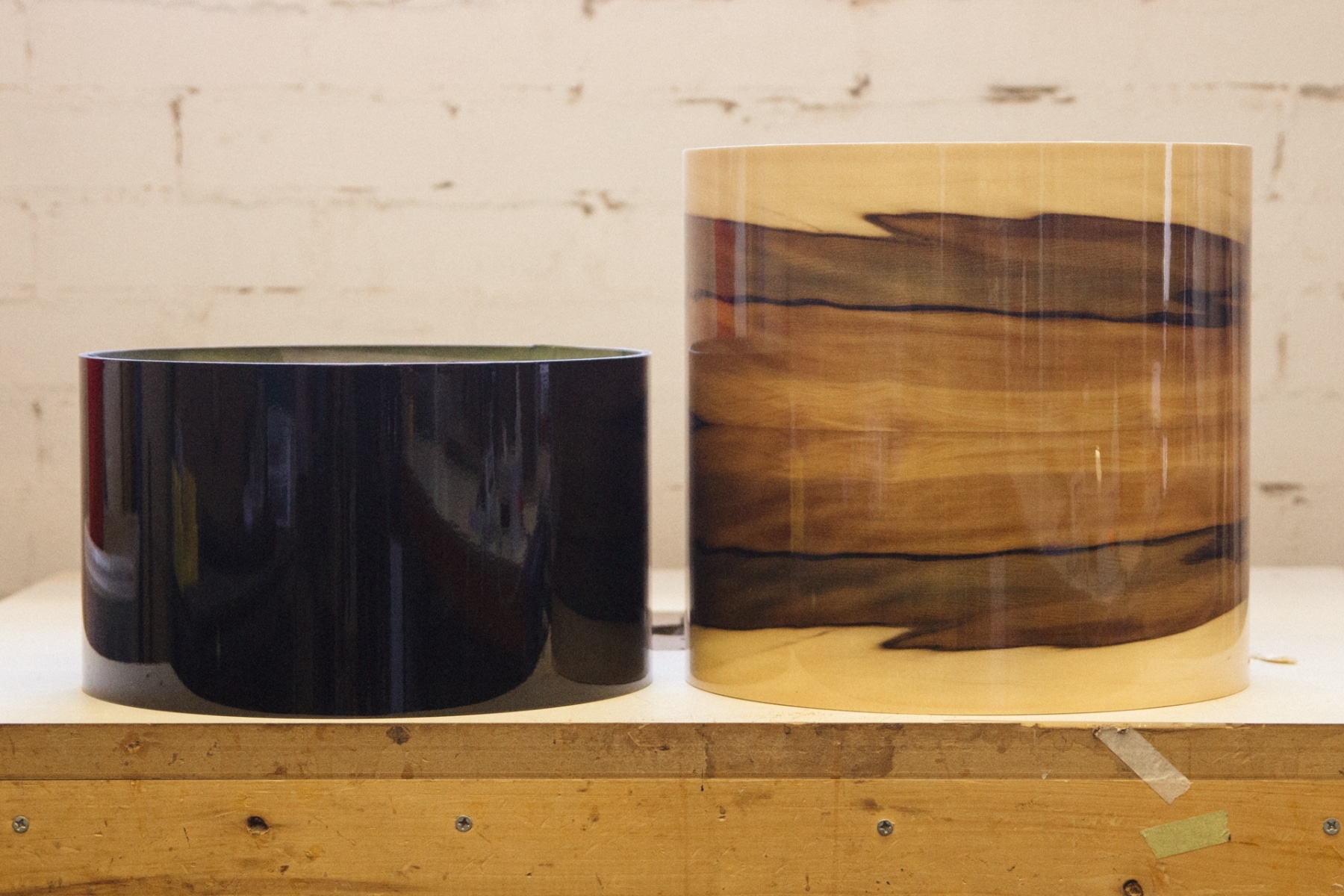 I do three types of lacquered finishes, two satins and one gloss. With the satins, one of them is a really thin open grained finish, the other one is a more high-end satin finish where the grain is fully sealed giving a really nice soft lustre, and then there's the high gloss finish. There's also the classic wraps, which is a vinyl wrap which gets applied to the drum.
"When someone orders a drum from me they're talking to the person who's building the drum, they're kept in the loop from the start to the process to the end of the process"
After the finishing process happens, I lay out the shells to be drilled for all of the parts and different fittings. I also cut what's called the bearing edges, which is the chamfered edges on the top and the bottom of the drum where the drum head sits. From there it's the final assembly and then they get shipped out.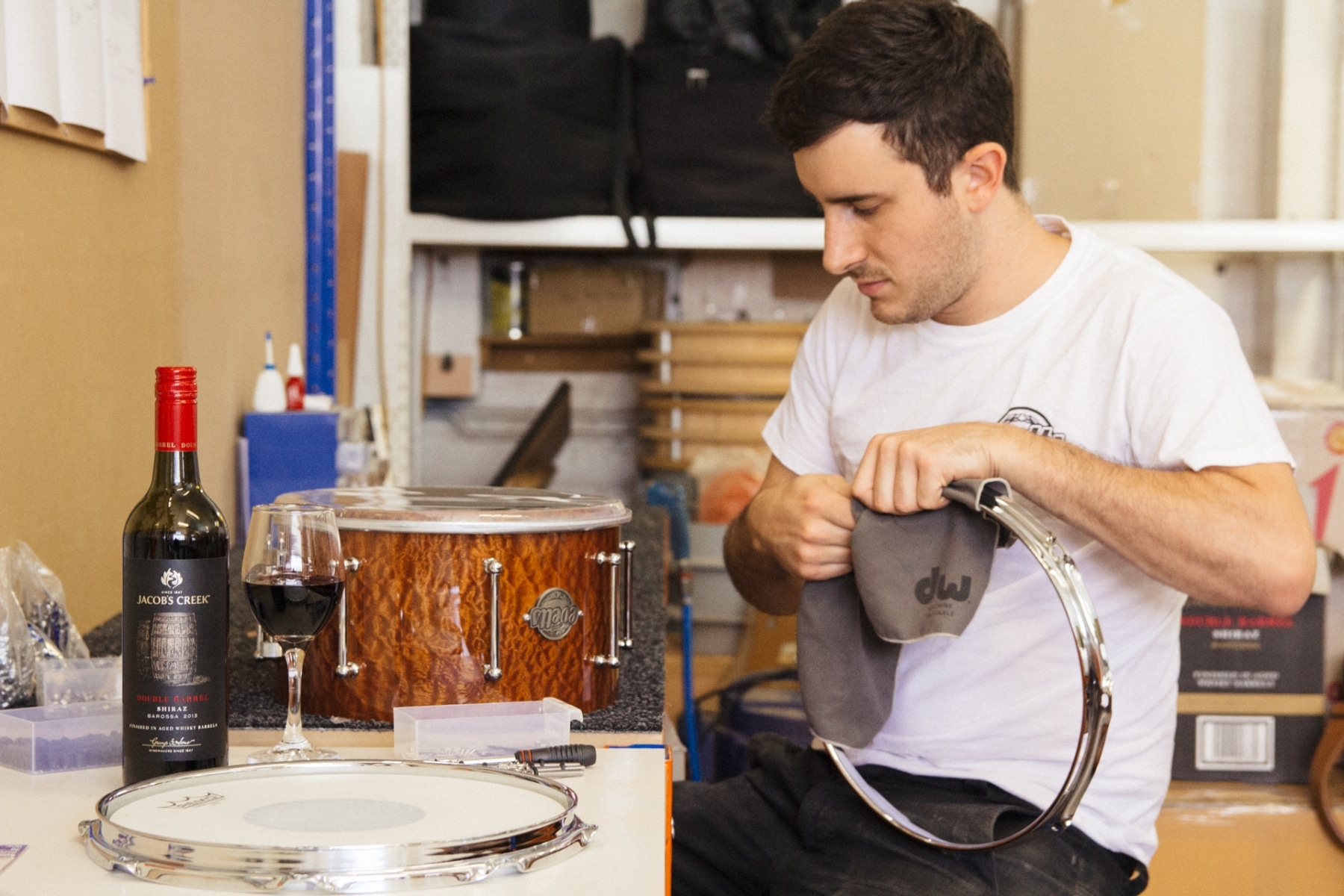 How much attention to detail goes into each drum that you build?
There's a lot in a drum. I'm very picky when it comes to the small details. If I'm making a shell and a seam isn't spot on, I'm not going to be satisfied with it. People pay a lot of money for these drums, so when it's sent out it's got to be right. I'm not trying to just let things slip under the radar. There's a lot of fine detailed work, everything is measured down to half a millimetre. It's very intricate stuff and if it's not right then it gets done again. So if there's an issue with something in the finish it all gets sanded back and it all gets sprayed again to make sure it's right before it's shipped out.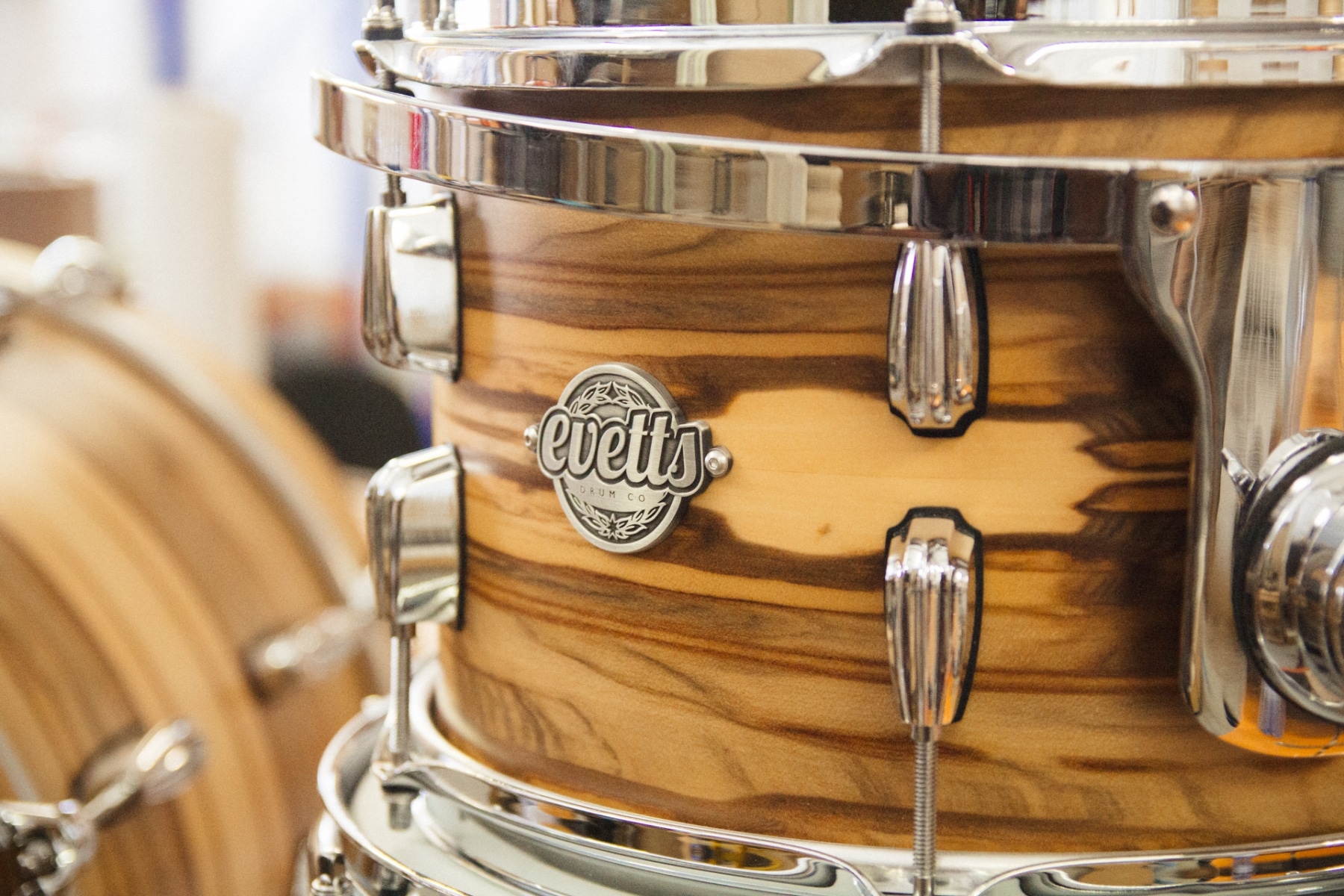 What type of drummers are buying Evetts drums?
I'm getting all sorts of customers. I'm getting hobbyists right through to professional  international artists, in all styles in music. Generally the most popular type of drummer at the moment have been a lot of the rock guys. Guys in the heavy music scene, they're really leaning towards my drums, but I've got guys who play jazz, punk, fusion, orchestral stuff, all sorts of players, but mainly gigging musicians.
Any notable artists or bands currently rocking out on your gear?
Yeah I've actually got loads of them. At the moment the bigger ones are probably Ryan from The Amity Affliction, Ben Ellingworth who plays with Australian rapper Illy. We've also got Justin from a band called Kingswood who supports my drums a lot and the original founding member from Wolfmother Myles Heskett – he plays one of my snare drums.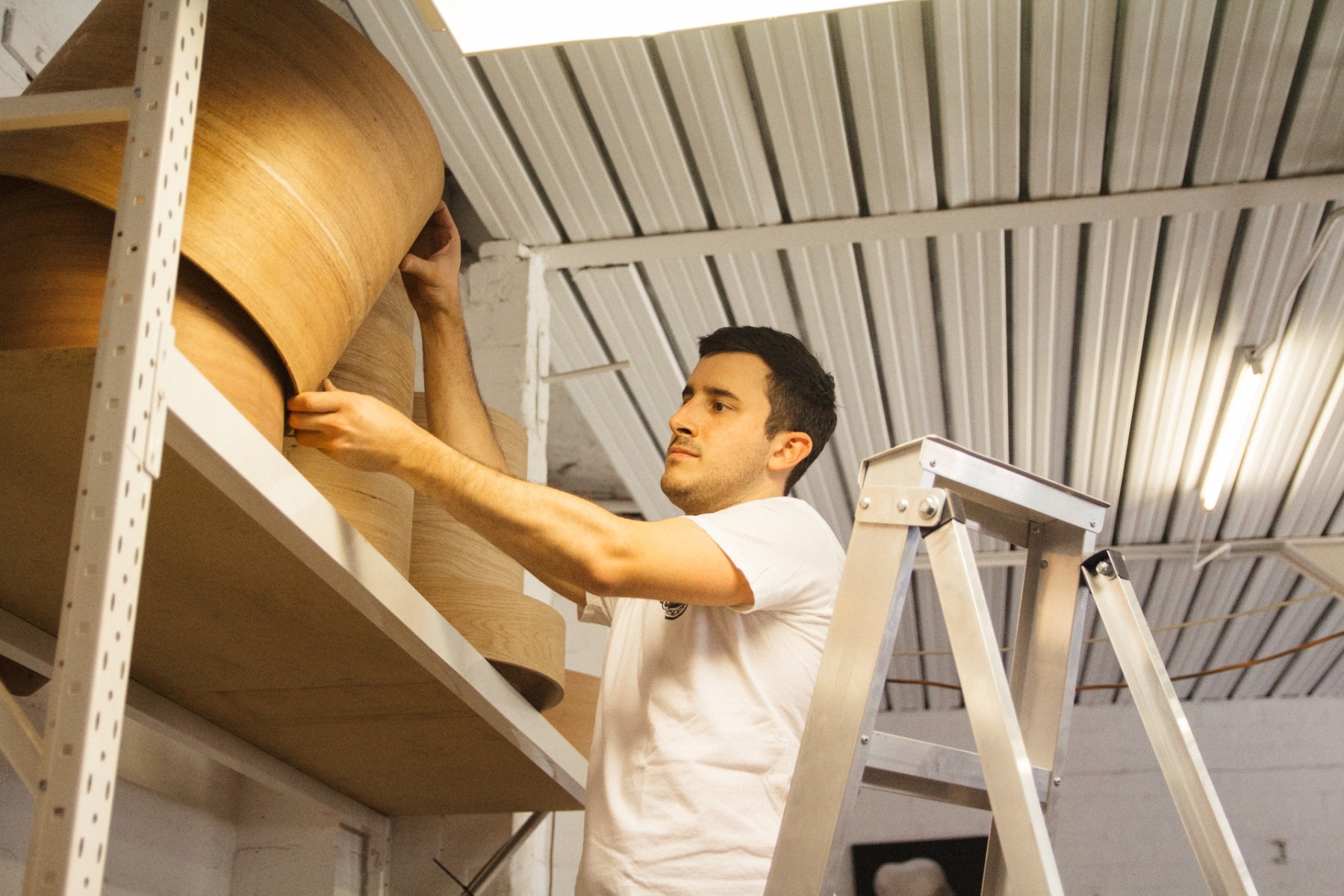 Overseas big name session drummers like Dave Elitch from America and then old school drummers like Todd Sucherman from a band called Styx from the 80s have got some of my stuff. I've been really fortunate with big name players who are on big endorsements who still hunt down what I do, like what I do and support my little brand.
What do think it is about your drums that has earned you such respect in the drumming community?
I think it's something different and something special. The woods that I use aren't being used by mass-produced companies and they're not readily available for those companies to use. The shells that I make are all based on Australian hardwoods and they've all got very unique sound characteristics which gives them really high-end drum sounds.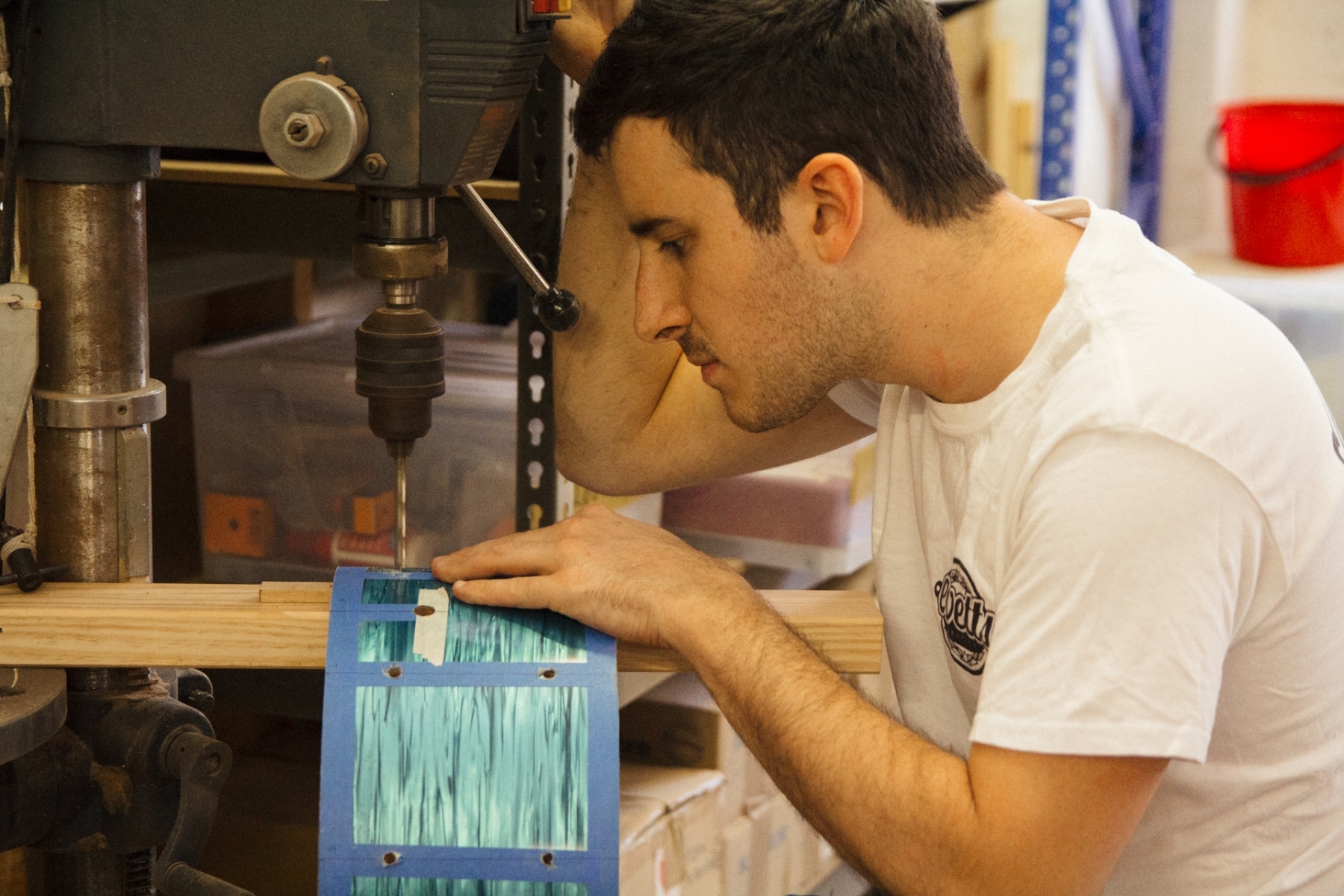 Not only that, people like being involved in the process. When someone orders a drum from me they're talking to the person who's building the drum, they're kept in the loop from the start to the process to the end of the process, whether it be photo updates or coming down to the workshop and checking out their drum coming from a raw piece of wood to a finished instrument. I think they like that interaction, it's definitely something special and the quality of the product speaks for itself. If it wasn't a good quality drum I wouldn't be where I am now with it.
Using the skills and craftsmanship you've developed as a drum-maker, have you tried your hand at creating any other products?
My partner and I have been working on a range of homeware products which will be released under the name Cirku Living. Basically all the designs that we're doing are based off circles. Mirrors, trays, chairs, footstools, coffee tables and stuff. We're utilising tooling from the drum shells for making furniture and homewares. That's something we're hopefully going to release properly in the next 6-12 months as a separate brand. I had no intention ever of really doing that but over the past six months I've just been getting all these cool ideas and trying different things. I can do so much more with the tooling than what I'm already doing with it, so looking forward to
that.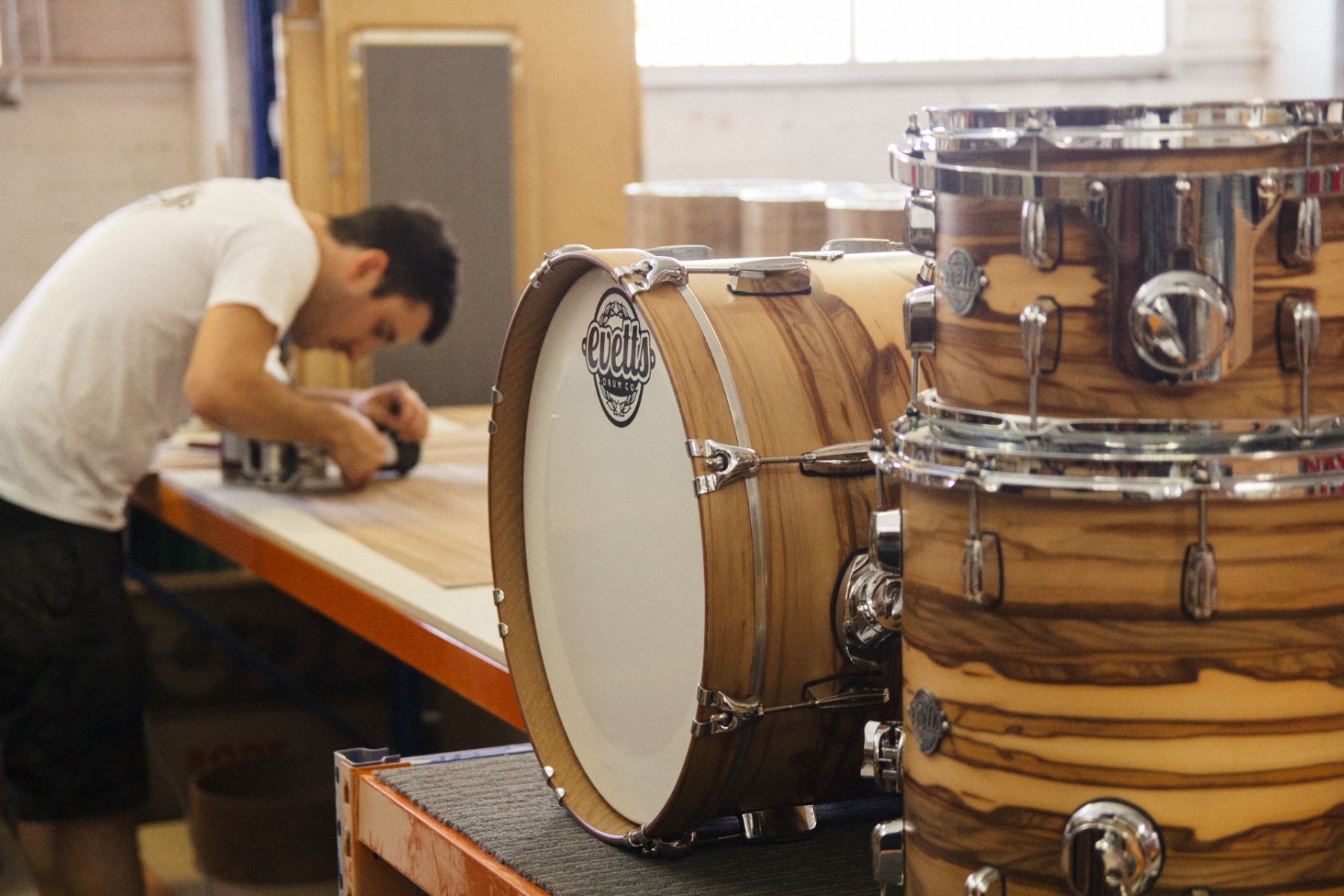 As a someone with a deep appreciation of timber finishing, what are your thoughts on Jacob's Creek Double Barrel wine, aged once in wine barrels and then again in aged whiskey barrels?
It tastes great. It's got a really smooth, mellow flavour that's so easy to drink. The oak barrel ageing is a nice touch. I always love to see the different things people are doing with timber, but this is probably the first time I've been able to taste it.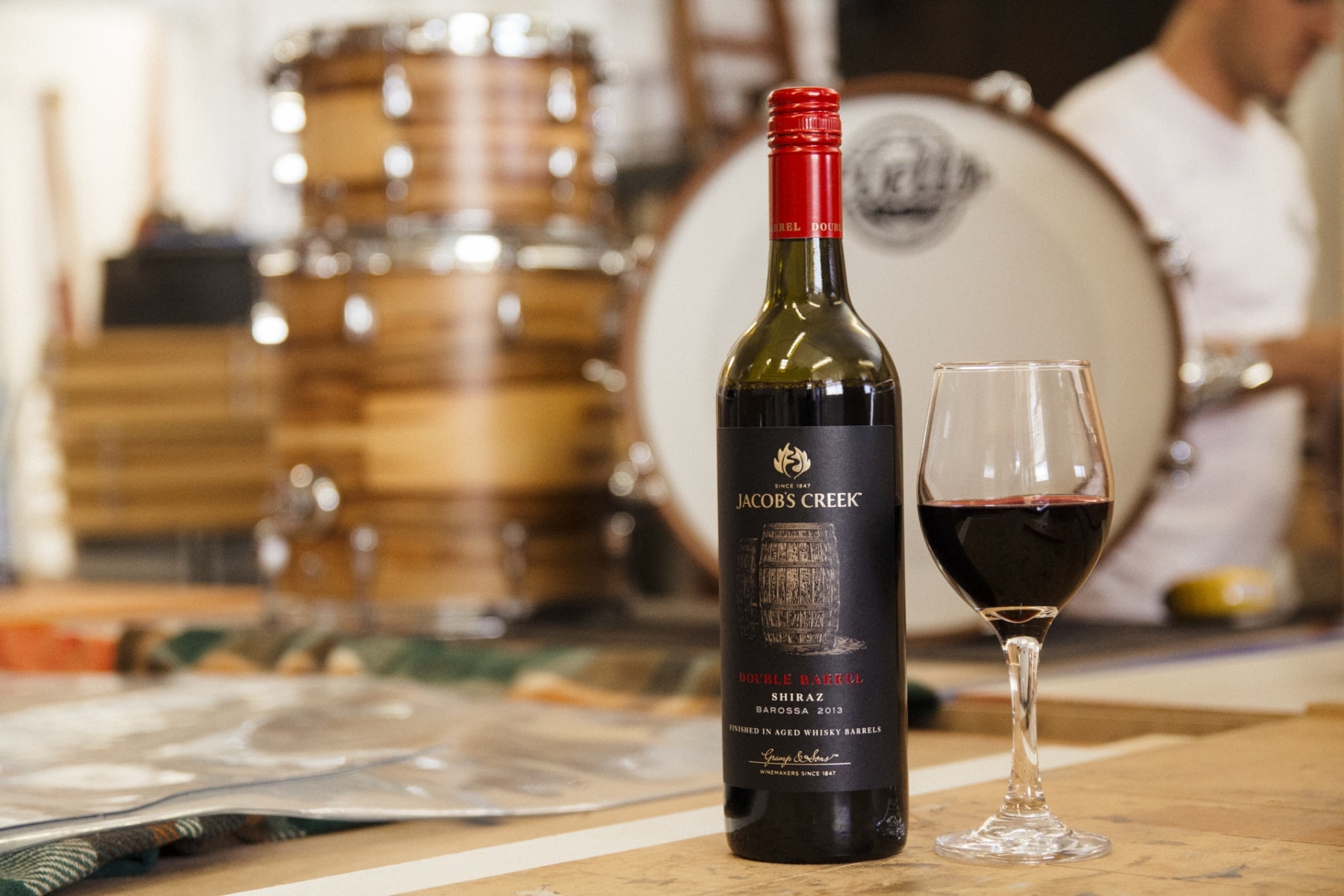 If you could play drums alongside any band or musician past or present who would it be?
Who would it be? Man, there's so many! So many bands I'd like to play with, but if I was picking one now I'd probably say The Living End. The old school The Living End line up from 10 years ago, that'd be pretty cool. Always been a big fan of theirs so that would be fun.
I'd like to play with John Bonham if he was still alive. I'd like to sit down and just play with him, he's been a monster drummer from Led Zeppelin so that'd be cool. Taylor Hawkins from the Foo Fighters would be fun to play with too.