Do you feel the need? The need for speed? If there is one thing that the 1980s taught us, aside from the fact that beach volleyball is most certainly erotic, it is that action movies involving fighter jets are undeniably badass – Just ask Kenny Loggins. The two-hit wonder's soaring buzzsaw guitar formed the soundtrack for arguably the world's greatest aviation story arc and saw Tom Cruise as a reckless young pilot with a serious chip on his shoulder. Now, 36 years down the track, we're finally helping ourselves to a second serving. Tasty riffs, aviator sunglasses and black fingerless leather gloves (probably, we don't know), it can only mean one thing – Top Gun is back. And yet somehow Tom Cruise looks exactly the same.
Welcome to the Binge List, our culinary, cocktail-heavy expedition through the wide world of cinema. Curated by yours truly, this content series puts a sword to the best movies, beverages and meals on your binge-list, providing a full stay-home itinerary. Watching Kirsten Dunst's Marie Antoinette indulge in a macaron surrounded by the finest French opulence, what could be better? Maybe the two-dimensional pudding en flambe from the animated Beauty and the Beast? Or perhaps shovelling 15 blueberry pies down your gullet in one go like Lard Ass in Stand By Me is more your style? Barfing issues aside, film is full of great food moments and we're diving into a tasty one. Fire up the grill, slap on a streaming service and settle in – the menu has been set.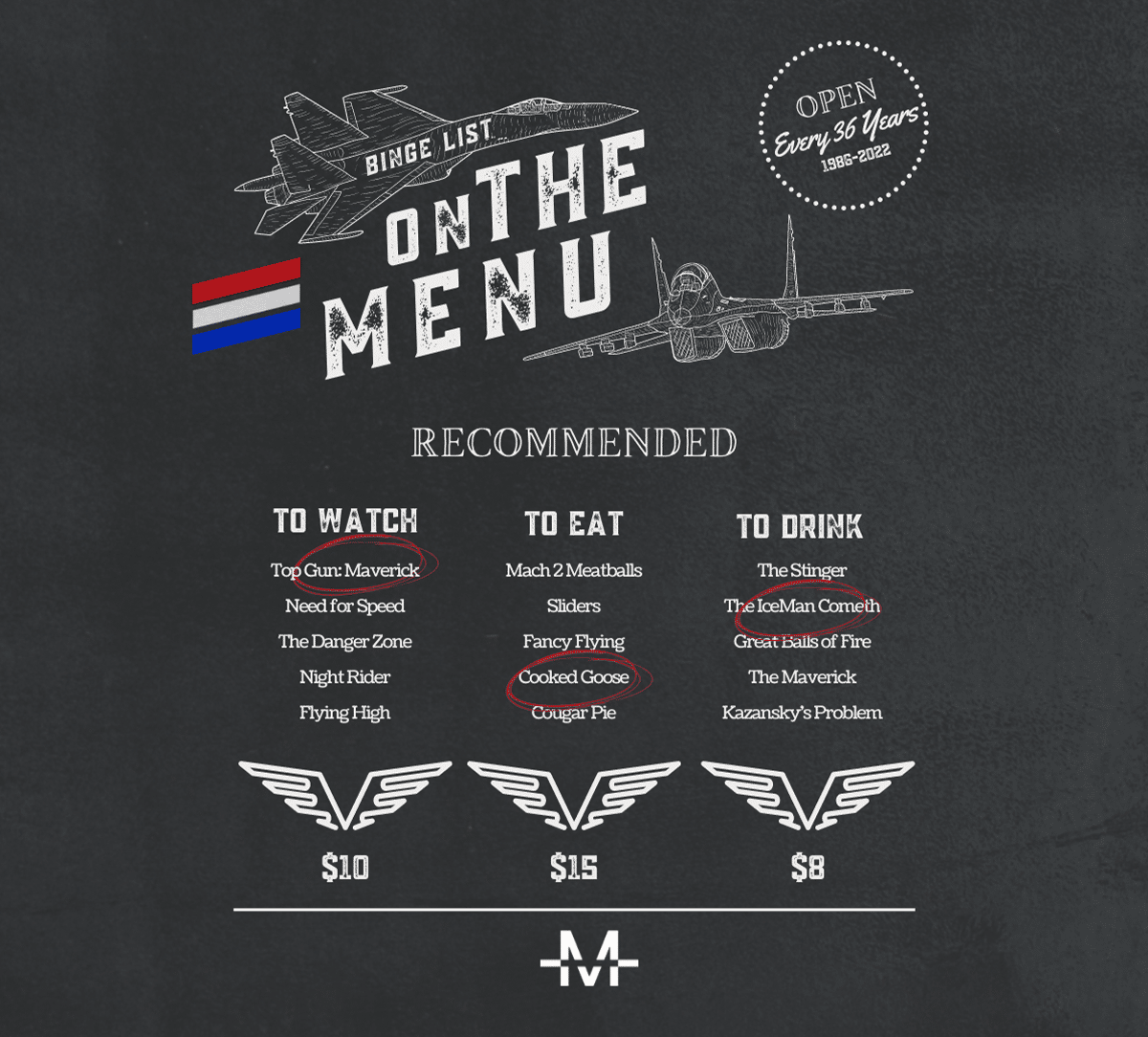 To Watch – Top Gun: Maverick
When the Tom Cruise, Val Kilmer-led action flick Top Gun burst into theatres back in 1986, the world was seriously unprepared. Never before had cinema tackled the high-octane hijinks of naval fighter pilots with such austerity, delivered through a unique and foreboding movie experience. But while the story of Maverick, IceMan and Goose was enough to get your blood pumping, behind the scenes there was a different war being waged. Conspiracy theorists have for long claimed that the film was actually a recruitment driver for the United States Navy, developed almost as a piece of modern-day propaganda. Looking at the film in retrospect, it's hard to argue.
Producers Jerry Bruckheimer and Don Simpson, director Tony Scott, and screenwriters Jim Cash and Jack Epps Jr. worked extensively with the United States Department of Defense, shooting much of the film on location at Naval Air Station Miramar in California. That decision allowed the filmmakers to use real F-14 Tomcats and four actual aircraft carriers at a ridiculously low price. According to Time, the Navy essentially offered access to these resources at the cost of fuel and pilot hours, charging the production just USD$1.8 million in total. So why was the Navy so keen to lend a hand?
By all accounts, the US Department of Defense only cooperated with the production on the provision that it portrayed the military favourably and allowed them to make revisions to the script as they saw fit. In the case of Top Gun, this meant changing Maverick's romantic partner from a Navy non-commissioned officer to a civilian instructor, as fraternisation within Naval ranks is against regulations, and altering the mid-air crash that cost Goose his life (spoiler alert, he dead).
For years, the gravity of the US Department of Defense's influence on the original Top Gun film has been up for debate, but there's no denying the organisation had some say in what went on up in the air. Flash-forward 36 years and Maverick is back, a little older, wiser and more seasoned than before. Top Gun: Maverick finally raced into cinemas on May 26, after more than two years of COVID-related delays and setbacks, and it didn't disappoint.
The long-awaited sequel sees Captain Pete 'Maverick' Mitchell as a test pilot for an ageing program set to be axed in favour of drone warfare. With one last shot, he is sent back to Top Gun academy to train a new fleet of brash frat boy fighter pilots for a mission he is uniquely qualified for. From there, you can expect to see some of the most impressive and exhilarating stunts ever performed on camera across more than two hours of high-flying, double fuel-injected action. Throw in a moustached Miles Teller, the scene-stealing Glen Powell and a few cameo appearances from the old guard, and you've got yourself a sure-fire hit of Reagan-era nostalgia. Ah, simpler times.
Available in: Cinemas
Release date: 24 May 2022 (USA)
Director: Joseph Kosinski
Music by: Lady Gaga; Harold Faltermeyer; Hans Zimmer; Lorne Balfe
Story by: Peter Craig; Justin Marks
Budget: $152 million
Distributed by: Paramount Pictures Studios
To Eat – Cooked Goose (Sort of)
A super-sized action flick requires a super-sized meal and we've got just what the admiral ordered. In this Top Gun-themed dining extravaganza, we've leaned into the nicknames, serving up one pilot's namesake on a platter. Get ready for a loosely curated culinary journey, we're going all-in on poultry. Well, almost.
We're fully aware of the insensitivity of preparing a cooked goose in honour of Goose, the man who died in a fiery crash. That's why we've ditched the goose and gone for the next closest thing, a turkey. Infinitely more delicious and far easier to source, turkey breast is loaded with protein and all the good stuff that will have looking like '80s era Val Kilmer in no time. Best of all, you don't need to jet your way to the supermarket to score it. Many of the ingredients we needed were already in our pantry, but for everything else, we turned to Uber Eats. The platform to go anywhere and get anything just bumped up its grocery and alcohol offering, dishing out $0 delivery on orders of $20 for Uber Pass members, and with foodie favourites Woolworths and IGA on-platform, you can make sure your pantry is stocked.
Roast Turkey Ingredients
A decent sized turkey
Salt & pepper
Thyme
Paprika
Garlic powder
Cling wrap
Garlic butter
Roast Turkey Method
Place the turkey on roasting tray
Rub with salt, pepper, garlic powder, paprika and thyme
Wrap tightly with cling wrap to keep the juices in
Refrigerate for at least 2 days
After 2 days, remove from fridge and stuff with herb and garlic butter
Roast right side up for 45 minutes
Baste with more herb and garlic butter
Roast for a further 30 minutes
Turn and burn!
To Drink – The IceMan Cometh
When it comes to pilot nicknames that sound like a drink, two stand out above the rest – Stinger and IceMan. It was a mixed bag as to which we'd go with, but after seeing Philadelphia cocktail institution Franklin Mortgage's recipe for a drink based on the Val Kilmer character, the choice was simple. At the bar's 2013 Top Gun-themed cocktail night, guest mixologist Michael Buonocore put together a seriously tasty treat in a glass. Here, we've recreated it using a few ingredients from the liquor cabinet and a handful of additions brought to our door by Uber Eats. Here's what you need to know to make The IceMan Cometh. Oo, that sounded dirty.
The IceMan Ingredients
45ml Batavia Arrack
15ml Salers Aperitif
15ml Blanc Vermouth
1 dash of Grapefruit Bitters
Celery
The IceMan Method
In a cocktail beaker, combine Batavia Arrack and Salers Aperitif
Stir down and add the Blanc Vermouth and Grapefruit Bitters
Build the drink in a tall, ice-filled glass
Garnish with a stick of celery
Served tall (unlike Tom Cruise lol)
Look, we're not saying it's the perfect night in, but it's hard to go wrong with a cooked goose and cocktail. You've got pilots, poultry and protein all thrown into one mega-sized movie moment. In fact, play your cards right and you might even find yourself with a new wingman. After all, it's the kind of menu that might just…take your breath away. Nice.