A global leader in its respective price range (of up to 4,000 euros), watchmaker NOMOS Glashütte is also a true master of the German Bauhaus movement. Hailing from its namesake town—which is now celebrating 175 years of the finest craftsmanship—the brand produces more mechanical watches than virtually all of their peers. It's by culling from both the minimalist aesthetic and geographic influence that it's able to retain a laser-sharp focus on the most vital essentials. Every model is brought to life by way of high-tech production methods and cutting-edge research, giving way to painstaking performance and clean, highly functional designs. Nowhere is that more evident than through their iconic Tangente, one of the most renowned mechanical wristwatch families in all of Germany.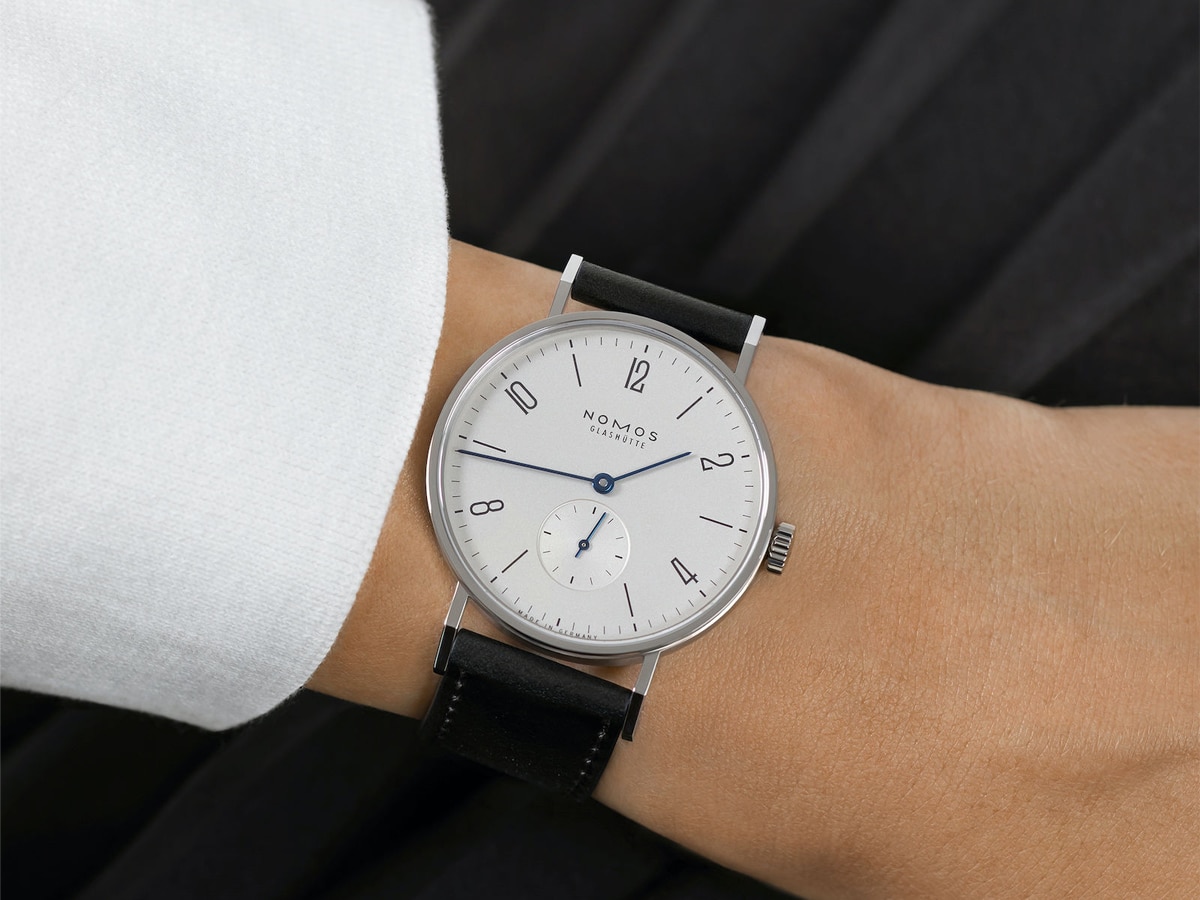 Check out the Classic Tangente
First introduced about 30 years ago, Tangente continues to embody everything that NOMOS Glashütte represents. It remains a perennial best-seller and one that simultaneously captures the spirit of the Saxon town where it was born. Eschewing any loud gestures in favour of a pure minimalist design, recent iterations like the Tangente have become instant legends. With its round case and hard geometric lines, the model exudes prime versatility and thereby accommodates a full swath of occasions and ensembles.
The high tech approach to the classic line is the Tangente neomatik 41 Update, which runs on a groundbreaking neomatik (this is what the brand calls the new generation of automatic movements) calibre and features a surprising date indicator: A unique, patented ring date, which circumscribes the dial. Two bright red markers frame the current date and provide a pop of colour on the white silver-plated dial.
Buy Tangente neomatik 41 Update
Speaking of the neomatik calibre—this automatic movement is even more revolutionary than first meets the eye. Lavishly polished and decorated, it's also super slim with a height of just 3.6 millimetres (respectively 3.2mm without date function). Thanks to a bidirectional winding rotor, it stops when fully wound so as to protect the mainspring, whilst the proprietary escapement, the NOMOS swing system, ensures the utmost level of accuracy. By squeezing such high-quality mechanics into such a tight package, the brand itself is able to create slender dress watches of impeccable versatility and functionality.
That brings us to their latest creation…
Buy Tangente neomatik 39 platinum gray
Picking up where previous models left off, the new Tangente Platinum Gray measures just 35mm in diameter. It adorns the classic Tangente's minimalist layout with a striking new colour and runs on neomatik calibre DUW 3001. Rendering massive impressions through the use of subtle details, it features elegant rhodium-plated hands and Arabic numerals in serif on the grey-toned dial face. At the bottom of the display is a brilliant seconds counter, which employs circular lines to hypnotic effect.
Flip the watch over to behold the stunning neomatik calibre through a window of sapphire crystal glass on the case-back. A masterpiece of mechanics, the automatic movement has been adjusted in six positions to ensure absolute accuracy. Its unusually thin design achieves a true feat of modern engineering and sets a new standard for the industry at large. Consisting of 27 jewels, it offers a power reserve of 43 hours and a host of visual delights.
With its handsome colour and uniquely slender case, the Tangente neomatik 39 platinum grey makes for a classic dress watch. A black strap of Horween Genuine Shell Cordovan rounds out its sophisticated charms and pairs perfectly with the grey colourway. This is the kind of clean design that speaks volumes by saying less and you might find it hard to look away, picking up new impressions every time you gaze upon its minimalist interface. Around the back, meanwhile, the neomatik calibre DUW 3001 delivers a different kind of spectacle.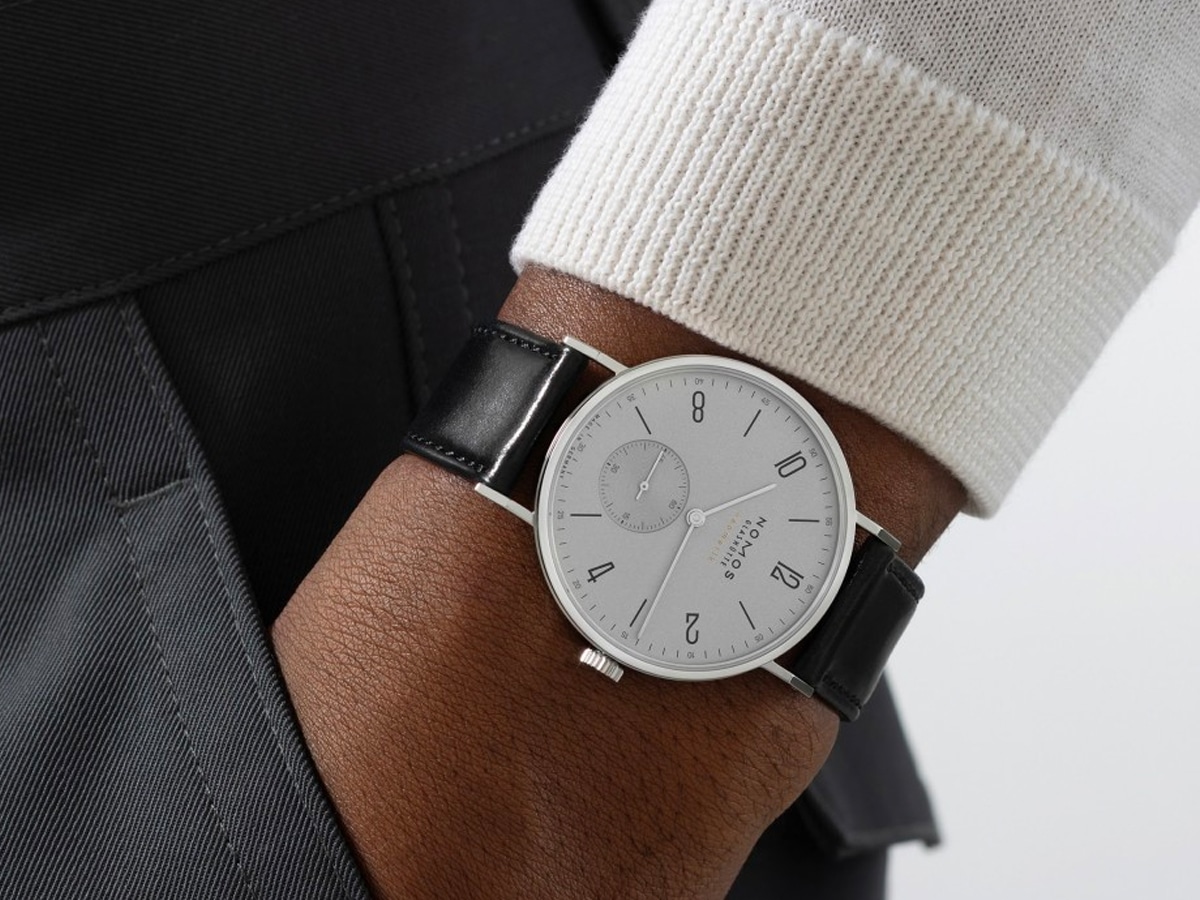 175 Years of Glashütte Watchmaking
Nestled in the Eastern Ore Mountains, the German town of Glashütte is one of the most famous watchmaking centres on the planet. Its legacy dates back 175 years and to a master horologist named Ferdinand Adolf Lange, who laid the foundations for a thriving local practice. Older generations passed on their knowledge to younger ones and so the region was able to stay the course through various geopolitical disruptions, some of which threatened to upend Germany's entire watchmaking industry.
The town remains home to a small populace and nine manufacturers, of which NOMOS Glashütte is one of the best-known. There's a spirit of friendly competition in the air and it keeps each watchmaker on their respective toes, pushing them to innovate, evolve, and hone their craft. The new Tangente neomatik 39 platinum grey is not so much an individual release as much as it is the latest link in a historic chain going back over a century. And so a tradition of premium quality, brilliant precision, and expert craftsmanship lives on. Here's to the next 175 years!