Raymond Weil Channels AC/DC with a Music Inspired Timepiece
In partnership with Raymond Weil.
Raymond Weil is a company unshackled. For over 40 years, the family-owned household name in horology has remained independent, and as such, maintained a unique ability to foster left-of-centre ideas and designs that another maison might be inclined to pass over. Their affinity with loud music and celebrating those who've both rocked and rolled is already undisputed, with thanks to their Music Icons special edition pieces of late, which have seen designs honouring David Bowie, Les Paul and Marshall Amplifiers (though, while a Marshall may go to 11, these ones go to 12).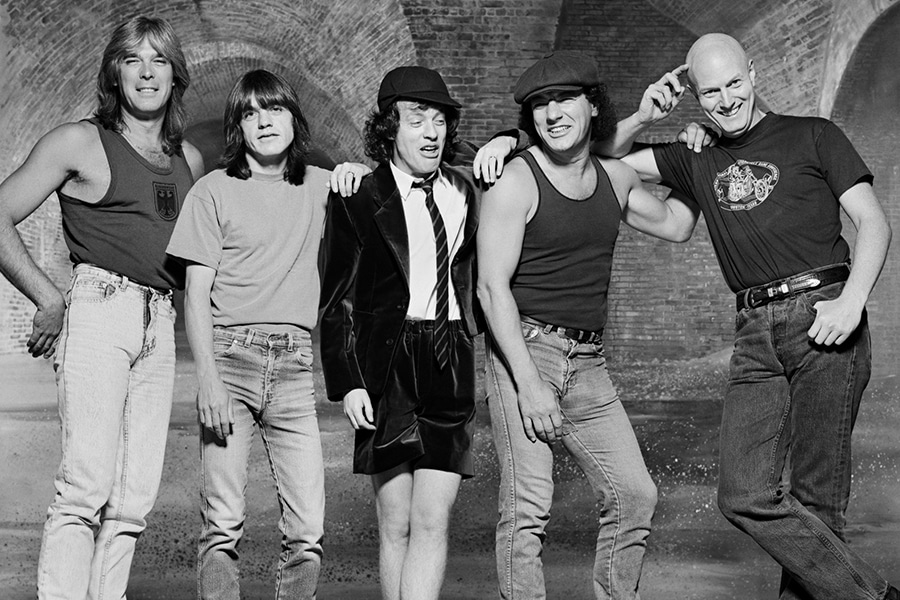 In one of our favourite mash-ups between delicate Swiss mechanical watchmaking and High Voltage Rock 'n' Roll (an already flourishing market, we'll have you know), Raymond Weil's latest automatic timepiece is an elegant nod to one of the highest selling bands of all-time: Australia's own hall-of-famers AC/DC.
With a design pulled directly from the Freelancer playbook (read: a 42mm case, two-hands and a balance wheel handsomely exposed at 6 o'clock), it's already an attractive and practical watch. We covered the recent addition of aRaymond Weil's Freelancer Skeleton Has Just Raised The Bar on Affordable Swiss Luxury and discussed in detail Raymond Weil's ability to maintain finesse, class and independence in an ever-changing marketplace. Once again, they've proved that no matter their muse, theirs is a tireless and distinct pedigree.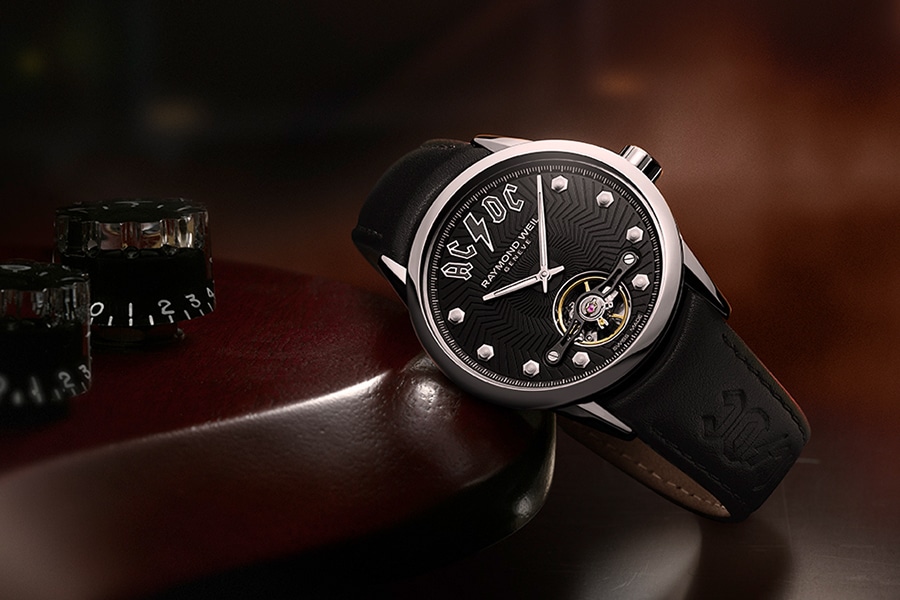 Take, for example, the studded indexes surrounding the dial. At a distance, striking, but up-close a very clever detail. Subtle and understated, it would be so easy to go overboard with a design brief like this, but each element has been tied to the last, and what results is a linear feel to a unique piece of Rock 'n' Roll memorabilia.
AC/DC first graced radios in 1974, and despite several line up changes, has continued to fill stadiums and sell records consistently for over 40 years. Guitarist Angus Young and his brother Malcolm steered a collection of the world's best rock musicians through decades of sold-out tours, record-breaking album sales and hit after hit. Malcolm sadly passed away earlier this year, his spot in the lineup, as rhythm guitarist, has been filled by his nephew Stevie. Their 1980 album, Back in Black, is the highest selling album by a rock group in the world; the second highest selling album of all time in the US, in fact. All up, the band has sold over 200 million records globally since they first struck the strings.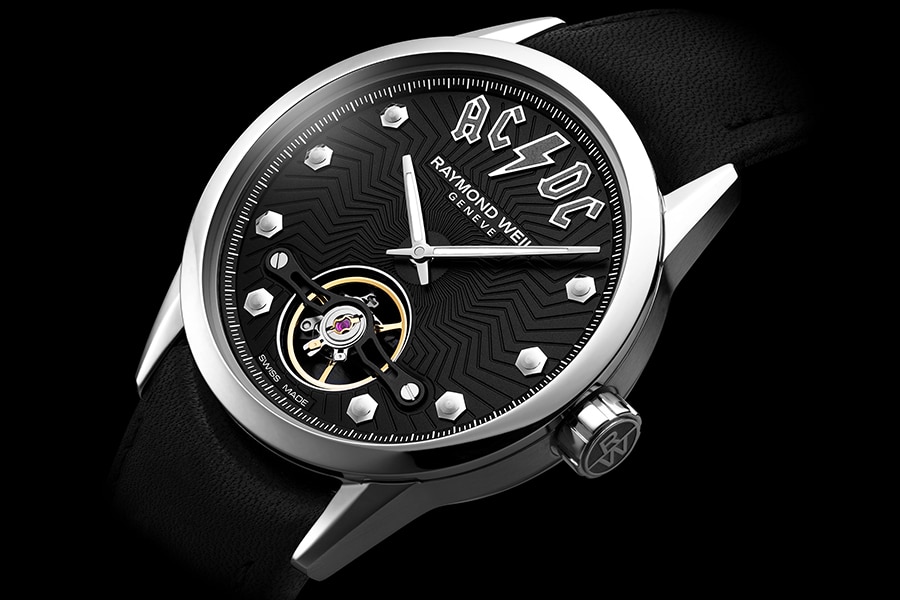 Raymond Weil's Music Icons series has been a refreshing departure from the norm. When other watchmakers, especially Swiss ones, produce a special edition range, there's a tendency to play it safe and keep within the lines. Raymond Weil eschews all of the pomp and tradition that's so often conflated with high-street horology, and proves that you can be an independently owned maison producing movements in-house, and still have fun, without losing your audience. This, actually, is the most appealing feature of the entire Freelancer range. Each one is different, from conservative styles to suit corporate conformity, to examples like this, which celebrate personal expression and individuality, without sacrificing the fact that you're still wearing a Swiss masterpiece.
And on that note, it's time to talk (again) about Raymond Weil's in-house automatic movement, the RW1212. This is Raymond Weil's first foray into producing their own movements, and given it comes off the back of a long-term relationship with Swiss powerhouse Sellita (who helped to co-develop it), the expectation for this to deliver is high, but effortlessly met.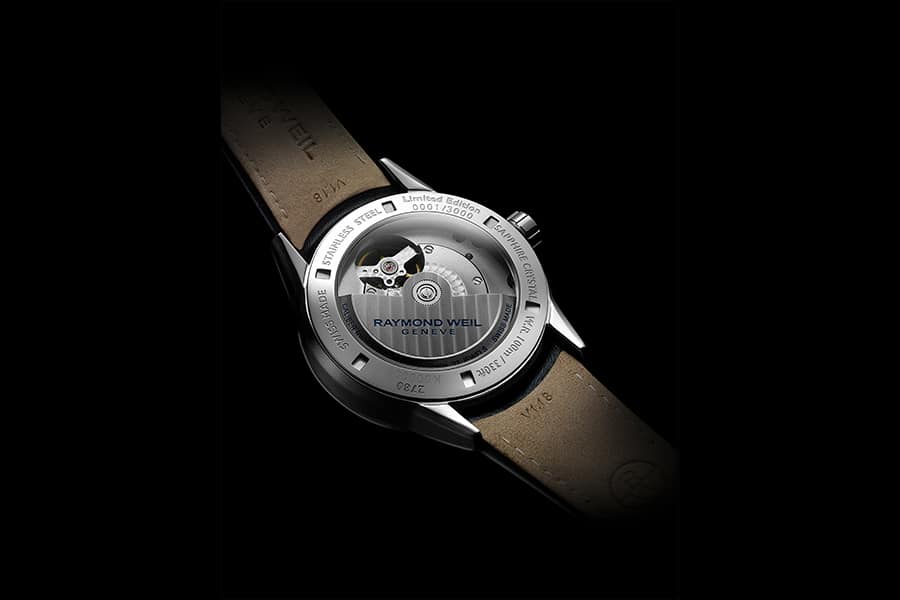 A glimpse through the glass case back shows that they've made it look the part (the logo engraving on the oscillating weight is bold and masculine), and the no-nonsense aesthetics match the sui generis nature of this design: enough grit and grunge that you could wear it on stage, but also a much classier way to let everybody know that it's a long way to the top than your hole-riddled 1986 tour shirt.
And then back to the dial, and the more we look at this watch, the more we're dumbfounded by Raymond Weil's ability to take something as hardcore Rock 'n' Roll as AC/DC, and turn it into something elegant enough to sport the "Freelancer" moniker. The balance wheel at the 6 o'clock position acts almost as a stage; a peek into the inner workings, where you can see the rock and the roll of the delicate components coming together, much like the band to which it pays homage.
The zig-zag pattern incorporated into the black dial emulates the lightning-bolt of the band's original logo, which is also embossed on the black leather strap. The font size isn't subtle, but the overall effect is (one might perhaps be inclined to assume that a watch named after a metal band would hardly comprise a leather strap, but that's the genius of this entire collection: it just works, even when it logically shouldn't).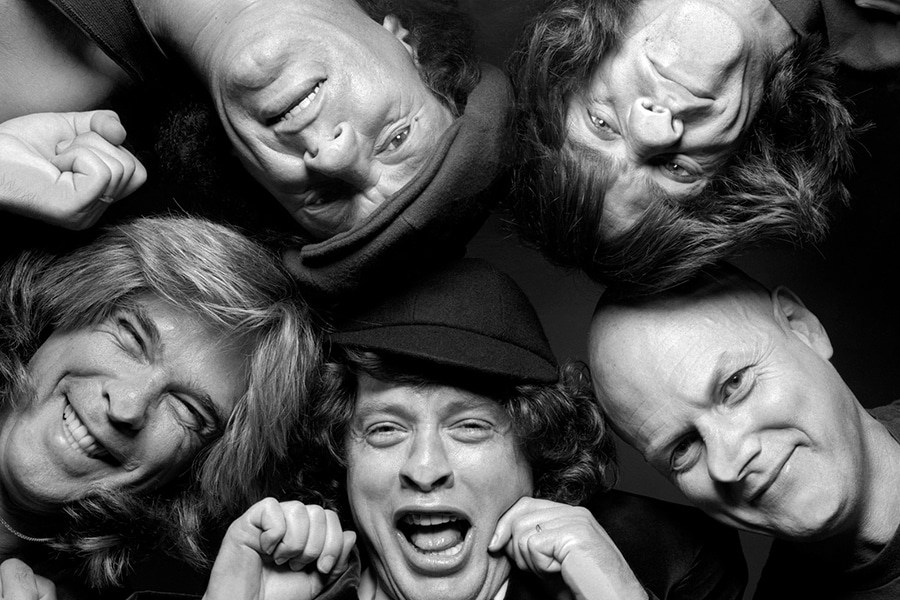 Limited to 3,000 pieces, far fewer than the number of fans who would certainly make the investment, this is set to be one of the most sought-after examples from the Swiss manufacturer. Each watch is sold in a special edition case and has a certificate of authenticity provided.
Music and art have long been salient inspirations for Raymond Weil. The founder who forged the eponymous company during the quartz crisis saw these mediums as "an inexhaustible source of inspiration and creativity". This is just another piece of proof that the company, which plays David to the Goliath of enormous luxury multinationals, is running its own race, and making some outstanding timepieces in the meantime.
Current CEO of Raymond Weil, Elie Bernheim, opined: "As AC/DC perfectly quoted "let there be light, sound, drums and guitar – let there be rock".
We couldn't agree more.
Have you subscribed to $400,000 Patek Philippe Split Seconds Chronograph with Perpetual Calendar Unveiled? You can also follow us on Facebook, Twitter, and Instagram.