Nobody does Black Friday quite like Roborock, absolute masters of the modern robot vacuum cleaner. Killer deals kicked in on the 20th and 24th of November, respectively, and run to the 4th of December. It's all part of the brand's Black Friday sales event, which takes 44% off the already affordable E5 Mop and 37% off the wildly popular S7, to name just two quick examples. November is definitely the time to buy a robot vacuum for yourself or a loved one and save hundreds of dollars in the process. Here's to doing chores the 21st-century way.
Roborock Robot Vacuums
Power, intelligence, and convenience collide on Roborock's ever-growing arsenal of robot vacuums. Even the brand's most cost-effective offerings come fully loaded with advanced features, including remote app control, built-in WiFi, self-charging, simultaneous mopping, HyperForce suction, long-lasting battery, and more. There's never a wrong time to pick up one of these sleek appliances but to do so during the Black Friday sale is to get some serious bang for your hard-earned buck.
Black Friday Sale Dates
Even at regular retail prices, Roborock's high-quality output is worth every penny. It's then all the more exciting when the brand takes hundreds of dollars off acclaimed best-sellers like the S7, Q7 Max, Q5+, and more. Here's a quick rundown of when the deals start (and end) for each respective product:
11/20 – 12/4: S7 MaxV, S7 MaxV+, Dyad, Q5, Q5+, Q7 Max, Q7 Max+
11/24 – 12/4: S7, S7+, S7 MaxV Ultra, E5 Mop, E5
Black Friday Deals and Details
Get those clicking fingers ready as we go into greater detail on the deals and discounts coming your way.
S7
Winner of 17 Best of CES 2021 Awards, Roborock's mighty S7 offers brilliant performance and a host of convenient features. Set it loose and go watch Netflix whilst the cordless appliance cleans your entire house, running for up to 180 minutes on a single charge. It normally sells for US$649.99 but you can get one for just US$409.99 as part of the Black Friday sale.
Normal price: US$649.99
Deal Price: US$409.99
Discount: US$240
% Off: 37%
From: 11/24-12/4
S7+
Take everything you know and love about the S7 and throw in extra goodies like self-emptying capability, ultrasonic carpet detection, multi-layer air filtration, and more, and you end up with the S7+. The brand slashed US$270 off the retail price of this bad boy as part of the Black Friday sale.
Normal price: US$949.98
Deal Price: US$$679.99
Discount: US$270
% Off: 28%
From: 11/24-12/4
S7 MaxV
Weighing in at 16 pounds, this robot vacuum matches hefty brawn with bona fide brains. Features include obstacle avoidance, real-time video call, sonic mopping, ultrasonic carpet detection, LiDAR navigation, powerful suction, no-go zones, multi-floor mapping, Alexa compatibility, and more. Is it available at a generous discount as part of the Black Friday sale? You bet it is—and starting on 20 November, no less!
Normal price: US$859.99
Deal Price: US$639.99
Discount: US$220
% Off: 26%
From: 11/20-12/4
S7 MaxV+
Optimal on every front, the S7 MaxV+ is particularly dependable when it comes to tackling pet hair and other debris. It mops and vacuums simultaneously for up to 180 minutes per charge. And did we mention it can hold up to 120 days worth of dust at a time?
Normal price: US$1,159.99
Deal Price: US$869.99
Discount: US$290
% Off: 25%
From: 11/20-12/4
S7MaxV Ultra
Roborock pulled out all the stops when crafting this premium robot vacuum and its bevvy of features, including ReactiveAI 2.0 obstacle avoidance, unprecedented suction power, a built-in camera, extended mopping, automatic dust emptying, a self-cleaning dock, and more. Get 24% off the retail price during the Black Friday sale.
Normal price: US$1,399.99
Deal Price: US$1,059.99
Discount: US$340
% Off: 24%
From: 11/24-12/4
E5 Mop
An offer too good to refuse, Roborock is taking 44% off the price of this affordable robot vacuum as part of their Black Friday sale. It covers the basics with expert panache, delivering simultaneous vacuum and mopping, voice and app control, 2500PA HyperForce suction, and more.
Normal price: US$359.99
Deal Price: US$199.99
Discount: US$160
% Off: 44%
From: 11/24-12/4
Even More Black Friday Deals
What, you thought we were done?! Here are some other Roborock vacuums available at a generous discount as part of the Black Friday sale:
E5
Normal price: US$289.99
Deal Price: US$179.99
Discount: US$110
% Off: 38%
From: 11/24-12/4
Dyad
Normal price: US$449.99
Deal Price: US$314.99
Discount: US$135
% Off: 30%
From: 11/20-12/4
Q5
Normal price: US$429.99
Deal Price: US$299.99
Discount: US$130
% Off: 30%
From: 11/20-12/4
Q5+
Normal price: US$699.99
Deal Price: US$479.99
Discount: US$220
% Off: 31%
From: 11/20-12/4
Q7+
Normal price: US$799.99
Deal Price: US$549.99
Discount: US$250
% Off: 31%
From: 11/20-12/4
Q7Max
Normal price: US$599.99
Deal Price: US$399.99
Discount: US$200
% Off: 33%
From: 11/20-12/4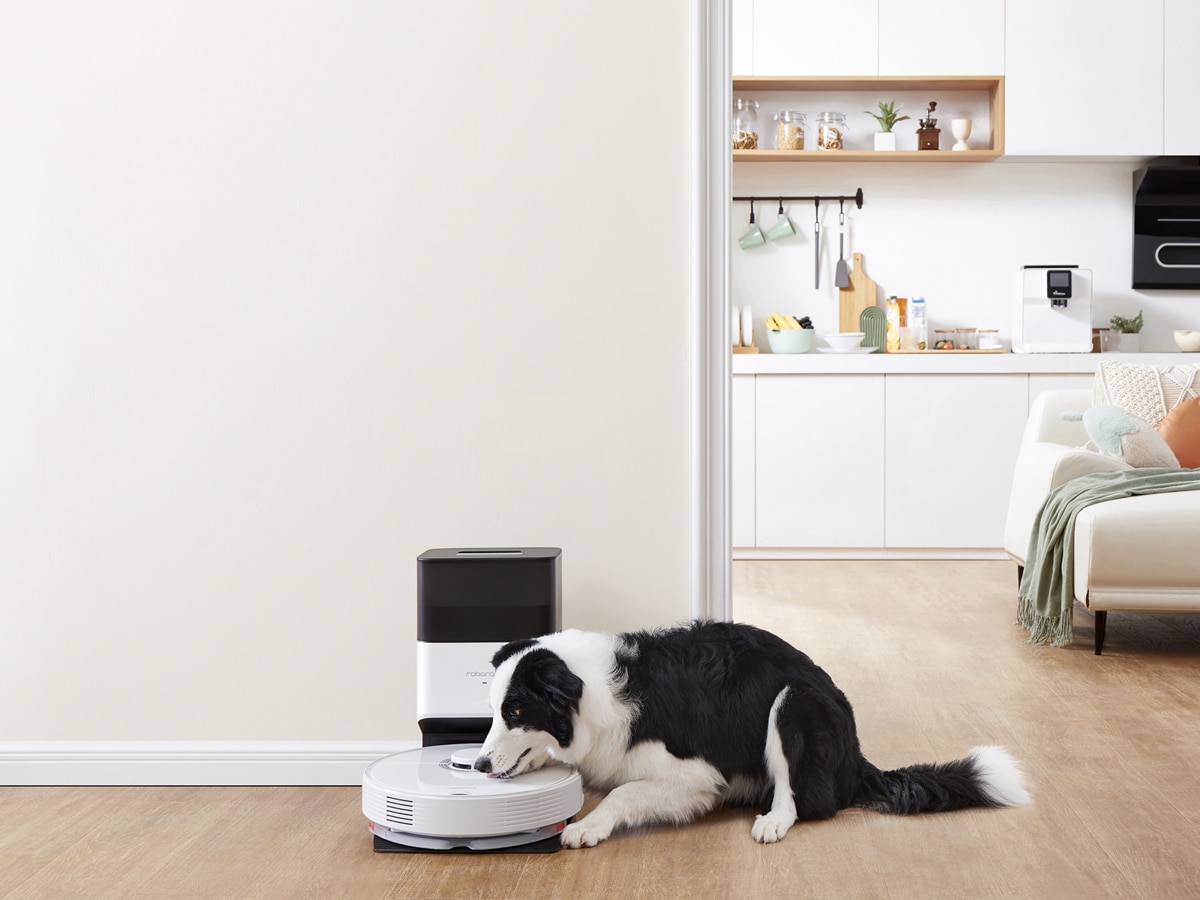 Q7Max+
Normal price: US$869.99
Deal Price: US$599.99
Discount: US$270
% Off: 31%
From: 11/20-12/4