Samurai King's Zenith Knives Slice Through Kickstarter Goal
Written in Partnership with Samurai King.
Samurai King is unleashing Zenith, a series of kitchen knives crafted from 67 layers of Damascus Steel for the ultimate slicing and dicing experience.
Samurai King recognises knives as the most important utensils in your kitchen. That's why the London-based brand has slaved over a collection of quality knives focused on one thing – High performance.
The high grade Japanese AUS-08 steel core possesses a Rockwell hardness rating of 59-60 HRC. This means your blade can take a very sharp edge and retain it for longer. The Damascus stainless steel layering gives the knives its strength, corrosion resistance, as well as a beautiful, one-of-a-kind pattern.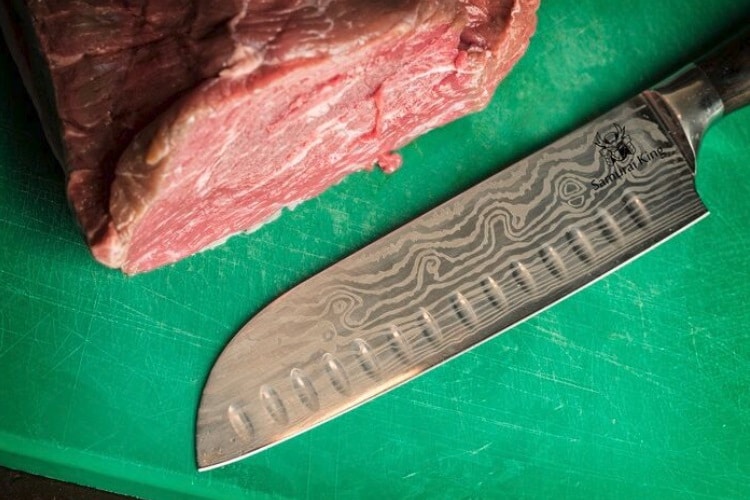 The blades are sharpened using Solinger Dunnschliff craftsmanship and feature a hammered hollow edge of several small cavities to prevent thin, greasy or sticky clippings from adhering to the knife.
The handles are made from Pakka wood with an Ergo grip to provide a better and more secure hold. The result is premium, lightweight and well-balanced utensils perfect for a seasoned chef or motivated kitchen hound.
The Zenith Series includes the Chef Knife, the Santoku Knife, the Santoku Knife with Hollow Edge and a Paring Knife.
Samurai King is funding its exquisite blades on Kickstarter, 'slicing' through its funding goal in hours (geddit?). You can lock-in the knives right now for early bird prices with shipping expected July 2018. Why settle for anything less than the king?
In related kitchen news, Tetra saves you money on a plumber thanks to its smart Countertop Dishwasher. Also, MoMA's new Trick Placemat could make dinner a little too interesting.