The verdict is in: the Nokia 7.1 smartphone delivers more bang for your buck than any other device of its kind. Available in Gloss Midnight Blue, the gadget is sleek and sturdy, fusing chamfered metal edges with tapered glass to achieve a smooth effect. It also comes equipped with an impressive amount of advanced technology, such as AI imaging, depth-sensing dual cameras, an all-day battery life, PureDisplay, and a slew of sensors. Last but not least, the Nokia 7.1 brings users a pure Android experience by way of Android One, Google's wildly popular and innovative platform. Consequently, the screen layout is resoundingly streamlined and totally absent of duplicate applications. The result is maximised performance, quick updates, and two years worth of software upgrades. Circling back to the price tag ($499 AUD), Nokia's latest is an offer that's simply too good to refuse.
The 5.8″ PureDisplay edge-to-edge screen, is the first of its kind to offer real-time SDR to HDR conversion, meaning higher contrast and greater clarity; revealing the detail in both light and dark areas as well as stunning vibrant colours. As such, the phone makes expert use of its own real estate, thereby packing a formidable impression within a slim, tight, and ergonomic body. Perched behind a sheet of sturdy glass, the screen delivers beautiful cinematic quality entertainment, immersive colour, expanded dynamic range, and automatic adaptation to a swath of external lighting conditions. Like everything else on the Nokia 7.1, the high-resolution screen feels too good to be true in relation to the smartphone's price point. In turn, you might be seriously second-guessing Samsung or Apple's latest, which cost more or less twice as much.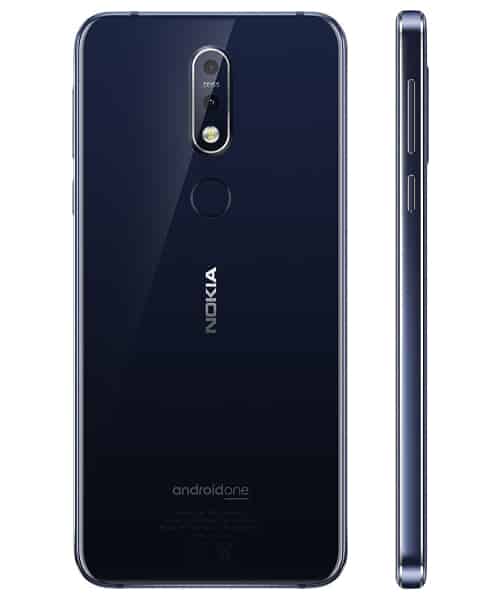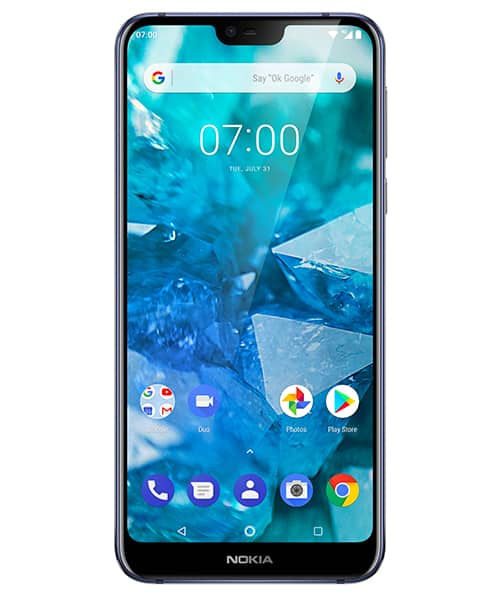 The Nokia 7.1 with Android One ups the software ante by sticking closely to the basics. On the PureDisplay home screen, you'll find only Google apps and a couple of Nokia apps, amounting to an approachable layout and swift user-experience. For those who want to clean up the already clean interface, uninstalling unwanted apps is as effortless as it is efficient. Put it all together and the result is what might be described as a minimalist design, and we mean that in the best sense of the term. To put it another way, the software is fast, organised, and unfettered, which is exactly what one would hope for. It's also worth noting that the phone ships with Android Oreo 8.1, and is now upgradable to Android 9 Pie.
In addition to improved security and new gesture navigation, Android 9 Pie delivers a swath of juicy features. Among them are Adaptive Battery, Adaptive Brightness, and App Actions, the last of which automatically starts tasks and predicts your actions based on the time of day. Along similar lines, Slices provides handy shortcuts within your favourite apps. Rounding out Android Pie's charms are a new accessibility menu, a screenshot shortcut, swifter text selection, and improvements to audio, notifications, and screen rotation alike. Meanwhile, Digital Wellbeing helps you stay on top of your personal phone usage with features that allow you to review the time you've spent checking your phone, using apps or receiving notifications and then, consequently, setting daily limits.
The perks of Android One keep rolling in. Thanks to its ability to prioritise apps and background activity, the OS preserves the battery and reduces power usage. On the Nokia 7.1, that equates to a thoroughly impressive battery life, which can last all day before needing a recharge. Another benefit of Android One? Access to Google Assistant, naturally. It comes built-in to the device, meaning a variety of handy functions is just a voice command away.
Security is also a big thing on Android One. To that end, the Nokia 7.1 includes Google Play Protect, which scans up to 50 billion apps per day, and uses machine learning to get smarter and more responsive over time. Protecting you from shady websites is Safe Browsing, a feature that warns you when a site isn't up to snuff, and then takes you back to safety. The Nokia 7.1 also comes with Find My Device, allowing you to track the phone down when it goes missing, as well as set a new passcode or wipe the phone clean from a peripheral device.
For all the photo junkies out there (you know who you are), the Nokia 7.1 definitely has you covered. As one might expect, Google Photo and Google Lens are more optimal than ever before. Specifically, you can store an unlimited number of photos for free, and search for specific ones using simple words like "girlfriend" or "restaurant". Thanks to Google Lens, you can look up info or copy/paste text directly from each photo.
While on the subject of photography, the Nokia 7.1's HDR camera setup is surprisingly impressive. Bolstered by AI depth-based imaging and ZEISS optics, the rear 12MP + 5MP dual cameras capture SLR-style shots, and use bokeh mode to soften (i.e. blur) the background. Also featured are lightning-fast autofocus, remarkable detail, exquisite colour contrast, and manual control over things like white balance, ISO, aperture, and shutter speed. Expect some professional looking pictures, to say the least. Videos are likewise superb, and available in cinema-quality HDR. Slow-motion is included, and you can also convert SDR to HDR for an immersive viewing experience, courtesy of PureDisplay.
Let's take a quick trip to the other side of the device, where an AI-powered front-facing 8MP camera serves up a range of advantages. Included among them is facial recognition, allowing you to incorporate all sorts of filters and animated 3D masks. That's joined by one-touch live stream capability, meaning it's never been easier to throw content up on YouTube or Facebook. Needless to say, the phone leaves no selfie stone unturned.
When it comes to advanced sensors and long-lasting power, the Nokia 7.1 definitely doesn't slouch. More to the point, it hosts an Ambient light sensor, Proximity sensor, Accelerometer, E-compass, Gyroscope, and Fingerprint sensor. Under the skin is a Qualcomm® Snapdragon™ 636 Mobile Platform, a vigorous processor that comes equipped with a Spectra ISP and a Kryo CPU built on ARM Cortex technology. Throw in the all-day battery life and you end up with all the performance features you could ask for, including access to AR gaming and streaming.
Android One takes a downright efficient approach toward data management and usability alike. In turn, the Nokia 7.1 is a speedy, smart and optimal device. What's most admirable about it, however, is the clean and unfettered layout. Indeed, say goodbye to bloatware and other excessive software that might bog down performance. Minimalism isn't exactly a positive word when it comes to technology, but on this device, it works like a charm.
Between the professional-grade camera, the long-lasting battery, the sturdy build, the streamlined layout, and the automatic updates, the Nokia 7.1 checks off all the major boxes. The best part? It all comes in at significantly less cost than your average device of similar quality. If you're tired of paying an entire month's rent for a high-performance smartphone, Nokia is here to heed the call.