The UNDONE x Peanuts Watch Collection Delivers the World's First Customisable Peanuts Watch Experience
In Partnership with Undone
When it comes to limited edition timepieces, Peanuts-themed watches are kind of a big deal. Snoopy, in particular, has been at the heart of some truly iconic collections, from brands like Omega, Bamford Watch Department (in collaboration with The Rodnik Band), and Timex/Swatch. Now, UNDONE Watches are getting in on the action, with an adjoining price point that lands squarely in between Omega/Bamford and Timex/Swatch. In terms of build and quality, however, these brilliant watches definitely veer closer to Omega and Bamford. Furthermore, the new collection delivers the world's first customisable Peanuts experience, allowing you to choose the character, caseback, colour, and strap, among other things. For fans of iconic characters and iconic watches alike, this one's for you. And just in time for the holidays, we might add.
It's no secret that we have a deep-rooted love for UNDONE Watches, whom we've covered in previous articles. Founded in Hong Kong by industry veterans, the brand consistently strikes a deft balance between modern mechanics, blatant style, personalisation, and affordability. Bolstering the operation is an admirable core philosophy: that people from all walks of life deserve a customised watch of exceptional quality at unbeatable value. To take that philosophy a qualitative step further, UNDONE believes in total transparency, hence their perennial reputation for shaking up the industry at large. It's been that way since 2016, when they rocketed to success on Kickstarter with the launch of the Urban Killy, which remains their best-seller to this day.
Meanwhile, all the research and development, components production, assembly, quality control, and fulfillment goes down in-house. Along similar lines, each and every timepiece is made-to-order within the company's own facilities. The result is a custom-made watch that emanates with absolute distinction and a palpable sense of horological passion. Indeed, these are premium watches made for enthusiasts, by enthusiasts.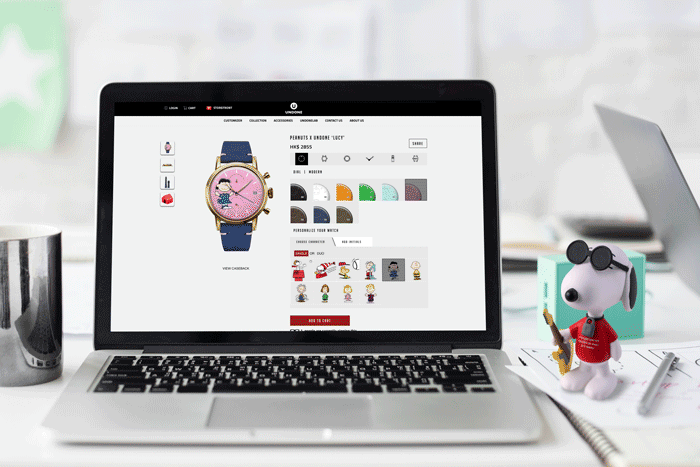 Naturally, the new Peanuts Watch Collection (aka the Urban 'One World' Chronograph Collection) is no exception to UNDONE's remarkable standards. Furthermore, it's the world's first collection of customisable Peanuts watches, thereby fusing the universal with the personal to inspired effect. As such, you can choose among beloved characters like Snoopy, Charlie Brown, Linus, Lucy, Woodstock, and others, putting up to two characters on a single dial. Also up for grabs are the following features: dial colour, dial details, case colour, bezel, strap, and caseback type (solid/glass). Additionally, you can add your initials (or the initials of a loved one) to the dial, control the wait time, and even choose how you want UNDONE to package the watch. Suffice to say, the power is in your hands before it's on your wrist.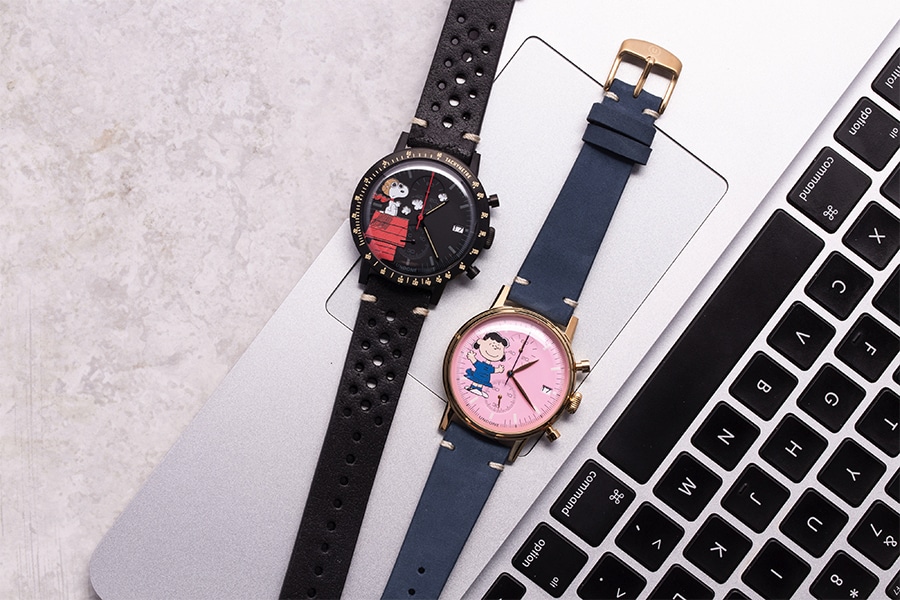 Of course, some aspects of the experience are best left to the professionals. To that end, every model comes powered by Seiko VK61 Mechanical-Quartz Hybrid Flyback Chronograph movement. Also featured on each watch are materials such as 316L stainless steel and hardened K1 crystal. Accordingly, the watches are powerful in performance, built to last, and water resistant to 30 metres.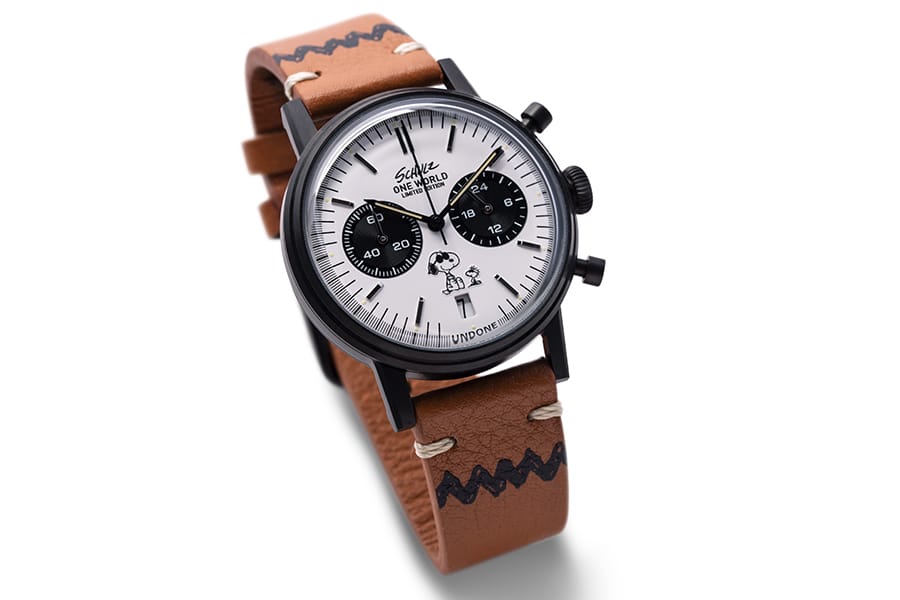 For all the hardcore collectors out there, Peanuts x UNDONE present the Limited Edition watch. Restricted to 150 units, this one demonstrates a little more authority from the two brands in terms of detail and design. It comes equipped with the popular 'Panda' dial design, putting black registers against a white backdrop. At the bottom of the dial are Snoopy and Woodstock sitting next to one another, rocking shades and looking as iconic now as they ever have. Flip the watch over and you'll find an individually numbered caseback, on which the Peanuts x UNDONE 'One World' campaign logo is laser-engraved. Both a default Black Calf strap and special 'Charlie Brown' Caviar Brown strap are included with purchase. Sealing the deal is unique 'Snoopy Dog House' packaging, designed exclusively for this campaign.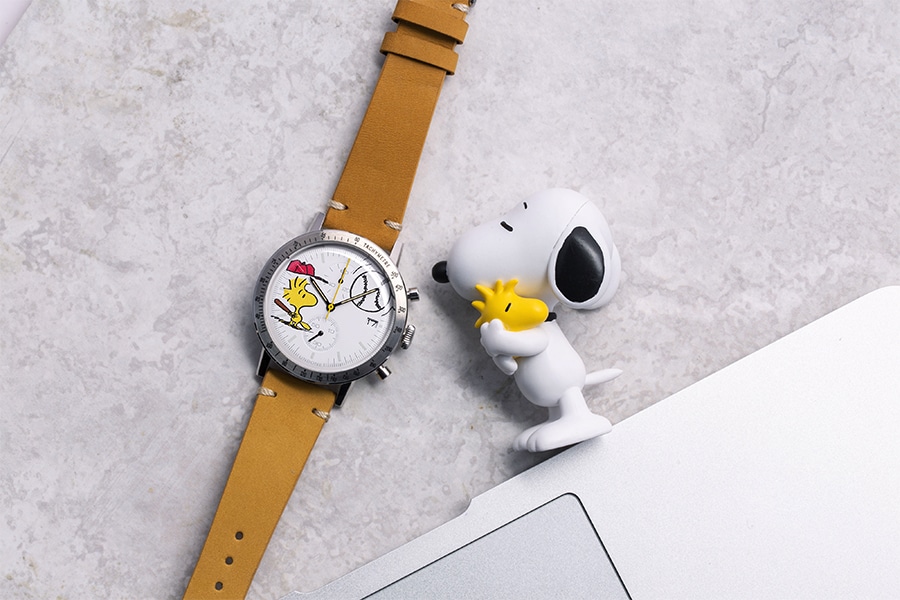 More than a pop culture cornerstone, Peanuts represent broader themes of friendship, loyalty, and care-free youth. As such, the comic strip's legacy endures from one generation to the next, proving that while times may change, some motifs never lose their vitality or allure. Every now and then, meanwhile, that legacy comes in watch form, amounting to some veritably iconic models. In delivering their take, UNDONE fuses quality and affordability to perfection, while leaving a number of the personal details up to you. The result is a special edition collection that's quite special, indeed.