8 Revolutionary 360 Degree Video Cameras
360-degree video is the latest way to truly capture your surroundings and it's changing the way people engage with video. Specially made 360-degree cameras record the full 360 x 180-degree field of view with this footage then processed into a spherical video that requires viewers to literally explore the many angles captured. As an emerging and game-changing technology, it's important to know what cameras are up to the job.
---
You'll also like: 
360 Degree Action Camera
Camera Technology Full Circle With 360fly 4K
Samsung Introduces New Gear 360
---
The Bublcam
The first purely spherical camera to hit the market, the Bublcam promises no blind spots and is leading the charge in advancing virtual reality. Equipped with real-time stitching software and a companion mobile app, Bublcam is literally bursting the bubble of panoramic video technology.
From the company that brought us the indestructible mobile, comes OZO, a soon to be released 360-degree camera that comes equipped with spatial audio, 3D video and eight precisely placed lenses with 2K by 2K senses. To top it all off, it looks too bare the industrial strength Nokia is renowned for.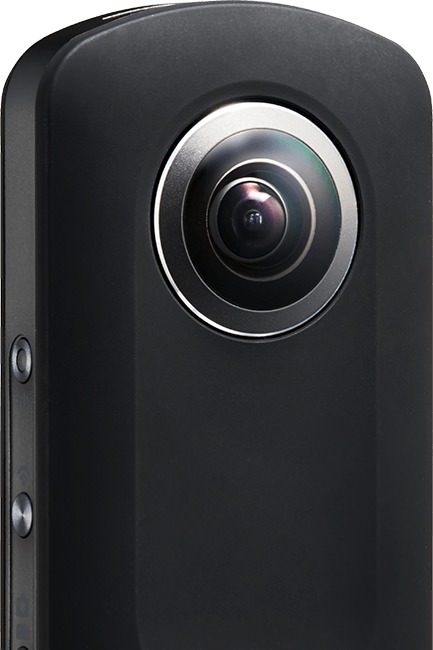 Ricoh Theta S
Able to capture 30 frames per second, record videos up to 25 minutes long and live streaming HD videos, the Ricoh Theta S is a very capable 360-degree camera with a slick, slim design.
A 360-degree camera dedicated to capturing extreme sports from all angles and in glorious HD, the V.360 comes with 8MP, a burst mode for quick sequential shots and the ability to use it for surveillance purposes. Did we mention it's also dust, shock and water proof for those times when your adventures don't go to plan?
Kodak Pixpro SP360
The father of all camera companies Kodak has put its weight and expertise behind its own 360-degree camera with the SP360. Complete with a 16MP sensor, Wi-Fi connectivity and the ability to control it with your phone, the SP360 is a worthy addition to the 360-degree camera range with a retro aesthetic for Kodak enthusiasts everywhere.
Capable of 100-megapixel panoramic shots and with 36 camera lenses squeezed into one camera, the Panono lives up to its claim of being more than just a panoramic camera. A very cool feature of the Panono is its ability to take shots from the highest point when thrown into the air. We just recommend catching it again if you want to enjoy the shots taken.
Another 360-degree camera dedicated to capturing sports to their fullest, the 360 Fly is unique in that it has just the one lens. That lens, however, claims to have the worlds widest field of view which combined with its easy ability to mount on to headwear ensures the full picture is taken wherever and whenever.
A unique blend of magnesium alloy and rubber, the Giroptic is an extremely versatile 360-degree camera that maintains similarly strong specs as the other cameras on the market. Can be turned into a lightbulb of sorts to truly capture the scene of a room.
---
You'll =also like: 
360 Degree Action Camera
Camera Technology Full Circle With 360fly 4K
Samsung Introduces New Gear 360
---