As you're probably aware, your products are getting smarter. One could even argue that we're living in a world straight out of an old sci-fi movie from the 1970s or 1980s. However, with every new technology or gadget or platform, there inevitably comes a slew of adjoining headaches. Smart home technology is naturally no exception. Contrary to its intended goal of being an interconnected ecosystem, your average smart home is more often a large array of platforms, controls, remotes and devices. What good is all this tech if nothing is on the same wavelength?
Enter the RACV Smart Home Starter Kit, which brings Samsung SmartThings technology to Australia for the first time (and for just AUD$299, we might add). This brilliant smart home system simplifies domestic automation to the utmost degree, making the experience both more affordable and more accessible. You shouldn't need a hundred different remotes to control your smart home and now you don't have to with everything being easily accessible from your smartphone, enabling peace of mind on every conceivable front.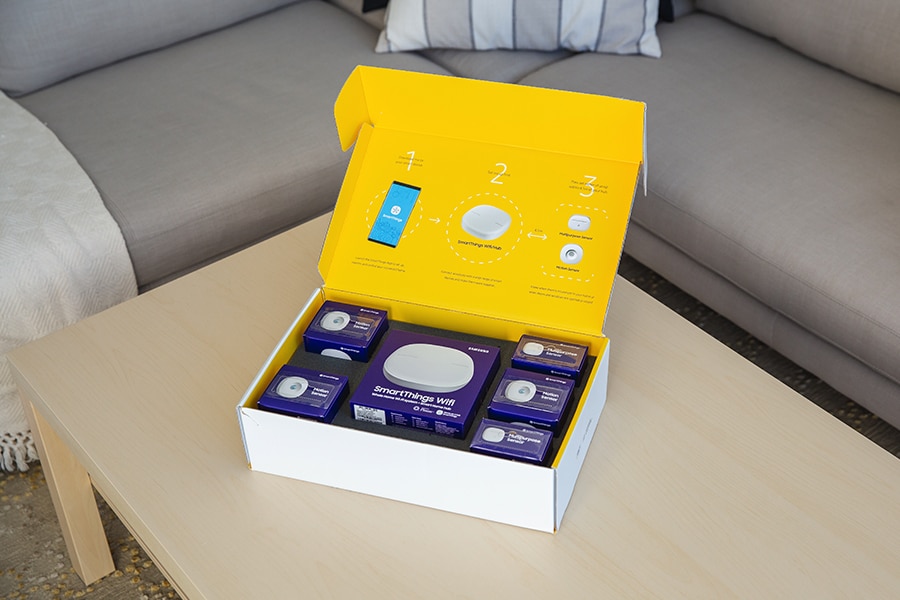 In the same sense that your various body parts work in conjunction with one another through the central nervous system, so too can your home. That and an increased tier of efficiency, are what ultimately lies at the core of home automation. While various devices take things in the right direction, there's a general lack of homogeny often missing from all these smart home technologies.
This is exactly where the RACV Smart Home Starter Kit—which includes a SmartThings Wi-Fi hub, sensors, and an adjoining app, steps in. Despite Samsung's role, the system is 'brand agnostic' and thereby able to integrate with peripheral platforms or devices such as HomePod, Google Home and Alexa. Put simply, this is the true vision of modern technology brought to life, rolling safety, efficiency and interconnectivity into one streamlined package.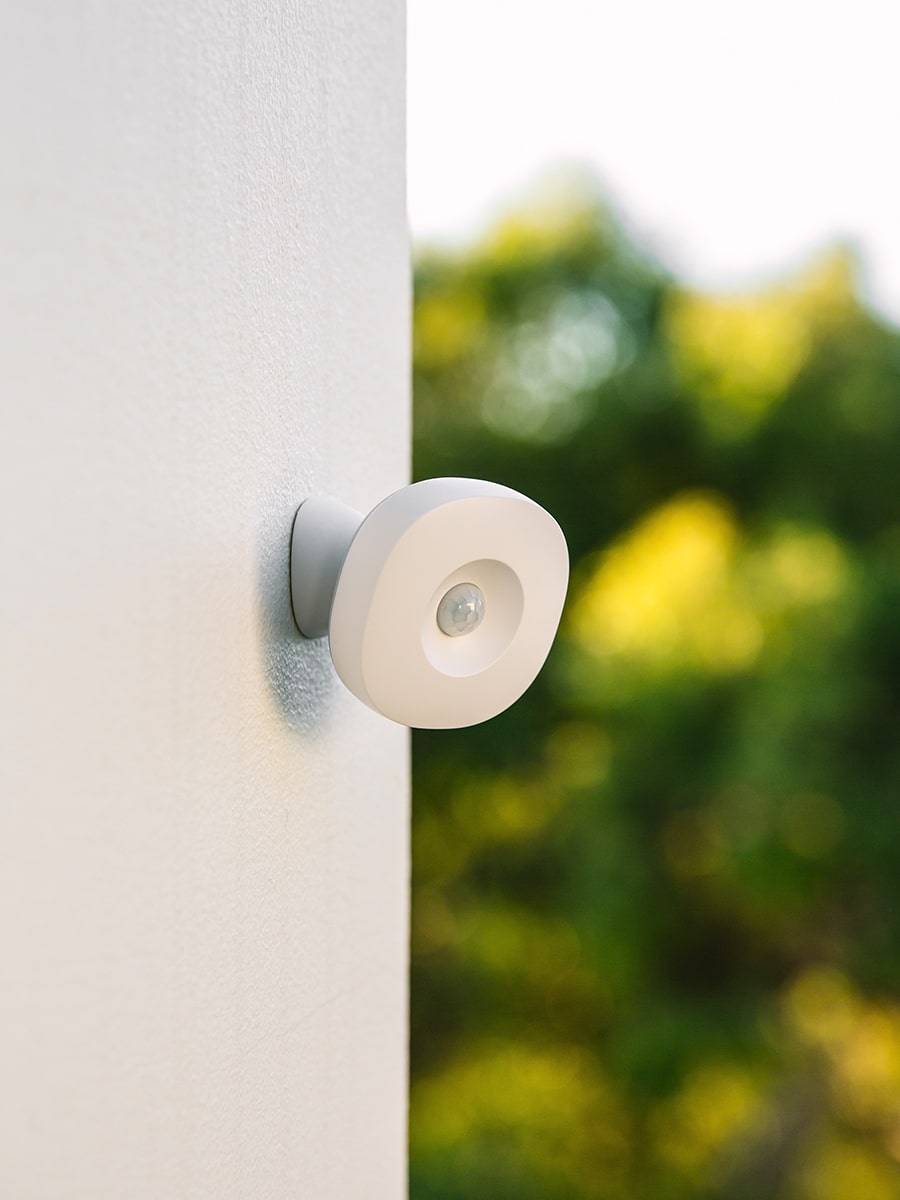 At the centre of the operation is the SmartThings Wi-Fi Hub, which serves as a brain of sorts by interconnecting any and all compatible smart devices. Also included in the kit are three SmartThings motion sensors and two SmartThings multipurpose sensors because all your devices and sensors are interconnected, you're able to control them through one solitary SmartThings app on your smartphone.
Once the system is fully up and running, your life may never be the same. For starters, that means an increased tier of home security, with SmartThings multipurpose and motion sensors detecting movement in and around your home when you're not there. Should there be a disturbance, you'll receive an alert through the SmartThings app on your smartphone. To make an easy thing that much easier, you can even set it up so that compatible smart security cameras activate and smart lights kick on whenever unexpected motion is detected, scaring intruders away.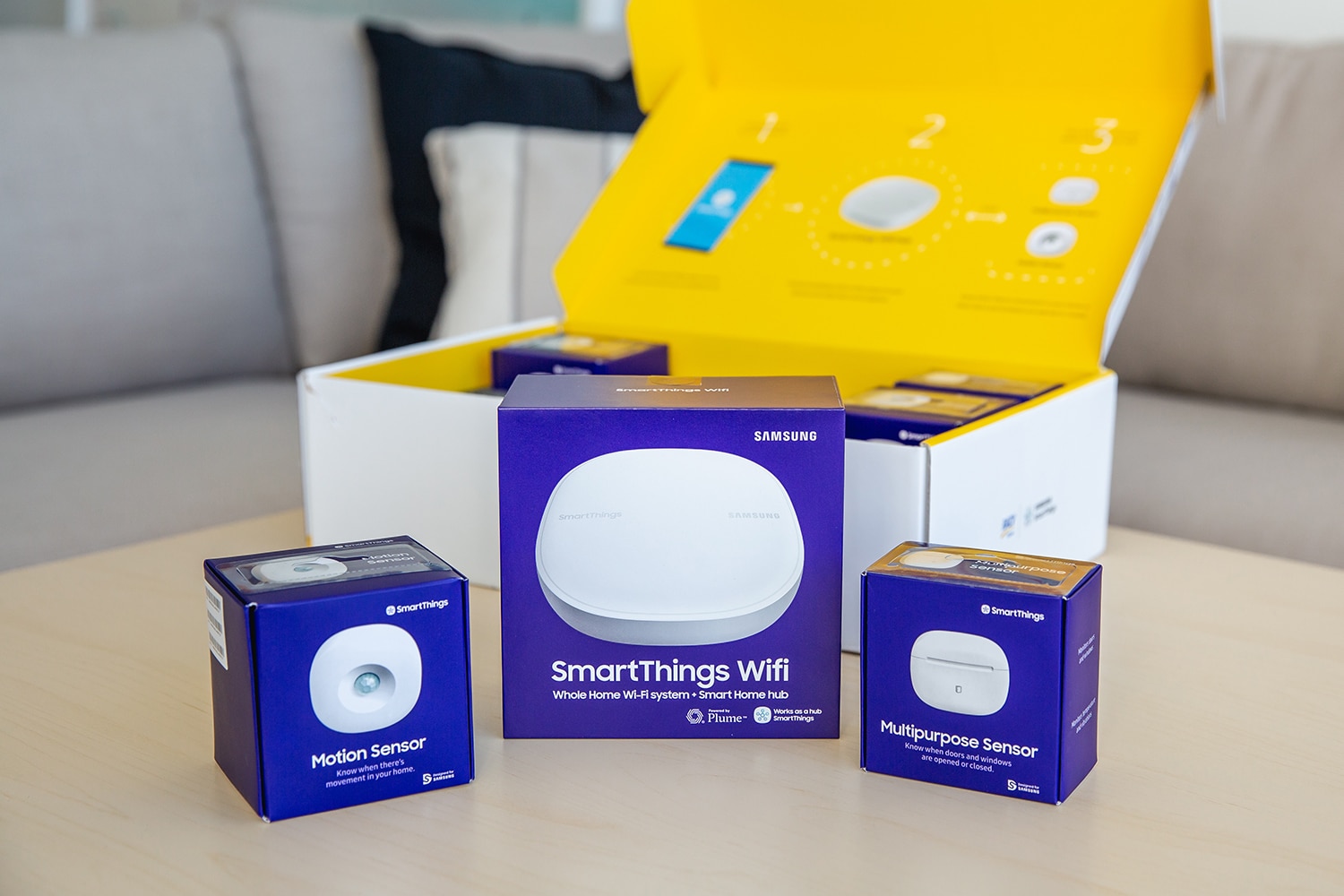 In terms of convenience, allow us to draw a picture for you. Imagine you're late for work and rushing out the door. Up until now, you're used to scrambling through the house, turning off various lights or devices, and making sure all the doors and windows are locked. Thanks to the RACV Smart Home Starter Kit, all those actions can be performed automatically on your behalf. With each smart device and sensor running on the same wavelength, your entire exit routine can be as simple as pressing a button on your SmartThings app.
Along similar lines, you can adjust various settings around the house to accommodate your lifestyle. Want the lights to slowly brighten as you wake up, or turn off when you leave the room? No problem. Want your hair straightener or some other appliance to automatically turn off every time you walk out the door? No problem. This is because you can add the SmartThings Multipurpose and SmartThings motion sensors to compatible smart devices or appliances, giving them the ability to activate or deactivate based on things like motion detection or preference.
On the flip side of that coin, you can receive notifications when sensor-equipped doors or windows vibrate or open unexpectedly. Meanwhile, if you want to see whether the washing machine is on or off or if the front door is unlocked, it's as simple as checking the app on your phone. This is the kind of thing that tech titans like Bill Gates were previously doing at home for millions of dollars. Now, it costs just AUD$299 to get started.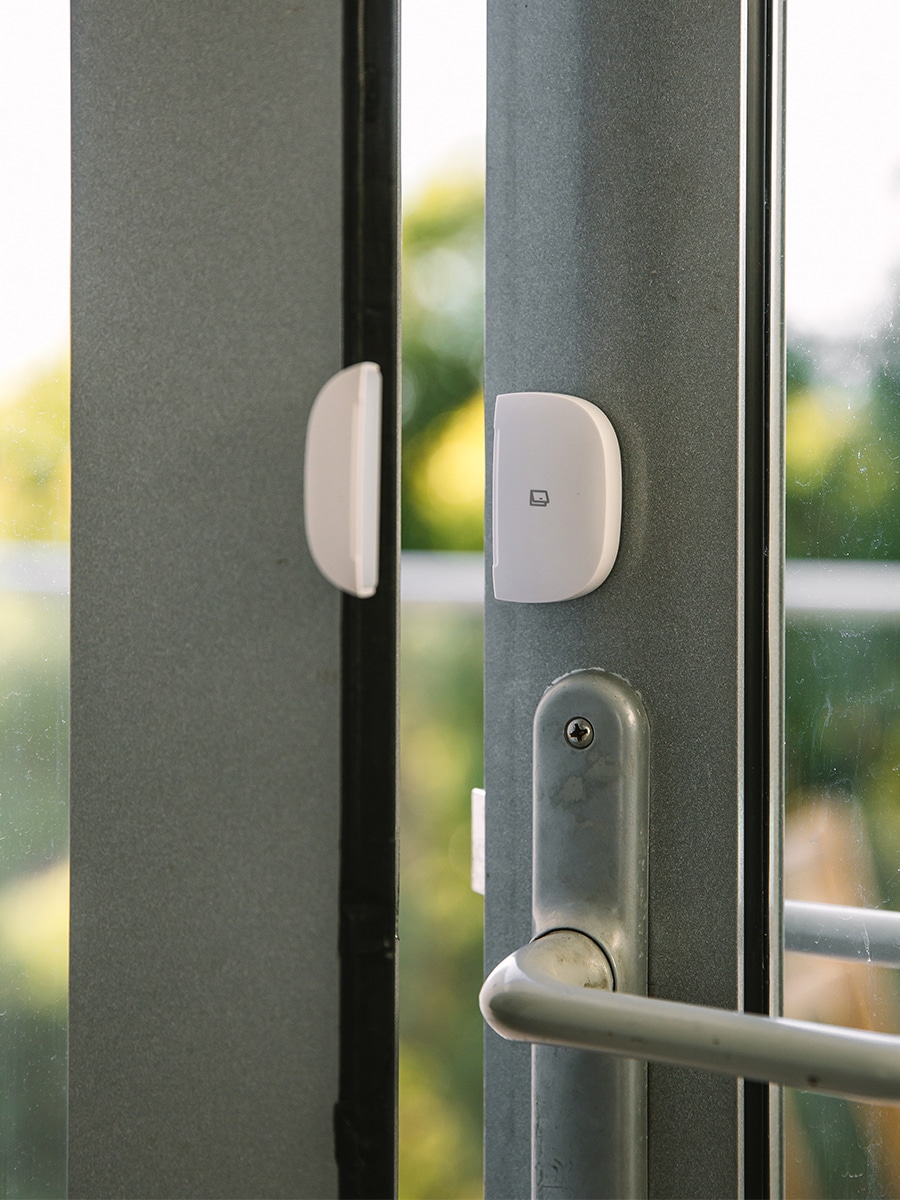 With RACV, the convenience starts as early as the installation process. If you live in the Melbourne Metro area specifically, then an expert can install the RACV Smart Home Starter Kit on your behalf for just $79. While that expert is there, he or she will also walk you through the process of using the system, step by step. Should you need any additional support or advice, RACV will always be within reach on 13 72 28. That goes for Melbourne and the rest of Australia, naturally.
True to its name, the RACV Smart Home Starter Kit is just the beginning. Moving forward, the Samsung SmartThings ecosystem will work on all new Samsung appliances, creating a truly uniform smart home experience. Everything from your next vacuum cleaner to your next refrigerator will soon be able to connect with one another, the same way your arms and legs connect by way of your brain. Some of these products are right around the corner and others already exist, making now the ideal moment to start your smart home journey.
The automation revolution has arrived, and if your home isn't equipped with smart technology, it will be soon. You can get lost in the maze of various devices, or you can make your journey one of harmony, simplicity, and interconnectivity, which is exactly what the RACV Smart Home Starter Kit is here to provide. Buy it for AUS$299 plus shipping and start experiencing the future as it was intended.
RACV provided Man of Many with an RACV Smart Home Starter Kit to review.