Sennheiser's Momentum Headphones the Smartest on the Market?
Bolstered by a clever ad campaign and some ingenious built-in tech, Sennheiser's third generation of Momentum Wireless Headphones keep the momentum going indeed. Brilliant design is par for the course, but that merely scratches the surface in terms of what this premium gear delivers. Among its bevy of distinguishing features is Auto On/Off fold and Smart Pause, which stop the music when you take the headphones off and start it back up when you throw the headphones on. This is sound on your terms with the amazing specs to prove it.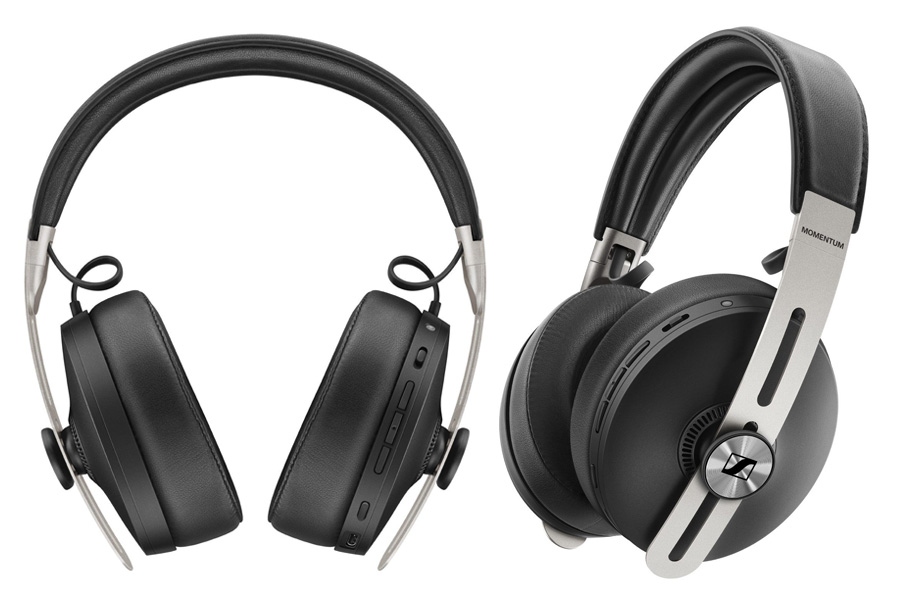 Crafted to perfection, the new Sennheiser Momentum Wireless aims squarely for all the serious music lovers out there. We're talking about the kind of people who immerse themselves in rich sonics for hours on end, spending the day in a sea of deep bass and melody. Should you be one of those types, you know that comfort and wearability is key. The brand has you covered by way of genuine sheepskin leather and ultra-soft padding on the earpads and headband, pearl-blasted stainless steel sliders, and 17-hour battery life. Pair that with wireless freedom and superior sound and you're looking at the best in form and function alike.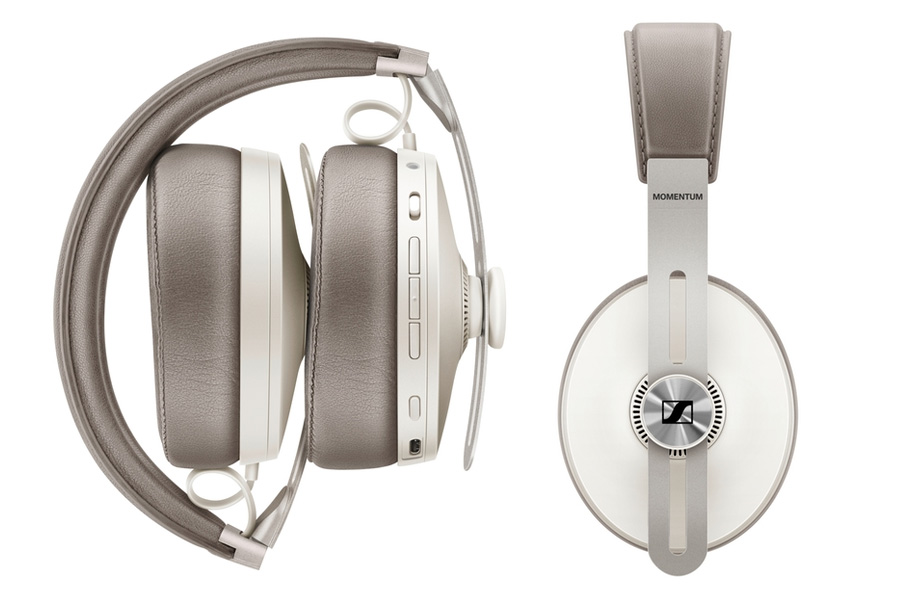 If you haven't seen the aforementioned ads, by the way, then you're in for a treat. In one, a supermodel walks backstage as her uber-serious voiceover narration describes the importance of music in her life. Suddenly, the camera pivots to expose a film crew, drawing your attention to the fact that this is very much a commercial. One of the crew members asks you point-blank: "would you really take sound advice from a supermodel?" The other ads we've seen strike a similarly satirical pose and end with the following tagline: When it comes to sound, image means nothing.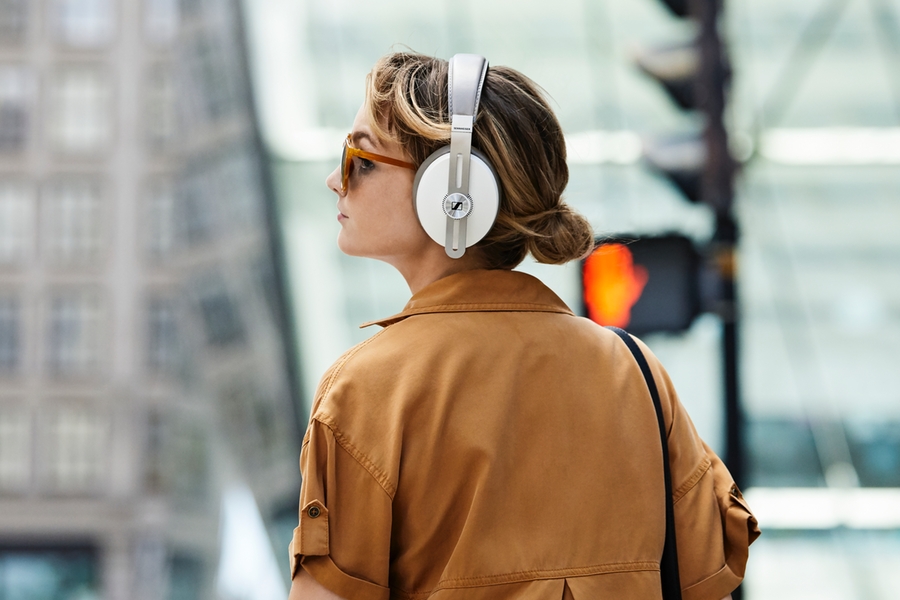 Despite its bold take, the Sennheiser Momentum Wireless is nevertheless a beautiful sight to behold. But what the ads are really driving home is the fact that this audio gear values performance above all other things. To that end, the headphones aren't just sonically powerful, but extremely intuitive. After all, does it get more intuitive than Auto On/Off fold and Smart Pause, which detect when you're wearing the headphones to either pause or start the music accordingly?
Of course, automatic wearer detection is just one among a full slate of supremely intuitive or adaptive specs. In keeping with modern trends, the headphones offer quick-button access to voice assistants such as Apple, Siri, and Google. Also featured are three modes of Active Noise Cancellation, which block out exterior noises in any environment. For situations that require more general awareness, meanwhile, a Transparent Hearing function maintains a seamless balance between internal sound and external ambience.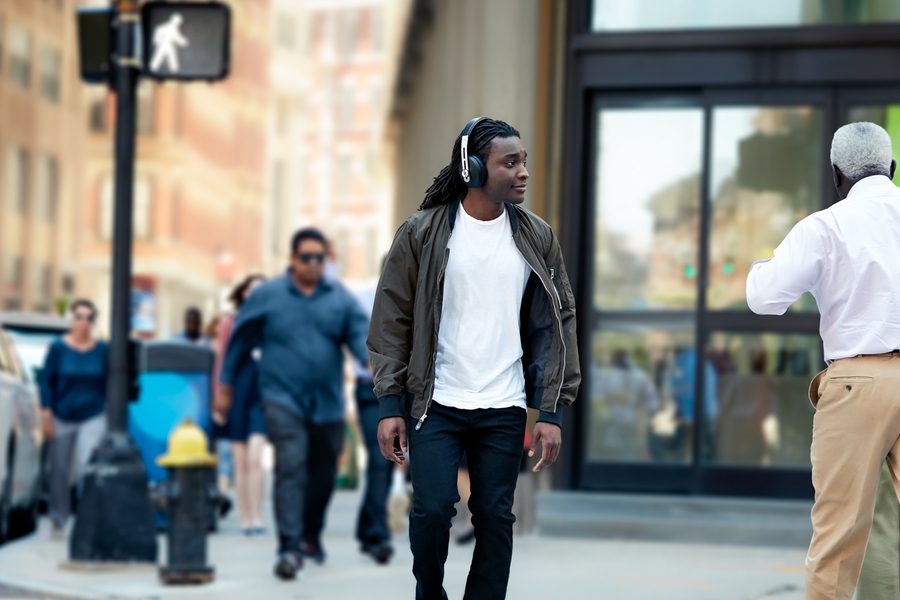 In terms of pure performance (i.e. sonics), the Sennheiser Momentum Wireless goes straight to the top-shelf. Thanks to 42mm transducers, Bluetooth 5 compatibility, and support for various codecs, the headphones don't just reproduce the depth and precision of a studio recording, they do so without the slightest hiccup. And those who enjoy a customised listening experience are welcome to get crafty with the equalisers on the Sennheiser Smart Control app.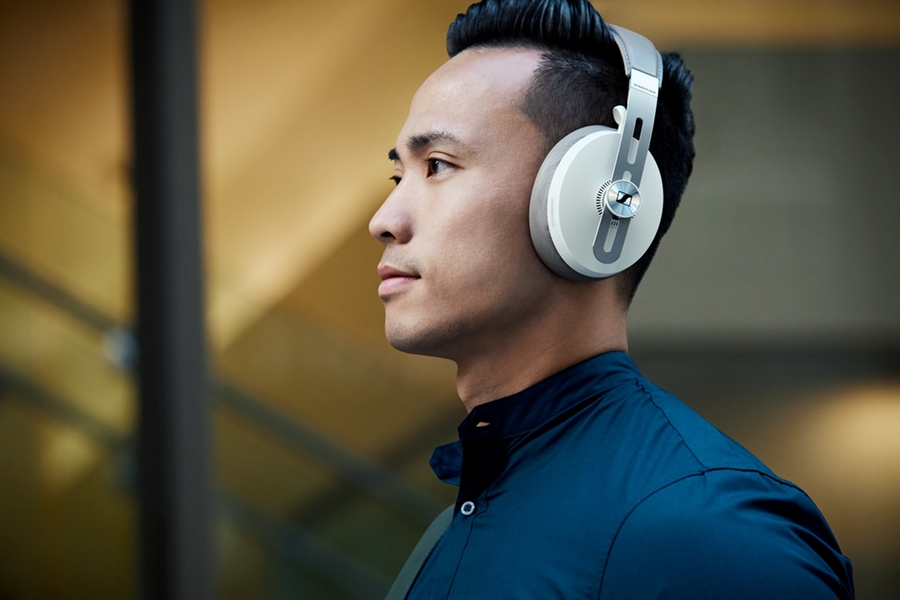 As if superior sound and adaptability weren't enough, the Sennheiser Momentum Wireless has one more trick up its sleeve: integrated smart TILE technology. If you're familiar with TILE, you already know it's the world's foremost tracking device and one that actually works. In the rare instance where you misplace your headphones, load up the TILE app and track those bad boys down using a Bluetooth connection. Let's call it the icing on an already impressive cake.
The new Sennheiser Momentum Wireless is available in black as of now for $599.95 AU. A sandy white colour variant will be available from early 2020. Included with purchase is a plush carry case for safe and easy transport.