Amazon Unveils Next Generation of Echo Devices
As if Amazon didn't already have a sizable lead in the smart home sector, the ubiquitous company has given its range of Echo devices a veritably sleek upgrade. Presented at a recent event, the new Echo Dot, Echo Show, and Echo Plus devices combine modern aesthetics, swift functionality, and durable construction to downright seamless effect. As a result, Amazon has once again given consumers no good reason to shop elsewhere, which is certainly bad news for brands like Apple and Google (though let's be honest, both those companies are doing just fine). Meanwhile, this marks the first time that Echo Show will be available in Australia. Indeed, your smart home is about to get that much smarter, and more stylish to boot.
If you're the type who would love some choice visuals to accompany Alexa's sweet voice, the new Echo Show is right up your alley. Bolstered by improved audio and an immersive 10″ HD display, the device offers crisp resolution, built-in smart home capability, and powerful sound. Ask Alexa to stream music, show you the weather, play a video, pull up your shopping list, and much more, and watch it all come to life before your very eyes and ears. Speaking of those ears, thanks to dual Neodymium drivers, a passive bass radiator, and Dolby processing, the compact gadget delivers deep bass and impressive dynamic range.
With the Echo Show's Zigbee smart home hub at your disposal, you can do things like turn on lights or turn off other devices at the drop of a voice command. Also featured is a built-in 5MP camera, allowing you to video call friends and family, permitted they have Echo Show, Echo Spot, or the Alexa App. Furthermore, Amazon plans to equip Echo Show with Skyping capability in the near future, thereby expanding your network of potential video contacts.  
The perks of owning an Echo Show keep rolling in. For instance, you can use the Drop-In feature to check on other areas of the house by way of an intercom-like infrastructure between various Echo devices. If you'd rather do some searching of the worldwide variety, the device comes with a built-in web browser and on-screen keyboard, giving it the functionality of a tablet. Additionally, the Echo Show includes thousands of "skills", granting you access to everything from upcoming bill payments to live sports streams to traffic updates to storybooks for kids. Needless to say, this baby has it all.
Of course, Echo Show is but one among many wondrous new products to emerge from Amazon's workshop. There's also the new Echo Plus, which comes equipped with Zigbee smart home hub, enabling control over compatible lights, locks, plugs, switches, and more, all without the need for additional hubs or apps. Along similar lines, the Echo Plus now includes an embedded temperature sensor, which can send you a notification when the room hits a certain temperature, or turn on a fan by way of smart plug.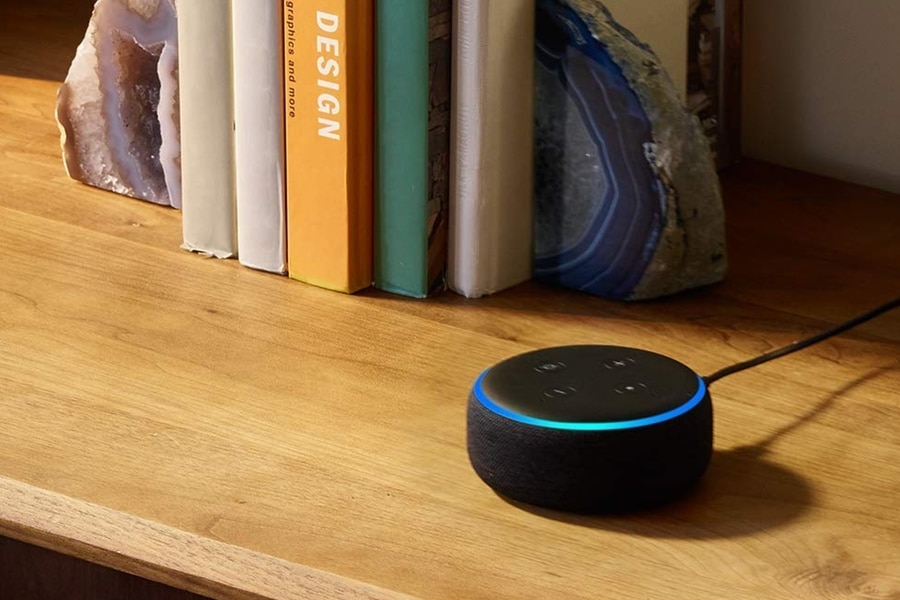 Amazon also unveiled the latest iteration of Echo Dot. Taking a few design cues from the competition, the compact device hosts a new fabric finish, a curved shape, and more powerful sound. Avaliable in a range of colours, the Echo Dot is an effortless way to get weather updates, listen to music, control compatible smart home devices, set timers, and more.
For those who want to take the sonics up another notch, Amazon introduced the Echo Sub, aka the first Echo subwoofer. It includes an equaliser, and connects with compatible devices to create 1.1 or 2.1 stereo sound. Ask Alexa to adjust the bass, mid-range, or treble, and she's more than happy to oblige. In other words, the power is in your hands…or your voice, rather.
Amazon's latest slayers are all available for pre-order now, and will start shipping next month. They'll also be sold at retailers such as JB Hi-Fi, Officeworks, and more. Order an Echo Show now and Amazon will throw in a Philips Hue smart lightbulb free of charge (while supplies last).
Have you subscribed to Man of Many? You can also follow us on Facebook, Twitter, Instagram, and YouTube.