It may seem like everything is going digital these days, but as those who like to follow the status quo continue to ride the digital wave, we become particularly fond of the analogue experience. One might even comprehend that modern technology and all its conveniences have only enhanced our appreciation for tactile or vintage goods. From clothes to vinyl records, mechanical watches to classic cars; these categories don't just survive in the 21st century, they thrive.
This brings us to the mighty camera, a ubiquitous accessory for the modern man if ever there was one. Digital variants are so common. There's a good chance you have a DSLR or a mirrorless, and there's an even better chance you have a decent one right there on your phone. But, the odds are, you still feel like you're missing something. Even with the ability to take beautiful pictures, apply sepia-toned filters and store thousands of them at the touch of a button, it's just not invigorating or cool anymore.
What you're missing is an analogue experience that brings the 'cool' factor back to your outfit. A tangible fashion accessory that happens to provide long and lasting memories in much the same way as a favourite outfit, what you're really missing is a Fujifilm instax instant camera.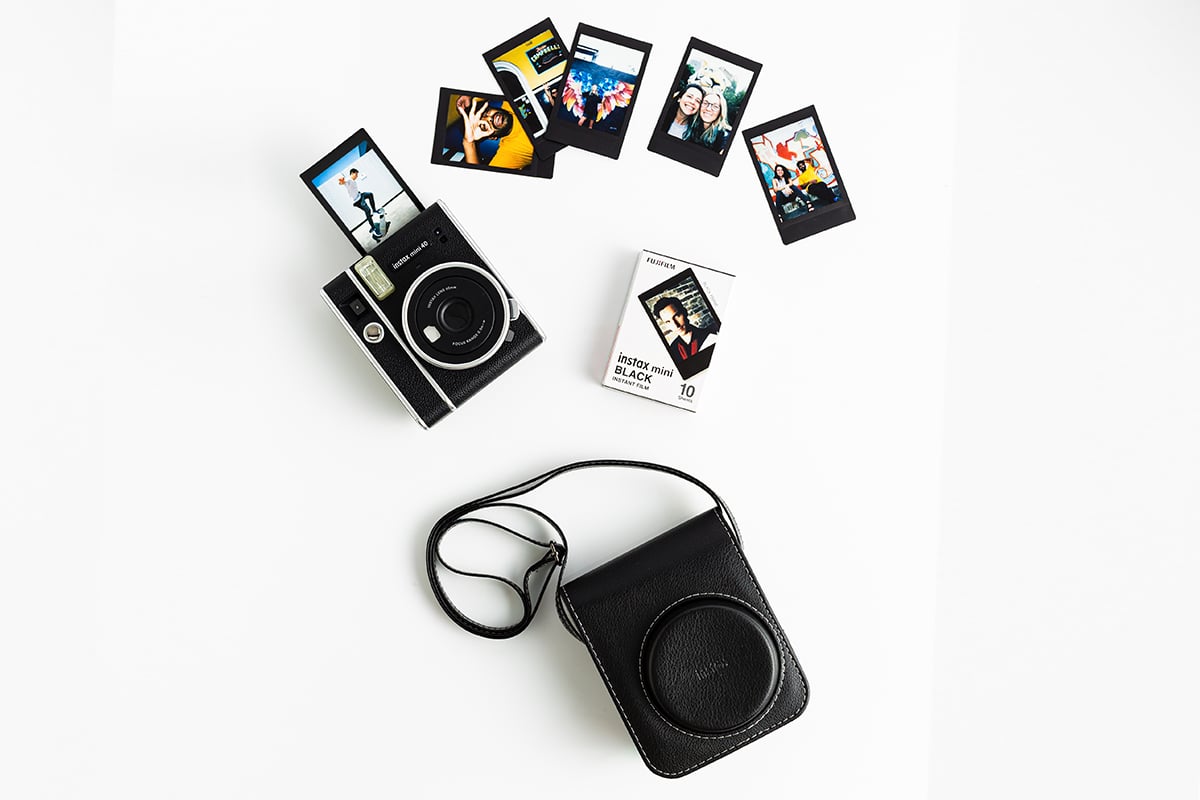 Up to the Minute Memories that Last
If you're looking to take photos and capture tangible memories, look no further than the brand new instax mini 40 instant camera. Beautifully compact and impressively stylish, it builds upon decades of innovation to nurture your creative point of view. Whether you're wandering around the city looking for that landmark graffiti wall to snap a quick pic for the 'gram, or you're grabbing shots of lunch with your friends, this is the accessory you need to carry with you at all times. In case you needed any more inspiration check out this article to find out how to discover your cities hidden gems with the instax mini 40.
The ability to print your photo immediately after you take a snap hits on everything we love about the analogue experience. It's at the heart of a theme that tends to get lost in the digital era: photography is most rewarding when it's shared amongst those you love. With this in mind, the compactness of the mini 40 encourages you to explore, and in doing so, find and capture a unique perspective that you can share with friend or family member. Whether it's a selfie, an outfit snap, or landscape, don't let memories get lost in your camera roll. Print them, and cherish them in a meaningful way.
A Modern-Vintage Aesthetic
Sleek, stylish, and sophisticated, the instax mini 40 delivers a timeless design. Blending vintage vibes with modern touches, the laced black body features luxurious texture and premium silver accents. It looks at home next to a pair of Dr Martens and a vintage t-shirt. But look beyond the retro aesthetic and you'll find a host of modern features. Automatic exposure, which detects ambient light and optimises the shutter speed and flash accordingly, results in a perfect photo, meaning you'll always be ready to print lasting memories no matter the situation.
Remembering that we are indeed still a 21st century society, instax has equipped each mini 40 with a dedicated selfie mode. You can activate it by pulling the lens outward, striking a pose, (framing the shot up using the selfie mirror!) and then snapping a pic to instantly print.
Recently launched, the instax mini 40 is available in a limited edition kit, giving you everything you need to capture your world. Each kit includes a mini 40 camera, a mini 40 camera case, and 10 sheets of instax mini film in black for AU$199 SRP. Otherwise, the instax mini 40 is available on its own for $169.00 SRP, while the camera case can be purchased separately for $24.95 SRP.
Pick up the latest instax and turn the world into your studio, one print at a time. Snap, print, and give, being sure to keep plenty of photos for yourself. More than a compact and stylish accessory, this is your gateway to the analogue experience.