Whether you're into gaming, photography, high-end audio, drones or something else entirely, there's never been a better time to be a tech enthusiast. Fantastic new gear launches all the time, so there's rarely a moment without some exciting new kit to play with. With that in mind, we've pulled together a collection of some of the best pieces of equipment currently out there for this Tech Head Gift Guide as part of Man of Many's Father's Day Gift Guide 2022. Because it's our mission to ensure every father gets precisely what they want this year.
You'll also like:
Father's Day Gift Guide 2022 – Adventurer
Father's Day Gift Guide 2022 – Foodie
Father's Day Gift Guide 2022 – Fitness Freak
Father's Day Gift Guide 2022 – Boozehound
Fathers Day Gift Guide 2022 – Under $300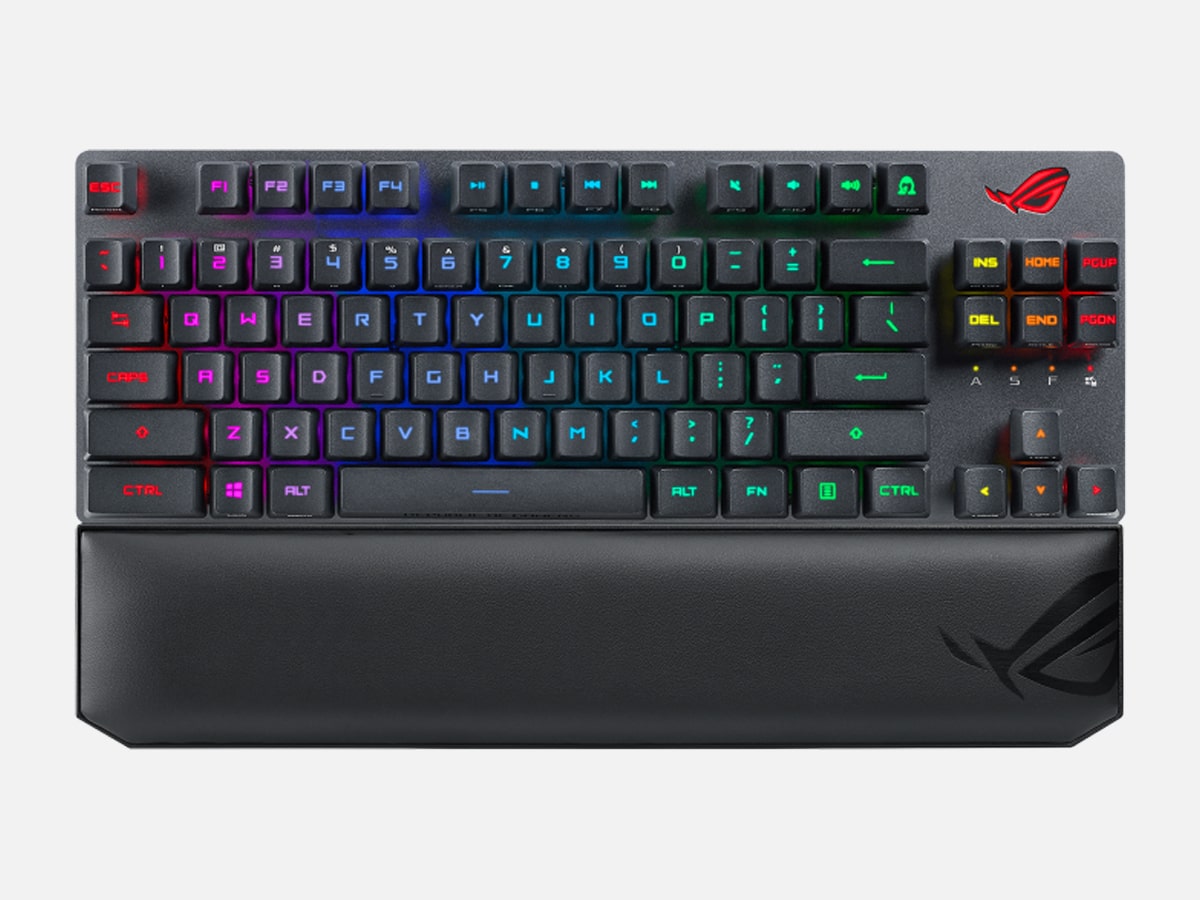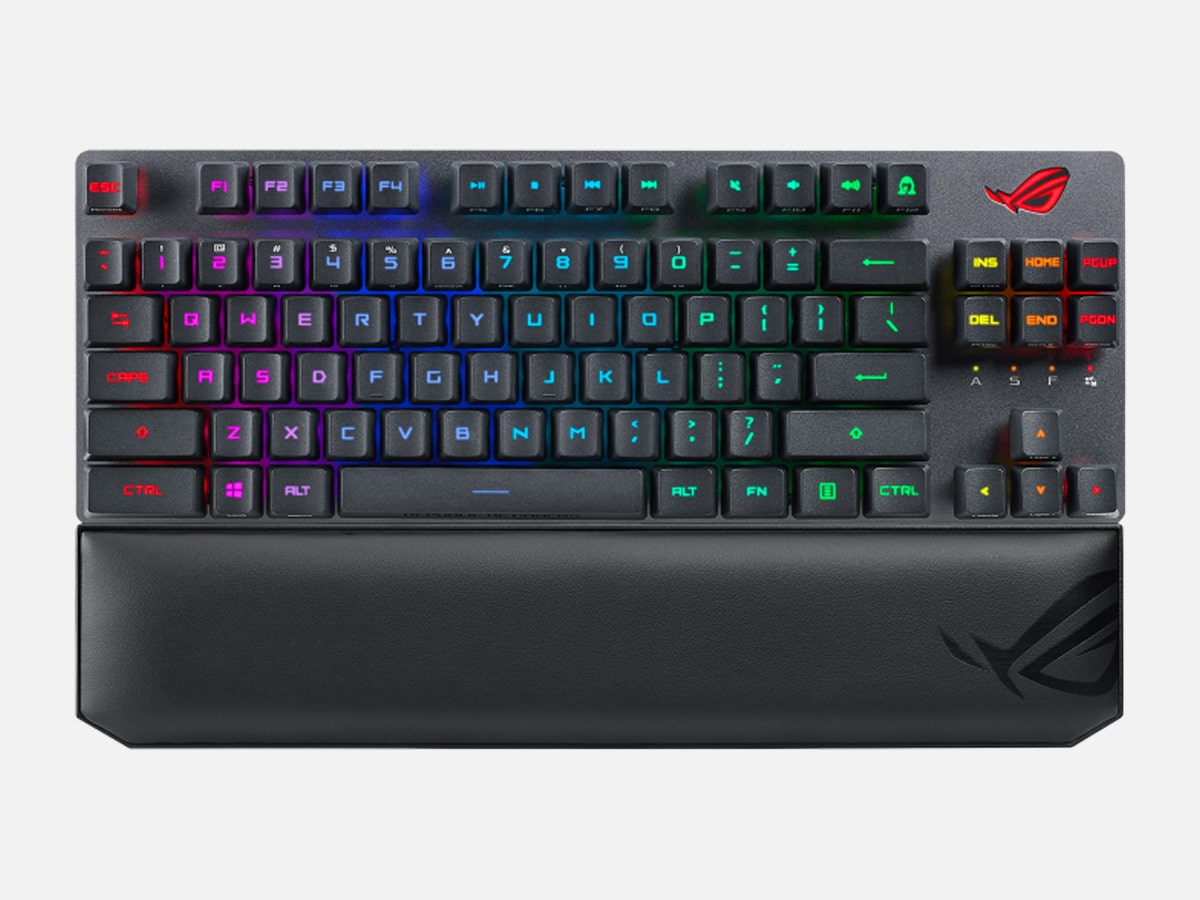 ROG Strix Scope RX TKL Wireless Deluxe
In partnership with ASUS
Your dad is a passionate gamer and for that, we love him. Bolster his arsenal with this tri-mode connective wireless keyboard from leading tech brand ASUS. It delivers up to 76 hours of stable, near-zero-latency gameplay when running in Wireless 2.4GHz mode. Switch to Bluetooth mode and you can connect up to three devices at the same time. Then we have wired USB mode, which allows you to charge and play simultaneously.
Thanks to its exclusive ROG RX Optical mechanical switches, the Strix Scope TKL Wireless offers instantaneous keystrokes and a 100-million-keystroke lifespan. It also features an ergonomic and magnetic wristrest for comfortable gaming. All that's left to do is load up your favourite title and start killing bad guys or navigating fantasy worlds in modern style.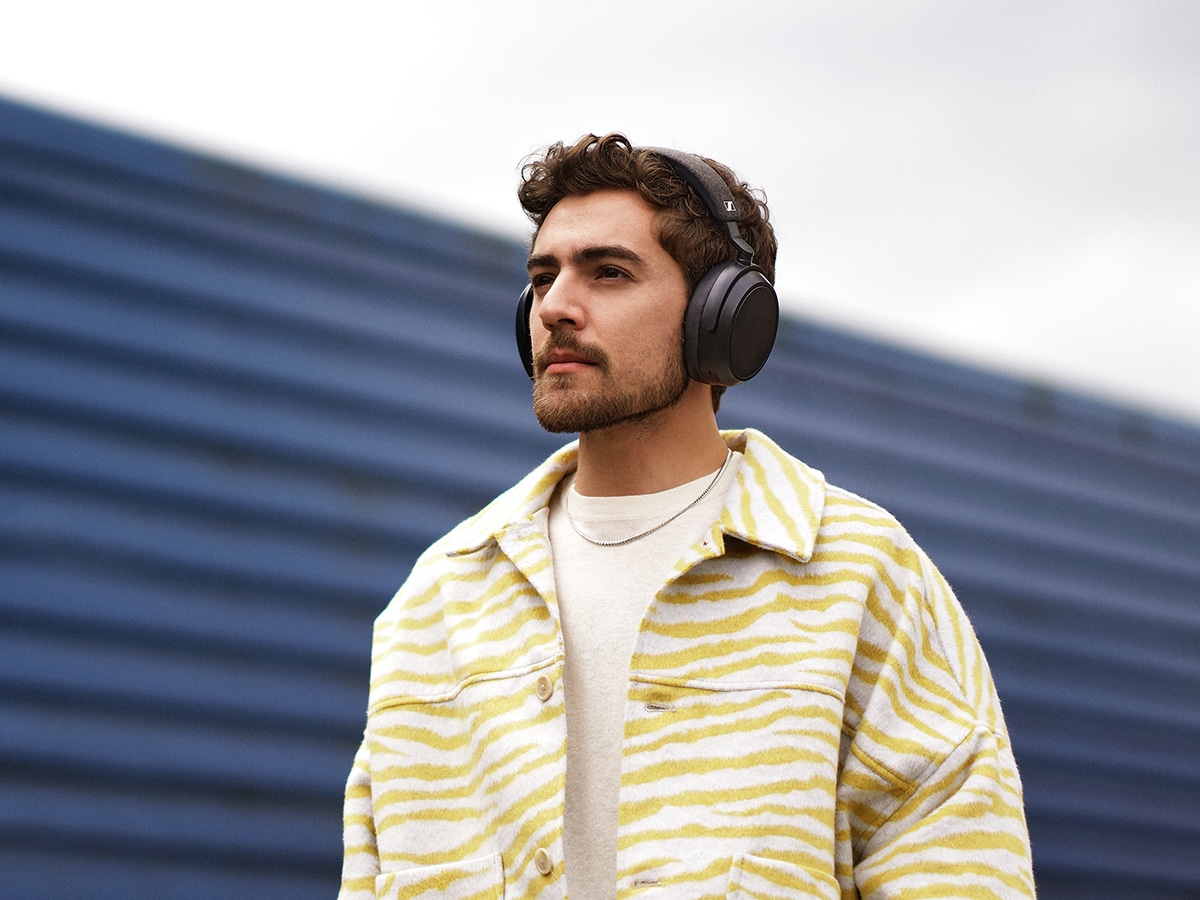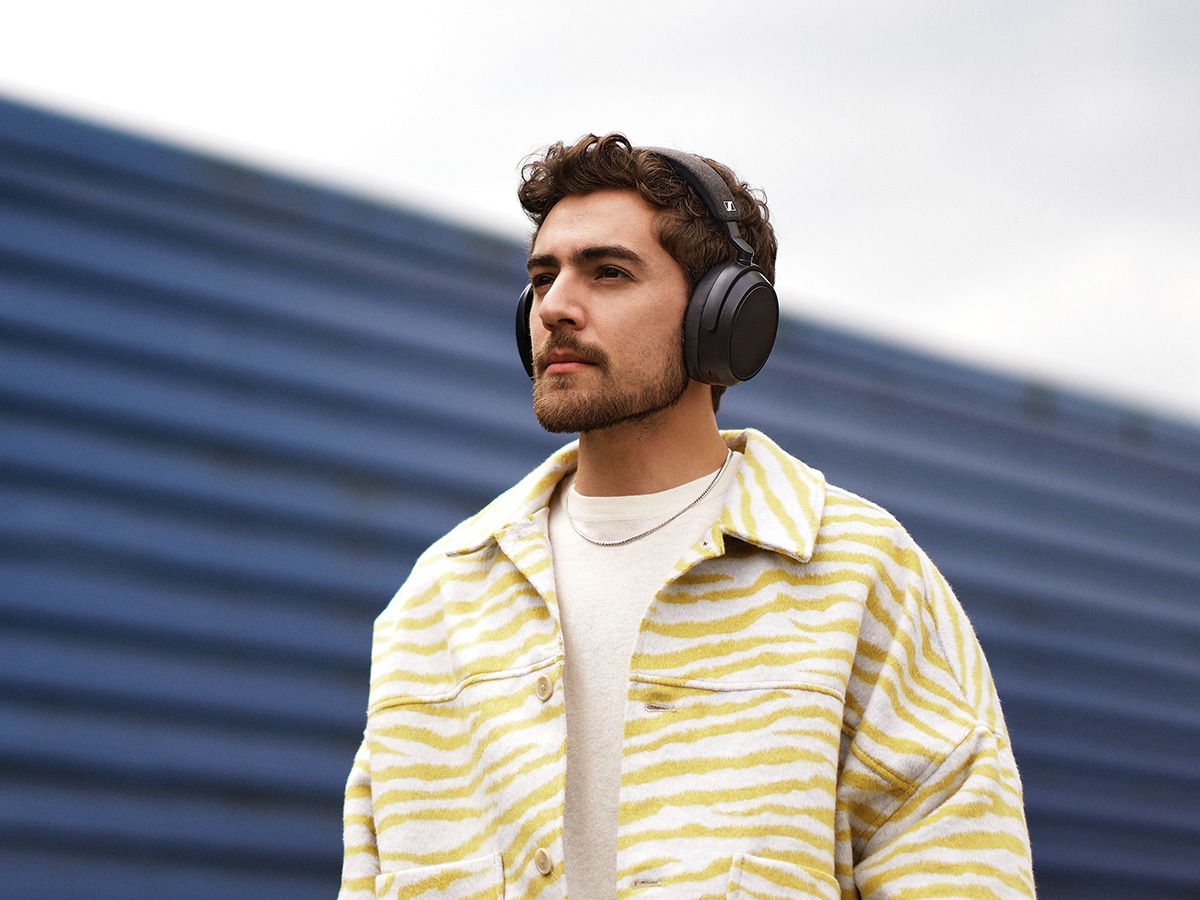 Sennheiser MOMENTUM 4 Wireless
In partnership with Sennheiser
An audio brand that needs no introduction, Sennheiser recently unveiled the fourth generation of its wildly successful MOMENTUM wireless headphones. Already synonymous with impeccable sound, conspicuous comfort, intuitive features, and advanced noise cancellation, these portable killers are better than ever before. Prepare for an effortless user experience as you engage with seamless controls and powerful sonics for up to 60 hours on a single charge. Yes, 60 hours on a single charge.
With a built-in voice assistant and an audiophile-inspired acoustic system, the MOMENTUM 4 Wireless has you covered on all fronts. And let's not forget about the next-generation Adaptive Noise Cancellation, which gets you immersed and keeps you immersed as you tune out noise pollution and other external factors. You can also use features such as built-in EQ and new Sound Personalisation to customise music and other settings to your own personal preferences. Bring in the stylish aesthetic and brilliant ergonomics and you're looking at one pair of headphones to rule them all.
DJI Mini 3 Pro
If you've been toying with the idea of picking up a drone, the DJI Mini 3 Pro might just be the unit you've been waiting for. The perfect mix of power and portability, the Mini 3 Pro weighs in at just 249g – meaning you can take it pretty much anywhere – yet still manages to offer awesome 4K HDR video and 48MP RAW photos.
This little champion of a drone is designed to offer optimum performance in a range of lighting conditions, so whether you're looking to capture some cool footage on your next holiday or you're a content creator wanting to up your game, the DJI Mini 3 Pro could be just what you're after. – AUD$1,119
Samsung Galaxy Tab S8 Ultra
The Samsung Galaxy Tab S8 Ultra is the ultimate tool to create content like a pro. Once you've snapped away with the 12MP dual front camera featuring wide and ultra-wide shooting options, Samsung's premium and stylish tablet then lets you edit your photos in total comfort thanks to its massive 14.6-inch AMOLED display.
The brand new S Pen will empower you to unchain your creative self through writing and sketching whether on the go or from the comfort of your couch. And then when you're done, you can sit back and watch your favourite movies and TV shows on that stunning screen. – AUD$1,799
Alienware Aurora R13
There's gamers and then there's gamers and the sleek Alienware Aurora R13 is definitely made with the latter in mind. With a focus on keeping things cool both visually and in terms of heat management, the R13 features the new Legend 2.0 layout, offering a reorganised interior that enables increased airflow while reducing strain on fans during high-performance moments. Or if fans aren't going to cut it for you, there's the option of Alienware's Cryo-Tech edition liquid cooler, which the R13 offers in a desktop for the first time. The sleekness of the chassis can be further accentuated by a clear side panel that's available on select configurations and features two internal AlienFX lighting zones, adding a dynamic look to your gaming room. – AUD$2,959
Xbox Series X
There was a time when Microsoft thought what people wanted from their Xbox was for it to offer an all-round media centre experience. Fortunately that time has passed and with the Xbox Series X the brand has well and truly returned its focus to being a dedicated gaming machine to be reckoned with.
Offering true 4K gaming and up to 120 frames per second, the Xbox Series X is designed to deliver a definitively premium gaming experience, and as immersion relies just as much on sound as it does visuals, the X also packs 3D Spatial Sound, using advanced algorithms to create an soundscape you can believe in. – AUD$749
Apple iMac
Underneath a selection of finishes that can only be a nostalgic throwback to the old iMac G3, Apple's latest desktop squeezes numerous premium features into its slim form factor. These include a 24-inch 4.5K Retina display capable of displaying over a billion colours; a 1080p FaceTime HD camera for optimised video calls; studio-quality mics that'll ensure your colleagues, family and friends can hear you just as well as they can see you; and a six-speaker sound system can deliver enough volume to fill the room. With these features and more all powered by Apple's innovative M1 chip, the Apple iMac has everything you could want from a desktop computer. – AUD$2,499
Amazon Echo Show 15
Help your family stay on task and on time with Amazon's Alexa-powered wall-mounted tablet. You can choose landscape or portrait orientation for the 15.6-inch 1080p Full HD smart display, which offers individual profiles for each member of the family and can be used for everything from sharing calendars, personal sticky notes, and shopping lists to streaming content from services like Netflix, Prime Video, Apple Music and Spotify. Plus, when you're not using it, the Echo Show 15 can be used as a digital frame to display your favourite photos and works of art. – AUD$399
Panasonic SoundSlayer SC-GN01
Headphones are great and all, but after a marathon gaming session they can leave your ears feeling a little sweaty and sometimes even sore. The Panasonic SoundSlayer SC-GN01 solves this problem by moving your audio slightly south, delivering the industry's first neck-worn four-channel surround speaker.
To create this unique and innovative piece of gaming gear, Panasonic teamed up with the Final Fantasy XIV Online sound team from Square Enix, ensuring the SoundSlayer delivered a lag-free gaming experience with an ergonomic design for maximum comfort. – AUD$329
Sony WH-1000XM5
What do you do if you make arguably the best all-round noise-cancelling headphones on the market? Well, if you're Sony, you simply go and make them even better. In our review, we described the latest iteration of Sony's industry-leading cans as "the biggest no-brainer in headphones" and we stand by it. Unless you're an Apple fanatic, in which case you probably already own a pair of AirPods Max, the Sony WH-1000XM5 headphones should really be at the top of your audio wishlist. – AUD$549
Satechi 2-in-1 Headphone Stand
A stylish pair of wireless headphones needs an equally stylish place to recharge, so for those sporting a pair of the aforementioned AirPods Max this Satechi stand offers an elegant two-in-one charging solution. While a sleek stainless-steel arm with padded grips and USB-C port takes care of your premium Apple cans, there's a charging pad to keep your iPhone's battery topped up too. Very handy. – AUD$80
Sonos Ray Soundbar
While there's a lot of focus on bigger and better TVs these days, all too often we forget to give the same love to the audio side of our home cinema. The Sonos Ray Soundbar is a super affordable way to enhance your at-home viewing experience. Guaranteed to deliver pumping bass and crisp dialogue in equal measure, Sonos' Trueplay tuning technology will respond to the acoustics of your home environment and adapt the sound accordingly to ensure it's always on point. Available in black or white, the Ray's understated, stylish design will enhance any space you care to place it both aurally and visually. – AUD$399
Twelve South Airfly Pro
It can be a source of enormous frustration that while we've all embraced the convenience and general awesomeness of wireless headphones, there are some situations that still call for us to rely on the use of a good ol' 3.5mm jack. Fortunately, the Airfly Pro from Twelve South offers a simple solution for precisely those situations. Whether you're stuck on a plane, sweating it out at the gym, or simply watching your favourite content on the go, the Airfly Pro will add Bluetooth connectivity to anything sporting that 3.5mm jack. – AUD$83
Corsair Xeneon Monitor
Your gaming experience is only ever as good as your monitor. The Corsair Xeneon Monitor will help to give your favourite games new life thanks to its vibrant display, which offers 2560 x 1440 resolution and an impressive refresh rate up to 165Hz and 1ms response time. The 32-inch panel's quantum dot technology guarantees the most vivid colours, while maintaining an astonishing level of realism. All of this and more has been squeezed into an impressively slim build featuring dual HDMI 2.0 ports, DisplayPort, USB Type-C and an integrated USB 3.0 hub, meaning you can connect your gaming setup in whichever way best suits you. – AUD$899
Sony SRSXG500 X-Series Portable Wireless Speaker
The trouble with being a tech enthusiast is that it means many of your favourite things can be a little on the fragile side. So it's always a nice change to stumble across a cool piece of tech that lands on the tougher end of the spectrum. The wireless Sony SRSXG500 is one such piece, designed to go wherever you go, whether that's down to your local park, a favourite camping spot, or the beach (sand and water typically spelling death for less hardy pieces of tech). With an IP66 rating for water and dust resistance, this speaker can handle the tough conditions without breaking a sweat, all while offering up to 30 hours of music playback, so the tunes will keep going for as long as you do. – AUD$494
Asus ProArt Studiobook Pro 16 OLED
Unlock your creativity with the laptop Asus designed specifically for people who are completely devoted to making things. From the certified colour-accurate 16-inch 4K OLED HDR 16:10 display to the pumping Intel Xeon processor, this Studiobook has the power you need to ensure nothing holds your creative vision back. It also packs pro-grade NVIDIA RTX A5000 graphics, a whole stack of memory, and advanced ultrafast storage to boot. No matter what kind of project you have coming up, the Asus ProArt Studiobook Pro 16 OLED has everything you need to smash it out of the park. – AUD$9,999
LG QNED85 65-inch 4K Smart QNED TV
LG's OLED panels have long ruled the TV roost, but its more accessible QNED technology shouldn't be overlooked. Packing Quantum Dot NanoCell technology that delivers rich and accurate colour in pin-sharp 4K, the LG QNED85 is no slouch when it comes to picture quality. In fact, LG goes straight up science fiction with its TV tech, as intelligent lighting control uses deep-learning algorithms to map and send luminance information to over one hundred MiniLED dimming zones, delivering darker blacks and a broader range of brightness levels that remain elusive for conventional edge-lit TVs. Long story short, the QNED85 is one hell of a TV that won't break the bank. – AUD$2,876
You'll also like:
Father's Day Gift Guide 2022 – Adventurer
Father's Day Gift Guide 2022 – Foodie
Father's Day Gift Guide 2022 – Fitness Freak
Father's Day Gift Guide 2022 – Boozehound
Fathers Day Gift Guide 2022 – Under $300