Google's New Chromecast is Back and Better Than Ever
What cable boxes were to tv antennas, streaming devices are to cable boxes. Proving as much is the latest iteration of Google Chromecast, which recently landed here in Australia. What we discovered, however, is that the device provides so much more than a seamless and ridiculously affordable hub for TV shows, movies, and Internet videos, in that it's also a terrific resource for modern businesses. That's why we've employed a number of them to control various screens around our new office space. And we're using these as dashboards to quickly check our Google Analytics and social stats via websites like netvibes.com. Cable doesn't stand a chance.
For those still living in the past, allow us to bring you up to speed. Google Chromecast is one among a handful of modern streaming devices that put more power and choice in your hands. It comes in the form of a sleek and compact circle, which you connect to your TV or monitor. And when we say "connect" we literally mean something as simple as plugging the device in to any HDMI port.
Soon enough, you're presented with Chromecast's easily searchable interface and its full swath of movies, shows, and apps. Some content providers are free while others (like HBO NOW or Netflix) will cost money. Think of it as a greater and more expansive combination of regular cable and OnDemand, at far less cost and with far more peripheral advantages. It's then no wonder that so many people around the world are cutting the cord. You can certainly count us among them.
Google Chromecast is also compatible with your other devices and platforms and consequently, you can use it to stream content on your smartphone or turn your tablet into an entertainment center. You can also sync Chromecast with various Google Smart Home devices, and view Nest Cam footage on your TV. You're even able to mirror your laptop or PC, thereby turning your TV into a big screen desktop browser. All of this and more is usually just an app download or button click away.
Here are even more reasons to get in on the latest iteration of Google Chromecast: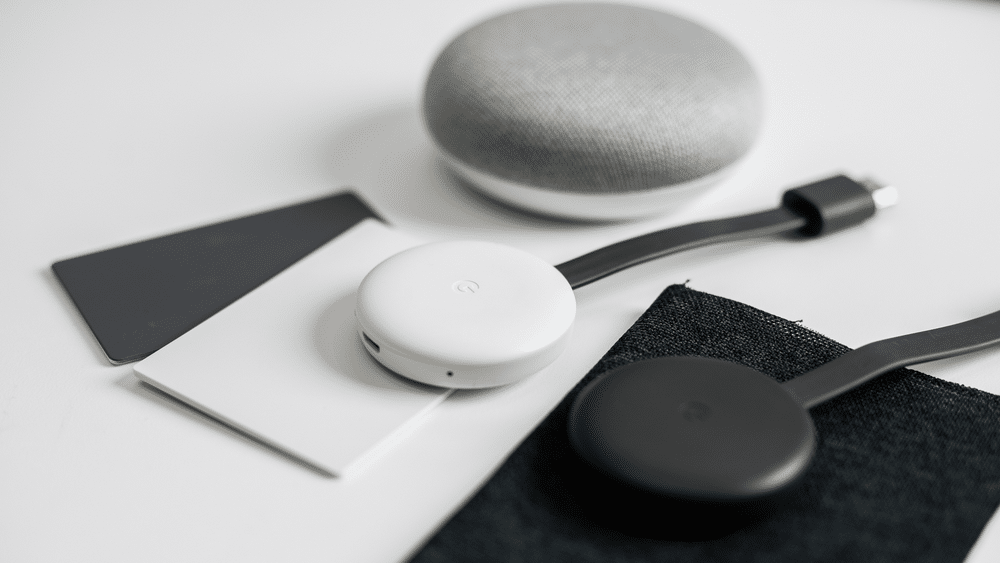 The Slick Design
As we stated above, the days of clunky cable boxes are numbered. That's because the Google Chromecast is effortlessly compact and beautifully portable. Along with the newest generation come two new colours—Chalk and Charcoal—which both diligently maintain a minimalist vibe. As a result, the device can blend in with pretty much any modern decor.
The Blazing Fast Performance
Despite its brilliantly small size, Google Chromecast is more powerful than ever before. That is to say, the device delivers 15% faster hardware speed over its predecessors (which were already quite fast). Additionally, the newest variant supports streaming in 1080p at 60 fps, amounting to the utmost tier of life-like resolution. Get a big enough TV and you may never need to attend a professional sporting event in person again since it will feel like you're there in the flesh anyway. Immersion is the operative word here.
Usability
Because Chromecast can sync with your other Google Home devices, you enter a new realm of control and convenience in terms of accessing content. For instance, should you want to watch a specific show or movie, you need only the power of your voice: "Hey Google, play Stranger Things from Netflix." And like that, the show is up and streaming on your TV (presuming you have a Netflix subscription). Look, no hands!
Bonus Peripheral Features
Thanks to the seamless interplay between Google Chromecast and other devices, various lines begin to blur in the best of ways. As such, you're granted access to things that no modern cable package can provide. For example, you can customise your TV by using the new Live Albums feature from Google Photos, which streams personal photos across the screen and updates them automatically.
For the modern workplace, Chromecast can make for an indispensable tool. As we said earlier, we'll be using the devices to control our various screens, which will double as dashboards. With just a few button pushes or voice commands, we'll have access to a bevy of stats and analytics. Things simply couldn't get any easier.
Crispy Audio
Later this year, Chromecast will become compatible with the other smart speakers in your home or office. In turn, you can bring your TV speakers into the sonic ecosystem, using them to stream audio from platforms like Spotify or YouTube Music. Hence, we take one more step toward a seamless integration of all platforms and devices, making yesterday's norms seem downright antiquated by comparison. With the mere touch of a button or drop of a voice command, you'll have music flowing through every speaker in every room. Indeed, Chromecast brings a whole new meaning to the word "streamlined."
As if all the perks listed above weren't enough, Google Chromecast is still just $59 AUD. That's an outrageously low price for something so broad and superior in scope. Rarely do minimalist design and limitless potential make for bedmates the way they do here. This isn't just the future of entertainment. It's the now.