This LED Face Mask Responds to Your Music
Sure, you can pull out the sewing machine and make a mask to wear, or you can literally make a statement and buy the LED Matrix Face Mask from Lumen Couture. The face mask features a dual-layer cotton and mesh material that is equipped with an LED Flex Panel that lets you express yourself without saying a word.
You'll also like:
You Can Customise this Airtight Respirator Mask on Kickstarter
This Reusable Silicone Face Mask Has Gone Viral on Kickstarter
10 Best Surgical Face Masks to Reduce the Spread of Germs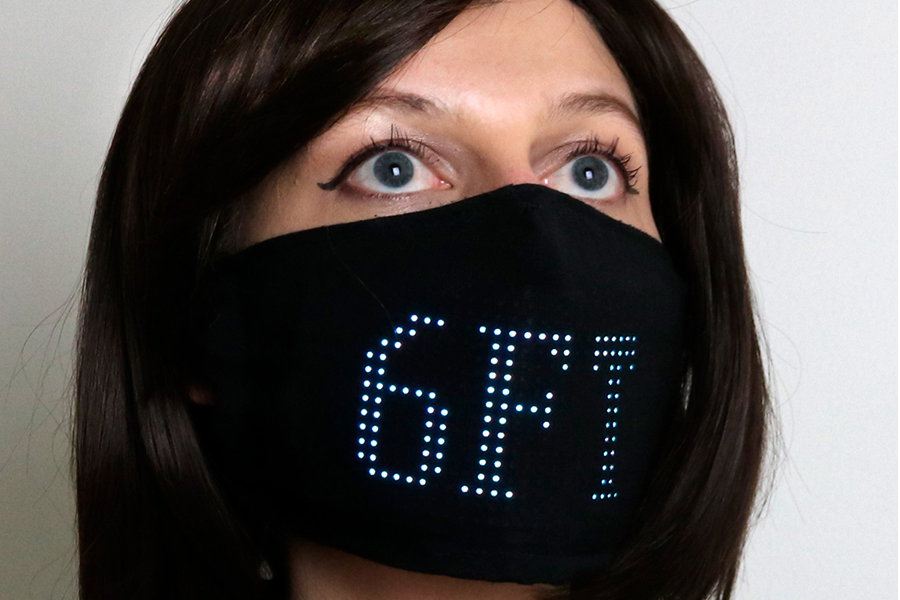 The LED Flex Panel in the LED Matrix Face Mask can be programmed with an endless amount of designs including text and graphics. Pair it with your phone's music and so equaliser bars for a cool effect. The animations are controlled using a free app that is compatible with both Android and iOS devices. You can draw an image, write a message, or use any of the graphics available in their library. If you choose to use the equaliser mode, the mask will respond to music, sounds, or even your voice on your phone. The LED screen is charged via a USB port and provides 3-4 hours of use per charge. The rechargeable battery is hidden away in the mask, so no one will see it, and you don't have to deal with extra wires. The electronics are all removable so you can toss the mask into your washing machine or sanitise it at any time.
Lumen Couture doesn't make any promises regarding the "medical efficiency nor does it make claims for medical protection" for these masks, but that's not a big deal. How many guarantees are there for your homemade mask, after all? What Lumen Couture does promise is that they will donate 60 per cent of the profits from the sales of the masks to the WHO COVID-19 Response Fund. With a retail price of $90, that's a pretty sizable donation. The masks are expected to ship in early May, so you can start being the cool kid with your mask very soon.
You'll also like:
You Can Customise this Airtight Respirator Mask on Kickstarter
This Reusable Silicone Face Mask Has Gone Viral on Kickstarter
10 Best Surgical Face Masks to Reduce the Spread of Germs