Let the Games Begin with the HP Omen
Brought to you by Nuffnang and HP
People who turn to tablets or smartphones as their primary interface soon find that they're just not as conducive to getting things done as a laptop, whether you're using it for work or play. PC manufacturers certainly spotted this gap in the market and brought out a whole raft of laptops throughout 2014 primarily capitalising on Windows strong front over Apple in gaming. HP, a brand that's been a little quiet on the gaming front since acquiring Voodoo in 2006, certainly might have left the best till last with the all new HP Omen. If you're after flexibility without sacrificing on performance and a total technology snob connoisseur like myself, this could be your perfect rig for 2015.
The Looks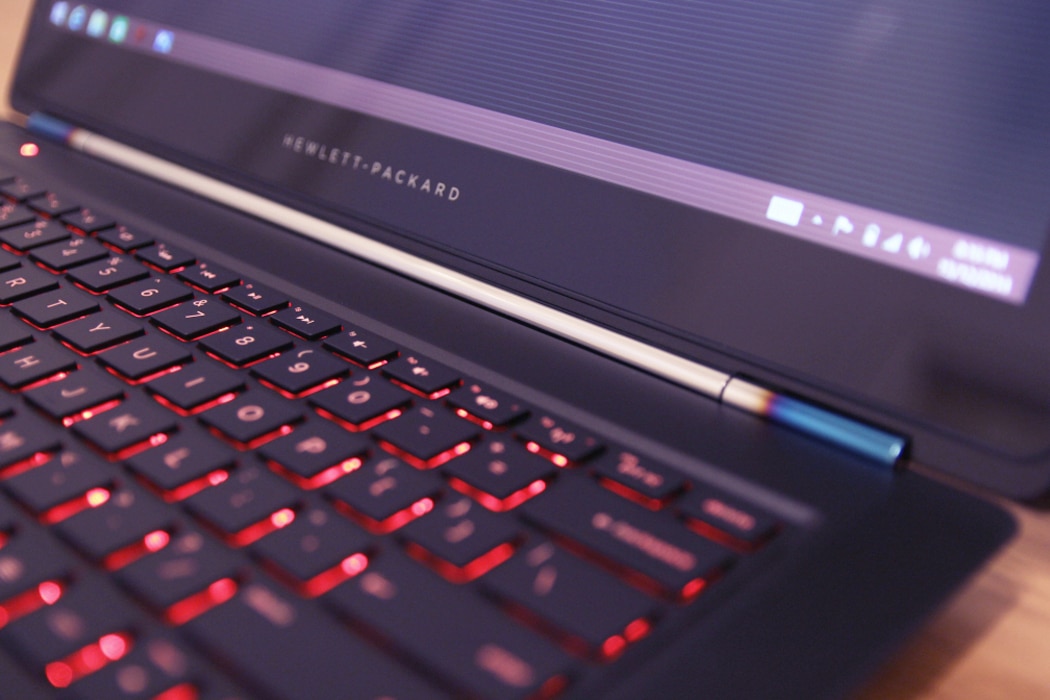 This is a massive change in tone for HP. I used to describe the smooth plastic rounded edges of HP's computers as the "mummy brand" of laptops, but they've proved me wrong with the crisp clear lines and sharp edges of the Omen. The bezel is angled and tapered downwards almost like a square dish plate with no ports down the sides, giving it a minimal and clean feel sitting upon the desk. The solid piece of black aluminium has red accents throughout, with a backlit keyboard and speakers running along the edge of the keyboard.
A testament to HP is the attention to detail they've paid, even with the coloured branding of the hinge. While it's definitely got a gaming feel to it, its slick design means it looks just as at home at your local café as on your lap on the couch. Expect compliments or at least questions if you take this thing out for a stroll.
The Feel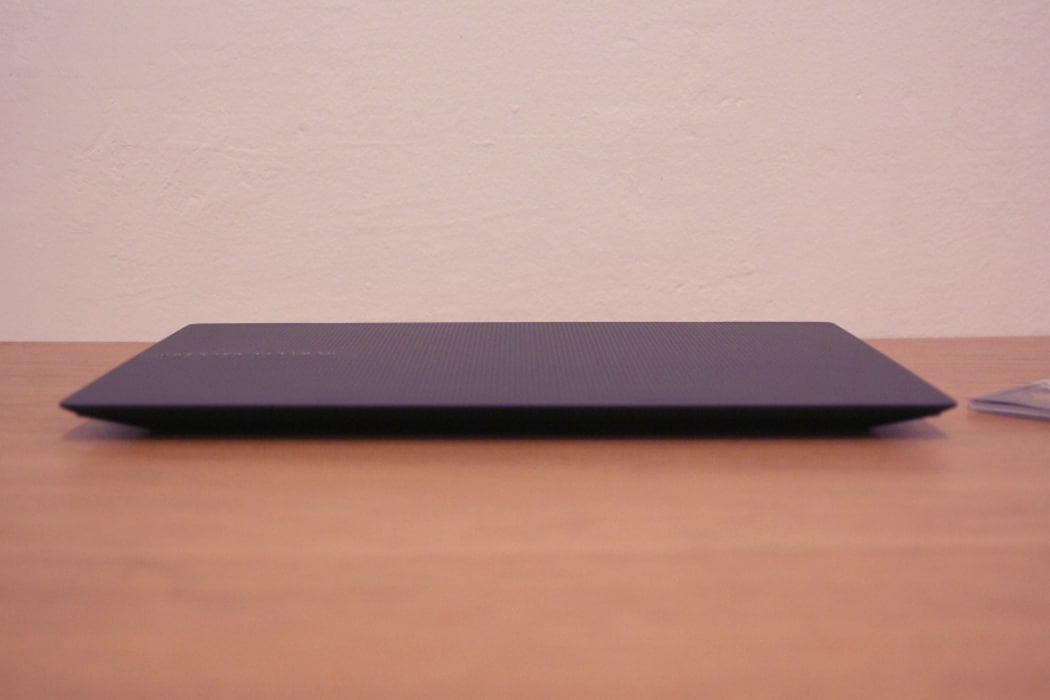 The angled edges help this laptop feel lighter in the hands than it looks at just 2.275kg. Certainly light enough to carry around all day for uni or work with ease. Despite its broad width at 382.9mm x 247.5mm, it'd fit in most modern day backpacks and with the screen down it's crazy thin coming in at just under 2cm thick.
The matt aluminium surface presents a nice platform to rest your hands without feeling sticky. After using it for a number of hours, it still remained cool to touch with smartly designed rear vents drawing the heat away, a common problem in old HP computers they've looked to address.
Under the Hood
By now we all know it looks good, but what about the performance I hear you ask? Synonymous with other gaming rigs, the Omen doesn't disappoint with a 4th generation Intel Core i7 CPU, NVIDIA GeForce GTX 860M graphics card, and with models of 8GB or 16GB of ram available. In terms of storage it comes with options of 128GB, 256BG or 512GB solid state drives, meaning you can load your games 2-3x fast than a conventional hard drive.
The Screen
The HP Omen has a wide1920 x 1080 resolution IPS full HD touch display. At 15-inches diagonally, and capable of Full HD, it's a screen that's probably more appropriate for gaming than word processing due to its widescreen nature. The glass wasn't glossy or glary, is bright and displays vibrant colours. Pleasingly, there didn't seem to be any light leakages around the edges either.
The Sound
The speakers make use of the Omen's width, running along the edge of the keyboard on each side, giving you immersive sound. Most serious gamers would probably prefer to use a headset, but it's a nice touch to still be able to have booming sound if you so choose. One of my favourite features is being able to change the colour of the backlighting behind the speakers which can also move in sync to the beat of your music.
The Keyboard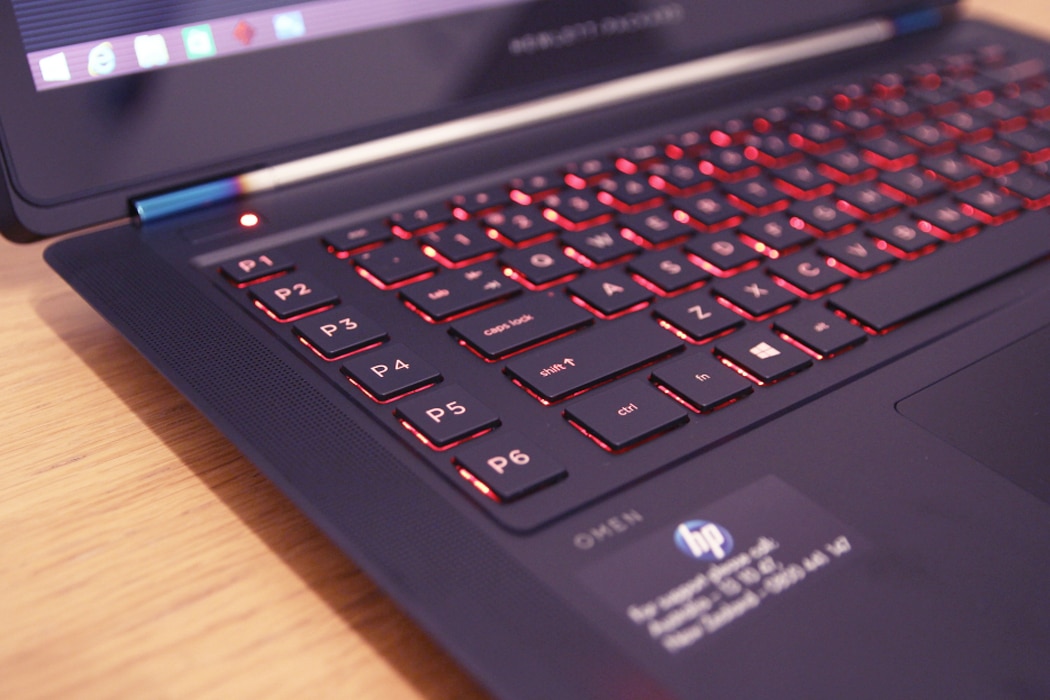 Similar to the speakers, you're able to change the colour of the back lighting for the power button, WASD keys and different zones of the keyboard. Although the keys are recessed they have a nice tactile feel to them when you type. A must for gaming. To the left you'll find six programmable macro gaming keys which I found extra handy for email use. I set them to spit out repetitive slabs of text I often use in replies such as our postal address.
The Connections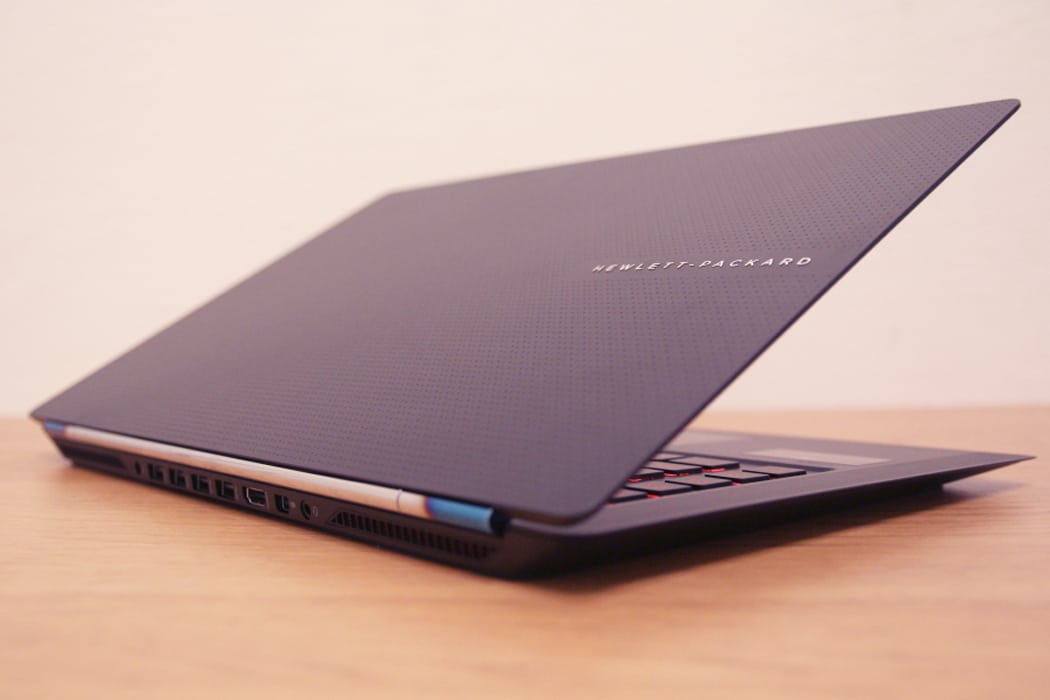 HP has again taken a different tact placing all ports on the rear of the machine. My preference would be to have a USB port at the side for ease of use and perhaps a headphone jack at the front. HP explains they placed them at the back to keep wires out of the way for when you're gaming which I guess makes sense. Good news is you won't be stuck for connectivity with four USB 3.0 ports, a mini display port, HDMI port and the all-important headphone-out/microphone-in combo jack for your gaming headset.
Summing Up
As an early sceptic, albeit due to HP's absence from this space in recent years, the Omen has managed to win me over as a solid, well rounded performer. What attracts me most are the beautiful aesthetics of the machine, which don't compromise on computer power. If you're looking to upgrade, I'd personally recommend the Omen as a worthy contender for your desk space in 2015.