Logitech's New Premium Office Product Suite
Swiss tech brand Logitech continues to make a name for itself by way of sleek and innovative products, all of which deliver in the performance department. Most recently, the brand rolled out a new Premium Collection, and it's as glorious as one might expect. Striking a deft balance between minimalist design and broad functionality, the range simply emanates with top-shelf quality and forward-thinking appeal. Included are an advanced mouse, a 4K Ultra HD webcam, Bluetooth speakers with motion activated controls, and a game-changing presentation remote. If it's time for an office upgrade, Logitech's latest will invariably suffice.
Spotlight
Take your presentations to the next level with Spotlight, a compact and wildly efficient remote. With this gadget at your disposal, you gain virtually unprecedented control over your slides from up to 30 metres away. True to its name, the remote allows you to spotlight specific portions of the screen using the Highlight feature. Along similar lines, Magnify enables zoom-in capability, while Digital Laser can pinpoint information with blazing accuracy.
MX Master 2S
Logitech's advanced mouse is a master, indeed. Bolstered by a smart speed-adaptive scroll wheel and Darfield sensor technology, the nimble gadget tracks on any surface with hyperfast efficiency. It also hosts a side-scrolling thumbwheel and lasts for up to 70 days on a single charge. Meanwhile, Logitech Easy-Switch and Logitech Flow allow you to switch between up to three devices at the click of a button.
MX Anywhere 2s
If the MX Master 2S is a little out of your price range, consider the MX Anywhere 2S instead. Similar to its premium counterpart, the mouse tracks on any surface, charges fast, lasts long, and scrolls at hyperspeed. It can also seamlessly switch between three devices, thanks to Logitech Easy-Switch and Logitech Flow. If you can do without a thumbwheel, you'll save some serious cash.
BRIO
Here to upstage your standard webcam in every conceivable way is the Logitech BRIO. Ideal for video conferencing, streaming, and recording, the gadget delivers 4K Ultra HD resolution, 5x digital zoom, background replacement, and adaptive low-light performance, among other things. It's also packed with optical and infrared sensors, allowing you to log in to Windows Hello using facial recognition.
MX Sound
Wireless desktop speakers have come a long way in little time, which brings us to MX Sound. Beautiful inside and out, the speakers offer an extended bass range and downright superior acoustics. Hovering beneath the premium fabric surface are high-end drives, unique port tubes, and 24 Watts of peak power. Oh, and did we mention the adjustable tilt and motion-activated back-lit controls? Or that you can use Logitech Easy-Switch to alternate between a Bluetooth connection and a wired one? Indeed, there's a lot to love here.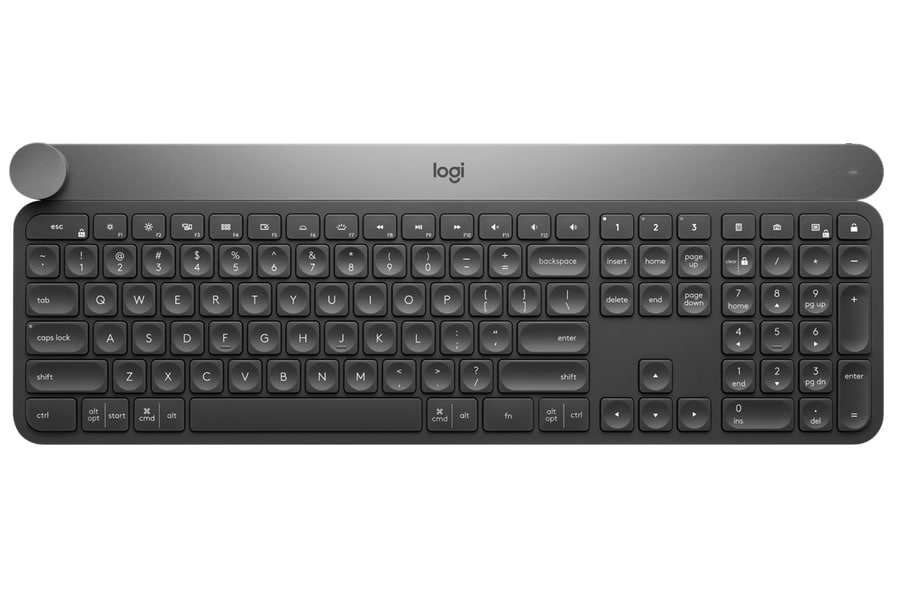 Craft Keyboard
Your desktop setup isn't complete without a modern keyboard, and Logitech's Craft is nothing if not modern. The most distinguishing feature is a creative input dial, which provides instant access to a bevy of functions and hosts a touch-sensitive top. As a result, you can either turn the dial or tap it, getting pure responsiveness and accuracy as you navigate through a slew of apps. Throw in automatic backlighting and increased key stability and this quiet keyboard leaves no proverbial stone unturned.