How to Monitor Your Home From Anywhere for Under $150
In Partnership with Panasonic
Panasonic has launched an affordable home monitoring solution perfect for keeping a watchful eye over incoming Amazon orders and giving you and your loved ones that extra peace of mind. The HomeHawk Window is a sleek and subtle camera capable of hiding in plain sight when placed on the interior of a door or window where it remains protected from the elements and would-be thieves. This innovative system is even available free from lock-in contracts and monthly fees. Simply pick up a HomeHawk Window for under US $150, attach it to the desired location and you are well on your way to being protected by smart home security.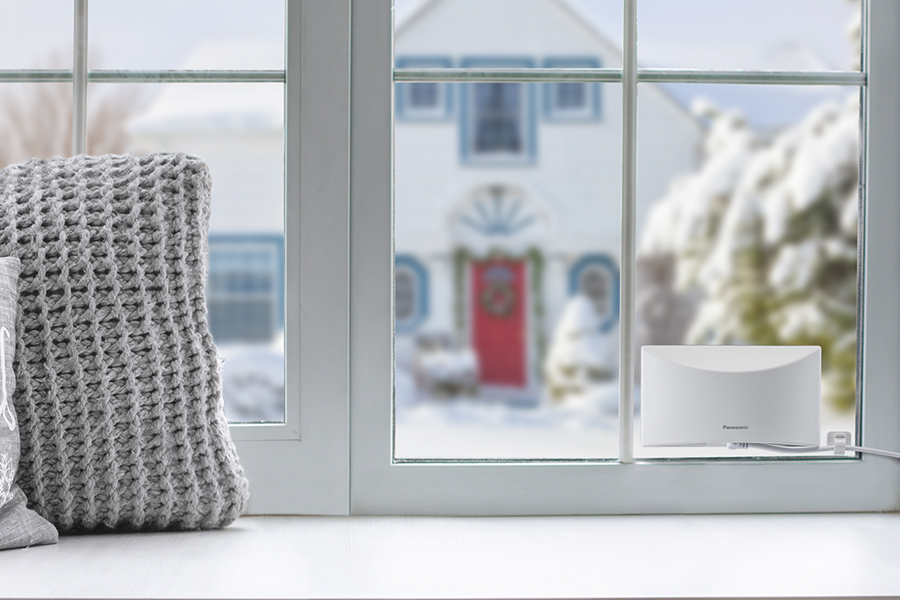 Panasonic HomeHawk Window
Once installed, HomeHawk Window grants you 24/7 access to a live feed and recordings when viewed using the HomeHawk app. It's the ideal solution for when you're at work or tucked into bed and are curious as to what's happening around the home. So long as you have an internet connection, you have access to the feed. Panasonic's latest monitoring solution captures footage in crisp 1080p HD in full colour for daytime and enhanced colour night vision, allowing you to keep watch after dark with better clarity than the naked eye.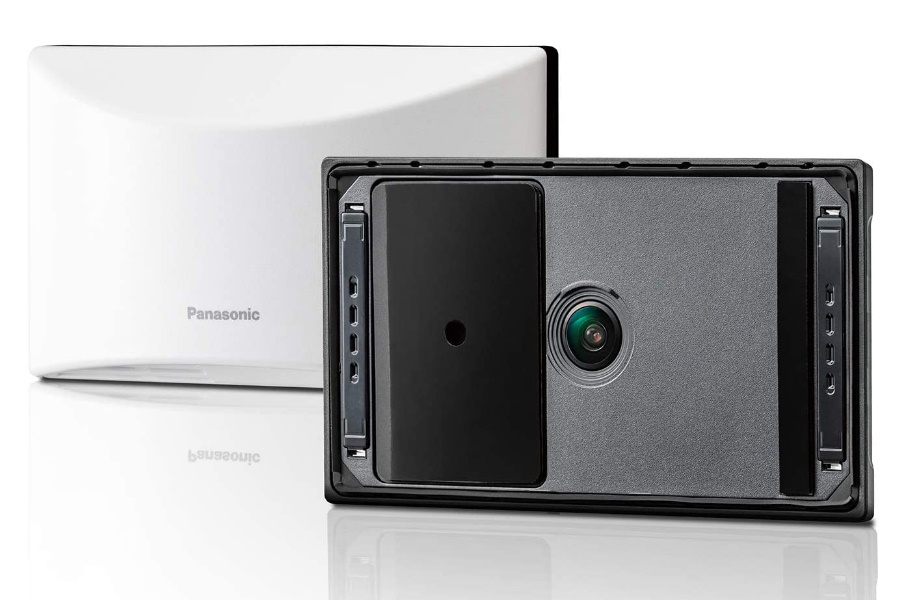 HomeHawk Window Features
Where traditional outdoors security cameras offer a viewing angle of 130-degrees, HomeHawk Window cranks the angle up to 150-degrees which is wide enough for you to see from the clouds to the ground and fully left to fully right. The camera's body has the same 16:9 aspect ratio as the captured image to ensure less chance of reflection from the glass that forms the attachment point.
HomeHawk Window's smart motion sensors only activate the recording function when movement is detected, saving you the hassle of skimming through hours of footage in search of just a few seconds. The motion sensors can even distinguish between people and vehicles, and further customisation options are available via the HomeHawk app where users can reduce unnecessary alerts and notifications caused by pets or neighbours.
When motion is detected, the immediate two seconds of footage are pre-recorded, saving the crucial moments before you've decided to record a whole lot more. Insert a microSDXC card for long-term storage and footage playback on a multitude of devices, which will save you money in the long run by not having to pay for cloud storage. Panasonic's Window also supports your choice of Amazon Alexa or Google Assistant for controlling functions using your voice.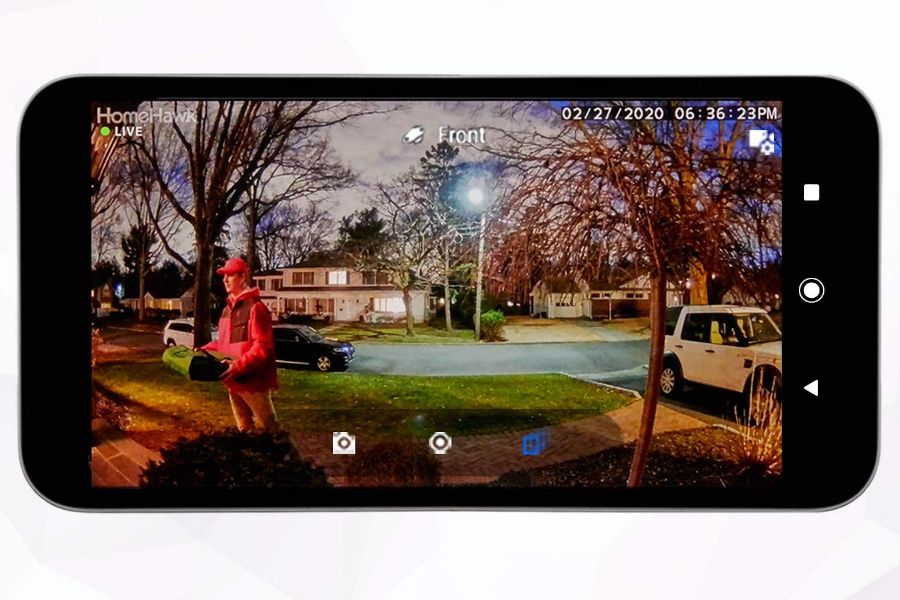 Easy Installation
Arguably the best features of HomeHawk Window are the easy installation and how it eliminates the need for complicated outdoor systems. Many home monitoring solutions require some form of frustrating DIY modifications, which can result in damage to your property. Even if the installation is a relatively smooth experience, you still need to find access to a power source, and those systems remain exposed to the elements and within reach of thieves and vandals.
HomeHawk Window, however, solves all of these problems with its simple set-up and placement inside your home—not out. A powerful suction cup is fitted to the front, making the camera incredibly easy to install on glass surfaces. Double-sided tape is included as an alternate solution. Connect to a nearby wall socket for power to avoid relying on a battery, and the entire process should take no more than a few seconds. Should you want to try an alternate position, it's a simple matter of pulling the motion camera away from the glass and attaching it to a new location.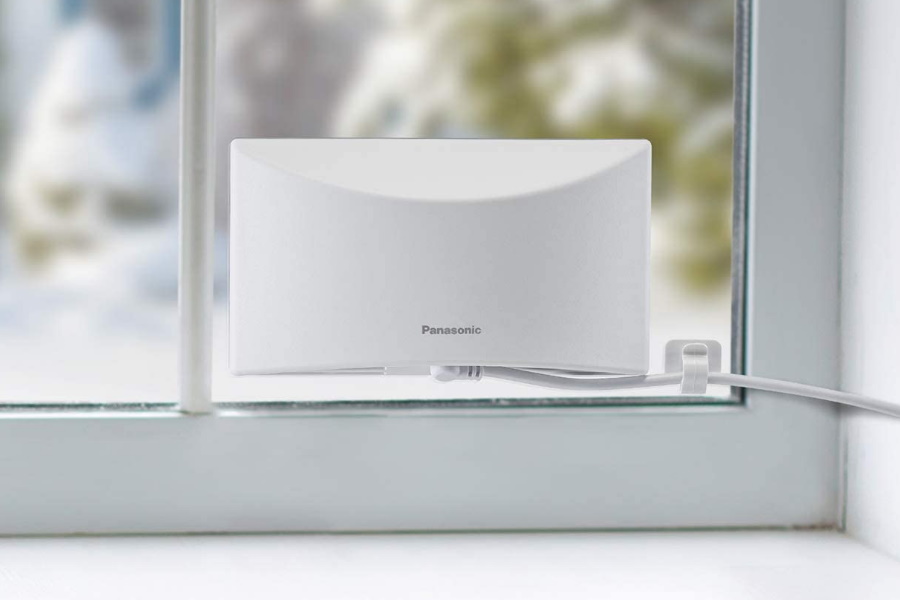 Window joins Panasonic's family of simple, yet reliable smart home monitoring solutions which includes the HomeHawk Floor Lamp—a stylish light source and swift monitoring device rolled into one, and the comprehensive HomeHawk Front Door + Outdoor Kit that's designed to protect everyone and everything inside or outside your home and your property. HomeHawk Window can expand the home security offered by either of these products or can be used independently for protection and peace of mind.
The Panasonic HomeHawk Window brings home security and monitoring into the 21st century while placing the power of surveillance directly in your hands. It's an affordable alternative to the outdated and cumbersome systems of the past with the low price point and incredible convenience making for a must-have accessory for protecting your home and incoming orders.