Sonos Arc Brings Cinema Quality Audio to the Living Room
The key to a good movie experience at home is often less about the TV and more about a truly immersive sound. Sonos brings cinema-quality audio home with their first-ever Dolby Atmos soundbar, the Sonos Arc. An all-in-one surround sound home audio solution that promises big noise in a small package.
Effectively replacing the Sonos Play: Bar and Sonos Play: Base, the Arc creates an immersive surround sound experience contained in a single device. Perfect for the modern home, we got our hands on the Sonos Arc earlier this month to put it through its paces. Here are our thoughts: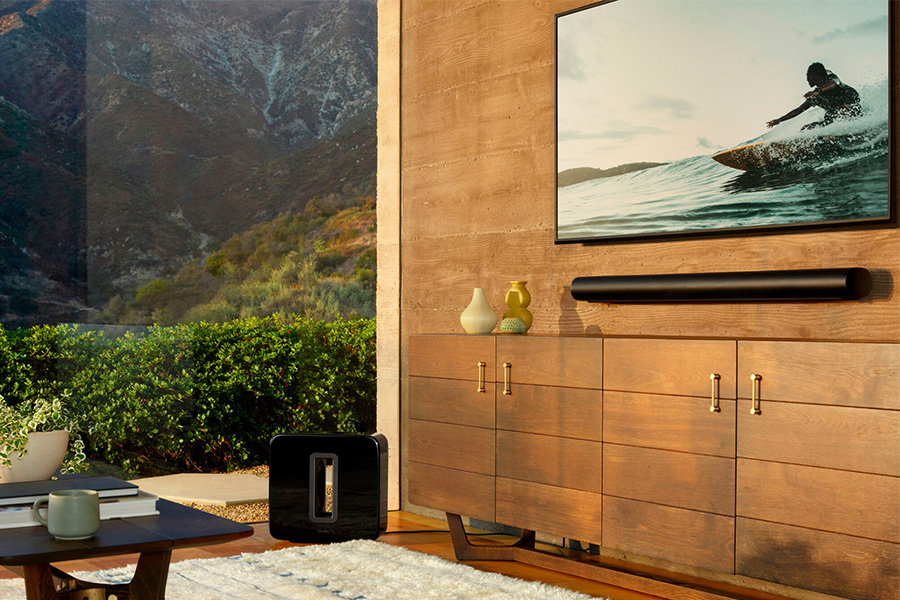 Design
Straight out of the box, the first thing you'll notice is just how sleek the Sonos Arc is. Coming in at a smidge over 110cm wide, its proportions look best when paired with TV's 55 inches or larger. This might sound excessive, but the crisp lines and the matte black colourway make it an understated addition to any TV unit. It also makes sense when you realise that there are no less than eleven high-performance drivers squeezed into the svelte soundbar.
Specifically, the Sonos Arc has eight elliptical woofers and three silk dome tweeters. The result is a solid true-tone bass with excellent tuning for mid-range soundscapes, combined with a high clarity response that is especially crisp due to some very clever software. When tuned correctly to the room, even a layman should be able to distinguish the spatiality of sound delivered on the Sonos Arc.
We were only able to test the Sonos Arc in two rooms of differing size. We noticed that even in a larger room, the soundbar had no trouble in bouncing sounds off the walls to create differentiation. Safe to say we're very impressed.
Note: You can get a Sonos Arc wall mount for AUD $99.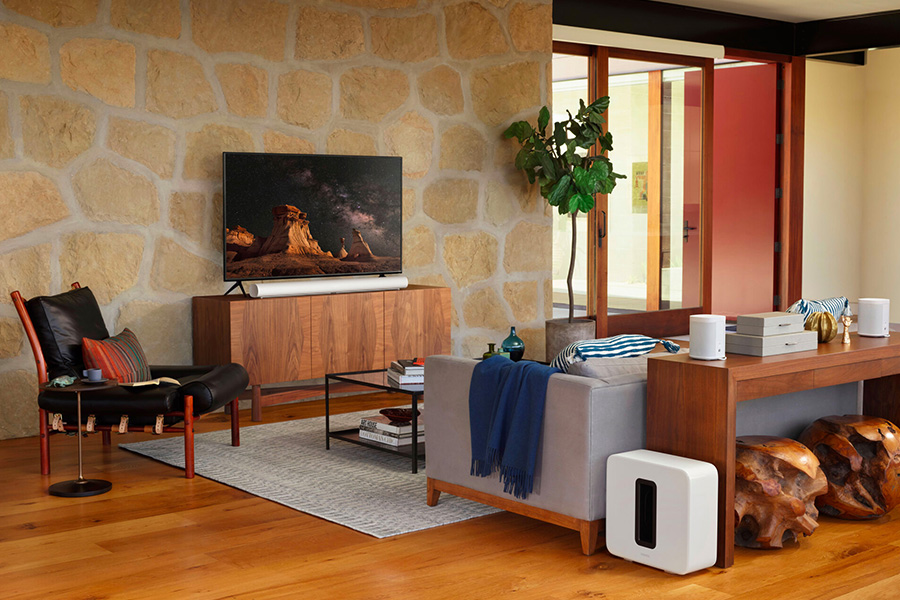 Audio Quality
With Dolby Atmos setting a new standard in 3D audio, the Sonos Arc's all-in-one design streamlines the surround sound experience. Gone are the days where you needed a multi-speaker array to achieve immersive audio. When it comes to spending your hard-earned money, sound quality is what is gonna cut the mustard between soundbars. Out of all the devices we've tested, the Sonos Arc creates the most dynamic and immersive experience for TV, movies, music and gaming.
With the addition of Trueplay technology, the Sonos Arc automatically adjusts the audio to a room's specific acoustics. This helps to create a multi-dimensional soundstage across five channels, accurately delivering sound to your ears from all directions at the exact right moment. The audio separation is something you may not notice when playing music, but when you're settling in for a movie – it's second to none.
Something to note, the Trueplay feature doesn't work unless you have an iOS device to set it up with. It's such an important part of the Sonos Arc that we really wouldn't recommend going without. One way of getting around this is by borrowing a friend's iPhone for the setup process. Problem solved.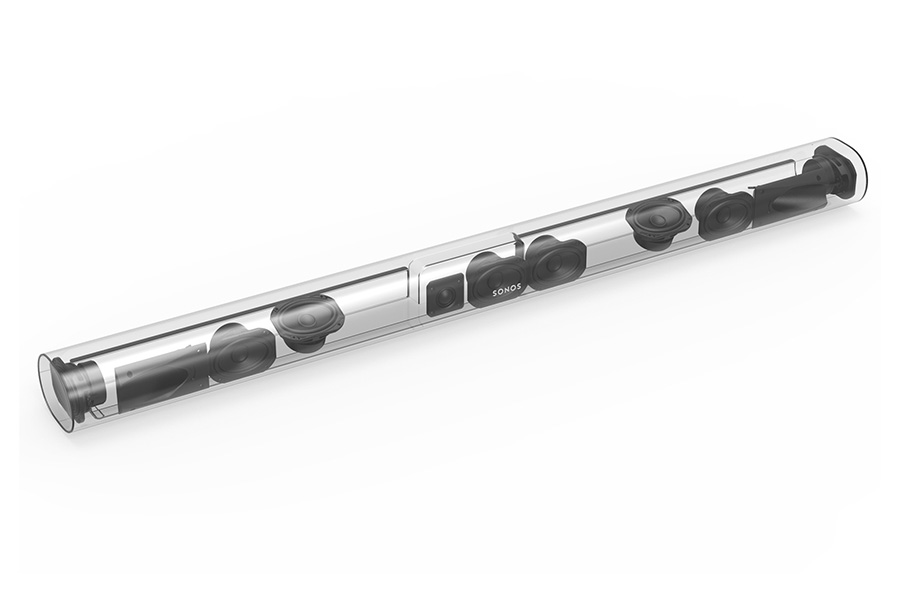 Functionality
Veterans in home audio technology, Sonos understand that function is king. The Sonos Arc is no different and has Google Assistant and Amazon Alexa built right in. Check the news, play music, set timers and get your questions answered all just with your voice.
As you'd expect, you can stream all your music, radio, podcasts and audiobooks all to the Sonos Arc seamlessly through Airplay. Working even when the TV is off, the Sonos Arc can function as a very well endowed speaker for your living room.
If you're looking at the Sonos Arc as an extra speaker for your already established home audio system, you'll be happy to know that the soundbar will fit in seamlessly. What's more, if the Sonos Arc doesn't satiate your appetite for sound – we'd be very surprised if so – then grab yourself a wireless Sonos Sub for an even more immersive listening experience.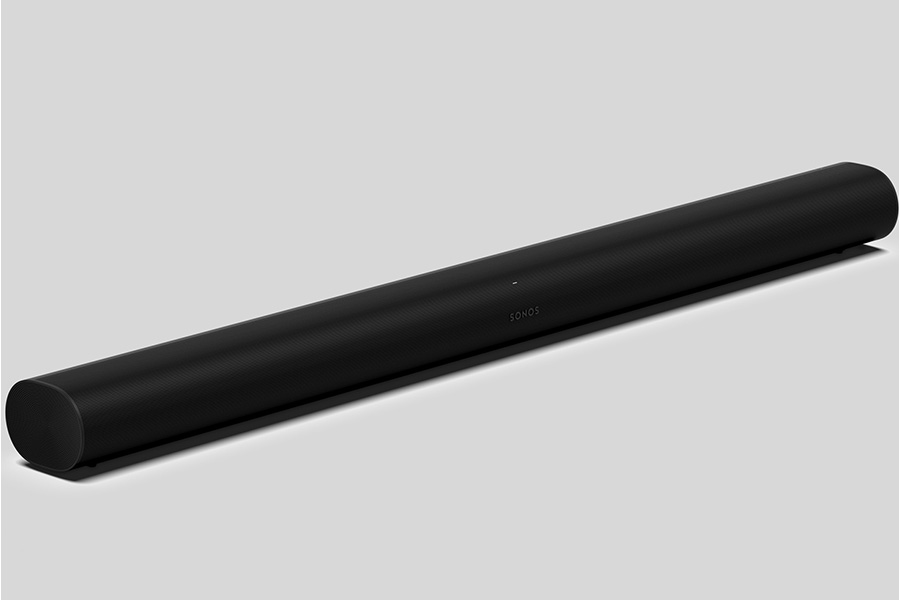 Price and Availablity
The Sonos Arc is a premium soundbar for those audiophiles that place high regard on design and functionality. Therefore, it won't come as a surprise that the Sonos Arc has a premium price tag attached to it.
You can pick up the Sonos Arc for AUD $1,399 in either black or white directly from the Sonos website. Whilst it is on the expensive side, the Dolby Atmos technology sets it apart from the majority of soundbars on the market.
If you've got a great TV and are now looking for a speaker system to tie the whole experience together, you can't go past the Sonos Arc. The all-in-one functionality of the Arc makes it an obvious choice for those who want top-tier surround sound without the head noise of multiple speakers.