The Hoverpen Breathes New Life into an Old Instrument
Who would have ever thought that something as timeless as the pen would become old-fashioned? Yet here we are in the midst of digital fever, ready and willing to render traditional writing instruments obsolete. Not so fast, says former physics major David Liang, i.e. the creator of the Hoverpen. Judging by Liang's wildly successful Kickstarter campaign (which is still in progress), he's far from alone.
What is the Hoverpen, you ask? It's a space-grade titanium writing instrument and futuristic office fidget tool rolled into one. More to the point, it's the world's first self-standing pen, which uses magnetic repulsion technology to "freestand" upright over a zinc alloy pedestal. Making a cool thing even cooler, a quick spin of the pen will send it swirling to an almost infinite degree, a la "Inception." Along similar lines, it can wobble back and forth in response to the slightest bump. Taking interactivity one step further, you can play a game by tossing the fully magnetic cap onto the pen's tip. And it all goes down without electricity, capitalising instead on the power of magnets.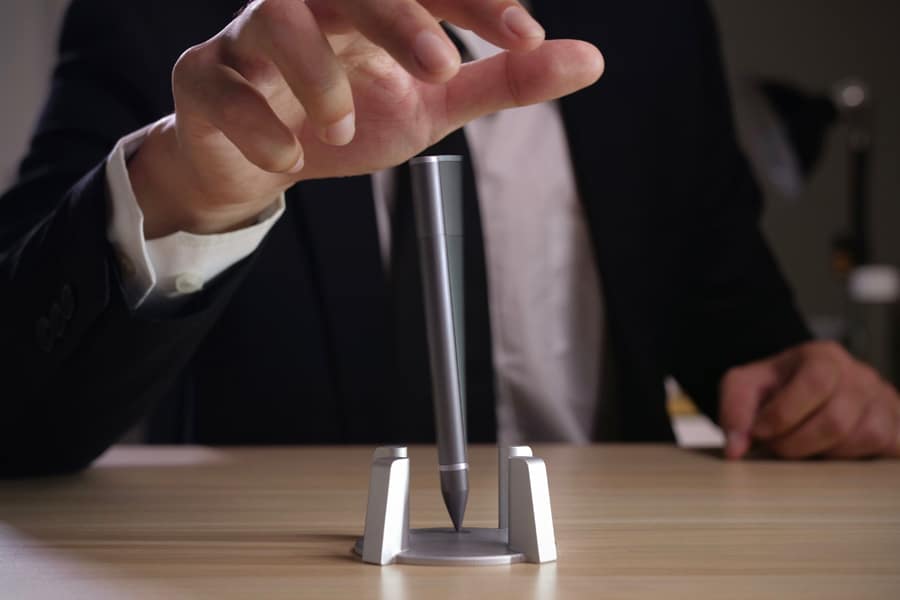 The Hoverpen comes to us from Shanpo, a company founded by David Liang. To ask Liang, the electric field and magnetic field are twins from a scientific perspective, though it's the electric field getting all the attention from modern-day product makers. That's where Liang stepped in, seeing both the literal and figurative attractiveness of pure magnetic fields. After wracking his brain for ideas, Liang created the Hoverpen, which infuses magnets into a daily tool (i.e. the pen). The result is a truly deft combination of style and substance.
In our current age of digital everything, the Hoverpen makes for a refreshing slice of old school magic, and one that obliges engagement. To that end, it's both a guaranteed conversation-starter and transfixing solitary distraction, especially when it's in spin or swing mode. Oh, and did we mention that it also writes things? It is, after all, a quality pen. Ultimately, of course, the Hoverpen's allure goes well beyond its function as a writing utensil, hence the growing support over on Kickstarter.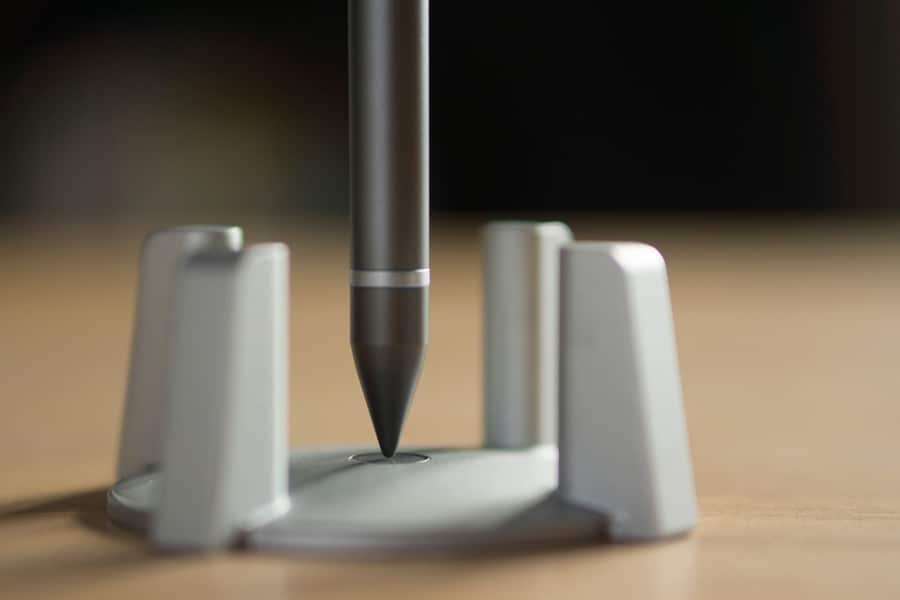 As miraculous as our bevy of digital products might be, they don't conjure a sense of awe or incite communication. To be fair, the average pen doesn't either. But there's nothing average about the Hoverpen, which can either stand upright or spin inside the magnetic field. Consequently, people will talk about it as if they're seeing a magic trick in action. Indeed, there's almost a child-like sense of wonderment at play when the Hoverpen is doing its thing.
Imagine you're at work, and someone enters your office. His or her eyes dart straight toward the Hoverpen as it swirls upright atop its pedestal. To the delight of your coworker, you grab the pen from its perch and then begin writing a memo. Upon completion, you place the pen back upon its mystical pedestal and give it another spin. Needless to say, it's only a matter of time before half the office is talking about your new pen. To everyone's amazement, you explain that the whole thing goes down without electricity. That's the magic of the Hoverpen.