TurboHub's 'World's Fastest' SSD & 6-in-1 USB-C Hub
USB-C Hubs that feature a built-in SSD aren't anything new. But what has us excited about the TurboHub is the god-almighty transfer speeds it can handle. Offering up to a 4Tb SSD with Thunderbolt 3 connectivity that operates 7x faster than your traditional SSD storage, you can transfer content at a whopping 950Mbps. That's like uploading a 120 minute 4K video (40GB) in less than a minute.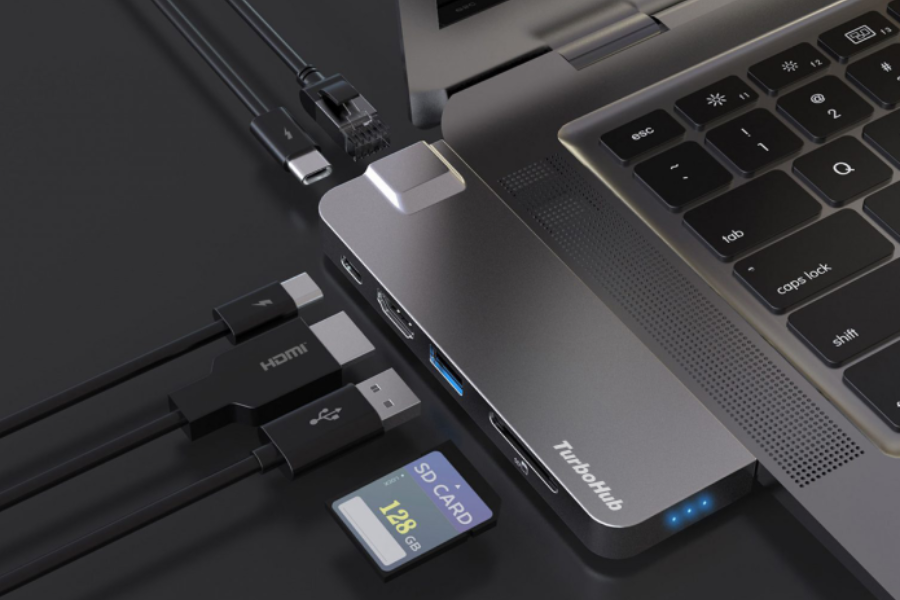 Delivering near gigabit transfer speeds, massive amounts of storage, and IO up the wahzooo, the TurboHub is not just the world's fastest SSD & 6-in-1 USB-C hub; it's also pretty darn good looking too. Designed to be paired with Apple products, it's much cheaper than upgrading your MacBook Pro's internal storage.
Working across both Windows and Mac laptops, the TurboHub is also compatible with USB-C compatible device including tablets, iPads, smartphones, and of course, iPhones. You can even hook it up with your PlayStation for expandable storage. However, with these devices, the connection will be made using the included USB-C cable attachment for the TurboHub.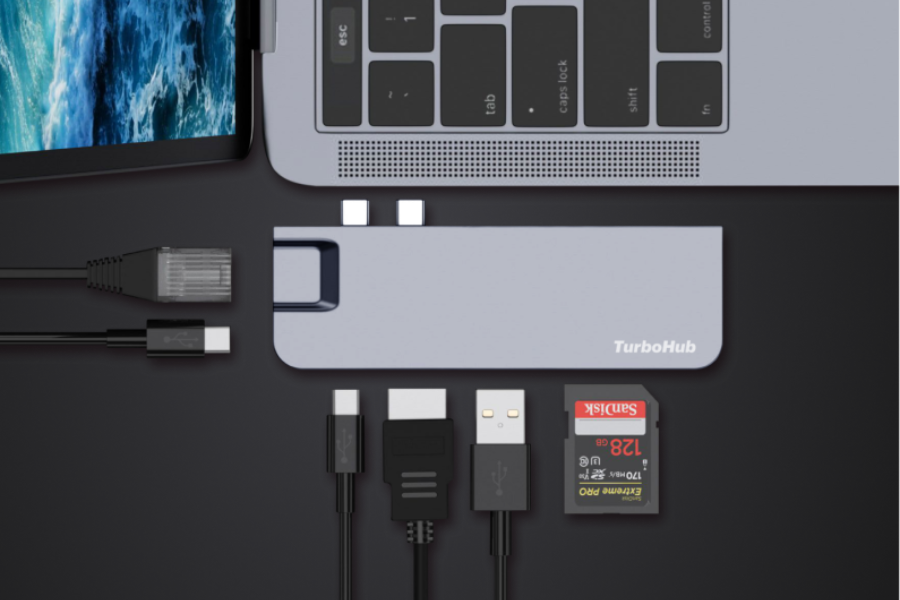 TurboHub
Featuring an HDMI 2.0 connector, a USB 3.1 port, Thunderbolt 3, USB-C, a 300MB/s SD Card Reader and a gigabit Ethernet Port, the TurboHub is capable of handling two 4K displays via the Thunderbolt 3 USB-C port. Giving you everything you could ever need and more in a dongle, you can choose between 1TB, 2TB and 4TB capacities depending on your storage needs. Utilises an NVMe PCI4 SSD to deliver speeds 950Mbps, the TurboHub is an affordable solution for all your connectivity and storage needs.
There are also two options for the Type-C connection, with the choice of either a single or dual USB Type-C connector. However, with both versions including a Type-C cable for single port connections, this seems unnecessary and more of an aesthetic issue for those rocking Macbooks with only one USB-C port.
Available now on Indiegogo, you can pick the 1TB version of the TurboHub up for just US$119.