Go All-Out with Samsung's New Premiere 4K Projector
With the weather warming up and footy finals on the horizon, Samsung is rolling out a new 4K projector; so there's a perfect option for wherever you're planning to entertain.
Samsung's The Premiere is the new 4K laser projector that provides a big picture cinematic experience from the comfort of your home. The Premiere can project 4K picture quality up to sizes of 130 inches.
You'll also like:
Samsung Sees the Big Picture with 292-Inch 8K Display
Sony Designs New Bravia TVs Specifically for PS5
LG is Finally Bringing its 48-inch CX 4K OLED TV to Australia
The Premiere comes in an all-in-one compact, space-saving design that blends into a variety of living room settings and arrangements. As an ultra-short-throw projector, The Premiere can be placed just in front of the wall. It's easy-to-install with a range of sports fabric finishes around its edges to harmonize different environments. The Premiere also has built-in woofers, and Acoustic Beam surround sound, reducing the need for additional bigger sound equipment in tighter spaces.
The smart projector comes equipped with Samsung's Smart TV platform full of streaming video apps and mobile connectivity features such as Tap View and mirroring. There's currently no word on pricing or a release date for the projector, but we did receive confirmation that it's coming to Australia, which is (slightly) better than nothing.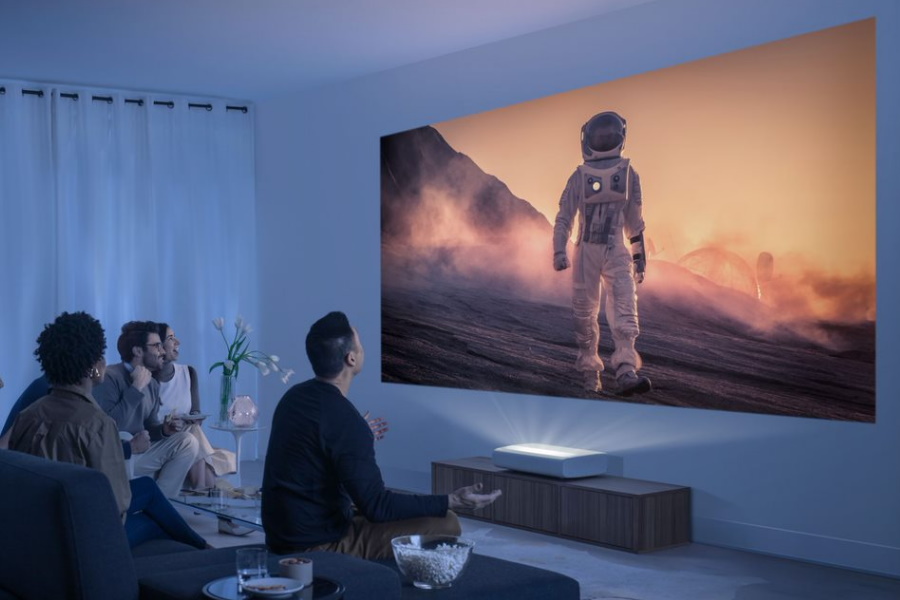 In addition to The Premiere, Samsung also added an update to The Terrace, it's flagship outdoor TV. It offers 2,000 nits of brightness, which is around three times that of your standard indoors TVs, but with an anti-glare tech that should stop sunlight from reflecting on the screen. Additionally, the IP552 weather-resistance rating should keep your new purchase safe from any accidental pool splashes or the odd drop of rain.
Samsung will launch a Terrace soundbar alongside the TV, which is also weather resistant. The soundbar is priced at AUD$1,299, the 55-inch TV is $5,999, the 65-inch is $7,999 and the 75-inch goes for $10,999. The Terrace will be available across Australia this October—right in time for the AFL and NRL finals.
You'll also like:
Samsung Sees the Big Picture with 292-Inch 8K Display
Sony Designs New Bravia TVs Specifically for PS5
LG is Finally Bringing its 48-inch CX 4K OLED TV to Australia