Products, Culture & Style News.
Man of Many's purpose is to empower our readers to make a positive investment in themselves and their communities.
Man of Many is Australia's largest men's lifestyle site, Brand of the Year in the 2021 Mumbrella Publish Awards, and a proudly independent online destination for the latest breaking news, features, and insight from industry experts.
Man of Many became the first dedicated digital publisher in Australia to achieve a 100% carbon-neutral certification under the Federal Government's Climate Active standard.
Man of Many focuses on men's cultural, lifestyle and public interest matters, including men's health and wellbeing, as well as investigating consumer trends, exploring local news and events and reporting on technology and consumer product news. Man of Many is dedicated to producing and curating quality original news reporting that provides deep coverage of men's lifestyle issues and developments of public significance. We deliver a comprehensive guide to modern life. From lifestyle and technology to fashion and fitness, our dedicated team is focused on driving the cultural conversation and providing a premium platform for editorially-driven news and commerce at both a local and international level.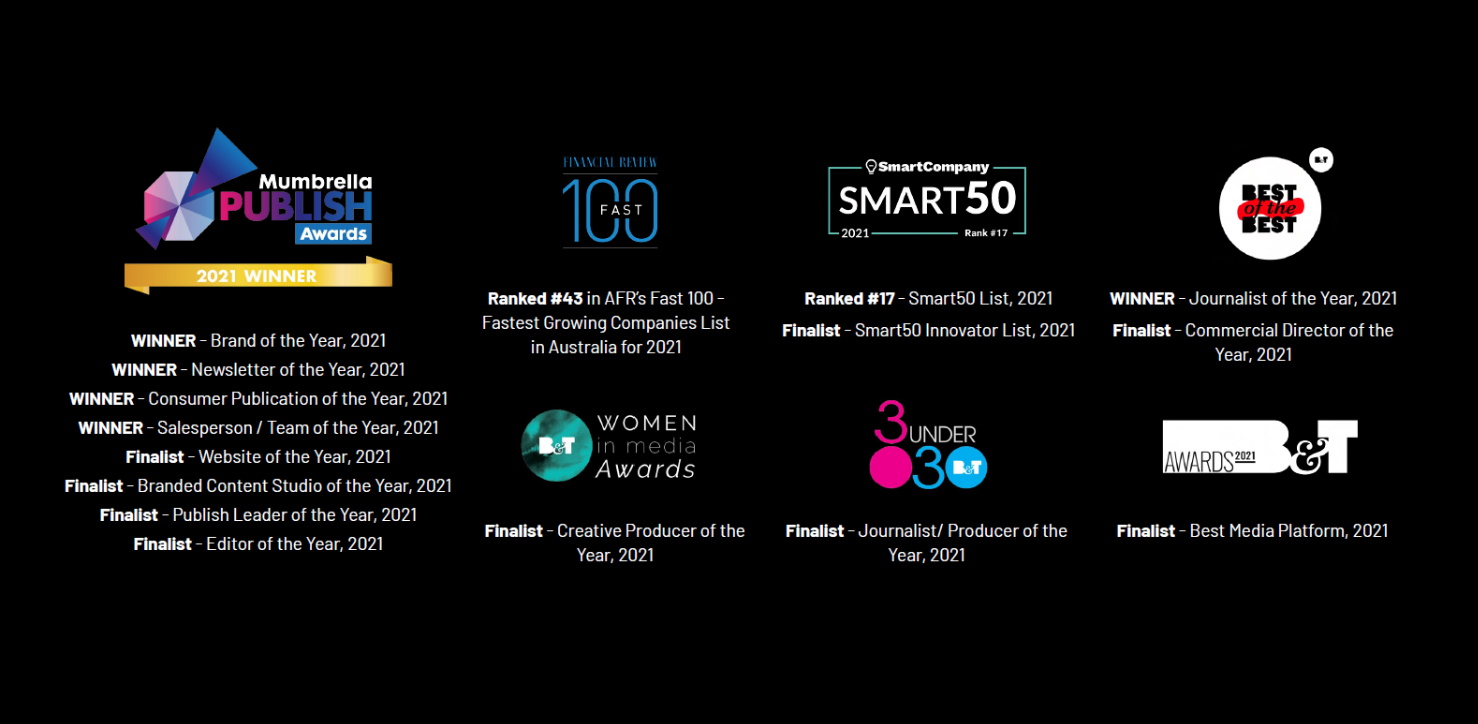 Since 2012, Man of Many has crafted compelling daily news content and we remain entirely self-funded and independent, ensuring editorial impartiality and transparency is maintained throughout our everyday operations.
As a tight-knit team and a trusted voice for men, we pride ourselves on our approach and the exceptional experience we offer our readers and the brands we partner with.
Here are the types of news information you can expect from us to make good on this mission:
Breaking news, accurate reporting and insights from industry experts;
Culturally relevant consumer product journalism, announcements and coverage;
Flagship features that provide unique insight and analysis into the art, fashion and technology industries;
Insightful local and international news and updates featuring the best of your city;
Coverage on fashion, art, music, design, lifestyle and entertainment news;
A powerful and up to date online video and social media presence; and
Progressive and positive social equity initiatives.
Australian Brand of the Year & Consumer Publication of the Year in 2021.
Culture seekers have made us one of the fastest-growing digital publications in the country, as audited by Nielsen Digital Media Ratings and as outlined by Deloitte's Technology Fast 500 APAC rankings. These achievements have led us to win Brand of the Year, Consumer Publication of the Year and Newsletter of the Year in the 2021 Mumbrella Publish Awards. Over 5 million people tune in to Man of Many every month.
Whether you're here to learn about a new fashion collection, the latest innovation in the automotive industry or gain insights from our host of experts, you're in the right place. Our coverage provides a comprehensive and authoritative guide and analysis on the key concepts that comprise modern life. You'll find content that is informative, approachable and well-researched, as compiled by our team of passionate creatives and journalists.
Our Editorial Policy
Man of Many is dedicated to making product journalism, reviews and information accessible, understandable, and easy to digest. Our aim is to curate a collection of content that inspires readers to make the best possible decisions for themselves and their community at large. All the products featured on Man of Many have been hand-selected by our team of editors and experts, abiding by strict editorial guidelines.
Each piece of content undergoes a robust review process before publication to ensure accuracy. We have strict sourcing guidelines and cite or link to sources in each article. Our experts continually monitor the health and wellness space, and we update our articles when new information becomes available.
Read more about our Editorial Policy & Standards.
Advertising & Sponsorships Policy
We deliver outstanding custom advertising concepts to our brand sponsors and partners to help reach our affluent and well-versed audience.
Man of Many is home to an in-house planning and strategy team, which works collaboratively to deliver carefully curated advertising initiatives and custom unique partnerships. The premium content offering coupled with our commitment to quality coverage provides a unique opportunity to reach our audience of enthusiasts, tastemakers and influencers.
Similar to our editorial policy, our sponsorships are subject to strict guidelines. To ensure integrity, transparency and accountability, all sponsorships and coverage are subject to the approval of our editorial team. Trustworthiness is the cornerstone of our content and a clear separation between sponsored content and editorial must be maintained.
Read more about our Advertising & Sponsorship Policy.
Agency & Advertising Enquiries
If you have any enquiries about advertising on Man of Many, please visit our advertising page.
Affiliate Policy & Disclosure
Man of Many participates in various affiliate marketing programs, which means we may get paid commissions on editorially chosen products purchased through our links to retailer sites. You can learn more about our Affiliate Policy here.
Commitment to Diversity
Man of Many is committed to leading the charge for diverse coverage and developing diverse talent. As part of our mission to enrich the lives of our readers, we aim to elevate stories that impact communities across the full spectrum of everyday life. We are committed to developing a news-media model that encourages pay equity, opportunities and representation—both in the stories we tell and the people we hire.
As an organisation and as individuals, we believe in committing time and effort to create a diverse and inclusive platform that will benefit all.
Read our 2022 Staffing Diversity Report.
Team
View full details of our Leadership Team & list of contributors here.
Industry Awards and Recognition
Industry Membership
Contact Us
Editorial Enquiries
To pitch products, events or news ideas, please send an email containing all relevant details and images to the editorial team here or at [email protected].
For any editorial corrections, please contact our Editor-in-Chief Nick Hall at [email protected].
Agency & Advertising Enquiries
If you have any enquiries about advertising on Man of Many, please email [email protected].
Man of Many Shop Enquiries
If you have any enquiries relating to the Man of Many Shop, please email [email protected].
General or Business Enquiries
For any general or business enquiries please email [email protected].
Company Details
Ownership
Man of Many remains privately owned by its two Co-Founders and Directors Scott Purcell & Frank Arthur. Man of Many remains proudly independent and has no ties or linkages to any interest groups or government organisations.
Man of Many Pty Ltd
ABN: 73 163 331 280
Ownership: Independent & Privately Held
[email protected]
Unit 10
2 Kings Lane
Darlinghurst
NSW 2010
Australia
MAN OF MANY® and its Logos are registered trademarks of Man of Many Pty Ltd.
Brand Assets & Logos
Click here to download high-resolution versions of Man of Many's logos and other assets.