Sneaky Vampire Syndicate Reports Over $35M in Sales
For full disclosure, the author of this article does personally own some SVS Vampires. And that partly goes into what makes this project so great. Their absolute devotion to full transparency.
If you're not already familiar, we wrote about the Sneaky Vampire Syndicate in our recent Staff Favourites column. And while we're not going to go into great detail here again around the origins of this project (others like @SpockTrades have done that to absolute finite detail already), we were lucky enough to interview some of the founders of the project.
In their first week, they've had insane success. Over 10,300 ETH in trading volume at the time of writing. A floor price of over 2.4ETH and being the third most traded NFT project on Opensea in the past 7 days. Plus over 40,000 organic members of their Discord without any shady tactics like rewarding invites.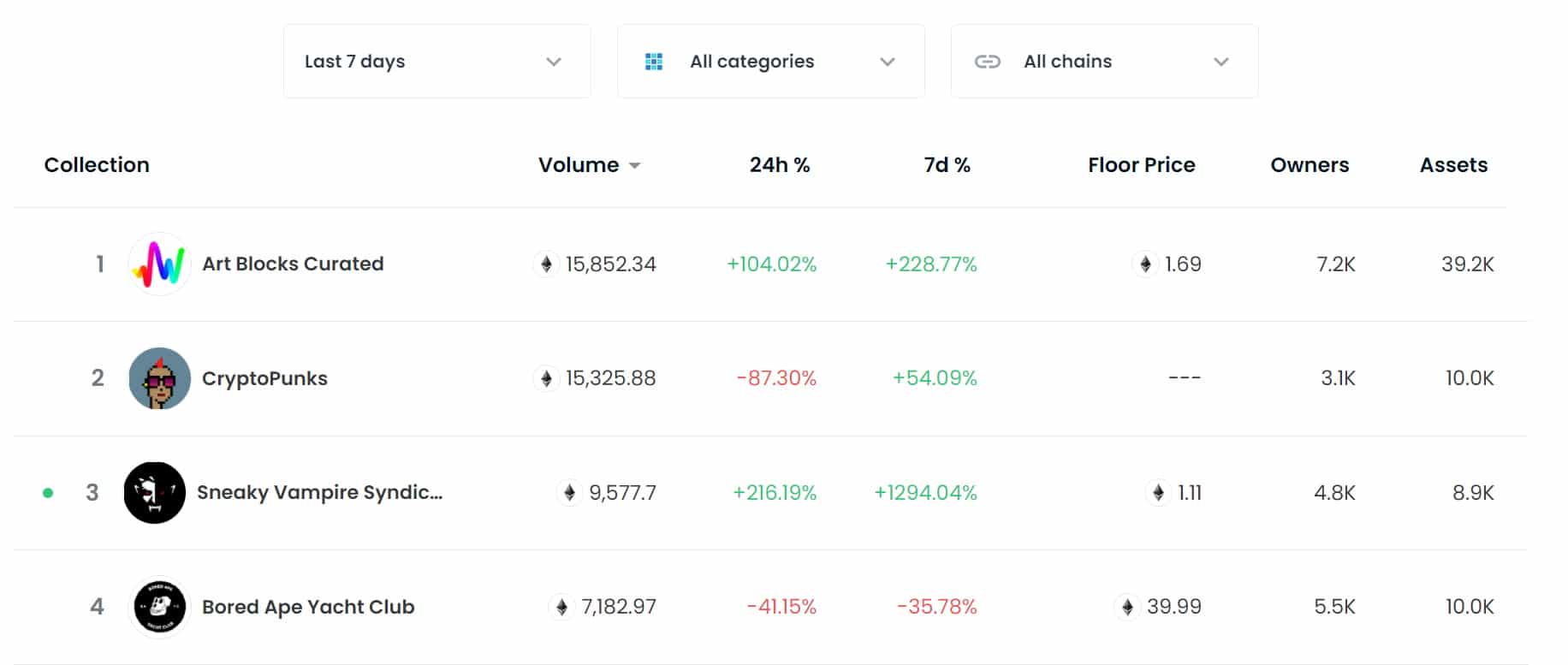 Where there is merit in SVS is the difference in process, namely how the project saved hundreds of thousands of dollars in what could have been wasted gas for their devoted fans through the innovative minting process. Or, how they were completely transparent in releasing the full code behind assigning the traits to each of the Vampires. All these innovations resulted in: no bots; no whales; saved money; and an extremely widely distributed collection on launch making it one of the most successful and democratic NFT projects to date.
A thread on @SVSNFT…

Anyone who owns one, WE ARE THE MARKETING TEAM!

— Scotty Purcell (@ScottyMMP) September 14, 2021
While there might be many naysayers to this project who claim to have never heard of it, the founders are totally fine with that. As they put it, that just means there is more room to grow. Part of what makes the project successful is that the founders have built up a network and genuine personal friendships within the NFT, Crypto and Sneaker communities. They even gifted those friends honourary Vampires which are inside jokes or memes that are a completely separate collection and don't come with any of the rights that normal SVS Vampires do. The artist and team being so generous with both their time and efforts to create these personalised artworks have certainly worked in creating buzz for the project. So, let's hear from the founders…
First up, what is the Sneaky Vampire Syndicate?
The Sneaky Vampire Syndicate is a project that initially began at its inception from an idea that sparked from a group of friends, which turned into an amazing NFT project. It is a collection of 8,888 Vampires which all have utility for holders!
How would you describe it to someone who's not into NFTs?
Well, the easiest way to describe SVS as a project to someone who isn't into NFTs is that it is a community in which many people are deeply involved. People purchase a Vampire (they own it after purchasing it) and are immediately involved on a deeper level in our community! Everything we have done from our inception has been to grow a strong community for which we can provide great utility. We have roughly 4,700ish holders for 8,888 Vampires! This shows how large our community is to someone on the surface level.
24k members in The Lair 🏰 We're getting close to presale now Vamps 🧛‍♀️ pic.twitter.com/b2xmKPp90s

— Sneaky Vampire Syndicate (@SVSNFT) September 6, 2021
There's been a lot of hype around the project's connection to BAYC. Can you explain that a little more so people understand what that is?
Our artist Mig was one of the original artists for the Bored Ape Yacht Club (BAYC). For those who don't understand or are unfamiliar, BAYC is a NFT project with a large community behind it.
What sorts of things do you love about the community so far?
The community has been the best part of SVS. Everything we have done so far has been for our community. Ever since we opened up our Twitter and Discord to the public we received enormous traction and support from the community, to which we have tried our best to make adjustments and accommodate all the community's needs.  Examples of this can be seen from our launch (no gas wars).
How did you guys all meet and come up with the idea?
All of us have been friends for quite a while now! We're all from different parts of the world with quite a background in the crypto space, as well as having experience participating in the NFT scene. We had the idea of starting an NFT project in which we could bring value and grow a strong community, so shortly after meeting Mig we began to work on it! We decided on Vampires as looking at the scene there are plenty of animal projects (Apes, Cats, Dogs, etc) and thought maybe something Vampires would be awesome; which it turned out to be!
You guys are all over the world, how do you manage the project being in different time zones?
Such is life in the crypto space, some of us just sleep less than others, or have adjusted our body clocks to certain time zones :joy:
Why only 8,888 and not 10,000?
8,888 is such an aesthetically pleasing number, and holds great cultural references. We thought it fit perfect and moulded a theme around it.
OMG OMG OMG THANK YOU @SVSNFT

BLOOD SUCKING *ON*https://t.co/g3nyJsoalC pic.twitter.com/mUIfzdKWuq

— notsofast (@notsofast) September 18, 2021
What makes SVS different to other NFT projects?
Well, all NFT projects are special in their own right. We would rather not comment on other projects but we are focusing heavily on the utility aspect of our project! So far for the utility side of things, we have already planned the following:
MetaVerse (Sandbox)
Our own SVS game
Airdrops
Genesis holders (Gen 1 SVS) incentives
Tell us more about the 2D game you're releasing?
It's going to be awesome! The game will (currently) only be accessible for SVS holders. There will be a leaderboard and rewards distributed to the top scores on the leaderboard as well! Our game developer is a full streamer and posts regular updates in our Discord, tune in and follow the process! We listen to community feedback and input for the game as well.
Do you think this really is the next multi-million dollar project in NFTs?
We would prefer not to comment on price-based future goals but we are doing all we can to revolutionise the NFT space and bring maximum value to our holders!
And finally, what are your goals with this project in 1-3 years?
We are aiming to grow SVS into one of the biggest NFT projects around! Come join The Lair.