Style Guide: How to Dress Like Jeff Goldblum
Forget dad style; in the fifth decade of his career, Jeff Goldblum has managed to carve out his own niche in the fashion world and cultivate a dedicated online following at the same time – no chunky sneakers or North Face jackets in sight. At age 67, the American actor has had a career that has spanned over half a century, with roles in some of the highest-grossing films of the 90s such as Jurassic Park and Independence Day. He's also known for roles in Earth Girls Are Easy and a very memorable six seconds of Woody Allen's Annie Hall.
Despite popular opinion, Jeff Goldblum hasn't always been well dressed (seriously, take a look at some of his appearances in the '80s and '90s). You know what they say; behind every well-dressed celebrity is an even better dressed stylist. Such is the case with Goldblum, who met stylist Andrew T. Vottero on a photoshoot five years ago and has worked with him ever since. This coincides with Goldblum's sartorial makeover, which occurred around five years ago, but was most recognisable in the press for his 2016 movie Independence Day: Resurgence.
Since beginning his professional relationship with Vottero, Goldblum has developed a penchant for Saint Laurent leather jackets, fedoras, tailored suits with a twist, and printed designer shirts, all teamed with his signature Jacques Marie Mage thick-rimmed spectacles. Here's how to emulate the seemingly inimitable Jeff Goldblum style.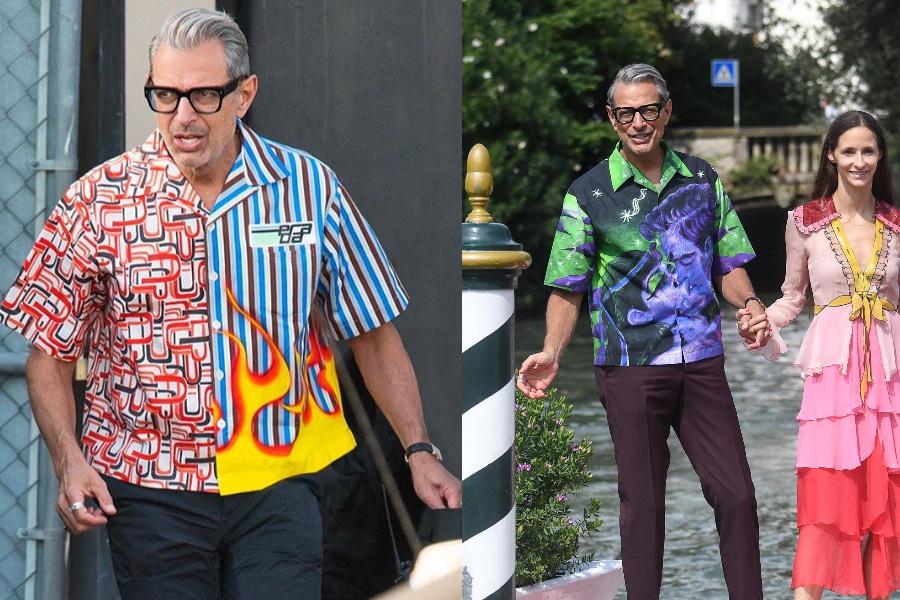 Prada or Nada
Prada and Jeff Goldblum are a match made in heaven. The iconic Prada half and half shirts cater perfectly to Goldblum's signature brand of exotic sleazy chic. Goldblum somewhat resembles fellow ugly shirt wearer Cosmo Kramer in physique and appealing strangeness, however channels Guy Fieri in Prada's (arguably) most talked about fire shirt. Goldblum styles his Prada half shirts simply; after all, if you're wearing Elvis and Cleopatra or a deluge of bananas emblazoned across your torso, there's no need for anything more than some simple chinos.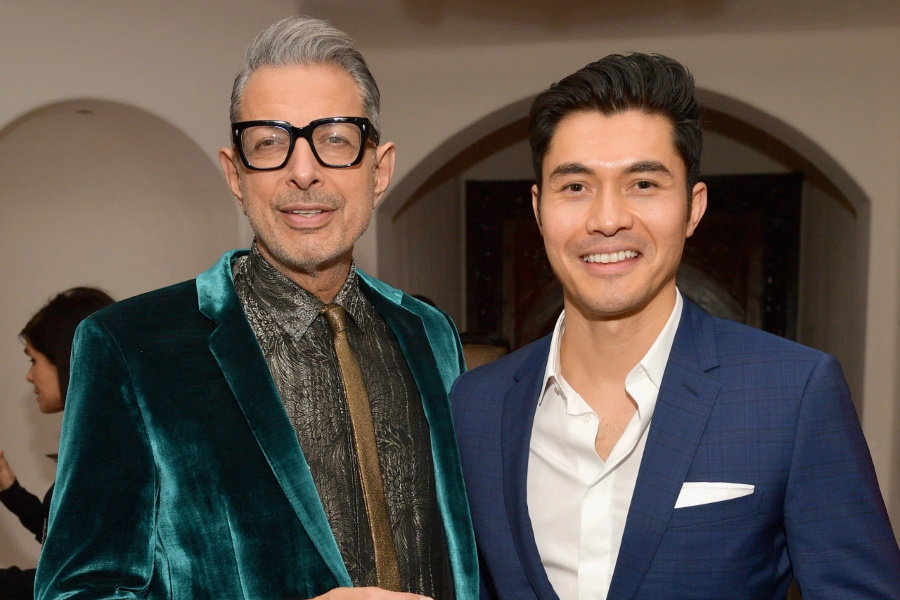 Fit Comes First
Many celebrities get carried away with the influx of free designer clothing that comes with the perks of being famous. However, Goldblum's stylist Andrew T. Vottero shies away from using gifted product, telling Vice that " you don't really get the best results when you're dependent on gifts." Particularly with Goldblum's non-sample size frame (Jeff Goldblum's height is 6'4"), fit is essential, with the duo opting to purchase product from designers; like with this teal velvet suit from Saint Laurent. Goldblum teamed the electric teal suit with a metallic grey shirt, gold skinny tie, and a pair of his favourite retro black and white loafers.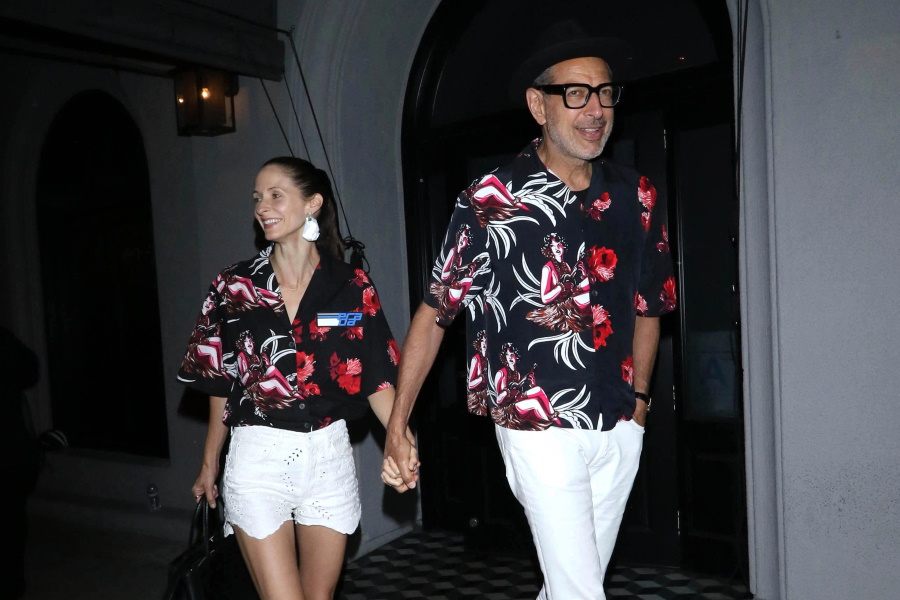 Couples who Prada Together Stay Together
While couples like Justin and Hailey Bieber, Kim and Kanye, and George and Amal Clooney have been known to coordinate their sartorial style from time to time, Jeff Goldblum and his wife Emilie Livingston have taken it to 2000s Justin Timberlake and Britney Spears heights with this twinning date night look. The couple stepped out in matching Prada half and half shirts, both pairing the graphic shirts with white bottoms (and a fedora in Goldblum's case). Pairing the pattern-heavy shirts with plain white pants or shorts ensures the Prada shirts take centre stage and get the attention they deserve.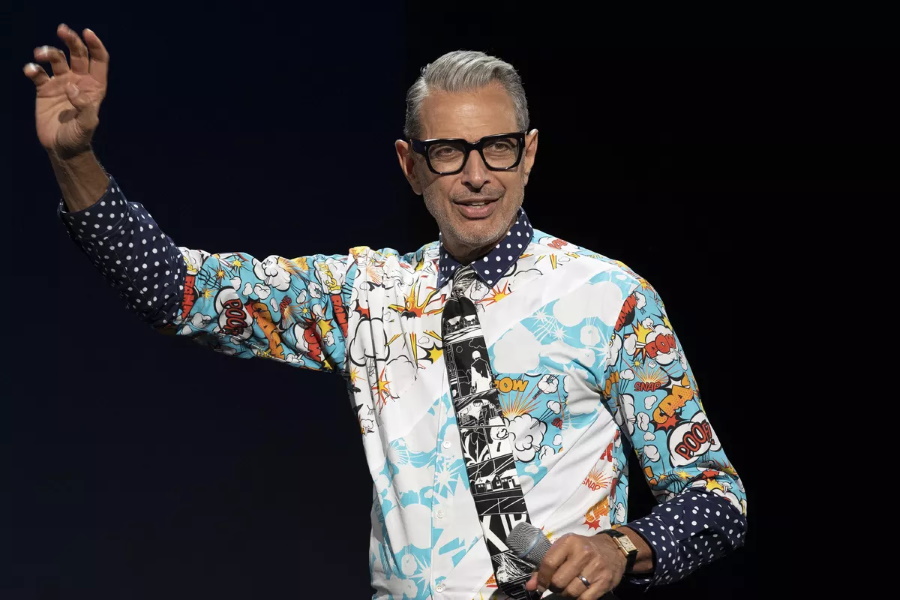 Return of The Clash
Alternatively, disregard the above and opt for a complete clash of patterns à la Goldblum, who has paired an already busy polka dot and cartoon graphic shirt with a black and white comic book tie. He eases up on the patterns with a pair of plain black dress pants and rounds it out with a pair of slick black and white (or white and black) penny loafers.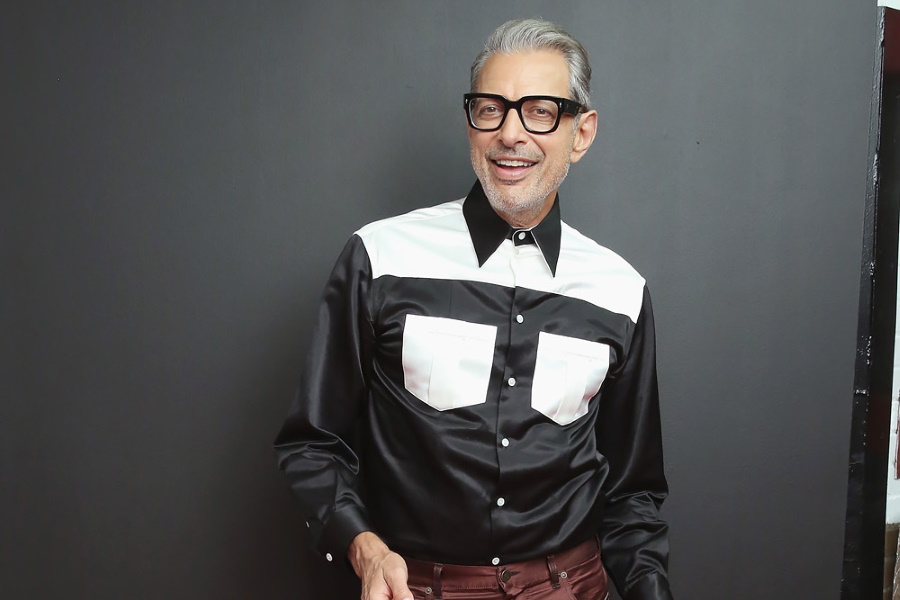 All or Nothing
Silk and satin can be tricky fabrics for men to pull off, with most men dipping their toes into the water by experimenting with a silk shirt, ending up looking like a confused bourgeois cowboy, and returning to a strictly cotton-only life. However, Jeff Goldblum isn't most men and tackles satin with an all or nothing approach, as evidenced by this head-to-toe satin Calvin Klein SS19 look. The burgundy trousers pair well with the black and white shirt, whilst the plain back boots show restraint in an otherwise over-the-top look.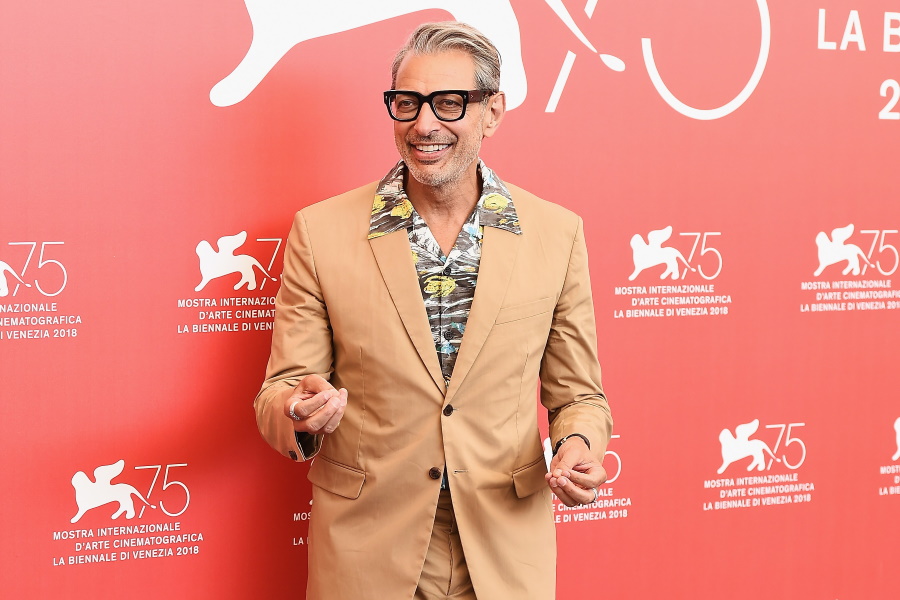 Cuban Cool
The Jurassic Park actor isn't one to style a suit with a simple Oxford shirt. When he's not opting for suiting in bold colours or materials like velvet or satin, he adds interest to his looks by mixing up his shirt game. For the Venice Film Festival, he paired a biscotti coloured suit with a cuban collared patterned shirt (tie-less of course) and black brogues.
You'll Also Like
Style Guide: How to Dress Like Chris Hemsworth
Style Guide: How to Dress Like Bradley Cooper
Style Guide: How to Dress Like Kit HaringtonStyle Guide: How to Dress Like Idris Elba
General FAQ
Does Jeff Goldblum have a stylist?
There was a clear change in Jeff Goldblum's style when he started working with stylist Andrew Thomas Vottero.
How old is Jeff Goldblum?
Jeff Goldblum is 68 years old, born 22 October 1952.
How much is Jeff Goldblum worth?
As of 2021, Jeff Goldblum has a net worth of $45 million.