8 Best Skate Parks in Melbourne
The best skate parks in Melbourne have been constructed out of the city's love for sport and skate-culture. From the best sneaker stores to the top skateboard shops, the skate scene in Melbourne is amongst the best in Australia. Our list has everything from indoor facilities with epic rails to outdoor flow parks with great lips and ledges. Whether you're a beginner, a pro or somewhere in between, when it comes to skateparks, this city has you covered.
RELATED: 9 Best Skateboard Shops in Melbourne.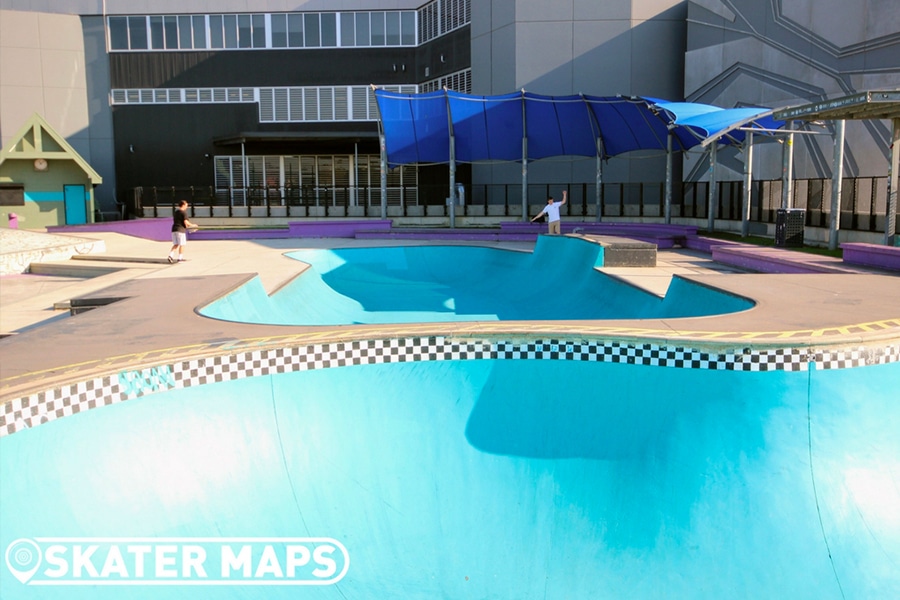 1. Frankston Skatepark
We begin our list with a spot that is consistently reviewed as one of the best Melbourne skateparks. With a large street plaza containing staples such as ledges, double sets, kink rails, banks, manual pads. The park also plays host to a mini capsule bowl and a large kidney bowl with concrete coping. Designed and constructed by Convic, "Franga" as it is known to Melbourne skaters is a great place for both vert and street skaters.
Address: 22 Oates Street, Frankston, Melbourne VIC 3199
Phone: +61 3 9769 6579
Features: mini capsule bowl, 11-foot deep and 7 foot shallow large kidney bowl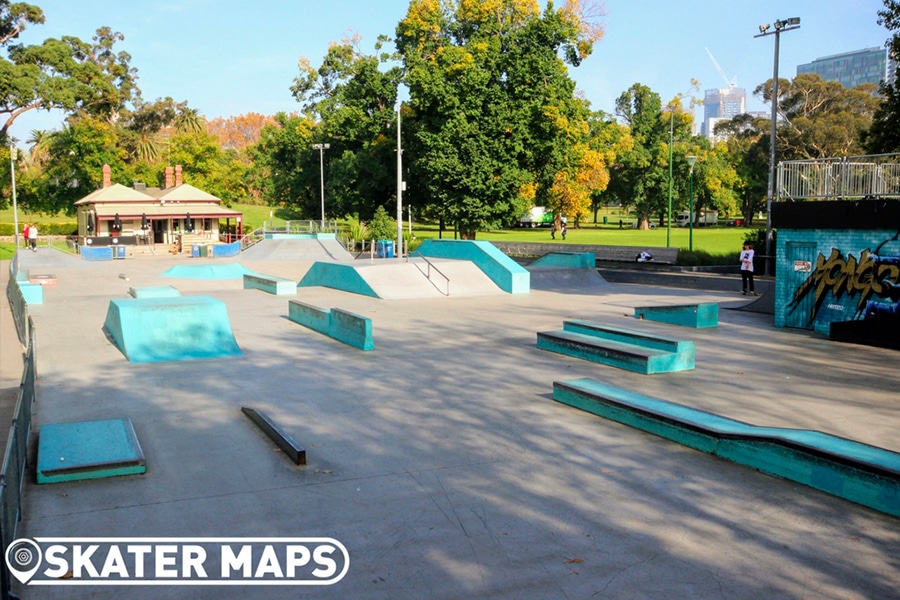 2. Riverslide Skate Park
Located in Melbourne's beautiful Alexandra Gardens overlooking the Yarra River, Riverslide Skate Park is an 1800 square metre paradise. With a wide array of different obstacles and skate terrain, this has proven to be an immensely popular park. An adjoining shop provides visitors with a place to purchase the latest products from some of the best skate brands in the world. Offering lessons is another perk to skaters, for those of you looking to work on your shredding with the assistance of an experienced sensei.
Address: Boathouse Drive, Alexandra Gardens, Melbourne CBD VIC 3000
Phone: +61 3 9663 0495
Features: big box, big ledges, stairs, blocks, quarters, manual pads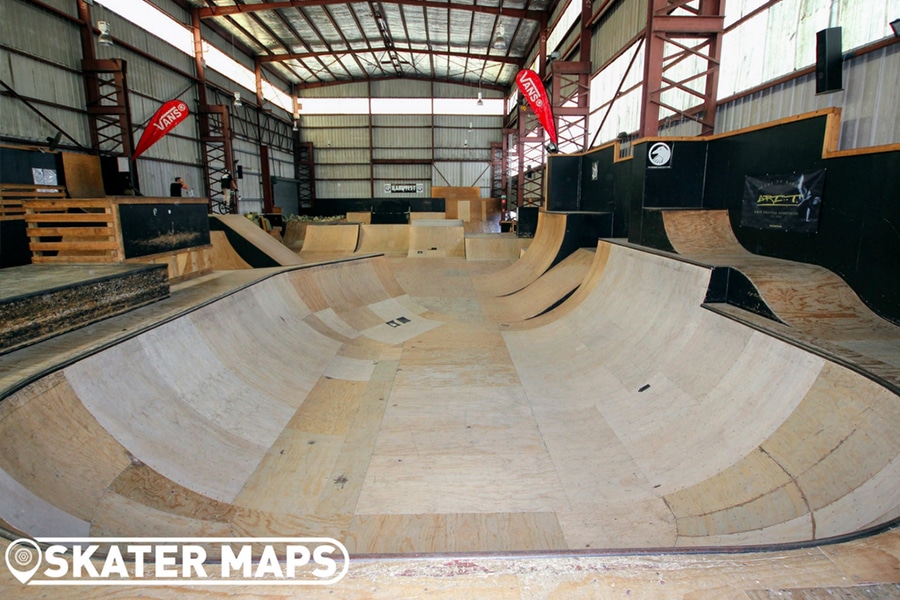 3. RampFest Indoor Skate Park
If you're looking for an indoor skatepark, Melbourne has a few options. Opening back in 2008, RampFest Indoor Skate Park is Australia's Largest Indoor Skate Park. The facility caters to all actions sports with a recently revamped park. Attached to the facility is a skate shop which stocks skate decks and parts from everyone's favourite brands. Despite being one of Australia's oldest Indoor Skate facility the team here are always installing new ramps. The park also offers a coaching clinic to those looking to improve their abilities on the board.
Address: 47-85 Hilary Street, Braybrook, Melbourne VIC 3019
Phone: +61 3 9311 3998
Hours: Tue-Thu 11am-9pm, Fri 11am-10pm, Sat 9am-9pm, Sun 9am-6pm
Features: undercover skatepark; rails, obstacles, quarters, 2 foot mini ramp
---
Featured Video from Man of Many
---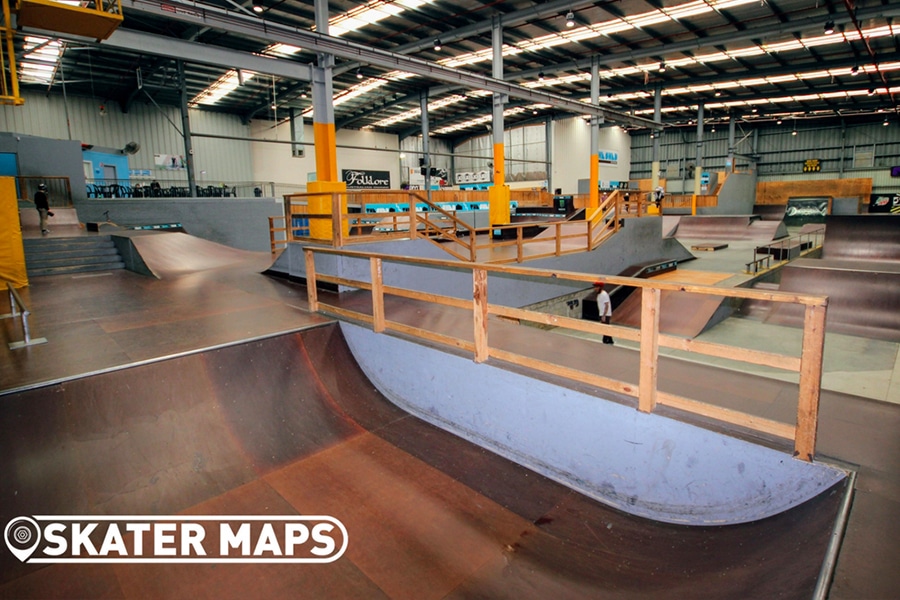 4. The Shed Skatepark
Cranbourne's Shed features everything most riders would want in a skate park plus loads of space to watch, as well as a retail shop and kiosk. Designed by skaters in consultation with the community, the park caters for all levels of rider and has a huge street course, vert ramp, bowl, resi and state of the art "Big Air Bag". The entire park is covered with a special ramp surface that delivers a smooth ride. While regularly offering coaching sessions and school-break camps for the young ones, the park is open from 10 am to 9 pm daily. The Shed might be one of the best skateparks in Melbourne.
Address: 65 Berwick-Cranbourne Road via New Holland Drive, Cranbourne East, Melbourne VIC 3977
Phone: +61 3 5996 8898
Hours: Sun-Thu 10am-8pm, Fri 10am-9pm, Sat 10am-9pm
Features: indoor skatepark; Australia's best bowl, vent ramp, airbag, mini ramps, rails, ledges, boxes, gaps, stairs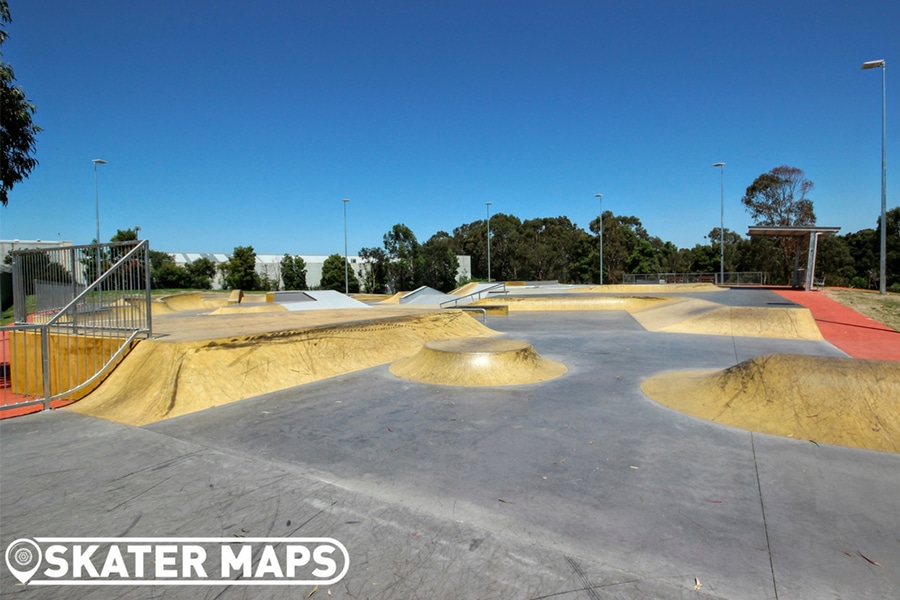 5. Box Hill Skatepark
This skate park located in the Melbourne suburb of Box Hill is consistently considered to be one of the best parks in the city that has a bit of everything for everyone. With bowls, rails, quarters and banks plus lines for days, overall it is a fun park. Constructed with smooth concrete and having a rather distinctive colour scheme of, I would say, Earwax Yellow (that's an image) check it out for a decent, casual skate.
Address: 327 Middleborough Road, Box Hill South, Melbourne VIC 3128
Phone: +61 3 9262 6333
Hours: Mon-Sun 7am-9pm
Features: street section, snake style course, bowls, ledges, rails, ramps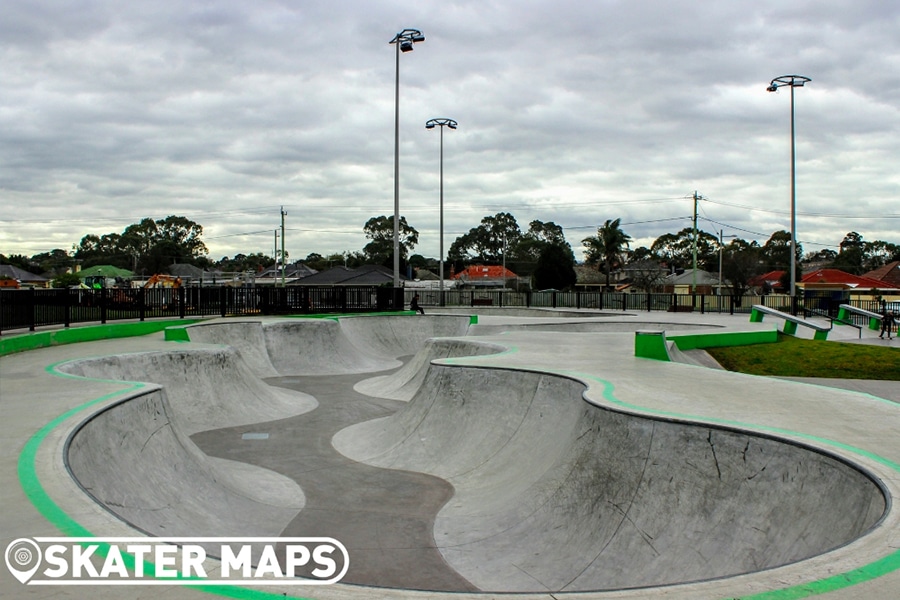 6. Noble Park Skatepark
Another entrant on our list that has a little bit of everything for everyone, Noble Park Skatepark is a modern and well-designed park that has made fans out of even the staunchest skaters. Having great ledges rails on its street course and a large vert bowl with pool coping and a fun snake run to boot. The park was a joint design and construction project with the organisation's baseplate, Primate Design Group and the Land Design partnership.
Address: 4 Jasper Street, Noble Park, Melbourne VIC 3174
Hours: open 24 hours
Features: 11 foot vert bowl, snake run, ledges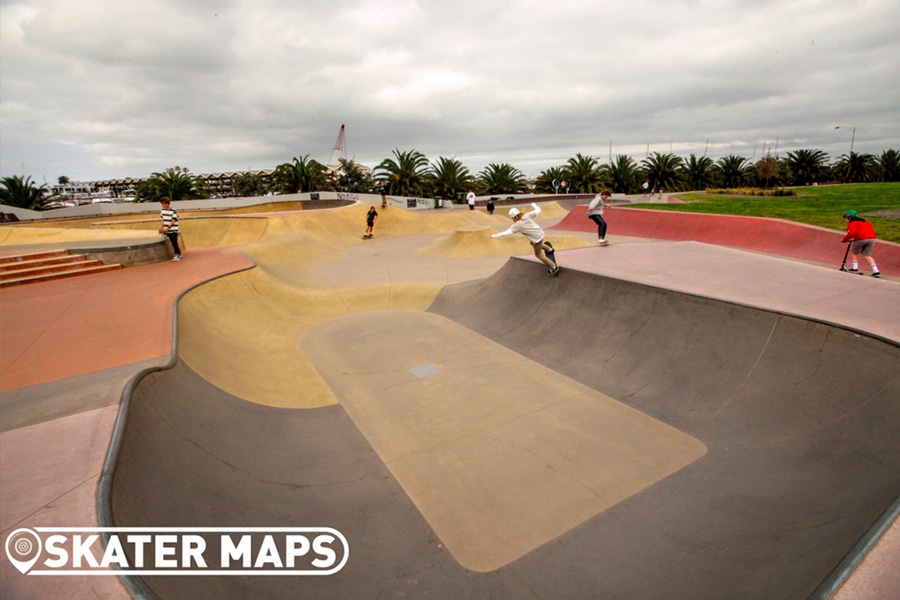 7. St Kilda Skatepark
Build on the Marina Reserve in St Kilda, the skate park is one designed for a new generation of skaters. With a mixture of both small and medium trannys, the park can get quite busy with other skaters and dreaded scooter kids. Saying that the park is still brilliant with bowls varying in size from 5 to 8 feet. Perhaps the biggest drawcard of the park is the use of granite coping on some sections such as the parks loveseat for instance. This grinds much faster to say traditional concrete.
Address: Bay Trail, St Kilda, Melbourne VIC 3182
Phone: +61 433 573 575
Hours: open 24 hours
Features: small and medium trannys, banks, hips, rollovers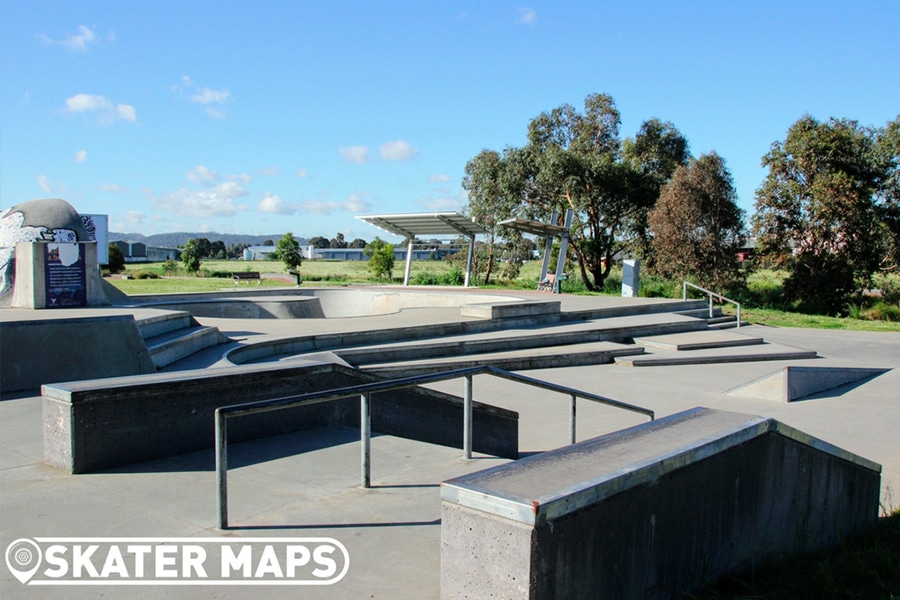 8. Knox Skate Park
A list about skateboarding in Melbourne and the best skateparks in Melbourne would not be complete, we feel, without mentioning Knox Skate Park. The biggest drawcard to this park is the bowl, measuring 7-8 foot with a 9-foot cradle and 6-foot shallow. The smaller bowl has tight trannies hip and over vert. The street course has fun ledges and rails albeit it is quite small and is another addition to our list that was designed by Convic.
Address: 1583 Ferntree Gully Road, Knoxfield, Melbourne VIC 3180
Phone: +61 402 655 329
Features: 7-8 foot deep, a 9 foot cradle, and 6 foot shallow bowl; street course with ledges, rails, banks
General FAQs
Where can I find a skatepark near me in Melbourne?
Box Hill Skatepark, Riverslide Skate Park and Noble Park Skatepark are all great skateparks in Melbourne.
What is the best skatepark in Melbourne?
The Shed Skatepark and Knox Skate Park are some of the best skateparks in Melbourne.
Which Melbourne skateparks are best for street skating?
RampFest Indoor Skate Park, The Shed Skatepark and Box Hill Skatepark have facilities such as rails and boxes for your street skating needs.
---
Featured Video from Man of Many