Australia's own Archie Rose Distilling Co. has come such a long way in so little time that it's hard to believe they were founded in just 2014. Located a few kilometres south of Sydney, the award-winning distillery has redefined local traditions of quality and technique in less than a decade. That's given way to an impressively diverse range of whiskies, gins, vodkas, and rums, along with one-off collaborations, limited releases, and exclusive spirit-based experiences.
Speaking of spirit-based experiences, click here to enter their ultimate 'Money Can't Buy' giveaway, which features a first prize that whisky dreams are made of. It consists of a two-night stay at Whitton Malt House Villas at Voyager Craft Malt in Griffith, as well as tastings, cash vouchers, free bottles, apparel, and more. The second and third prizes don't slouch either. We've provided more details below.
If you've been following Archie Rose, you should be getting very excited at the mere prospect of winning their latest giveaway, if only to score some free bottles. Indeed, their recently introduced Rye Malt Whisky and Single Malt Whisky are respectively earning major awards and all kinds of attention. Both expressions offer living proof of the distillery's ongoing commitment to high-quality ingredients and expert production methods. Let's take a closer look.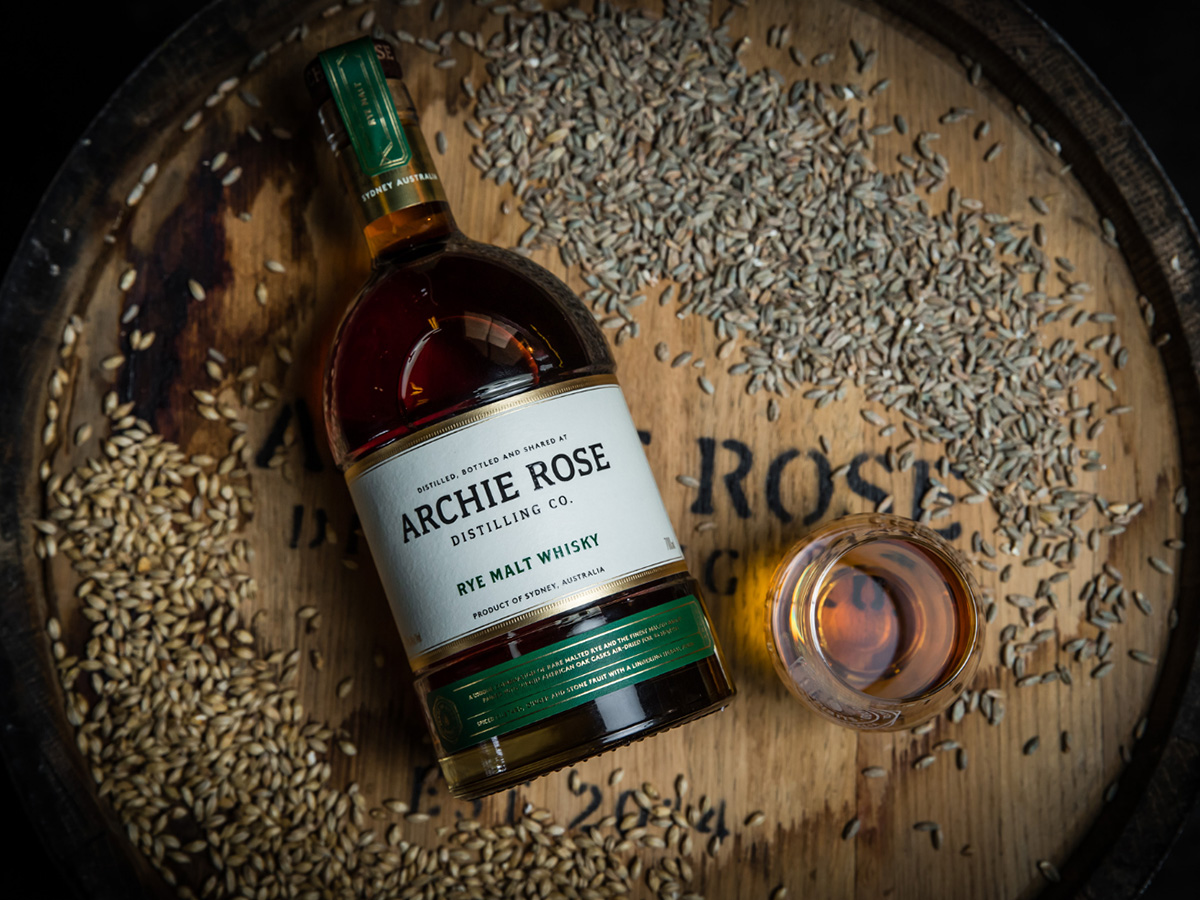 Rye Malt Whisky
Winner of 'World's Best Rye Whisky' at the World Whiskies Awards (London)—to name just one of its many accolades—Archie Rose Rye Malt is truly unique in all the best ways. Creating this complex sipper involved the selective sourcing of rare malted rye and some of the finest malted barley from progressive malt houses. It went into the barrel from there and not just any barrel, but virgin American oak casks that were air-dried for 36 months. Sydney's maritime air imparted its own discernible influence during the maturation process.
Using malted rye in lieu of the more commonly-used unmalted rye was a clever move on behalf of Archie Rose, as it lends the spirit an immediate signature quality. An eyebrow-raising first sip sets the course for the rich and aromatic profile that follows, layering notes of spiced custard, ginger, stone fruit, and baked apple pie before trailing out on a long herbal finish. You've never tasted anything quite like it.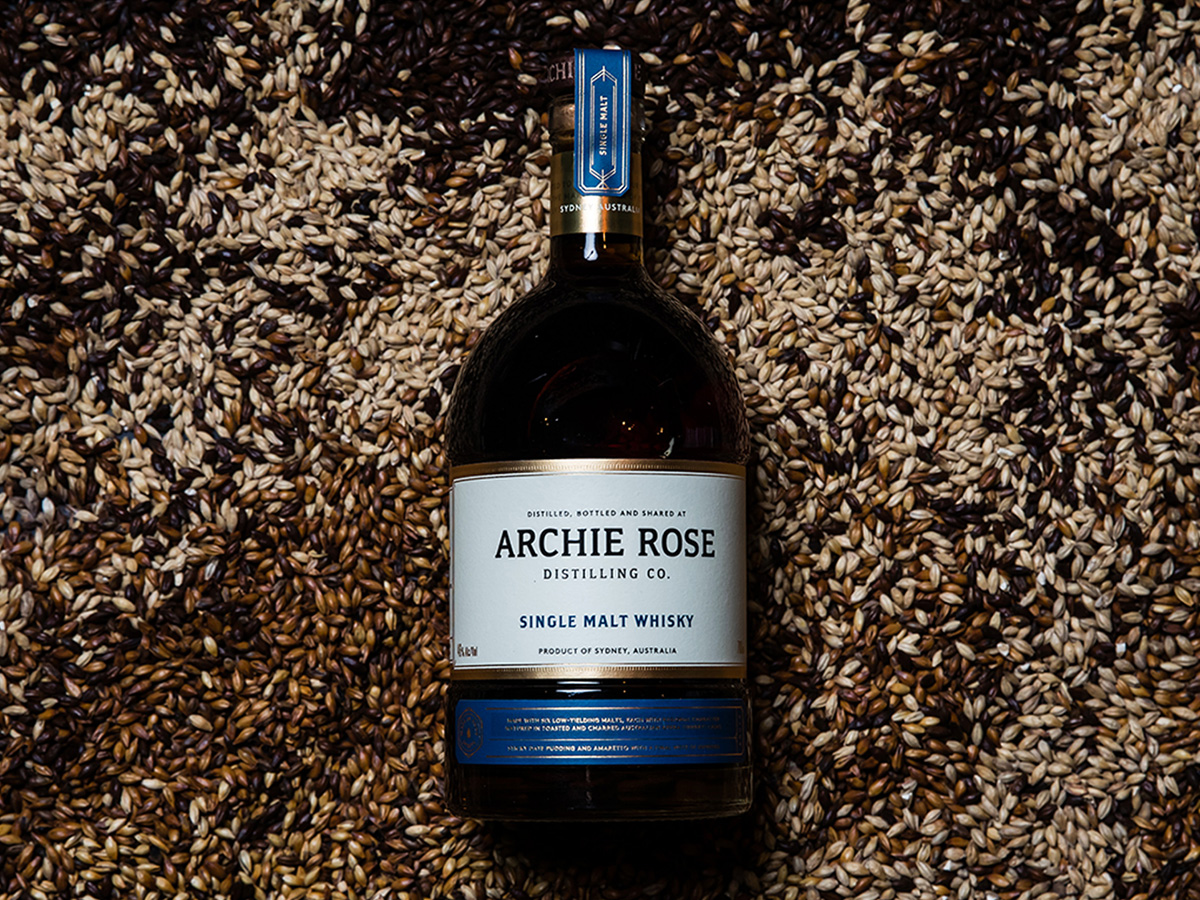 Single Malt Whisky
Dubbed Australia's 'Hottest Spirit' at the Bartender Hottest 100 Awards (where the Rye Malt came in 4th), Archie Rose Single Malt Whisky also took home the honour of 'Australia's Best Single Malt Whisky' at the World Whiskies Awards (USA). Each batch is primarily matured in Australian apera (sherry) casks, along with a complementary selection of ex-bourbon and Archie Rose's own 36-month air-dried ex-rye casks. Both those adjoining casks were coopered with a specific balance of char and toast, generating a unique level of oak penetration and complexity upon the ex-rye cask, in particular.
From a six-malt mashbill and the natural sweetness of each cask comes a luscious single malt, which delivers aromas of herbs, shortbread biscuits, raisins, toffee, and dark chocolate. The taste is similarly decadent, balancing notes of sticky date pudding and amaretto. A blast of espresso comes through at the finish and gives you something to savour before you take your next sip. It's no wonder that this juice is helping put Australian whisky on the world map!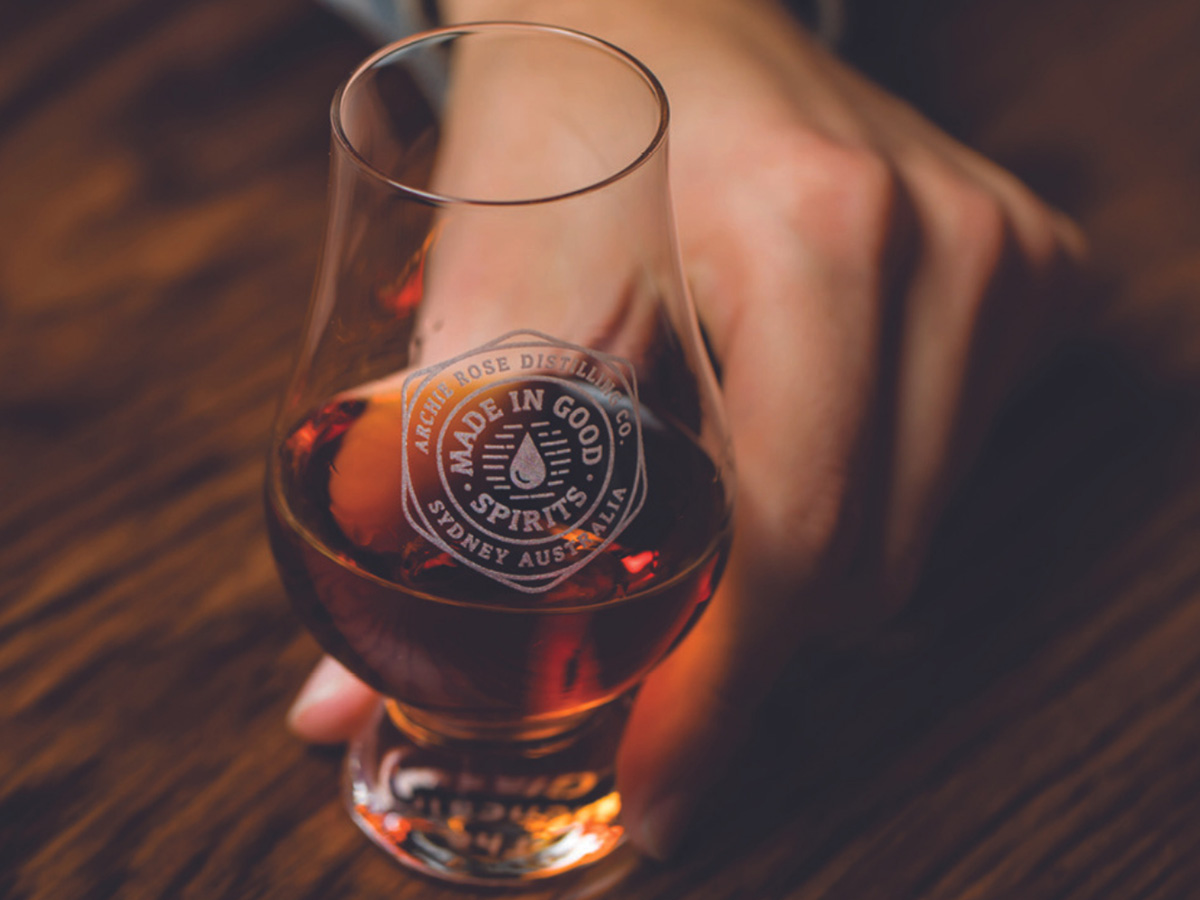 Ultimate 'Money Can't Buy' Archie Rose Whisky Experience
Archie Rose's latest whiskies are nothing if not a testament to their premium ingredients, which are malted at Voyager Craft Malt's new processing facility in Griffith. The first in a series of 'Money Can't Buy' whisky experiences sends you straight to the source and also gives you some killer mementoes to take home. Click here to enter and don't forget to describe your favourite place to enjoy a glass of Archie Rose Whisky (in 25 words or less).
Here's a breakdown of each prize package:
1ST PRIZE:
2 nights accommodation at Whitton Malt House Villas at Voyager Craft Malt in Griffith, NSW for 2 people
Bottle #25 of our Trials & Exceptions – Sandigo Heritage Rye Malt
Bottle #25 of our Trials & Exceptions – Whisky Gone A Rye, launching December 2021
Two bottles of Archie Rose Single Malt Whisky
Two bottles of Archie Rose Rye Malt Whisky
$150 voucher to spend on meals and entertainment (aqua golf, lake fishing) at Whitton Malt House
2 x beer tasting paddles at Whitton Malt House
2 x whisky tasting paddles at Whitton Malt House
A private tour of Voyager Craft Malt
Two Archie Rose T-shirts
Two Voyager Craft Malt T-shirts
2ND PRIZE:
Two bottles of Single Malt Whisky
Two bottles of Rye Malt Whisky
A pair of tickets to a Blend Your Own Whisky Masterclass at Archie Rose
A pair of Archie Rose Glencairn Glasses
Two Archie Rose T-shirts
3RD PRIZE:
A bottle of Single Malt whisky
A bottle of Rye Malt Whisky
A pair of Archie Rose Glencairn Glasses
Two Archie Rose T-shirts