The Definitive Guide to Business Casual for Men
As the workplace norms of previous generations continue to adapt to modern times, so too do the dress codes. For proof, consider our guide to the business casual dress code for men, a broader and thereby more liberating take on the kind of formal attire once worn by Don Draper and his ilk. Picture a cotton blazer with a dress shirt and no tie and you're heading in the right direction.
That said, the business casual dress code remains a somewhat elusive concept lacking clearly defined rules and principles. For example, it's hard to know what's acceptable when it comes to business casual pants, jackets, slacks, and corporate office wear. Given such loose parameters, it's no wonder that so many professional men out there are still wondering what exactly constitutes the men's business casual dress code. For the answer, look no further than our Business Casual Guide for Men below.
Related: Looking for more dress codes for men? Check out Man of Many's guides to all dress codes right here.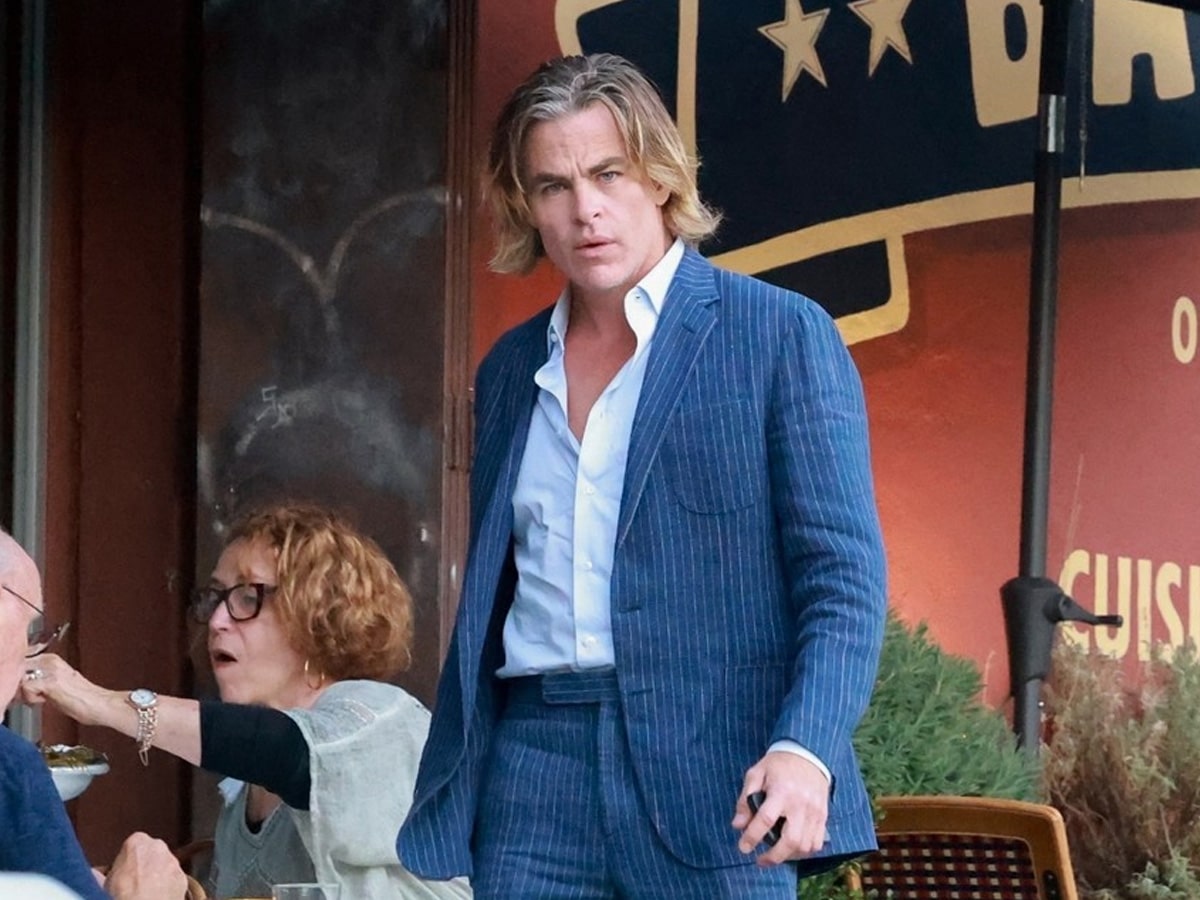 What is Business Casual for Men?
By definition, business casual attire is a style that's not quite as formal as traditional office wear, but nevertheless still designed to render a professional or business-like impression. Naturally, that leaves plenty of room for interpretation. Not helping is the inclusion of the word "casual", which historically imparts visions of men in Hawaiian t-shirts, shorts and sandals. To that we would say: just go ahead and try wearing a truly casual wardrobe to the office on a regular workday and see how far it gets you. In other words, business casual is still far more "business" than it is "casual", and that's definitely a good thing.
Hence, when wearing business casual attire, you're still expected to abide by the customary principles of style and sophistication. However, where business professional dress once constituted oxford shirts and stuffy suit jackets, it's now morphed into a slightly more nuanced office styling. A (preferably tailored) blazer or sports coat is always a safe bet, as is a dress shirt. Ties are optional, but what you lack in neckwear you should make up for in fashion sense. And while some business casual-friendly offices permit a nice pair of jeans, make sure it's a really nice pair of jeans. Otherwise, stick with quality trousers like cotton chinos to have an ensemble that's safe for your work environment. In the shoe department, comfortable dress shoes like loafers, oxfords, monk straps and derbies are an easy way to abide. And don't forget to make sure all colours 'match'.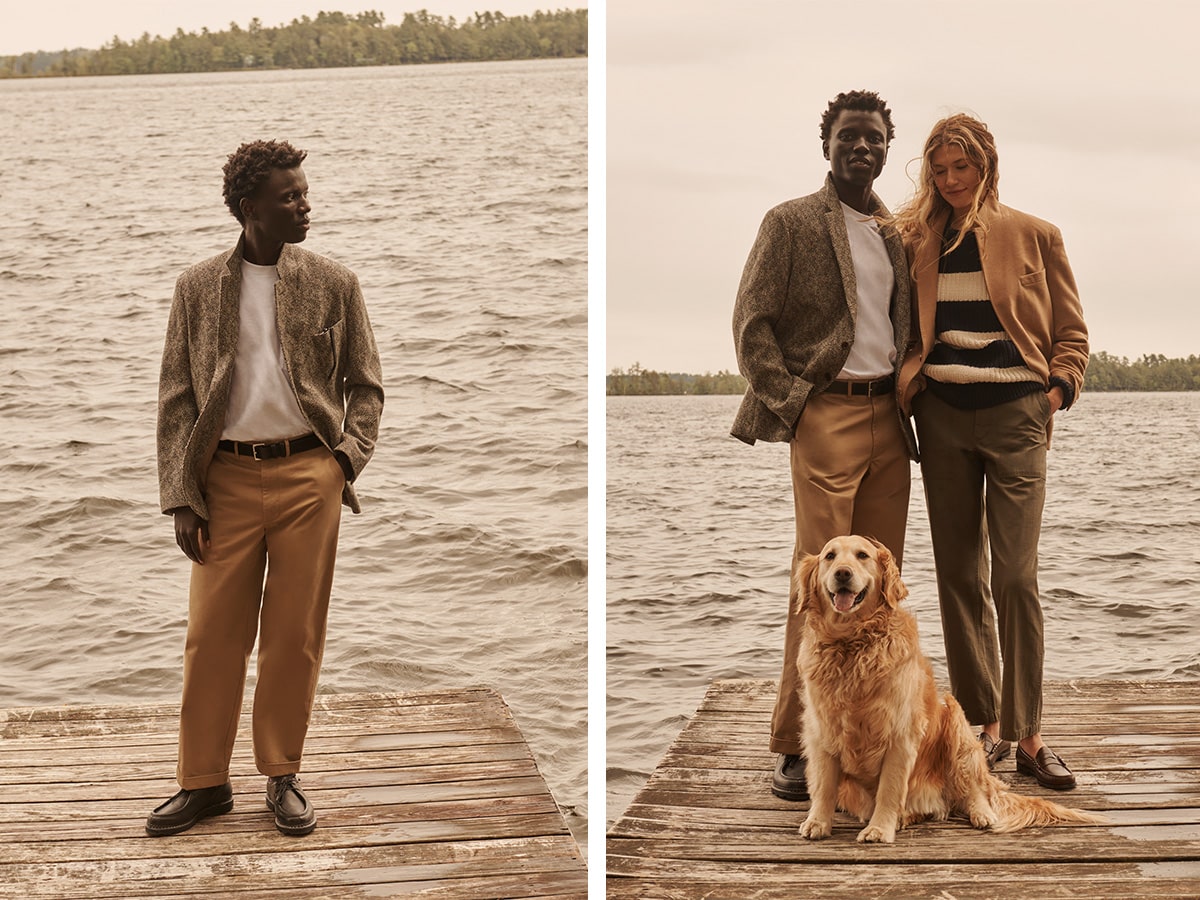 History of the Business Casual Dress Code
It wasn't too long ago that most professionals would have considered the term "business casual" to be an outright oxymoron. Casual slacks? What are those? Nevertheless, times change and so do dress codes. As for the history of business casual attire, it can, in fact, be linked to the concept of "casual Fridays," which reportedly have origins in Hawaii during the 1960s. That was when the Hawaiian garment industry helped push for the idea of "Aloha Fridays," where men were encouraged to wear Hawaiian shirts to work at the end of the week.
Jump ahead to the early 90s, and the concept had finally reached the mainland USA in the form "casual Fridays." Since then, men's business casual office wear has continued to explode. However, what some men considered to be casual Friday work clothes were a little too casual in the eyes of their bosses. To fill the void, Dockers – which specialised in weekend wear and had been acquired by Levi's – made a crucial pivot into the business casual sphere.
To boost awareness during the transition, the Dockers marketing team sent an eight-page brochure entitled "A Guide to Casual Businesswear" to over 25,000 human resource departments across the United States. Naturally, Dockers khakis were absolutely central to the new business casual dress code.
Like something out of Dockers' wildest dreams, more and more offices began to embrace khaki pants as being allowable workplace attire, five days a week. As such, a new precedent spread like wildfire throughout the late 90s and early 2000s. However, along the way, the Dockers style get-up became synonymous with cubicle workers and low-level employees, prompting a revision of sorts. The new business casual dress code–which presented a somewhat looser approach to formal attire–was thus born. The way men dress in their office environment would never be the same.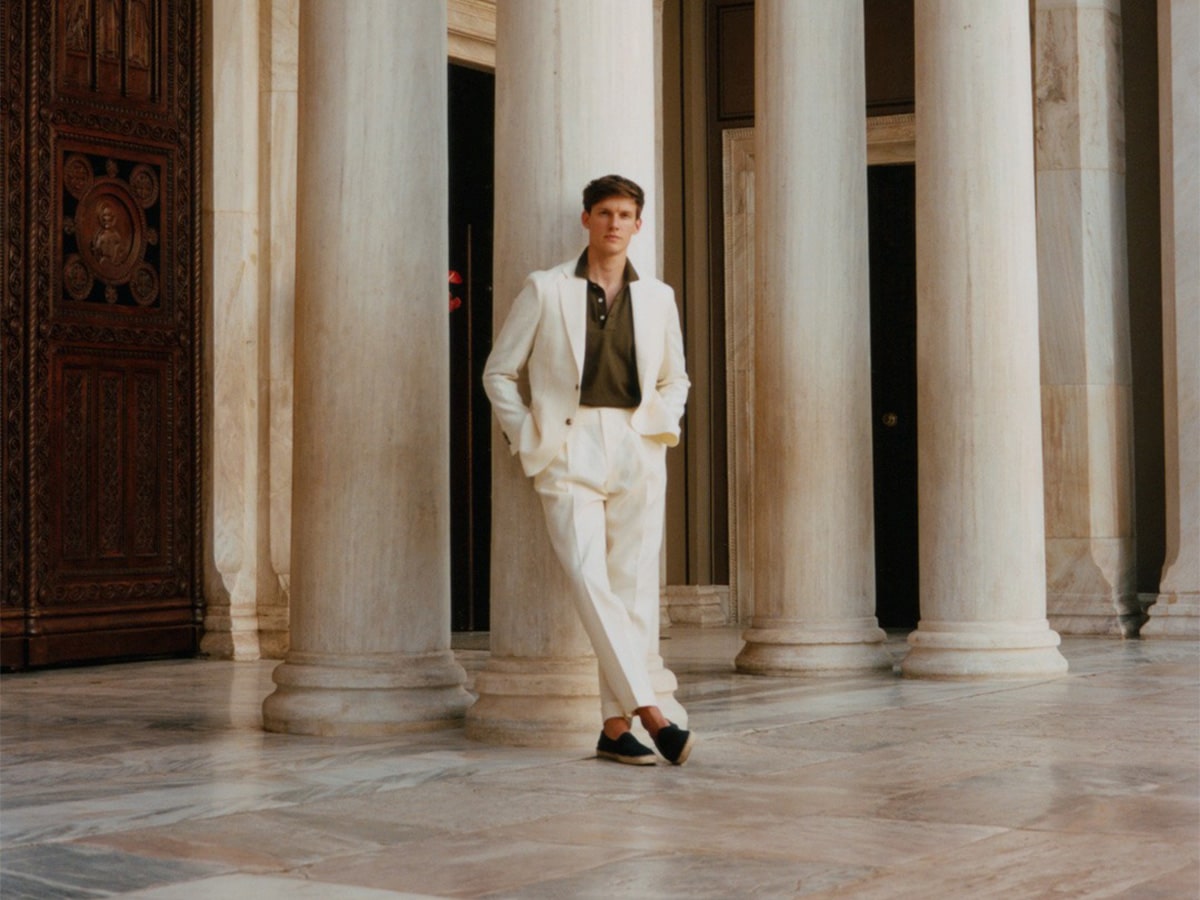 Dos and Don'ts of Business Casual Attire
To help solidify your grip on the men's business casual dress code, let's get started with the basics. Specifically, here are some general "dos" and "don'ts" to help send you down the right path.
| Do's of Business Casual for Men | Don'ts of Business Casual for Men |
| --- | --- |
| Wear a tailored blazer made of quality material. | Wear an overly fancy suit jacket. |
| Wear a cotton, long-sleeved button-down shirt. | Wear a polo shirt or t-shirt. |
| Wear a tight fitting sweater or cardigan with a collared shirt underneath it. | Wear a baggy sweater. |
| Wear dress slacks, trousers (chinos, khakis, etc.) or tight-fitting denim of very high quality. | Wear shorts, casual jeans, street style jeans or any athletic type of pants. |
| Wear neutral, monochromatic colours, at least when you're first starting out. | Wear bright colours until you've mastered your business casual wardrobe. |
| Wear straightforward patterns once you've become more comfortable with your business casual attire. | Wear busy or loud patterns that beg for attention. |
| Wear dress shoes. | Wear informal sneakers, sandals, slip-on or any other form of overly casual footwear. |
The Head-to-Toe of Business Casual for Men
Hopefully, you're getting a solid feel for what the business casual dress code is all about. To help move you further along, here are some tips and suggestions from neck to toe. Your standard work wardrobe is going to be forever transformed.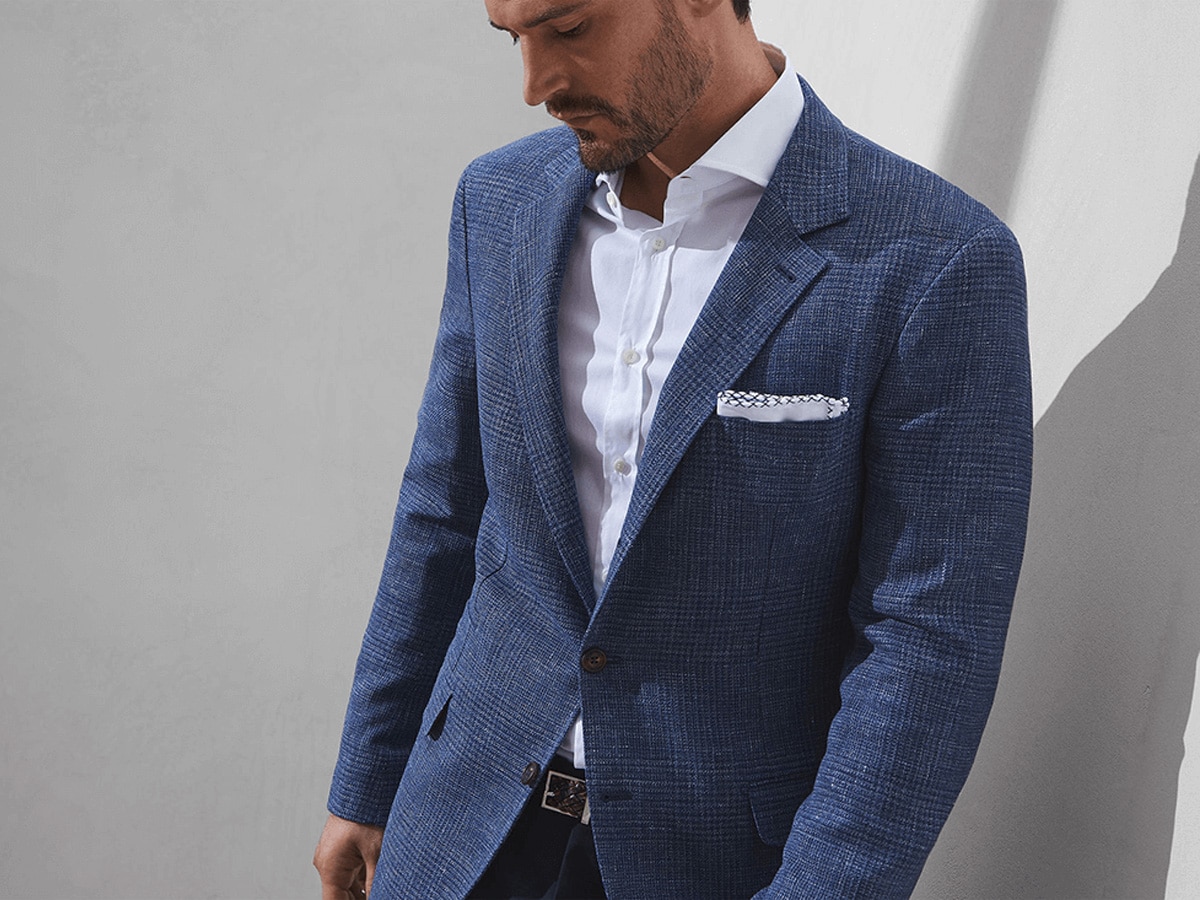 Business Casual Blazers
Your business casual outfit starts with a nice blazer, and by "nice" we mean tight and tailored. To that end, the blazer should tout a slim cut, a square fit on the shoulders, a lapel that stops right above your rear end and sleeves that stop just before the shirt cuff. Naturally, you have a range of styles and materials to choose from. Your safest bet is to get a classic single-breast blazer of light wool with peak or notch lapels, which will keep you comfortable no matter what the season. Opt for a dark, neutral colour like navy–it will do wonders for your figure. This business casual style will help you rock the office while giving you something to wear out after work at happy hour.
If you're the type who likes to dress according to the season, a tweed blazer is a way to go during those cold winter months. Again, aim for neutral colours like navy or grey, expanding your palette as you get more confident with your business casual wardrobe. And for the warmer seasons, a quality cotton or linen blazer can do you know wrong.
Shop Mr Porter Shop Farfetch Shop David Jones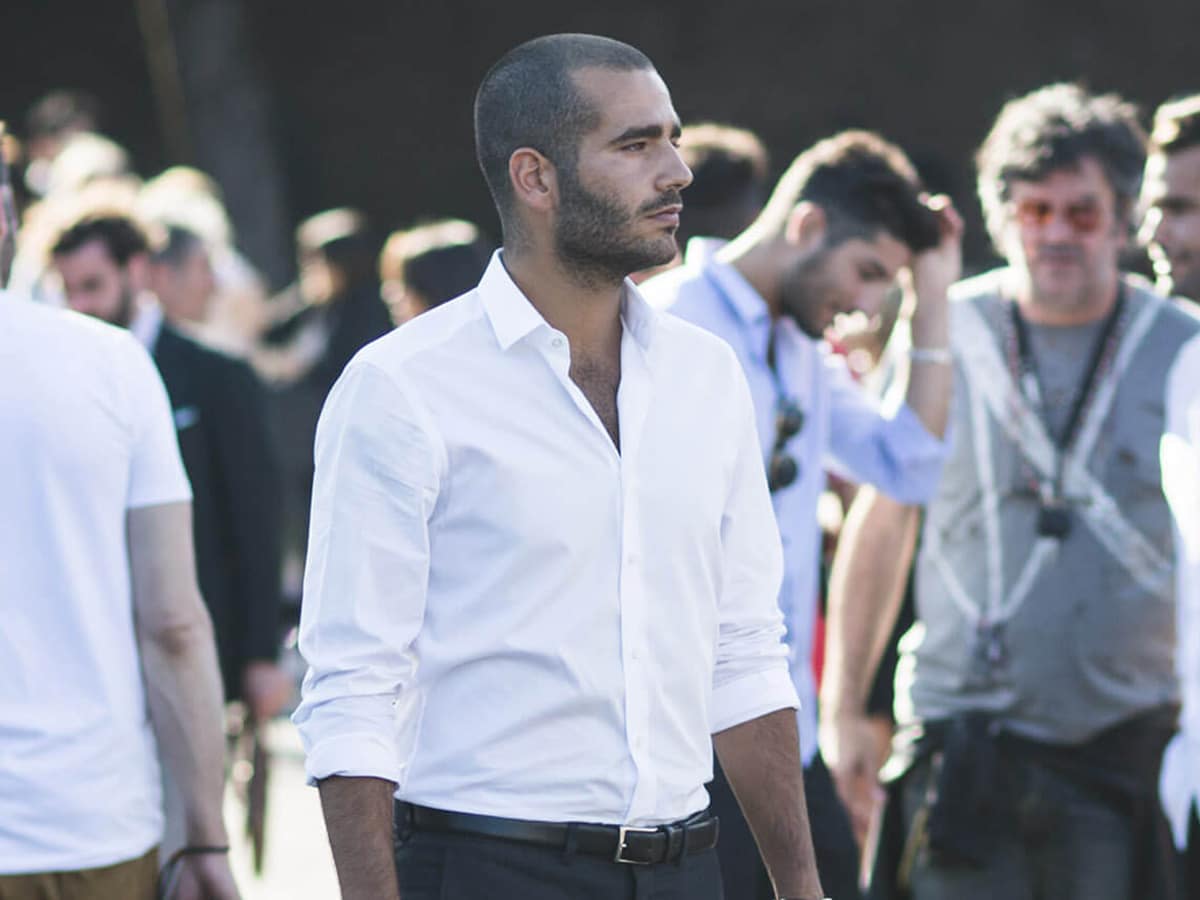 Business Casual Shirts
Underneath that stylish blazer, you'll want to rock a tasteful button-down shirt like a trusty Oxford. The business casual shirt should have two straight seams in the back and cling tightly to the shoulders and frame. When first starting out, stick to monochromatic colours light white, light blue or light pink. As you gain more confidence, you can explore different patterns and brighter colours, being sure to keep your sense of fashion within reason.
Also worth noting is that more and more men are pulling off the no-blazer look, going instead with a tight-fitting sweater or button-down cardigan in colours like navy or grey. Underneath that should be a collared shirt, and if you're wearing a cardigan, a tie. One last pointer: keep those armholes high to further retain a tight, professional vibe. This code guide is designed to show you the possibilities for your office wear while keeping you well within the confines of what's considered business "professional."
Shop Mr Porter Shop Farfetch Shop David Jones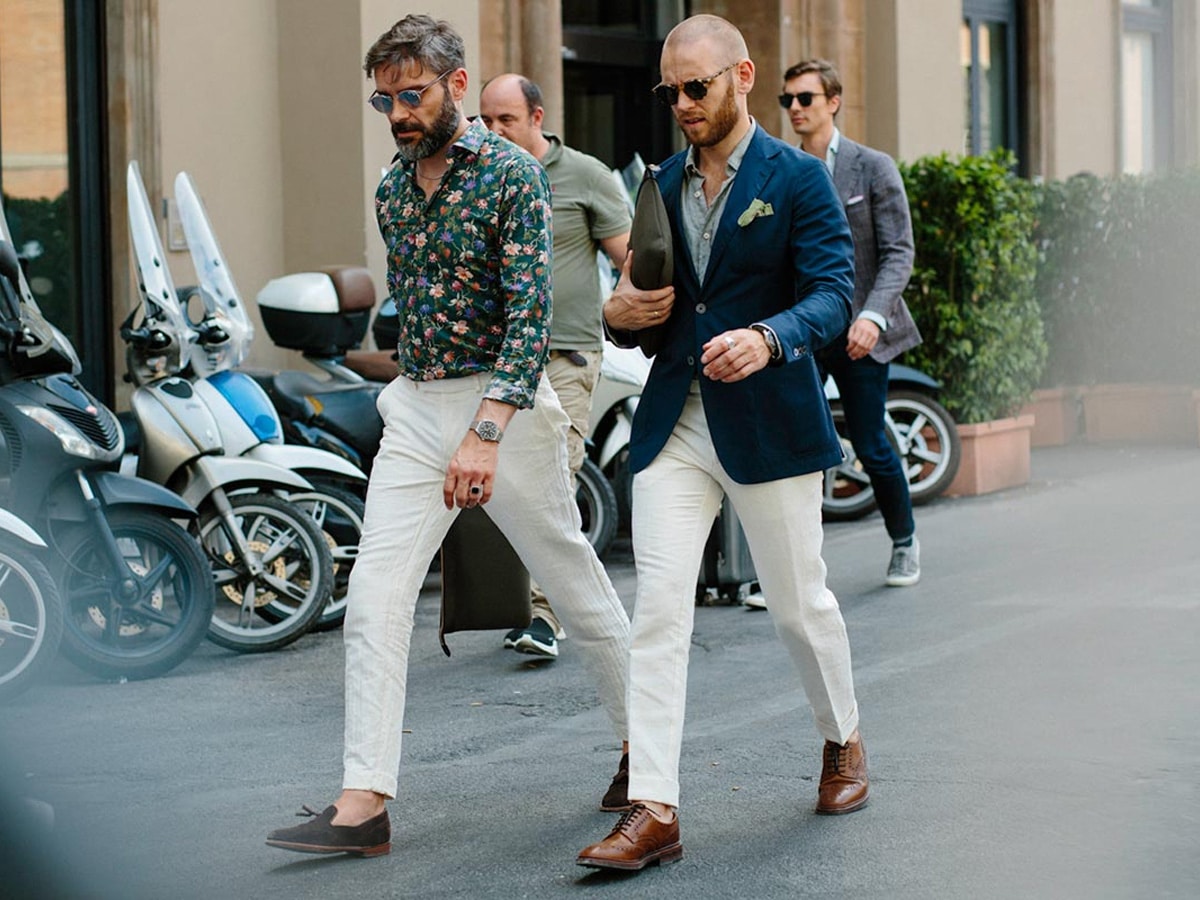 Business Casual Pants
Now that straight-up suit pants are no longer mandatory, you have options. However, it's important to stress that your business casual trousers should emanate with as much sharpness, intent and sophistication as the rest of your outfit. Thats means wearing clean, tight-fitting trousers, though they shouldn't be so tight that you're suffocating the boys–slim is the operative word here. Along similar lines, a pair of crisp, mid-weight cotton chinos with flat fronts and a neutral aesthetic will never steer you wrong. And if you're going with denim, that's okay, but it should be denim that's as high in quality as a pair of premium dress slacks. It's pretty easy to differentiate high-quality denim from casual denim, and everyone at your next business meeting will be able to tell.
Shop Mr Porter Shop Farfetch Shop David Jones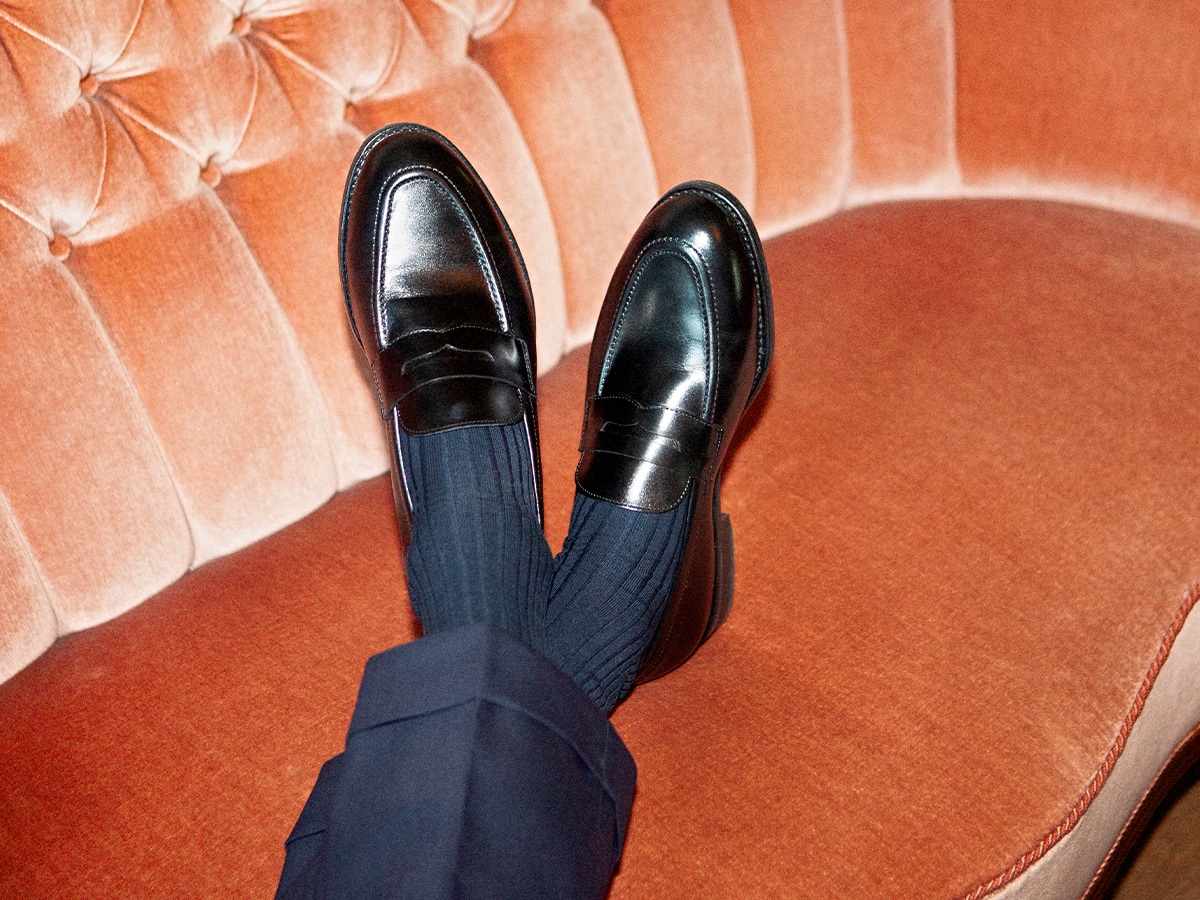 Business Casual Shoes
Given the broad parameters of the men's business casual dress code, there is a range of acceptable shoes, all of which have two things in common: quality and style. To play it safe, we recommend sticking with modern dress shoes such as polished loafers, oxfords or monk straps, in materials like leather and colours like chocolate, dark red or tan. When you're ready to experiment (in an office that allows for it), slip on a nice pair of suede ankle boots or chukkas. And if your boss is cool with it, you can rock some leather sneakers, but those sneakers better be immaculate and expensive when it comes to work wear. Even a more casual workplace will expect this standard.
Shop Mr Porter Shop Farfetch Shop David Jones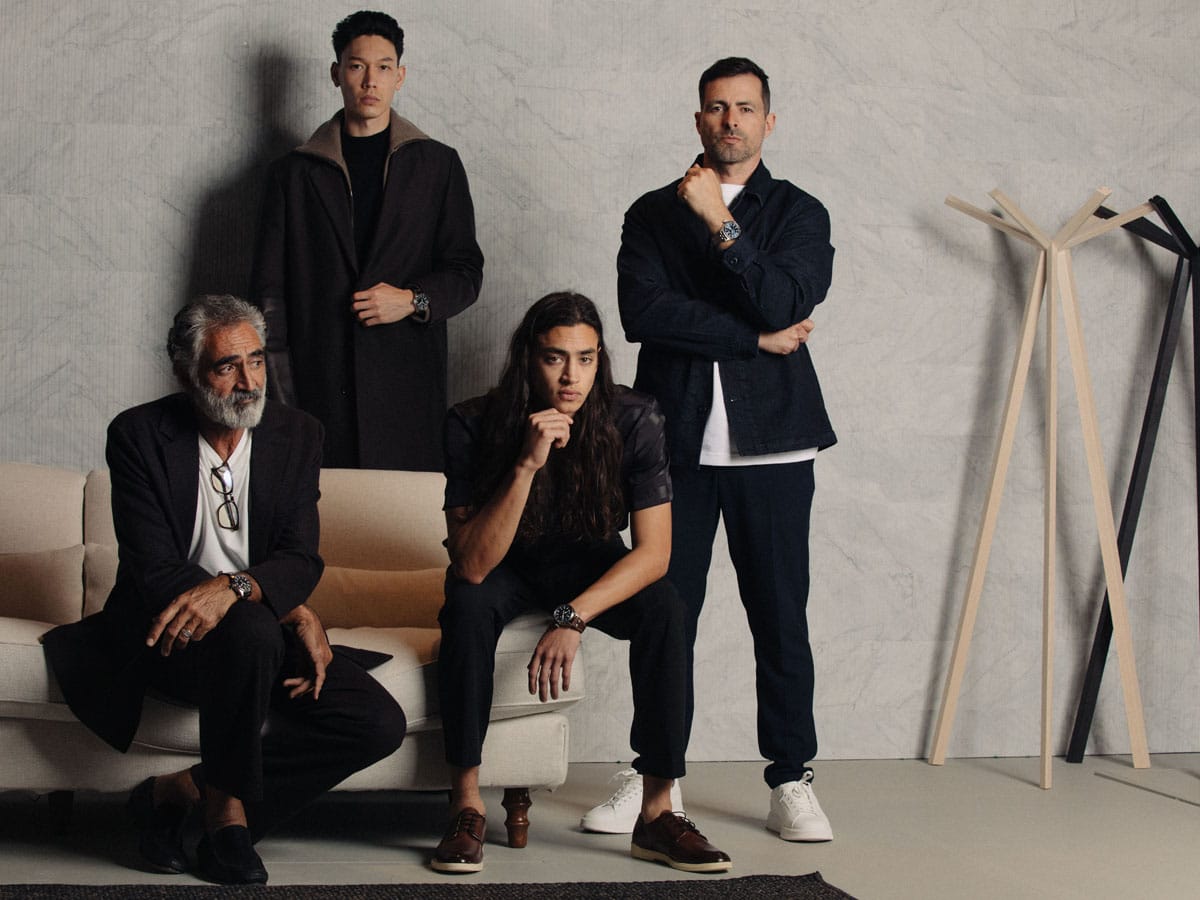 Business Casual Men's Accessories
Perhaps the most beautiful thing about the men's business casual dress code? That the tie is optional. Of course, that doesn't automatically mean you shouldn't wear one. If and when you do, keep it classic in colour, and consider materials like silk. However, if you ask us, we say ditch the tie and make your accessory of choice a distinguished wristwatch with a leather strap. Also, don't forget to grab yourself a professional leather bag that makes space for your gadgets and paperwork alike. Now you're hustling like a 21st-century businessman.
Shop Mr Porter Shop Farfetch Shop David Jones
Interested in footwear related stories? Here are a few stories to get you started:
Alternatives to Business Casual for Men
Popular Types of Footwear for Men
Best Shoe Stores in Melbourne and Sydney
How to Wear Shoes With Different Clothing
You'll also like:
General FAQ
What is a business casual dress code?
Business casual dress code refers to a more relaxed style of dress, suitable for the office and for wearing within business hours.
What is men's business casual attire?
Men's business casual attire usually eschews the traditional necktie, and allows for other accessories such as a pocket square.
Can you wear jeans for business casual?
Yes. A fresh pair of dark, raw denim jeans in a regular or slim cut, worn with a blazer, can be considered business casual.
When is business casual appropriate?
Business casual is appropriate for offices with a more relaxed dress code, around town for certain meetings and for casual Fridays.
Can I wear business casual clothes to a meeting?
Yes, provided it is appropriate to the venue of the meeting (if unsure, it doesn't hurt to ask).