Man of Character – Don Draper
In this Man of Character column, Man of Many takes a look at some of the popular culture's most notable male protagonists. We discuss the origin of the character and why they have had such an enduring influence on popular consciousness.
You'll also like:
Buy the World's Largest Disney Jigsaw Puzzle for $999
"People tell you who they are, but we ignore it because we want them to be who we want them to be." – Don Draper, Mad Men
On the surface, Don Draper is the kind of man that seemingly has it all – the good looks, great job and beautiful wife we expect of our fictional heroes, whilst simultaneously wishing it for ourselves.
As the protagonist of AMC's 'Mad Men', Draper is the perfect specimen for a series examining the world of advertising in 1960s America. A man of his time, but with an undeniably timeless appeal, he was an archetype of traditional masculinity and embraced as a refreshing antidote to the vagaries of 21st-century manhood.
Preceding the success of 'Breaking Bad' and 'The Walking Dead', 'Mad Men' was AMC's first foray into original programming, developed from a pilot script crafted by former Sopranos writer Matthew Weiner. Whilst 'Mad Men' perhaps didn't achieve the same level of widespread appeal as its AMC stablemates, the character of Draper has become a modern icon.
Yet, his cultural resonance has extended far beyond a popular revival of sharp suits, rye whisky and Brylcream. Such is the allure of Draper that AskMen voted him Most Influential Man of 2009, an astonishing outcome given it's a list normally reserved for people that actually exist. Countless other articles have been written on how to emulate Draper's style and personality and the character has transcended his fictional origins.
Yet, given his popularity and his role as the protagonist on a show ostensibly about the aspirational and seductive power of advertising, it's important to understand that Draper himself is an exercise in personal branding. The charming, creative Don Draper is a persona adopted by Dick Whitman, the son of a prostitute and an alcoholic, who adopts the identity of Draper following a tragic accident with his commanding officer (the original Don Draper) in the Korean War.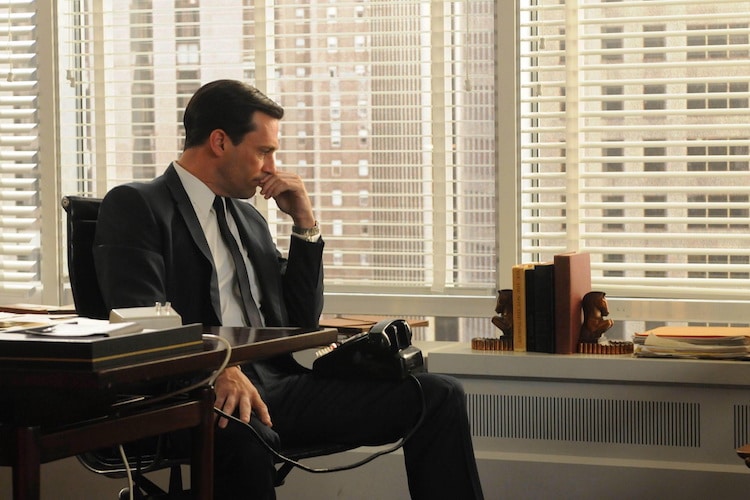 Desperate to escape the tragedies of his real life, Whitman reconstructs himself as Draper and commits his very existence to the preservation of his new identity. It's a conceit that's handled masterfully throughout the series by showrunner Weiner and played superbly by Jon Hamm – the seemingly perfect and put-together gentleman hiding a secret that fundamentally defines who he is as a person.
As such, it's easy to imagine the appeal of advertising to a man so hell-bent on running from his past that he creates a new reality. He's mercurial and mysterious purely because that was the identity he wants to sell to himself and everyone else – Don Draper was constructed to be the exact type of aspirational figure that Dick wanted to be. Furthermore, it explains Draper's natural talent and gravitation towards advertising as a form of personal deception.
Jon Wears:
Caruso – Butterfly Gobigold Camel Hair Coat
Brunello Cucinelli – Shawl-Collar Mélange Cashmere Cardigan
Brunello Cucinelli – Slim-Fit Button-Down Collar Herringbone Cotton Shirt
At its heart, the character of Draper is an examination of the type of narcissism defined by The Last Psychiatrist, not a sense of grandiosity and egotism, but the preservation of one's identity at the expense of everything else. Draper's professional and personal life crumbles over the course of 'Mad Men' as he fights desperately to maintain his constructed brand of personality.
In light of this, Draper's rampant alcoholism and philandering are things to be pitied, not admired, serving as they do as the character's desperate attempts to avoid confronting his own existential crisis. In fact, so much of what audiences celebrate about Draper and the image he projects are elements of the narcissism that has made him deeply, and almost irredeemably, unhappy.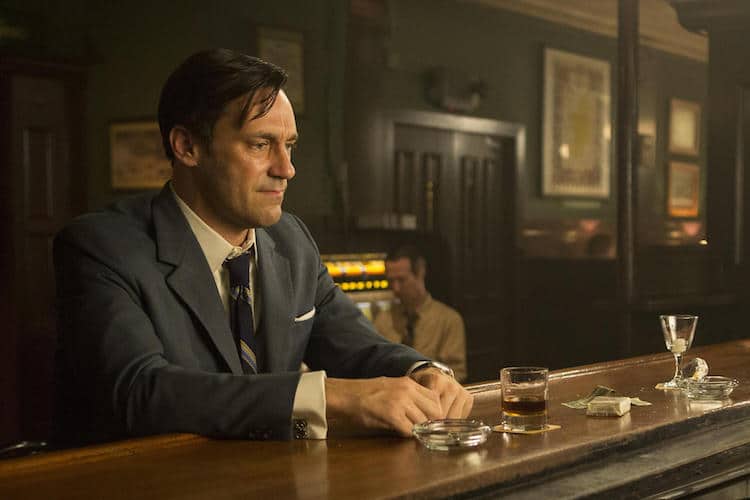 The show's polarising final episode, which ends with the suggestion that Don created the legendary Coke ad of 1971, caps the character's tumultuous inner journey. It shows a Draper seemingly at peace with himself and the reality he has created, due to a harmonic fusion of the remaining personality facets of both Draper and Whitman into a single identity.
Jon Wears:
Berluti – Belted Cashmere Cardigan
Berluti – Textured-Knit Wool Rollneck Sweater
Canali – Greay Firenze Slim-Fit Super 120s Wool Trousers
John Lobb -Weir Leather Oxford Shoes
TOM FORD – Herringbone Cashmere Scarf
It's a message that's easy to miss outside of the show, that true happiness comes from inner fulfillment, not external signifiers. The fact that the fictional character of Draper has resonated so successfully with modern audiences is a testament to the power of 'Mad Men's central idea – the power of personal branding and the damage it causes when used to hide from yourself.
Photo & Styling credit to Mr Porter's The Journal.
You'll also like:
LeBron James' Insane Diet & Workout Plan
General FAQ
How would you describe Don Draper?
He's mercurial and mysterious purely because that was the identity he wants to sell to himself and everyone else – Don Draper was constructed to be the exact type of aspirational figure that Dick wanted to be.
Is Don Draper based on a real person?
Don Draper's character is inspired by Draper Daniels who was a creative diractor at Leo Burnett addvertising agency in the 50s.