Newcastle, a city on the east coast of Australia, is seldom described as a haven of artistic fecundity. Similarly to Broken Hill, however, which lies some 1,200 kilometres to the east, this mining town, with one of the most naturally stunning backdrops the NSW coastline has to offer, is breeding a new wave of artists.
A short glance at the studio of Mitch Revs and you can easily see that rather than breaking the mould, he just isn't using one. Colour is splashed everywhere you look, in multiple media, and the child-like exuberance that seeps through his strokes is as vibrant and recognisable in one piece as it is in any of his works, whether sprayed on a wall or rendered digitally.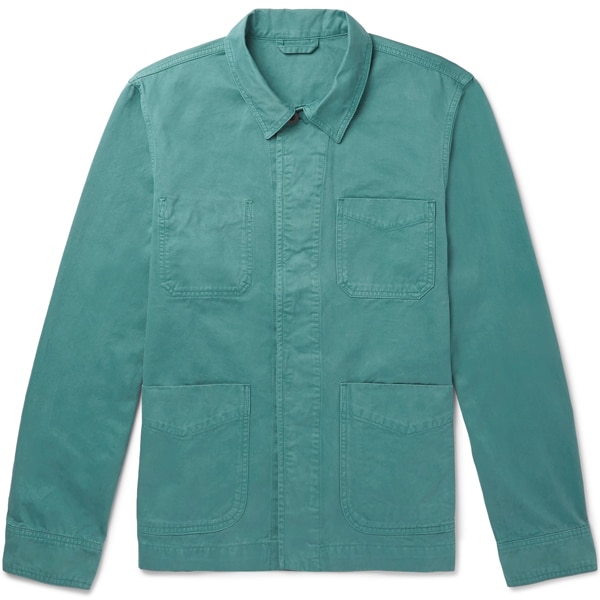 MR P. Garment-Dyed Cotton-Twill Jacket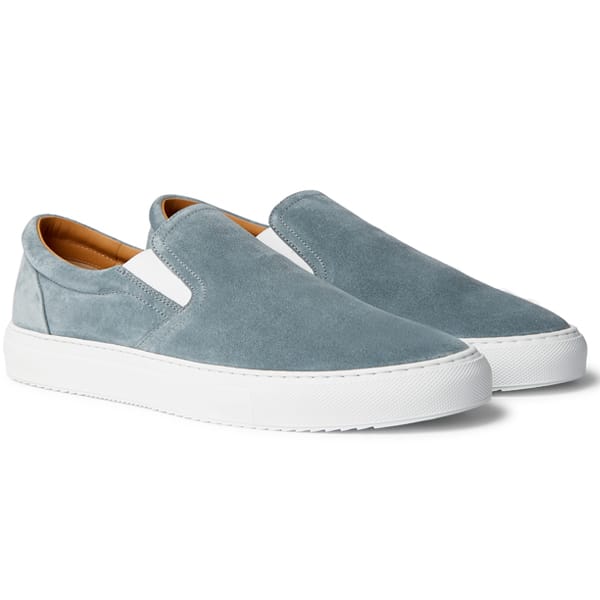 MR P. Larry Suede Slip-On Sneakers
His personal style is somewhere between modern bohemian and practical man-about-town. When he's painting, paint-spattered Converse tread the studio floors while classic, box-cut basics finish his work look.
"Man, there's nothing better than getting the paint tins out and making an absolute mess of a canvas and yourself", confesses Revs–real name Mitchel Resevsky, standing in his colourful studio inside his Merewether home; part workspace, part surf shack. His ability to switch from one medium to another, however, is one of practicality.
"The whole transition between media for me was purely just because I did a lot of travelling, and it was just hard work to be able to set the spot up on the go and make a mess.
"The whole digital medium was just something that I was able to do from wherever. In a hotel room, up in the air on a plane, on public transport. It was just easy."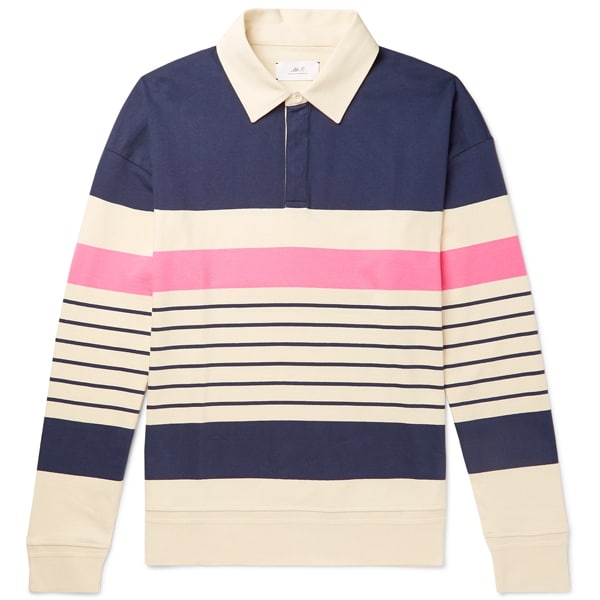 MR P. Twill-Trimmed Striped Cotton-Jersey Rugby Shirt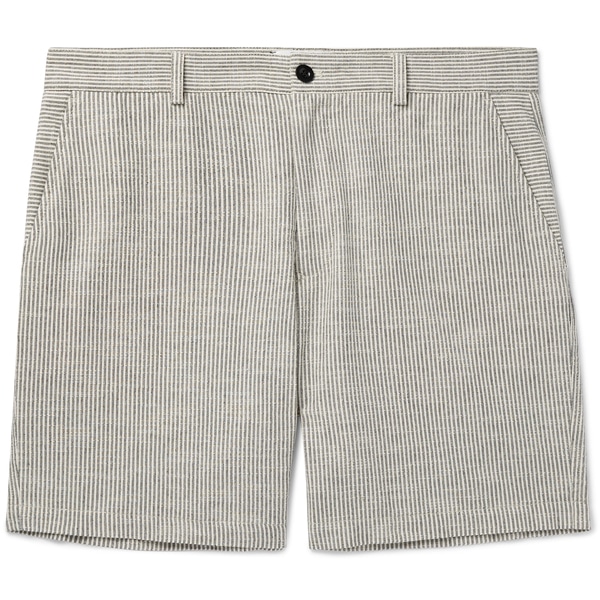 MR P. Striped Slub Cotton-Blend Bermuda Shorts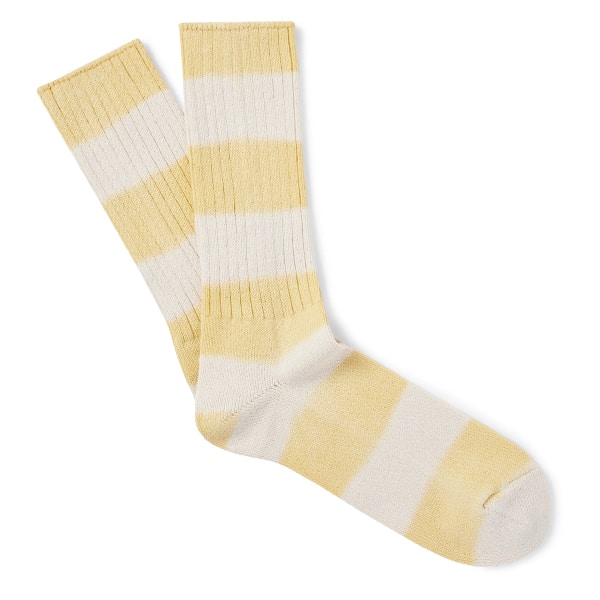 MR P. Ribbed Striped Cotton-Blend Socks
One of the biggest changes the talented young creative has faced since he first put brush to canvas has been the fact he went from a self-taught painter who made cartoon-like frescoes of exaggerated shorelines to an in-demand designer, who had to start balancing what was obviously a driving passion with turning it into a 'real job', something he confesses is not the easiest.
"That's a big struggle of mine. Obviously, you've got to pay the bills and you take a risk every time you work on stuff for yourself. A lot of the time I work on things in my exhibitions after hours, late at night, when I've cleared out all my commission jobs.
"You always wanna work on your own stuff, that's how you keep yourself relevant to what you're doing. It does pull you away from where you wanna go, but it's just part of it, mate. It's part of the job, really.
"And sometimes I've gotta remember that this is a job, it's not just a fantasy land where I can wake up and do whatever I want. People need their things done, and that's just reality", concludes Mitch.
Mitch is no stranger in Newcastle, his unique style can oft be spotted by the sea, zooming past on a skateboard with his dog Abby. When it comes to his wardrobe, the most succinct descriptor one could offer is 'quirky but classic'. A combination of mute colours and textures make up his favourites from the Mr P. collection, with a few stripes here and there.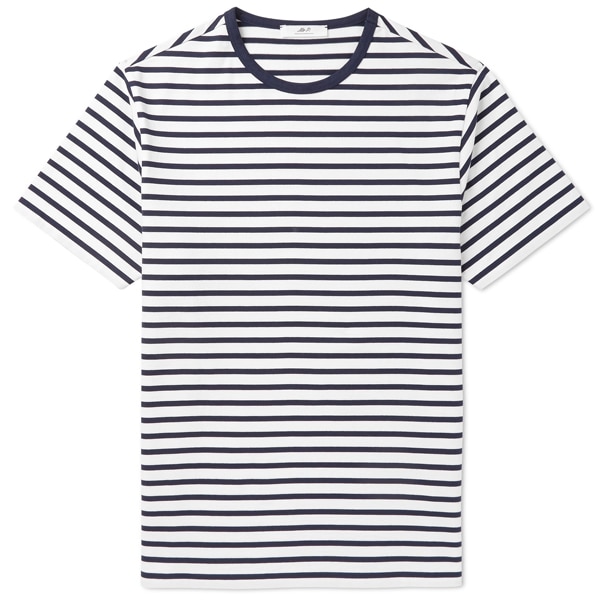 MR P. Striped Cotton-Jersey T-Shirt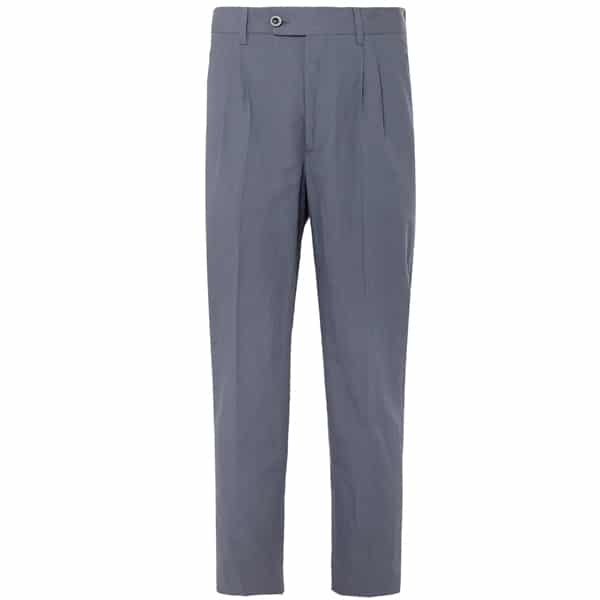 MR P. Dark-Blue Cropped Tapered Pleated Linen And Cotton-Blend Suit Trousers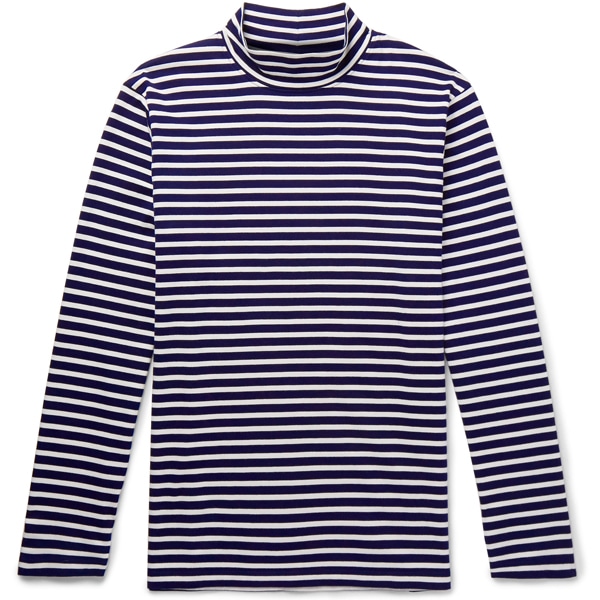 MR P. Striped Cotton-Jersey Rollneck T-Shirt
To add to his workload, the artist recently opened ArtDork, a gallery on Newcastle's busy Hunter Street strip. An open and creative space, Revs is quick to admit that he probably bit off more than he could chew, but has succeeded in turning a barren space into a veritable hubbub of activity, and in turn has contributed more to the local arts scene in recent years than most. His attitude towards his push to have Newcastle recognised as more than a sleepy mining town? Expectedly casual: "Well someone's gotta do it, don't they?", he laughs.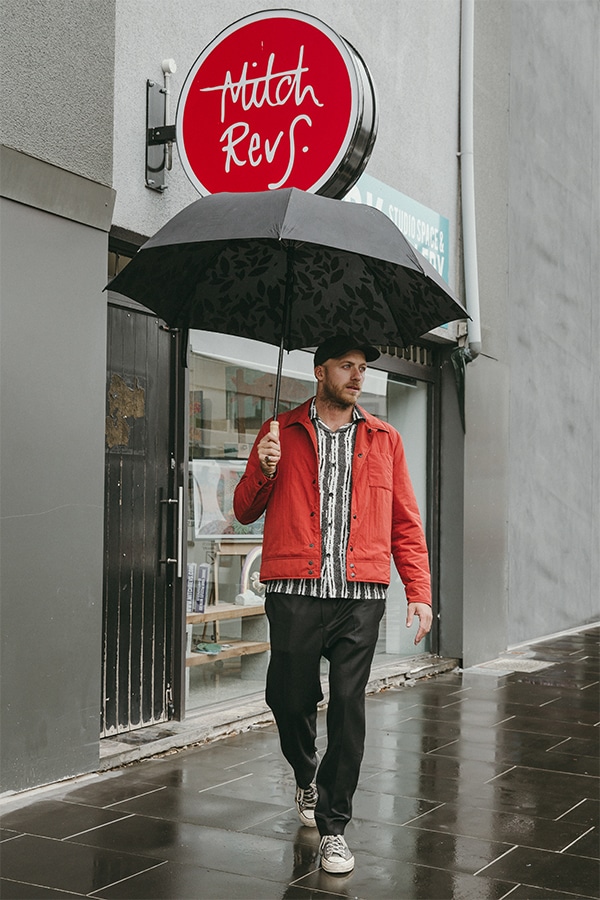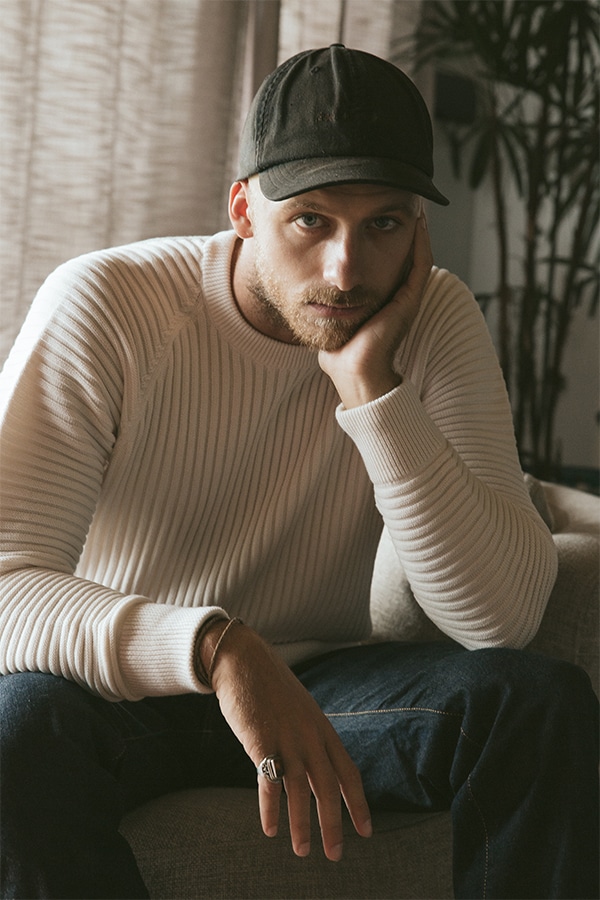 "At the end of the day, the change has to start somewhere. For me, I simply didn't like Sydney and Melbourne, where I was told that I'd have to go to start this creative journey. If I had to choose a lifestyle, I would've stayed here and not become an artist, to be honest. I wasn't prepared to move to make a career around art.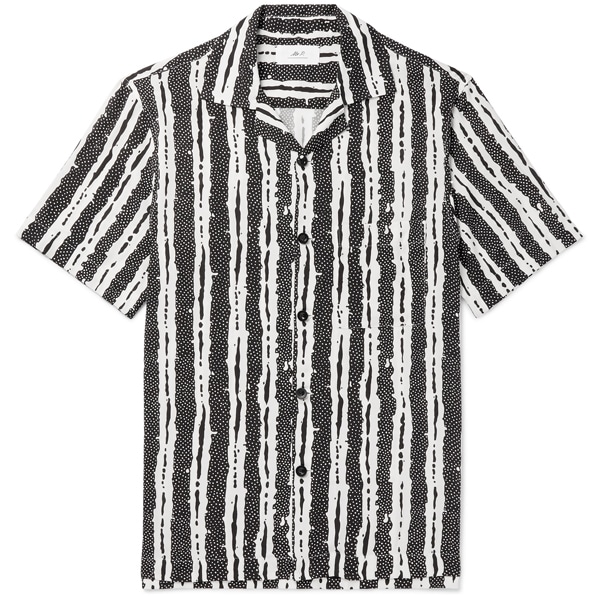 MR P. Camp-Collar Printed Woven Shirt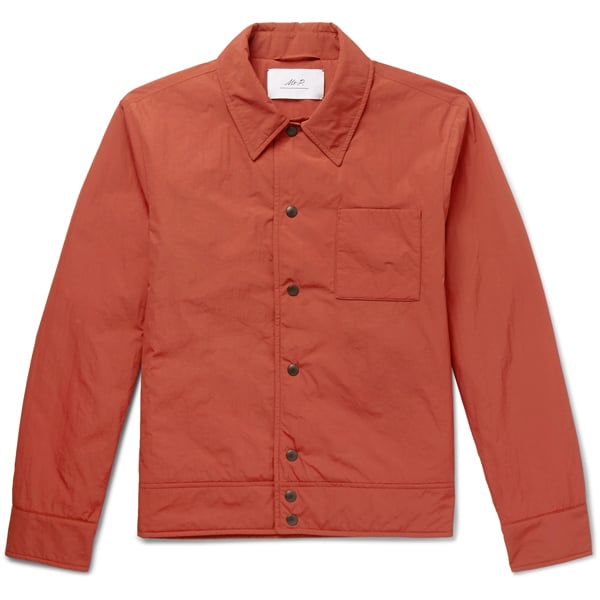 MR P. Padded Nylon Jacket
"I love Newcastle, my family and friends are here, that was more important to me than making a living out of art. I just had no choice but to make it work", he openly admits, though not without some deserved recognition of the changes his beloved hometown have enjoyed in recent years: "We are noticing a change now, more of the culture and more galleries opening up and young people wanting to become entrepreneurs and do their own thing.
"It takes a group of people to all really stand up for that and do it together, in order to make a movement, and make people go "Fuck yeah, Newy's, sick, it's coming along, and there's all this cool shit happening."
Revs' wardrobe is the cool constant in a chaotic existence. A single day can see him going from the beach to the studio to the dog park, then off to a swanky event for a brand that's peeped his work and wants to collaborate: "I'm too busy to decide between a hundred different outfits in the morning", he says matter-of-factly, when pressed on how he gets ready each day.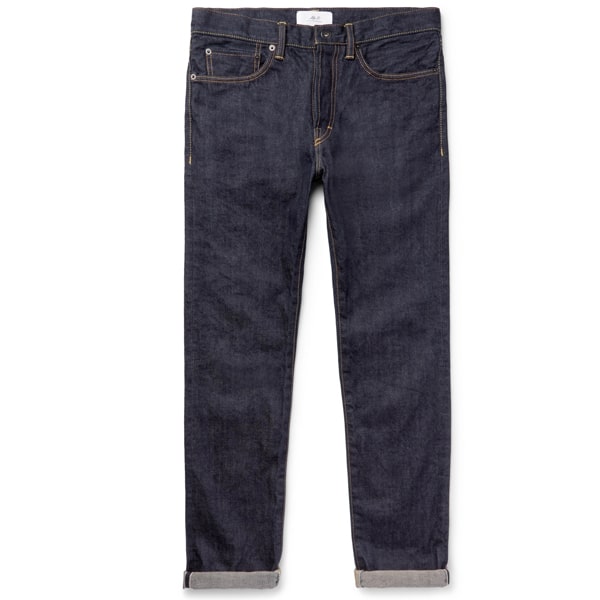 MR P. Slim-Fit Selvedge Denim Jeans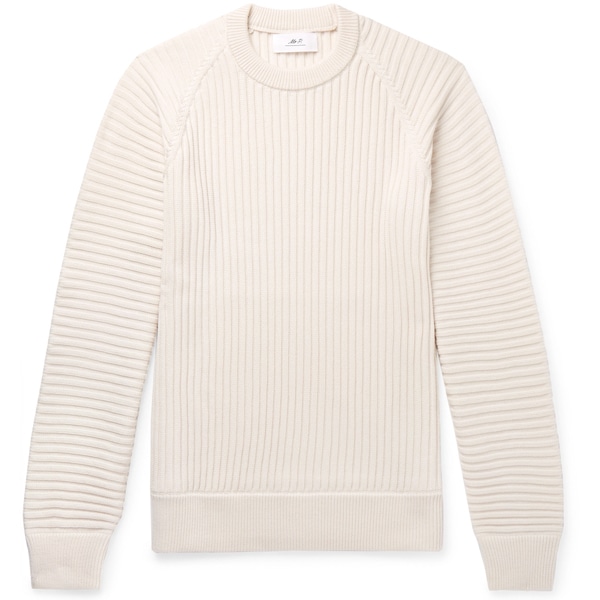 MR P. Ribbed Merino Wool Sweater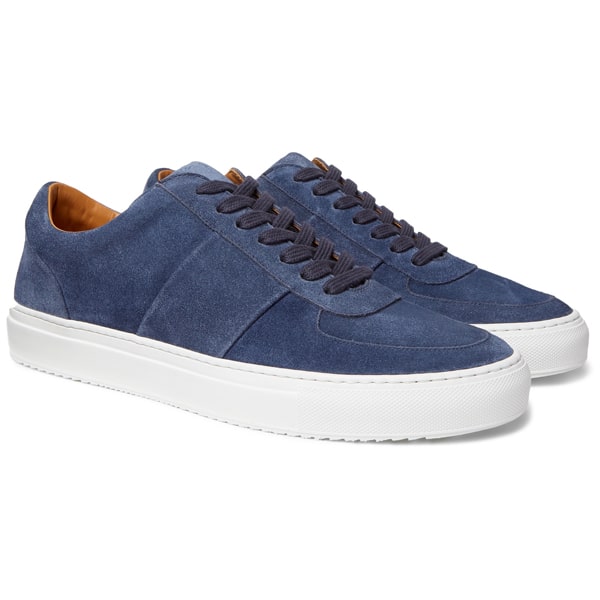 MR . P Larry Suede Sneakers
"As an artist, I find I can express myself through almost any means, but when I choose pieces for my wardrobe I'm very selective because I want that piece to work with different looks, and last a few seasons."
His sharp collection of elegant but masculine basics with a few statement pieces fits in with the busy nature of his versatile life, trying to make Newy a more interesting place one brushstroke at a time.
And there's a classic rebellious glint of sticking-it-to-the-man that flashes behind Mitch's eyes when he starts on Newcastle's impending uprising, "You can see the change, it is slow, because Novocastrians don't like change. Our generation does, we wanna see cool shit going on, but unfortunately we don't get to call the shots.
MR P. Slim-Fit Merino Wool Rollneck Sweater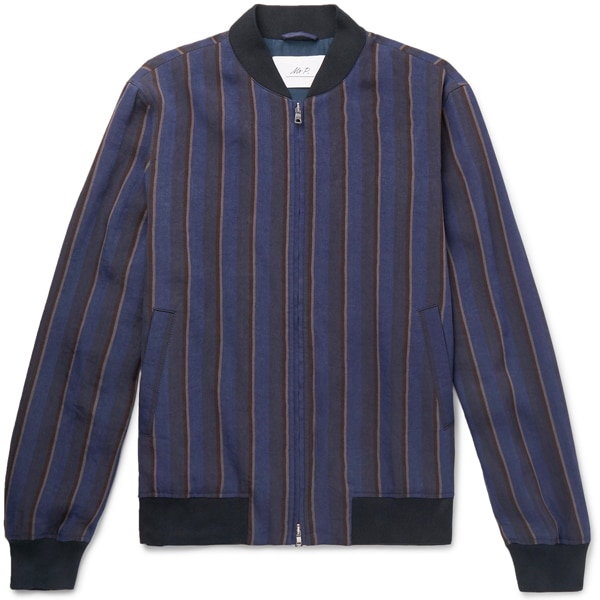 MR P. Striped Linen-Blend Bomber Jacket
"It's the council, our parents and things like that. It's in their hands and unfortunately a lot of the art budget still, in Newcastle, goes to removing graffiti and all this kind of shit, it doesn't go to putting street art on the walls."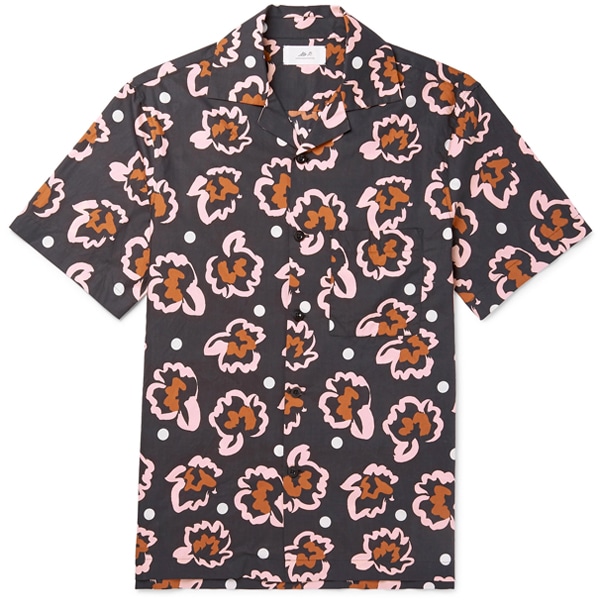 MR P. Camp-Collar Printed Cotton-Poplin Shirt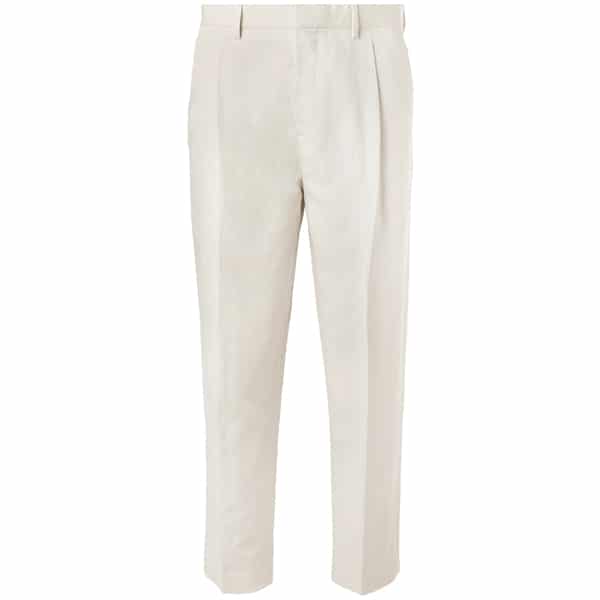 MR P. Cropped Tapered Pleated Linen And Cotton-Blend Twill Trousers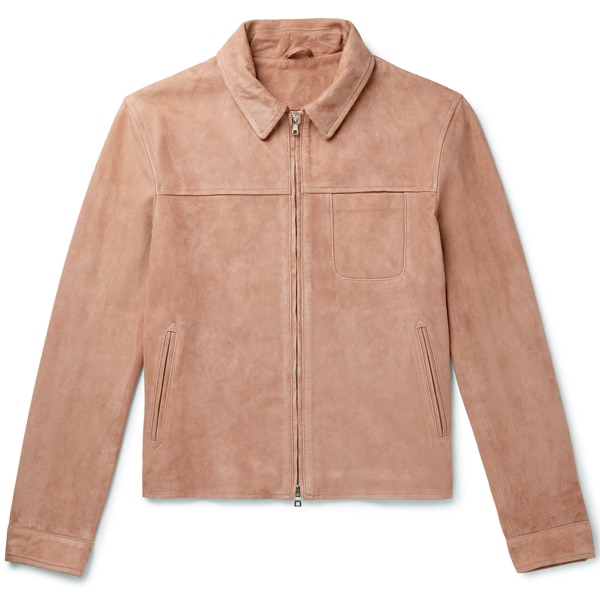 MR P. Slim-Fit Suede Blouson Jacket
But, short of launching into a rendition of Twisted Sister's 'We're Not Gonna Take It', Revs moves on to excitedly talk about his latest project of many: a colouring-in book. Money raised from its sale will go to benefit his local Children's hospital, but, more than the cash, the artist sees it as an opportunity to bring the creative rays of sunshine that have enriched his life to the masses.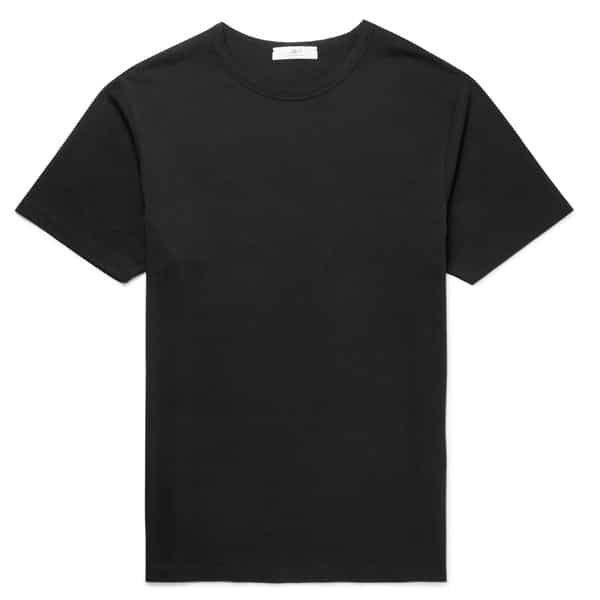 MR P. Cotton-Jersey T-Shirt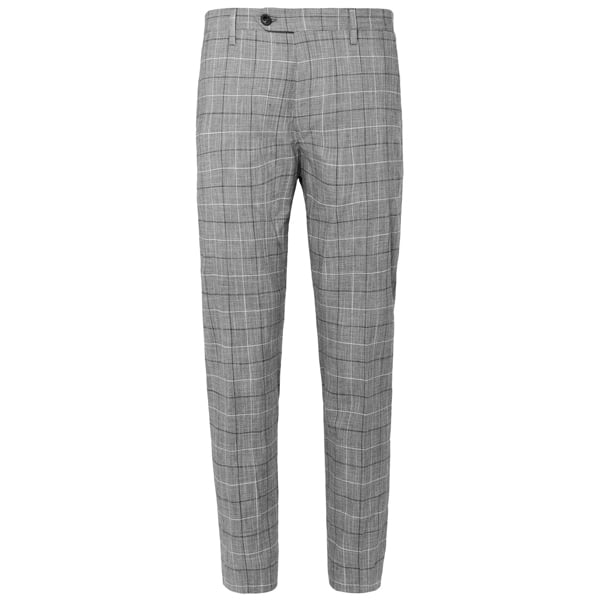 MR P. Black Cropped Tapered Checked Cotton-Blend Trousers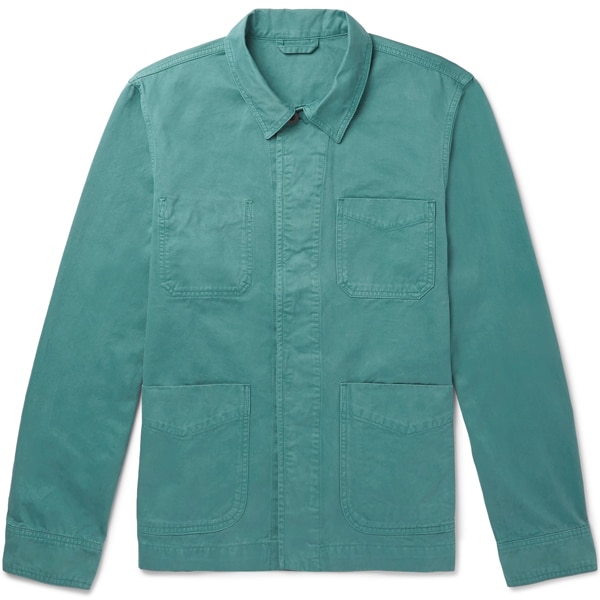 MR P. Garment-Dyed Cotton-Twill Jacket
"That's kind of the silent motivator for me. Obviously I wanted to create something that made me happy and I was willing to put all my time into, 'cos, you know, you wanna enjoy your job. But, if I could make someone happy… I was a social worker before I was an artist. And I love seeing kids happy and how much creativity can influence their lives.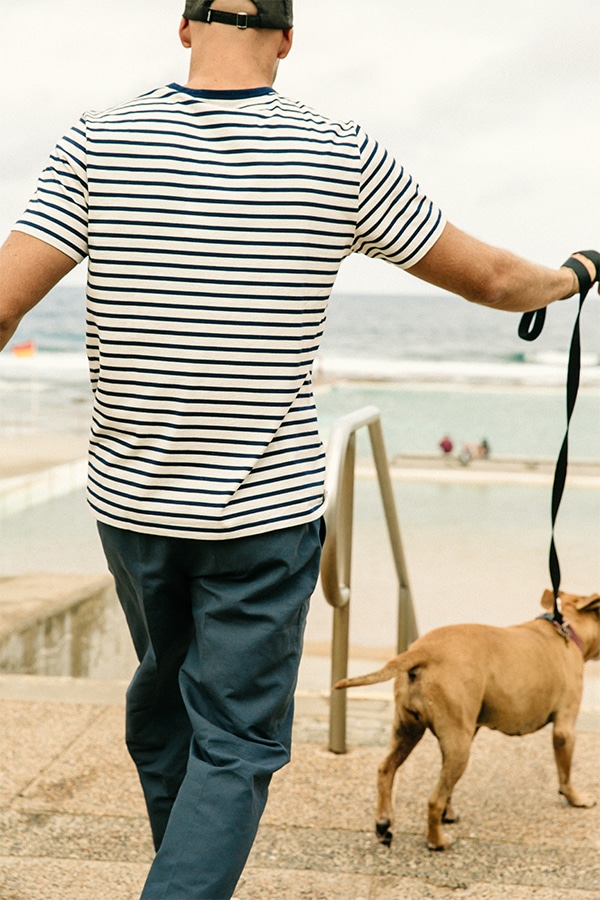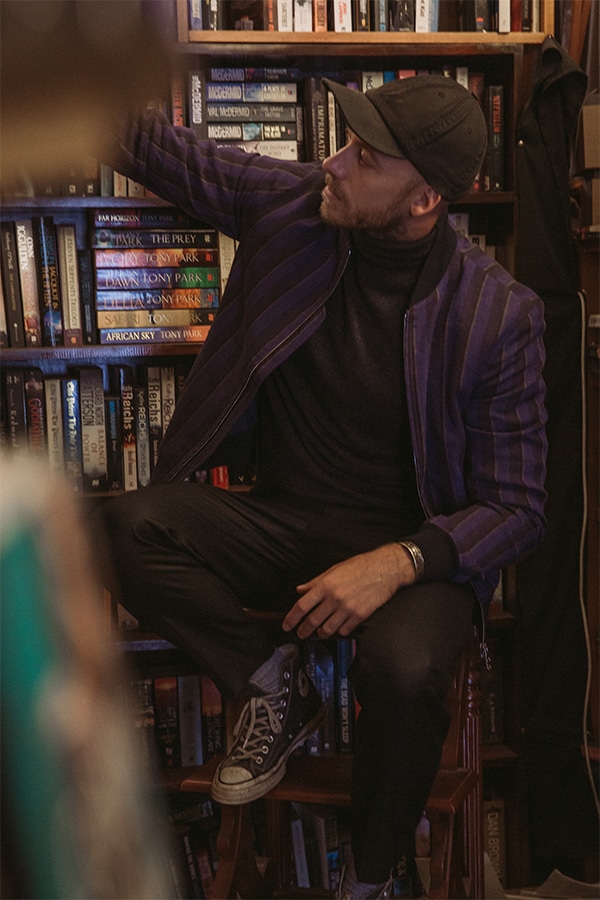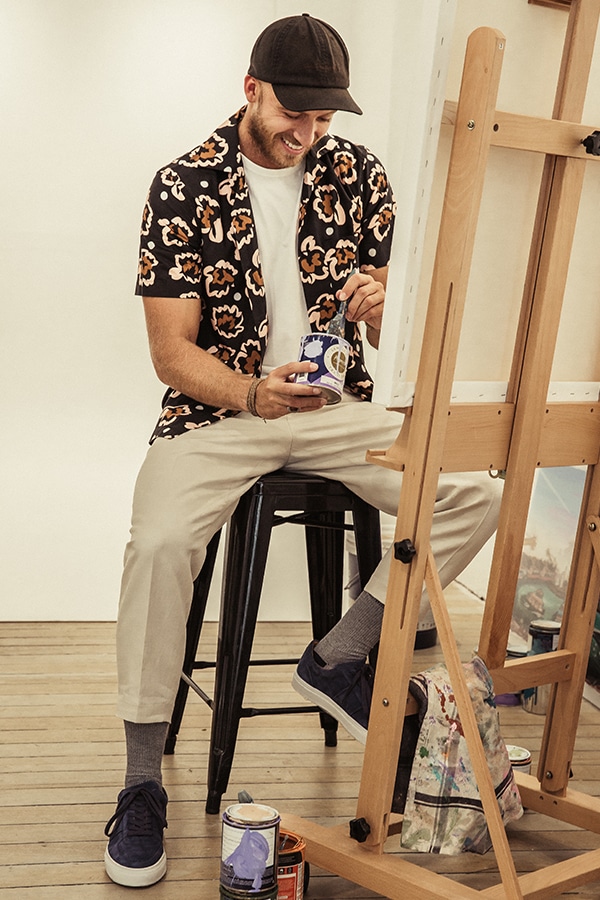 "If I can plant a seed for them to see that this I pretty cool and it is possible, like, you don't have to be academic to get through this world–you can have fun and make a career out of art, if I can plant that seed–not even a child–if I can change someone at our age to fuck their office job off and become a maker and a creator, that's pretty cool and I think if people can see that through what I'm doing, I mean the last seven or eight years that I've been taking seriously and making a career out of it, that's pretty cool."